High-SchoolFootball:

Alvin Bailey
April, 25, 2012
4/25/12
8:04
AM ET
By
Mark Tennis
| ESPN.com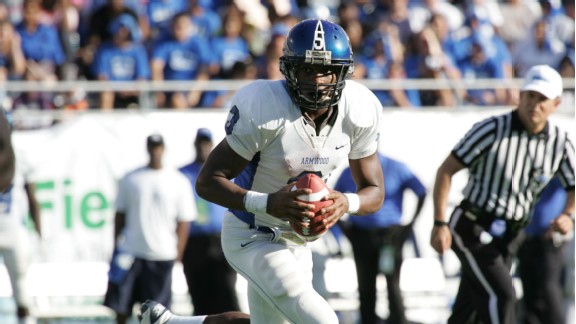 Kynon Codrington/ESPNHSArmwood (Seffner, Fla.) junior Alvin Bailey accounted for three touchdowns in the Class 6A state final against Miami Central (Miami) to help lead the Hawks to their third state title.
During the offseason, we'll check out one team per week that looks like a sure bet to be among the best in the nation this fall.
FAB 50 Offseason Primer Archive
This week's team:
Armwood (Seffner, Fla.)
2011 Season: 15-0,
Class 6A state champion
, No. 2 in final
POWERADE FAB 50
.
Projected 2012 Preseason Ranking: Top 25. This team's positioning could be negatively impacted if harsh sanctions are handed down by the Florida High School Athletic Association at the conclusion of an
ongoing investigation
about the residency of players on last year's team. On the field, the Hawks are loaded with returning players at the skill positions, but they will need to replace numerous top linemen. Armwood doesn't have as much back overall as other Florida teams like Manatee (Bradenton, Fla.) or Miami Central (Miami), which is the team Armwood beat to win its state title. But coach Sean Callahan is a proven winner and those skill players are special.
Team Strengths:
There aren't many teams in the nation that will have a dynamic duo like
Leon McQuay III
and
Alvin Bailey
. McQuay, who's No. 34 in the
ESPN 150
, is a ball-hawking safety. He also could see more time on offense next season. Meanwhile, Bailey is No. 49 in the ESPN 150. He caught six passes for 112 yards and one score when Armwood beat FAB 50 No. 8 Bishop Gorman (Las Vegas) 20-17 last year, handing the Gaels their only loss. He later switched to quarterback due to injuries and is expected to be back at wideout as a senior. Quarterback
Darryl Richardson
could be another strength while upcoming sophomore Keylaun Edwards could be another game-breaker. Edwards, who is the younger brother of graduating starter
Wade Edwards
, joined his brother as well as McQuay and Bailey as part of Armwood's school-record-breaking 4x100 relay team. On defense, two leading tacklers who should return will be linebacker Warren Williams and defensive back Antonio McCullough.
Another Florida team to watch:
We've already written up
Manatee
in this series and don't want to do just a few sentences about another potential powerhouse like Miami Central or Plant (Tampa, Fla.), Armwood's big local rival. So we'll focus on a Tampa that could surprise in Wharton. The Wildcats were 6-6 last year, appeared in the Class 8A playoffs and will be led by receiver-cornerback
Vernon Hargreaves III
, the No. 4 recruit in the ESPN 150. In addition to Hargreaves, Wharton will return most of its roster, including 6-foot-6 sophomore quarterback Chase Litton (2,056 yards, 10 touchdowns) and leading tackler Rocky Enos.
December, 15, 2011
12/15/11
11:17
AM ET
By
Mark Tennis & Doug Huff
| ESPN.com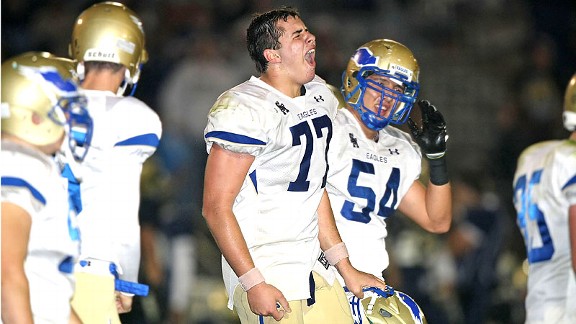 Courtesy Robert Russell Photography Can senior offensive tackle Max Tuerk and POWERADE FAB 50 No. 45 Santa Margarita (Rancho Margarita, Calif.) pull off the upset against No. 23 Bellarmine (San Jose, Calif.)?
A look at the top games and story lines for
POWERADE FAB 50
teams heading into the final weekend of the 2011 high school football season.
GAME OF THE WEEK
No. 2 Armwood (Seffner, Fla.) vs. No. 17 Miami Central (Miami) 1 p.m. Saturday at Citrus Bowl, Orlando, Fla.
This FAB 50 headliner matches the No. 2 Hawks, seeking a Class 6A state title after falling short in Class 4A last season, against defending 6A champion Miami Central.
Armwood lost its only 2010 game to Lincoln (Tallahassee, Fla.) in the finale last year, but started its 14-0 record campaign with a bang. The Hawks traveled to Las Vegas and handed FAB 50 No. 9 Bishop Gorman (Las Vegas) its only loss of the season. If Armwood beats the No. 17 Rockets to wrap up the state crown, it would solidify a final No. 2 ranking in the FAB 50.
The Hawks survived a 46-38 semifinal shootout win over Bartram Trail (St. Johns, Fla.) last weekend, while Miami Central was ousting Mainland (Daytona Beach, Fla.) 17-7 in the other semifinal.
Armwood's offense is run by junior quarterback
Alvin Bailey,
but senior tailback
Wade Edwards
came up big last week with 235 yards on 28 carries with two key fourth-quarter touchdowns. Miami Central has been led all year by touted sophomore tailback
Joseph Yearby
, who rushed for a game-high 160 yards and two scores on 25 carries against Mainland.
These teams have been ranked at the top of the Florida Class 6A polls all season. So to see both of them get this far and face each other in the final only makes the showdown that much more enticing.
PLAYER TO WATCH
Tommy Armstrong, Steele (Cibolo, Texas)
We sure hope we don't jinx Armstrong by calling him out because last week's Player to Watch, kicker Alex Ball from Westlake (Westlake Village, Calif.), suffered a torn ACL in his game the next day and will miss this week's CIF state bowl game.
Armstrong, a 6-foot-2, 210-pound senior dual-threat quarterback, will bid to guide the Knights to a second straight Class 5A-II state championship this weekend. Steele (15-0), ranked No. 14 in the FAB 50, will tackle 13-2 Dekaney (Houston) Saturday night in the title game at Cowboys Stadium in Arlington.
The Nebraska recruit has led the Knights to 28 straight wins, including a 51-31 rout of Memorial (Port Arthur, Texas) in the semifinals last weekend. In that game, Armstrong ran for four touchdowns and passed for another score. On the season, Armstrong has accounted for more than 3,000 yards of total offense and 43 touchdowns. He's also passed for more than 1,900 yards with 27 touchdowns and no interceptions.
The title game matchup also pits Armstrong against touted Dekaney running back
Trey Williams
, a Texas A&M recruit who has rushed for 3,633 yards and 45 TDs this season.
UPSET ALERT
FAB 50 No. 45 Santa Margarita (Rancho Santa Margarita, Calif.) vs. No. 23 Bellarmine (San Jose, Calif.), Friday at The Home Depot Center, Carson, Calif.
This matchup for the CIF Division I state bowl title could be the quickest game ever played because both teams are well-known for ball-control, offensive possessions that can take eight to 10 minutes off the clock. Santa Margarita had one like that in the second half of its 27-13 victory over San Clemente (Calif.) in last week's CIF Southern Section Pac-5 Division championship at Anaheim Stadium. The Bells had one like that as well in the fourth quarter when they played FAB 50 No. 11 De La Salle (Concord, Calif.) in their first game. That helped Bellarmine tie the game and send it into overtime, where a missed PAT was costly in a 26-23 loss.
Both teams can throw but love to leave it in the hands of their Tim Tebow-sized quarterbacks. Santa Margarita's
Johnny Stanton
enters the game with 2,027 yards passing and 1,204 yards rushing. He has accounted for 27 touchdowns. Bellarmine's
Travis McHugh
doesn't throw as often, but has 1,373 yards rushing in one less game. McHugh also has 847 yards in the air and has accounted for 33 scores.
While Bellarmine runs its double-wing offense as good as anyone and may have an edge on defense with active linebackers
Joe Gigantino
and
Brad Kuh
, the Eagles are a much bigger, perhaps more powerful group up front. Their line, which includes 6-foot-5, 320-pound junior
Riley Sorensen
and 6-foot-7, 310-pound junior
Erik Bunte
, is led by 6-foot-6, 265-pound
Max Tuerk
. The USC-bound Tuerk is perhaps the top postseason honors candidate for a lineman in California this season.
Santa Margarita has never been in a CIF state bowl game, but coach
Harry Welch
has been twice with different schools and won both times. His team in 2006 at Canyon (Canyon Country, Calif.) knocked off De La Salle when the Spartans were favored and expected to finish off another undefeated season.
Upset Alerts So Far This Season: 8-7
Team On The Rise?
Del Oro (Loomis, Calif.)
There's actually two games in the CIF state bowl championships at The Home Depot Center that could greatly alter Del Oro's final overall ranking in California and could even get them into next week's final FAB 50.
First, on Saturday in the CIF Division II state bowl game, the Golden Eagles (13-1) need to get past an extremely talented squad from Helix (La Mesa, Calif.). Then a few hours later, if FAB 50 No. 14 Westlake beats No. 11 De La Salle and does so by more than three points, Del Oro can claim it gave the Warriors their toughest game of the year. In that game, coach
Casey Taylor's
team came within one play of beating Westlake in a 30-27 overtime loss. If both scenarios come true, Del Oro could rise to as high as No. 2 in California.
Del Oro's chances against Helix will hinge on the team's multi-faceted offense. It's a unit that features a "thunder and lightning" backfield combo with senior
Nick O'Sullivan
and junior
Brandon Monroe
. O'Sullivan, the thunder part of the duo, enters the game with 1,342 yards rushing and 23 touchdowns. Monroe, definitely serving in the lightning role, has 1,605 yards rushing and 22 touchdowns. Quarterback
Bobby Heatherington
also has shown he can throw with 2,133 yards and 22 touchdown passes.
Del Oro, which still has not lost to any other team this season other than Westlake, captured its second straight CIF Sac-Joaquin Section Division III title two weeks ago with a 21-7 triumph over previously unbeaten Oakdale (Calif.).
October, 18, 2011
10/18/11
5:35
PM ET
By
Mark Tennis & Doug Huff
| ESPN.com
Besides having one of the quickest defenses you'll ever see and possessing a power running back like 6-foot-3, 215-pound
Matt Jones
, another reason to be impressed with this year's football team at Armwood (Seffner, Fla.) is talented junior speedster
Alvin Bailey
.
Bailey is this week's
POWERADE FAB 50 Spotlight Player of the Week
after he returned a punt 46 yards for a touchdown, ran back a kickoff 78 yards for a score and added a touchdown catch during Armwood's 80-0 romp past Strawberry Crest (Dover, Fla.).
Coach
Sean Callahan
of the FAB 50's No. 2 ranked team tries to utilize Bailey's skills in varied ways. The obvious is as a pass catcher as was the case in the team's first game when it traveled to Las Vegas and beat Bishop Gorman 20-17 in a matchup of top ranked squads. But Bailey also has completed 20 of 30 passes as a quarterback for 414 yards and five touchdowns. And he's also run the ball 35 times for 388 yards and two other scores.
The 6-foot-1, 170-pounder, who was a quarterback as a freshman, is beginning to attract the interest of top college programs. Florida, Alabama, Notre Dame and Vanderbilt are among those who could be checking him out.
NFL HALL OF FAMERS FROM FAB 50 SCHOOLS
We have a shorter list than usual this week because there's only two members of the NFL Hall of Fame who are from high schools in this week's FAB 50.
Longtime Miami Dolphins' quarterback
Dan Marino
, who was inducted at Canton, Ohio, in 2005, is the most famous football alum from No. 15 Pittsburgh Central Catholic (Pittsburgh).
The only other player on this list is receiver
Michael Irvin
. The longtime member of the Dallas Cowboys, who was inducted into the Hall of Fame in 2007, is from No. 17 St. Thomas Aquinas (Fort Lauderdale, Fla.).
Marino was on the sidelines recently at St. Thomas Aquinas when the Raiders defeated No. 24 De La Salle (Concord, Calif.) in a game shown on ESPN2.
HIGHEST RISING NEWCOMER OF THE WEEK
No. 38 Mentor (Mentor, Ohio)

The Cardinals have taken over the No. 1 ranking in the Buckeye State and moved into the FAB 50 after spending several weeks in the Midwest Region rankings.
Mentor has never won a state football crown, but its 2006 team finished a 13-2 season as Division 1 runnerup to Davidson (Hilliard, Ohio) after a 36-35 shootout in the finals.
This season's team emerged as a contender in the third week when the Cardinals handed St. Ignatius (Cleveland) its lone season loss 38-24 while recording a school record 608 total offense yards. That win was led by 6-foot-3, 195-pound junior quarterback
Mitch Trubisky
, who amassed a school record 553 yards, including 469 by passing.
Last weekend, Trubisky continued his season-long productivity by passing for 334 yards and four scores in a 45-7 rout of Medina (Medina, Ohio). A week earlier, Mentor also handed Solon (Solon, Ohio) its lone season loss. The Cardinal defense is led by end
Tom Strobel
, a Michigan recruit.
Mentor, coached by 15-year veteran
Steve Trivisonno
, closes the regular season with road games against Strongsville (Strongsville, Ohio) and Twinsburg (Twinsburg, Ohio).
LOOKING AHEAD: LET'S PLAY TWO REMATCHES POSSIBLE
In at least three states, there could be playoff rematches of teams currently ranked in the FAB 50 and chances for losing teams to avenge regular season setbacks.
In Indiana, the two FAB 50 teams that played in the regular season would be No. 12 Warren Central (Indianapolis) and No. 48 Carmel (Carmel, Ind.). They could meet again in the Class 5A state playoffs, which begin this weekend. Warren Central survived its closest scare to remain unbeaten when the Warriors outlasted 22-20 on Sept. 30. The rematch rivalry takes another twist because the Carmel coach,
Kevin Wright
, used to coach nationally-ranked teams at Warren Central.
In North Carolina, observers already are pointing toward a postseason Class 4A rematch between FAB 50 ranked teams Mallard Creek of Charlotte (No. 21) and Butler of Matthews (No. 35). Mallard Creek opened the season with a 28-20 victory over two-time defending state champion Butler, which was sitting way up at No. 8 in the preseason FAB 50.
In Ohio, St. Xavier (Cincinnati) also could face a backyard playoff rematch against Moeller (Cincinnati) in the Division 1 playoffs. St. Xavier, ranked No. 43 this week, lost to Moeller 27-24 on Sept. 23 but has rebounded with three straight wins, including last Saturday's 17-10 win over defending state champion St. Edward (Lakewood, Ohio). Moeller was ranked in the FAB 50 before being upset last weekend by Cathedral (Indianapolis) and is now No. 12 in the Midwest Region rankings.