High-SchoolFootball:

Art Walker
November, 23, 2011
11/23/11
11:14
AM ET
By
Mark Tennis & Doug Huff
| ESPN.com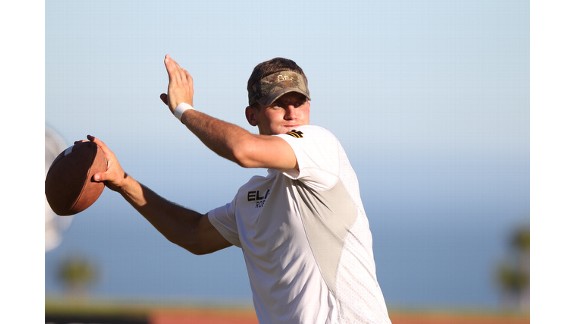 Tom Hauck/ESPNHSElite 11 QB and UNC commit Patton Robinette leads a Maryville (Tenn.) offense that averages over 38 points per game.
GAME OF THE WEEK
Riverdale (Murfreesboro, Tenn.) 12-0 at No. 20 Maryville (Maryville, Tenn.) 12-0, Friday
Despite the abundance of state playoff games around the nation, including a few finals, there are no matchups this weekend that bring together two FAB 50 teams. Although, this Tennessee Class 6A semifinal battle comes pretty close.
Riverdale is basically the No. 21 team in the Southeast Region, which is the toughest in the nation, and certainly would jump into the FAB 50 with a win against Maryville. It's going to be tough for the Warriors to knock off the defending state champs, however, since season-long starting quarterback
Dillon Woodruff
went down with two torn knee ligaments in last week's 35-10 triumph against Oak Ridge (Tenn.).
Riverdale has only had a few close games. The Warriors, who feature several three-year starters, including running back
Adam Davenport
(offer from Navy), also went outside the state once to beat St. Xavier (Louisville, Ky.) 23-9.
The Rebels of Maryville already have won a much-hyped game this season when they defeated Alcoa (Alcoa, Tenn.) 26-19 in their second game. At the time, Alcoa was No. 46 in the FAB 50 and had a 44-game winning streak snapped. Elite 11 quarterback
Patton Robinette
(committed to North Carolina) had 141 yards passing, 91 yards rushing and accounted for two touchdowns in that game. In last week's 41-7 romp over Sevier County (Sevierville, Tenn.), Robinette shined with 276 total yards and accounted for six scores.
Also helping the Rebels sustain their gaudy average of more than 38 points per game has been running back
Shawn Prevo
, who has 1,008 yards rushing and 13 touchdowns, plus senior center
Jay Guillermo
(verbal to Clemson).
PLAYER TO WATCH
Shaq Powell, Bishop Gorman (Las Vegas)
The milestones are beginning to pile up for Powell, who first carried the ball for the Gaels as a freshman. The senior running back went over 2,000 yards for the season with 218 yards and one touchdown in last week's 35-7 win over previously unbeaten Palo Verde (Las Vegas). He's also close to going over 5,000 yards for his career and could do that with another 200-yard night in this week's state semifinal game against Liberty (Henderson, Nev.).
Since most games on No. 7 Bishop Gorman's schedule are over before halftime, Powell's totals become more impressive. He also missed several games at the end of last season due to injuries. He's a runner who hits the hole hard, can break it around the corners and catches the ball well out of the backfield.
The last running back from Bishop Gorman who was as effective as Powell was DeMarco Murray, now starring as a rookie in the NFL for the Dallas Cowboys.
Oklahoma, where Murray went to college, is not on the list of colleges that have offered the Gaels' next potentially great back. Those who have include Arizona State, Duke, Fresno State, Illinois, San Diego State, Washington and Vanderbilt.
UPSET ALERT
Upper St. Clair (Upper St. Clair, Pa.) 11-1 vs. No. 26 North Allegheny (Wexford, Pa.) 12-0, Saturday at Heinz Field (Pittsburgh)
These two Western Pennsylvania rivals know each other well. They regularly play in the regular season and will meet this year for a second time in the WPIAL Class AAAA finals, with the winner advancing in the state playoffs.
In the regular-season contest, defending 4-A state champion North Allegheny handed Upper St. Clair its lone loss 28-21. The Panthers then reeled off nine straight wins, including last week's 28-14 upset of FAB 50 No. 13 Pittsburgh Central Catholic (Pittsburgh, Pa.) while playing with a backup quarterback making his first start. Junior
Pete Coughlin
responded with 270 total offense yards, including 209 on 21 carries and was named the
ESPNHS East Region Player of the Week
. Coughlin replaced the injured
Dakota Conwell,
a Pittsburgh recruit who was sidelined with an ailing ankle. Conwell, who has 2,072 total offense yards and 30 touchdowns this season, could return this weekend.
North Allegheny's quarterback,
Mack Leftwich
, has been the Tigers' offensive spark. He has passed for 1,803 yards and 17 touchdowns.
Both teams are led by two of the state's top coaches. USC's Jim Render has 354 career wins, third best all-time in the Keystone State, and won state crowns in 2006 and 1989. NA's Art Walker has won state championships at two schools; last season with North Allegheny and in 2004 with Pittsburgh Central Catholic.
Upset Alerts So Far This Season: 6-6
TEAM ON THE RISE?
Page (Greensboro, N.C.)
The Pirates (13-0) opened some eyes last weekend when they eliminated two-time Class 4-AA state champion Butler (Matthews, N.C.) with a 40-26 victory. Butler also was No. 28 in the FAB 50.
Page scored the final 34 points of the game after trailing 26-12 at halftime as Butler quarterback
Riley Ferguson
passed for 347 yards and three scores before intermission. But in the second half, Ferguson completed only three passes and wound up with 431 yards in the losing effort. Butler had won 42 of its previous 43 games and was averaging 50 points per game during its 11-game win streak.
Page was led by quarterback
James Summers,
a North Carolina State recruit who rushed for 131 yards and three second-half touchdowns. He also passed for two scores. Running back
Drew Rogers
ran for 137 yards.
The Pirates will face their second straight FAB 50-ranked foe Friday in the semifinals as they host FAB 50 No. 13 Mallard Creek (Charlotte, N.C.) in a clash of unbeaten teams. The winner advances to the state finals on Dec. 3 against the survivor of the other semifinal matching Garner (Garner, N.C.) and Britt (Fayetteville, N.C.).
October, 4, 2011
10/04/11
5:02
PM ET
By
Mark Tennis & Doug Huff
| ESPN.com
Matt Alviti may only be a junior, but the starting quarterback for FAB 50 No. 12 Maine South (Park Ridge, Ill.) has already led the Hawks to a state championship.
The 6-foot-1, 180-pounder has definitely picked up where he left off after last season when he guided Maine South to a 12-2 record and the Class 8A state crown.
Due to that accomplishment, plus an outing he had last weekend, Alviti is this week's choice as the POWERADE FAB 50 Spotlight Player of the Week.
As a sophomore, Alviti passed for 3,108 yards and 24 touchdowns. This season, he has led the Hawks to a 6-0 record and favorite's status for the upcoming state playoffs.
In the last four games, Alviti has passed for 15 scores. Last weekend, in a 55-15 win over Niles West (Skokie, Ill.), he had his most productive game yet by completing 17 of 25 passes for 287 yards and five scores.
Next up is a Thursday game against Evanston (Evanston, Ill.).
THE FAB 50'S TOP PASS-CATCH COMBOS
Many of the best teams in the nation become so hard to beat because they can pass and run equally well on offense. And among those who throw it, some have a pass-catch combination that makes opposing defenses shake their heads in preparation.
Here are the top pass-catch combos in this week's FAB 50:
QB Alec Morris to WR Andrew Rodriguez of No. 3 Allen (Allen, Texas)
Morris, committed to Alabama, is one of the top juniors in the nation and has completed a bulk of his passes to Rodriguez.
QB Brooks Haack to WR Jordan Thompson of No. 5 Katy (Katy, Texas)
Haack enters this week with 15 touchdown passes and no interceptions with eight of those scores going to Thompson.
QB Travis Wright to WR James Quick of No. 7 Trinity (Louisville, Ky.)
Both juniors will be back next season with Quick possibly as high as the No. 1 junior receiving prospect in the nation.
QB Perry Hills to WR Anthony Nixon, No. 14 Pittsburgh Central Catholic (Pittsburgh)
Both players have verbally committed to Maryland.
QB Bart Houston to WR Anthony Williams of No. 23 De La Salle (Concord, Calif.)
While the Spartans' offense has had some struggles, Williams has scored on several big plays so far this season, mostly on deep passes from Houston (committed to Wisconsin).
QB Andrew Goodman to WR Corey Miller, No. 24 Mallard Creek (Charlotte, N.C.)
Goodman is a transfer from a small private school who has been a solid replacement for graduated standout Marquise Williams while Miller is emerging as a legit college prospect.
QB Spencer Iacovone to WR Monty Madaris, No. 37 Moeller (Cincinnati)
These two have helped the Crusaders average nearly 400 yards per game.
QB Devante Kincade to WR Thomas Johnson of No. 38 Skyline (Dallas)
Kincade had 335 yards passing last week with two of his four touchdowns going to Johnson, a Texas pledge and one of the top wideouts in Texas.
QB Riley Ferguson to WR Uriah LeMay, No. 39 Butler (Matthews, N.C.)
Ferguson had to take over as Butler's QB last season as a sophomore when Uriah's older brother, Christian, encountered some disciplinary actions.
HIGHEST RISING NEWCOMER OF THE WEEK
No. 48 North Allegheny (Wexford, Pa.)
The Tigers broke into the FAB 50 this week after a 5-0 start that also extends their win streak to 12 games.
Last season, the Tigers capped a 15-1 campaign with a Class AAAA state title, the second for coach Art Walker. The Tigers' mentor since 2005, Walker previously guided Pittsburgh Central Catholic -- currently No. 14 in the FAB 50 -- to back-to-back state title games in his last two seasons there and won it all with a 16-0 mark in 2004.
North Allegheny was senior-led in 2010 and the team didn't get much of a preseason buildup. The breakthrough win was on Sept. 16 when the Tigers bested Upper St. Clair (Pittsburgh) 28-21 in a clash of unbeatens. The Tigers followed that win with a 49-14 domination of Erie McDowell (Erie, Pa.) and a 49-28 romp over Seneca Valley (Harmony, Pa.) last weekend.
The maturation of junior quarterback Mack Leftwich, who has a solid line in front of him anchored by Zach Harvey (6-3, 250) and Peter Thistle (6-1, 230), has been one of the reasons for the team's success.
Up next for North Allegheny is a Friday visit to Kiski (Kiski, Pa.).
BISHOP GORMAN'S WIN HUGE FOR SEVERAL REASONS
Last weekend's 31-28 victory by Bishop Gorman (Las Vegas) over Servite (Anaheim, Calif.) was important not only for this football season, but also for the Gaels in their quest to be one of the top all-sports schools in the nation.
If Servite had won and handed Bishop Gorman a second loss, it would then have been very difficult if not impossible for the Gaels to end the season within the top 25 of the FAB 50. Instead, with a likely dominant run to another state title in Nevada, coach Tony Sanchez's team probably ensured itself of a top 10 final ranking.
The POWERADE FAB 50 rankings team also is currently involved in the preseason listings for boys basketball. Bishop Gorman looks like a top 10 team there as well with all five starters returning, including Shabazz Muhammad, perhaps the top ranked player in the nation.
Then there's the Gaels' baseball team. That was the first team at the school to break through the state border and achieve high national rankings. The 2012 edition of the team not only is a
likely preseason top 10 team for the nation, but will be considered for preseason No. 1.