High-SchoolFootball:

Butler
June, 27, 2012
6/27/12
11:00
AM ET
By
Brandon Parker
| ESPN.com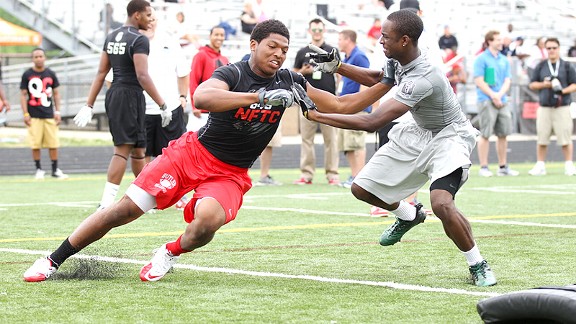 Tom Hauck/ESPNHSButler (Matthews, N.C.) linebacker Peter Kalambayi (left) picked up an invitation to The Opening at the Charlotte NFTC.
While the Miami Heat was building its Big 3 in the summer of 2010, the Butler (Matthews, N.C.) football program was getting set to unleash its own Big 3 in hopes of repeating as Class 4AA champs. On offense, there were sophomores
Riley Ferguson
at quarterback and
Uriah LeMay
at wideout while sophomore linebacker
Peter Kalambayi
helped anchor a strong defense.
Kalambayi stood out because he was one of just three players in his class to skip JV and play varsity as a freshman. The 6-foot-3, 235-pounder hasn't disappointed in his three years, pushing the Bulldogs to a second straight title in 2011, posting 80 tackles and six sacks in just eight games last season and earning the No. 300 spot in the
ESPN 300
.
But while Kalambayi has done most of his damage on the east coast, he will soon be well acquainted with the west. During a visit earlier this month to Stanford, the senior committed to the Cardinal and in July, he'll join 150 of the nation's top recruits at
The Opening
. It's time to Get Familiar with Peter Kalambayi.
ESPNHS: After participating in NFTC camps the last three years, what was it like to get invited to The Opening and join 149 of the nation's top players?
Kalambayi:
I've been working hard all these years and I knew what I had to do, so it was great to have that work recognized and get invited to The Opening.
ESPNHS: What are you hoping to prove while you're at The Opening?
Kalambayi:
What a lot of people don't know is how fast I am, so I'm looking forward to working with and competing against some other fast guys to show I can play with them. I want to get a good 40 time in the SPARQ competition. I've been timed at 4.47, but it'd be nice to have a good time officially in the books there.
ESPNHS: Based on your goals for your upcoming senior season, in what ways will being at The Opening help?
Kalambayi:
It will help a lot, especially with my coverage skills, which I want to improve. I'll be going against some great guys there and I'll be able to take what I learn at The Opening into the season and adapt it to our defense.
ESPNHS: You won state titles in your first two years of high school along with 31 straight games at one point, so how hard was it to endure your first two varsity losses to begin and end last season?
Kalambayi:
It's terrible and it puts you in a bad mood. I'm still in a bad mood about it, really, because I'm just not used to losing. Even in eighth grade, my team didn't lose a game, so last year was my first loss in about five years. In my mind, last year was a failure because we didn't win the state championship and if we don't win this year, it will be another failure because that's what we play for — to win state championships.
ESPNHS: You just came off a spring season where you competed in the shot put and discus. When did you start competing in that and how does it affect your play on the football field?
Kalambayi:
I started in eighth grade and competing in those events definitely helps with football. You have to be very coordinated to do the discus and shot put, so it helps with my footwork and agility on the football field.
PETER KALAMBAYI
School:
Butler (Matthews, N.C.)
Class:
2013
Position:
Linebacker
Height:
6-3
Weight:
235
FAVORITES
Food:
Fried Chicken
Movie:
"2 Fast 2 Furious"
School subject:
History
Athlete:
Bo Jackson
Team:
Philadelphia Eagles
January, 20, 2012
1/20/12
5:53
AM ET
By
Brandon Parker
| ESPN.com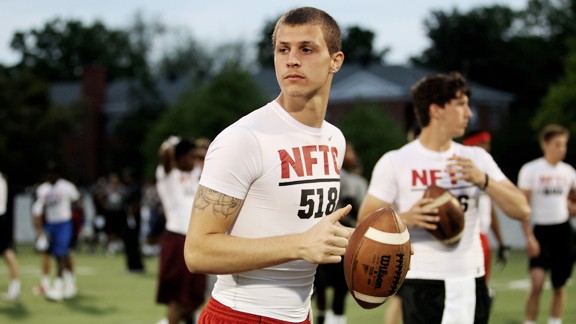 Tom Hauck/ESPNHSButler (Matthews, N.C.) junior quarterback Riley Ferguson shined at last year's Elite 11 regionals.
Throughout this offseason, we'll spotlight Class of 2013 quarterbacks who have a shot at making the Elite 11 finals in July. Last week we profiled future Wolverine Shane Morris. This week we profile Butler (Matthews, N.C.) standout Riley Ferguson.
While holding his own at the
Champion Gridiron Kings in Florida last summer
,
Riley Ferguson
made it clear where he hopes to be this July, saying "hopefully I will be at Elite 11 next year." The junior, who already has two 4AA state championships under his belt, made a strong case for an invitation this past season, throwing for 3,345 yards and 48 touchdowns. Ferguson took time to talk to us about the bad taste from his first playoff loss as well his strong desire to make the Elite 11 finals.
ESPNHS:
After winning the last two state titles, this past season began and ended with rare losses. What's your take on why things played out like they did?
Ferguson:
When we lost at the beginning of the season, I took it kind of hard because it was the first time I'd lost since being in high school. But everybody takes losses, so I thought we'd focus and come back stronger, and that's what we did. When we got to Page (Greensboro, N.C.) [in the 4AA quarterfinals], I think some of us were thinking it would be a cakewalk in the playoffs instead of having to work for it. And we ended up paying for it.
ESPNHS:
How much does last season's outcome motivate you for your senior season?
Ferguson:
It'll motivate me more than anything. Taking two losses in one season killed me. Last year was also the last time I will play with my brother Zach, so that hurt. But I'm just going to go hard and play for our team to get back on top.
ESPNHS:
Do you think there will be the same target on your back next season even though you guys aren't the defending champs?
Ferguson:
Of course we'll still have the target because of our program's history and all of the top prospects we have. But I don't like seeing it us as just a bunch of star players. I think of us as being a team and winning together. As long as we remember that and play together, we can overcome that target.
ESPNHS:
After you finish playing basketball, what are some things you will work on in the offseason?
Ferguson:
I need to get in the weight room and work on my strength. I also want to do a bunch of agility stuff. Pretty much, I'll be working on everything because you can always get better and there's always something to work on.
ESPNHS:
What was the experience like to compete at the Elite 11 regionals last summer?
Ferguson:
It helped a lot because it was invitation-only, so everybody there was a good quarterback and the best from their area. I talked to a lot of other quarterbacks and learned some good things from the experience. Going to the NFTC [Nike Football Training Camp] was a real challenge and helpful for me, too.
ESPNHS:
If you are invited to the national Elite 11 competition, what would you hope to gain from the experience?
Ferguson:
Oh man, it would be unbelievable to get invited there. It's an amazing opportunity to go to California and be in that atmosphere with great quarterbacks and coaches. I hear that NFL and college players are there, too, so I would be real excited to learn from them.
ESPNHS:
You recently received some new offers from school. How many offers do you have and who are your favorites?
Ferguson:
I've got offers from Clemson, LSU, Michigan, Virginia Tech, Louisville, Maryland and Notre Dame. At this point, I'm accepting all offers and it'll come down to whichever school feels the best. I haven't really narrowed the list down; I might do that sometime this summer. But whenever I feel like I've found the right school, which could be in the summer or fall or anytime, that's when I'll make my decision.
RILEY FERGUSON
School:
Butler (Matthews, N.C.)
Position:
QB
Class:
2013
2011 Team Record:
11-2 (Lost in Class 4AA quarterfinal)
2011 Stats
Completions-Attempts:
184-279 (.659)
Yards:
3,345
TD:
48
INT:
8
Brandon Parker covers high school sports for ESPNHS magazine and ESPNHS.com. Follow him on Twitter @brandoncparker or email him at brandon.c.parker@espn.com.