High-SchoolFootball:

California
June, 25, 2012
6/25/12
11:08
AM ET
By
Christopher Parish
| ESPN.com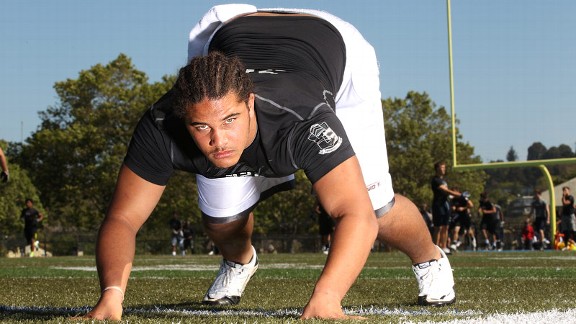 Tom Hauck/ESPNHSCasa Grande (Petaluma, Calif.) junior defensive lineman/running back Elijah Qualls has been one of the nation's most talked-about recruits following his impressive display at the Oakland NFTC.
It's truly a sight to behold.
Here comes
Elijah Qualls
of Casa Grande (Petaluma, Calif.), listed at 6-foot-1 and 285 pounds but probably bigger, into the offensive huddle. He blends in just fine until the huddle breaks, the players clap, and the offensive linemen take their set positions -- and Qualls is nowhere to be found.
Instead, the rising senior has taken his spot behind the quarterback. He's a running back, and he's a pretty good one at that. He carried the ball 166 times last fall, rushing for 1,139 yards and 14 touchdowns. But he's more than a bowling ball in the backfield, as he also caught 13 balls for 215 yards and another score. He even passed for a score once last season.
Of course, Qualls does more than just punish opposing defenses on the ground. On the other side of the ball, he takes a position more befitting of a player his size on the defensive line. The combination of skill, power, speed and agility has made him an intriguing recruit, and he's been heavily recruited at both offensive and defensive positions.
Last season, Qualls led Casa Grande to a 9-4 record, and the Gauchos advanced to the second round of the CIF North Coast Section Division II tournament. But this season, Qualls and his teammates have higher hopes.
So who exactly is this larger than life running back? It's time to Get Familiar with Elijah Qualls.
ESPNHS: How'd you get started with football?
Qualls
: I got started when I was 5. I grew up in a horrible neighborhood, and my dad got me into it to keep myself out of trouble. I had a bit of a bad temper, too, so I got to use my anger for something productive.
ESPNHS: Were you always a bigger kid?
Qualls
: I was always kind of wide, but never really tall. I didn't really grow until the summer of my sophomore year. I've never been that big a person, and so I was always training as a running back, working to add agility and balance. And then all of a sudden I blew up, but I kept my speed and agility.
ESPNHS: You play some running back and some defensive end. Do you have a preference?
Qualls
: It doesn't really matter to me. Both positions are fun. I just want to ball out and have fun.
ESPNHS: How about the schools that are recruiting you? Who's on your list right now, and where are they recruiting me?
Qualls
: I'm down to six right now – Washington, USC, Arizona, Nevada, Oregon State and Cal -- and a couple want me just on the defensive line, a couple want me to do both, but some of them want me just as a running back, which is pretty cool. I'm still getting to know these coaches. I'm narrowing it down every few weeks, but I'll probably make a decision within the next couple of months.
ESPNHS: How do you feel like you did at the Oakland NFTC?
Qualls
: It went pretty good. Last year was my first year on the D-line, and I'm not extremely good at it yet. I'm not that good technique-wise. I played more with leverage and speed, but my hand technique isn't that great. But I still won 60 or 70 percent of the time. I did use a little bit of my hands and I had a good move here and there. The rest was just speed.
ESPNHS: What was it like to walk away with an invite to The Opening?
Qualls
: To be honest, at first, I didn't really know what it was. But then my cousin explained it to me, and then I was really excited. It's an honor to be considered one of the top players.
ESPNHS: Tell us a little about your high school team. What are some of the expectations for this season?
Qualls
: We exceeded expectations last season. It was a good season, but this season is going to be a lot better. We have a lot of talent. We're young, so we're a little raw, but when we get the experience and the reps, we'll be good.
ESPNHS: And I'm sure you're looking forward to getting back out there at running back.
Qualls
: It's not every day you see a 280-pound running back. I'm really blessed.
ELIJAH QUALLS
School
: Casa Grande (Peteluma, Calif.)
Class
: 2013
Position
: RB/DB
HT
: 6-2
WT
: 285
2011 Team Record
: 9-4 (Lost in CIF North Coast Section Division II tourney)
FAVORITES
Food
: Spaghetti
Athlete
: Barry Sanders
Musical Artist
: Hopsin & Wiz Khalifa
Video Game
: "Call of Duty: Modern Warfare 3"
Movie
: "Friday Night Lights"
June, 14, 2012
6/14/12
10:12
AM ET
By
Christopher Parish
| ESPN.com
Is Lincoln (Stockton, Calif.) junior quarterback
Zack Greenlee
the nation's best quarterback without a scholarship offer?
He's certainly in the discussion. Rated the nation's
No. 21 pocket passer by ESPN
, Greenlee is one of only two QBs in the top 25 without a reported offer from any college. That doesn't mean there's not interest -- schools such as Boise State, BYU, Cal, Colorado and UCLA are among those who have reached out to the 6-foot-2, 187-pound signal-caller. But no school has extended an olive branch.
Their loss could soon be some school's gain. Greenlee performed exceptionally well
at the Oakland Elite 11 regional
, going toe to toe with some of the nation's best QBs on a blustery day by the bay.
Last season, he and teammate
Justin Davis
(a USC pledge) helped Lincoln to an 11-2 record. Davis led the team on the ground with 36 touchdowns, but it was far from a one-dimensional offense. Greenlee completed 59.1 percent of his passes for 2,340 yards and 22 scores with just five interceptions.
Maybe the college coaches need to see more. So Greenlee will take his talents to Las Vegas on June 16 for another Elite 11 regional. Until then, we'll help you get to know this budding young star.
ESPNHS: Between you and Justin Davis, that's quite a formidable offense. Tell us a little bit about what it's like to have him in the backfield with you.
Greenlee
: It's a strong tandem. We feed off each other, and teams have to prepare for both of us. They're fighting to stop the run, so we can come at them through the air, and then when they adjust for that, Justin just pounds it up the middle. It's nice having him out there, too, because teams have to respect the play-action.
ESPNHS: What are some things you're working on this summer in preparation for your senior season?
Greenlee
: I'm just working to get bigger and stronger and building chemistry with my wide receivers. I was pretty small [as a sophomore], I was maybe 165 or 170, so I've been putting on a lot of weight. I'm 190 now and I want to be at least 200 by the time I leave high school.
ESPNHS: Be your biggest critic here. What do you think you need to do to take the next step?
Greenlee
: I have to progress as a leader for our team. And I just have to keep working on footwork. As a player, I need to make sure I get all of my reads down and just work on improving on learning to read defenses.
ESPNHS: You had a chance to compete at the Oakland Elite 11 regional. How do you think it went?
Greenlee
: I thought it went really well. I got a chance to compete with some of the best QBs in the nation, guys like
Max Browne
and
Cooper Bateman
. It was nice to put a face to a name and talk to them. And it was great to compete out there and show the coaches what I can do. I feel like I did really well. It was hard to get used to the wind and battling the elements, but I settled down. I had fun going through the drills.
ESPNHS: What were some things you learned from the coaches while you were there?
Greenlee
: They talked a lot about ball placement. Stuff like when I'm dropping back, where to hold the ball. It was a big learning experience for me.
ESPNHS: You're going to be at the Las Vegas regional. What would it mean to you to get an invite to the finals?
Greenlee
: It would mean a lot. I've been working hard all summer to get there. That has been my goal since my sophomore year, and I'm looking forward to it. I just have to show the coaches that I can continue to keep competing.
ESPNHS: How's the recruiting process going?
Greenlee
: I've talked to quite a few schools, but I haven't gotten an offer yet. I'm looking to get out to some camps. I'll be headed to the Fresno State and UNLV camps shortly.
ZACK GREENLEE
School
: Lincoln (Stockton, Calif.)
Position
: QB
Class
: 2013
College
: Undecided
2011 Team Record
: 11-2 (Lost in CIF Sac-Joaquin Section Division I semifinals)
2011 Stats
Attempts/Completions
: 127-of-215 (59.1 percent)
Passing Yards
: 2,340
TD
: 22
November, 7, 2011
11/07/11
11:28
AM ET
By
Lem Satterfield
| ESPN.com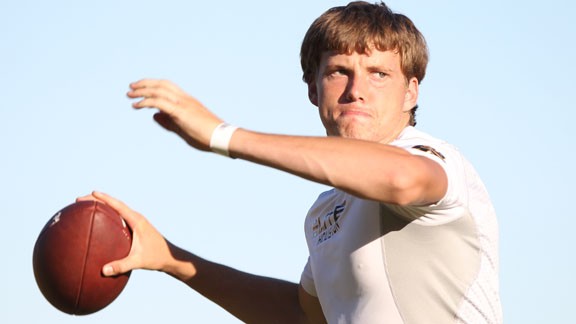 Tom Hauck/ESPNHSBart Houston of De La Salle (Concord, Calif.) reminded his team to have fun on the field despite an early loss this season.
The huddle is a sacred place in football; one where the team and game are the only things that count. We're going inside the huddle by talking to football players on the
POWERADE FAB 50 teams
to find out their most valuable lessons learned -- on or off the field -- that contribute to their success.
Senior quarterback
Bart Houston
of No. 20 De La Salle (Concord, Calif.) talks about refocusing his team following a rare loss. The greatest lesson learned from a loss, said Houston, might just be to remember to enjoy the game and not let it get too serious. A 6-foot-4, 215-pounder who has committed to call signals for the University of Wisconsin, Houston is a straight-A student with plans on majoring in chemical engineering or business.
Over the course of last season, Houston totaled 1,922 passing yards for 20 touchdowns, and rushed for 11 more scores to pace the Spartans to a 14-0 record and an Open Division state title.
But a cross-country trip to St. Thomas Aquinas (Fort Lauderdale, Fla.) early this season ended the Spartans' winning ways and with a 30-6 loss.
"Total yards wasn't much more than 100. They really kicked our butts," said Houston. "I didn't do too well. It was the first varsity start that I experienced a loss. But my stats didn't matter so much to me."
What mattered more was to get his Spartans back on track, which the team leader did by immediately engaging a pair of teammates in an inclusive and positive way on the flight back to California.
"We were flying back home, and I turned to my best friends, Justin Walker, a defensive and offensive lineman, and Trevor Christiansen, an outside linebacker, and I told them, 'This year is going to change,'" said Houston. "I told them that we've been treating this game too much like a job. I said,'let's go out there and have some fun out there again.'"
The Spartans responded the following weekend with a convincing win -- their first of six straight victories.
ROLE MODEL: Fred Houston, grandfather.
"He's an ex-football coach, and he has just always been there for me. He's the man that I want to be."
September, 1, 2011
9/01/11
8:17
PM ET
By
Mark Tennis & Doug Huff
| ESPN.com
Game of the Week

No. 8 Manatee (Bradenton, Fla.) 0-0 at No. 19 Good Counsel (Olney, Md.) 0-0, Friday Sept. 2.
For the second straight year, both FAB 50 ranked teams will open with inter-sectional showdowns. Last year, Manatee played its first-ever out-of-state game when the Hurricanes traveled to Pittsburgh and defeated host Woodland Hills. Good Counsel also won its opener on the road against host St. Xavier of Cincinnati.

Manatee competed last weekend in a preseason jamboree and scored late to defeat American Heritage (Delray Beach, Fla.) 20-14. The Hurricanes are led by junior quarterback Cord Sandberg, a standout last season for the Class 5A state semifinalist and one of the top underclass candidates for Mr. Football USA. Manatee is coached by Joe Kinnan, who is in his second tour at the helm after guiding the Hurricanes to four state titles in 10 years during the 1980s.

Good Counsel, coached by Bob Milloy, Maryland's all-time winningest coach in his 40th season, also has a candidate for Mr. Football USA in senior Stefon Diggs. He can play several skill positions, including wide receiver, running back, defensive back and kick returner. He can be a game-breaker on both sides of the ball.


Player to Watch

Colin Thompson, Archbishop Wood (Warminster, Pa.)
Ranked the nation's No. 1 tight end in the Class of 2012 by ESPNU, the 6-foot-4, 255-pounder will be a featured player in Sunday afternoon's FAB 50 intra-state showdown vs. Pittsburgh Central Catholic (Pittsburgh) at Gateway High School in Monroeville, Pa. Kickoff is 2 p.m. for the ESPN2 televised game matching FAB 50 No. 22 Central Catholic vs. No. 46 Archbishop Wood.

The University of Florida recruit is one of six NCAA Division 1 recruits on the Archbishop Wood roster as the Class AAA state contender from Eastern Pennsylvania tackles the Class AAAA power from Western Pa. Thompson, a two-way lineman and senior team captain, is rated a top blocking tight end with good hands and running skills. The versatile athlete also has seen playing time at fullback and in the slot for the top-ranked team in the Philadelphia area.

Upset Alert


No. 36 Bellevue (Bellevue, Wash.) 0-0 vs. Oaks Christian (Westlake Village, Calif.) 0-0, Saturday at Mission Viejo (Mission Viejo, Calif.)
While Bellevue is in the FAB 50 and Oaks Christian is not, it wouldn't be much of an upset if the Lions were to win. This matchup is the best of a five-game set being billed as the Mission Viejo Football Classic. The host school, FAB 50 No. 6 Mission Viejo, plays on Friday night against Centennial (Bakersfield, Calif.).

Both teams are coming off championship seasons. Bellevue (13-1) won its third straight Class 3A state title, while Oaks Christian (12-2) won the CIF Southern Section Northern Division crown. Bellevue brings its well-oiled Wing-T offense to California for the first time. The Wolverines have a 3-1 record in games held in Washington against California teams. They were 3-0 (including the win in 2004 that broke Concord De La Salle's 151-game national record win streak) before losing two years ago to Grant of Sacramento.

Oaks Christian played in Washington on the same weekend two years ago when Bellevue lost to Grant and defeated Skyline (Sammamish, Wash.) The Lions are now completely done with the famous sons being on the roster with the graduations of Trevor Gretzky and Trey Smith, but they figure to remain firmly in the spotlight as one of the top programs in the state. This year's team has some rebuilding to do with the front seven on defense and up front on offense. The skill positions, however, still look loaded with USC-bound receiver Payton Jordan, two-way standout Ishmael Adams, transfer quarterback Luke Falk and linebacker-running back Carlos Mendoza leading the way. Bellevue will try to spring running back Latrelle Dukes for big gains while other players to watch include defensive back Tyler Hasty, and 6-foot-5, 295-pound offensive tackle Jake Eldrenkamp.

Team on the rise?

Stephenville (Stephenville, Texas) 1-0
Led by 2010 ESPNHS Mr. Football USA Johnathan Gray, Aledo (Aledo, Texas) entered the season with a 29-game winning streak and high expectations for a third straight state title. That winning streak, however, was snapped in dramatic fashion last weekend by Stephenville in the season opener for both squads.

Trailing by as many as 17 points at two different points of the game, the Yellow Jackets rallied behind the arm of junior Brice Gunter, who completed 20 of 24 pass attempts for 224 yards and three touchdowns while also running for a score after entering for injured starter Connor Washington. Leading 48-47 with seconds remaining, junior cornerback Preston Brown blocked Aledo's game-winning field goal attempt with no time remaining but a roughing the kicker penalty gave the Bearcats a second attempt which Brown also blocked. Aiavon Edwards also rushed for 223 yards in the win for Stephenville, which will now head to Abilene to take on Wylie in this week's game.

The Yellow Jackets also should now become fans of the Bearcats as they will take on FAB 50 No. 39 Lake Travis (Austin, Texas) on Sept. 9. A win by Aledo in that game would definitely help the Yellow Jackets move up the rankings as long as they also continue to win.
August, 24, 2011
8/24/11
6:42
PM ET
By
Michael White
| ESPN.com
ESPNHS will follow the weekly progress of the ESPNHS Elite 11 quarterbacks during their senior seasons. In addition we will track the top quarterback performances from around the country. The Elite 11 Tracker will be featured every Wednesday.
With just a few states kicking off this past weekend, it was one the Elite 11 MVPs who shined and put on the best performance. Recent Florida State commit Jameis Winston was unstoppable, passing for a touchdown and rushing for an additional four scores leading Hueytown to a win. Gunner Kiel, Patton Robinette and Patrick Towles each led their squads to victories as well.
Austin Appleby, 6-4, 225, Hoover (North Canton, Ohio)

Committed to Purdue
This week:
vs. Stow-Munroe Falls (Stow, Ohio)
Connor Brewer, 6-2, 190, Chaparral (Scottsdale, Ariz.)
Committed to Texas
Last Week:
11-of-26 for 198 yards, three touchdowns and one interception in a 42-22 loss to Bishop Gorman (Las Vegas, Nev.)
Season totals:
11-of-26 for 198 yards, three touchdowns and one interception
This week:
at Salpointe Catholic (Tucson, Ariz.)