High-SchoolFootball:

Chantilly Westfield
November, 8, 2011
11/08/11
5:30
PM ET
By
Doug Huff & Paul Muyskens
| ESPN.com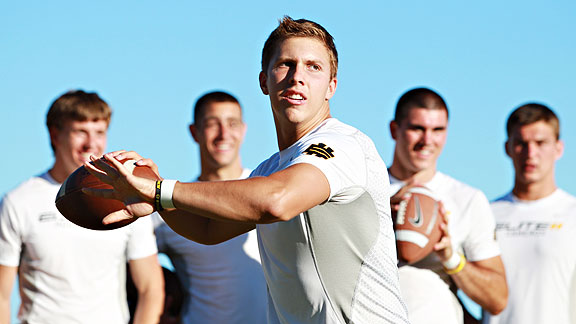 Tom Hauck for ESPN.comConnor Brewer has led Chaparral (Scottsdale, Ariz.) to 11 straight wins and is just one passing touchdown shy of setting a new career state record.
The FAB 50 team making the greatest improvement from last season to this current campaign has to be No. 42
Westfield
(Chantilly, Va.). The Bulldogs capped a 10-0 regular season last week with a 64-7 rout of Herndon (Herndon, Va.) and will face Robinson (Fairfax, Va.) on Friday in the first round of the AAA state playoffs.
At this time last year, the Wildcats ended a 6-5 record season with a first-round playoff loss to Chantilly (Chantilly, Va.) 7-0. It was Westfield's second loss to its rivals after bowing 17-14 in the regular season. This season, Westfield avenged those 2010 losses with a 40-14 romp of Chantilly.
In his first year as coach of the Bulldogs,
Kyle Simmons
helped his team avenge two other losses from last season en route to a perfect regular season record and a place in the FAB 50 national rankings. Westfield defeated Lake Braddock (Burke, Va.) 45-7 after losing 12-7 a year ago. And the Bulldogs blanked Robinson (Fairfax, Va.) 28-0 this season after a 14-0 setback last season. Robinson is this week's playoff opponent.
FAB 50 SPOTLIGHT PLAYER OF THE WEEK
Conner Brewer
, Chaparral (Scottsdale, Ariz.)
Sometime in the first half on Thursday night against Perry (Gilbert, Ariz.), this senior quarterback should break the state record for touchdown passes in a career. He tied the record with four TD passes last week in the Firebirds' 62-0 first-round rout of Gila Ridge (Yuma, Ariz.) in the playoffs.
With 94 career touchdown passes, he is currently tied with
Brian Chason
, who played eight-man football at Tucson Christian from 1982-85, and also with
Phillip Aholt
, who played at Cactus Shadow (Cave Creek, Ariz.) from 2003-06.
Leading the Firebirds to 11 straight wins since opening the season with a loss to FAB 50 No. 7
Bishop Gorman
(Las Vegas), Brewer has passed for 2,464 yards and 37 touchdowns to place himself as one of the leading contenders for state player of the year. Last season, Brewer passed for 37 TDs and as a sophomore he had 20 scoring passes.
With the team likely to make a deep playoff run towards another state championship, he has a chance to surpass the 100-TD career mark.
Ranked as the No. 3 quarterback and No. 34 overall in the the
ESPNU 150 player rankings
, Brewer will head to Texas next season after committing to the Longhorns in February.
HIGHEST RISING NEWCOMER OF THE WEEK
No. 45 Hilliard Davidson (Hilliard, Ohio)
It shouldn't be a surprise that the unbeaten Wildcats have joined the FAB 50 after finishing atop the Division 1 regular season state poll by The Associated Press. Last week, Davidson opened the playoffs with its sixth shutout of the season in a 22-0 blanking of Olentangy Orange (Lewis Center, Ohio). This week, the team tackles Upper Arlington (Columbus, Ohio) in the second-round of the playoffs.
The Wildcats' defense has been stingy all season and allowed only 28 points over the entire schedule. Senior linebacker
Jake Himmeger
anchors the defense for coach
Brian White's
team. On offense, senior running back
Alex Mickley
, who rushed for 1,491 yards in 14 games last season, continues to pave the way.
Davidson has been one of Ohio's top D-1 programs the last five years, with two state titles and three regional championships. Last season, the Wildcats went 14-1 while advancing to the state semi-finals.
LOOKING AHEAD: Team Movement in Florida Playoffs
Post-season state championship playoffs won't start in Florida until next week (Nov. 18-19), but four of the five FAB 50 Sunshine State teams will be competing in different classes from last season.
Only defending Class 6A state titlist
Miami Central
, currently No. 39 in the FAB 50, will compete in the same class as last season. The Rockets could face current FAB 50 No. 2
Armwood
(Seffner, Fla.) in the 6A finals since the Hawks moved to this level from Class 4A last season, where they had finished as state runner-up.
New to Class 7A is FAB 50 No. 25
Manatee
(Bradenton, Fla.), which moved up from Class 5A a year ago. In 7A, Manatee might run into defending FAB 50 national champion
St. Thomas Aquinas
(Fort Lauderdale, Fla.), which also was bumped up from Class 5A.
Two other FAB 50 teams competing in different classes are No. 10
Miramar
(Miramar, Fla.) and No. 18
Miami Norland
. Miramar will compete in the highest Class 8A after vying last season in 6A (which also was the highest class last season). Norland is reclassified 5A this season after being a 3A team in 2010.
October, 27, 2011
10/27/11
3:14
AM ET
By
Mark Tennis & Doug Huff
| ESPN.com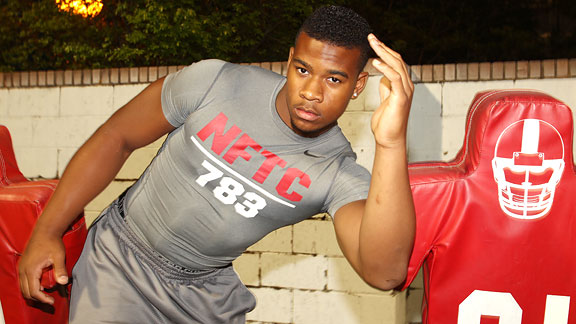 Tom Hauck for ESPN.comJunior DE Robert Nkemdiche of Grayson (Loganville, Ga.) has helped his stingy defense hold opponents to just 26 rushing yards per game.
GAME OF THE WEEK
No. 36 Plant (Tampa, Fla.) 7-0 at No. 2 Armwood (Seffner, Fla.) 8-0, 7:30 p.m., Friday
The visiting Panthers know all too well how hard it can be to score against Armwood's quick, hard-hitting defense. When the two teams played last year, the Hawks posted a 17-0 shutout and looked like they would roll to a Class 4A state title until they were upset in the final by Lincoln (Tallahassee, Fla.).
Armwood, which opened the season by winning a FAB 50 showdown 20-17 at Bishop Gorman (Las Vegas), went on a streak of four straight shutouts that ended with last week's 38-16 victory against Hillsborough (Tampa, Fla).
When we saw them play in Vegas, the scary aspect of their win was that it came without Florida-bound running back
Matt Jones
(who was out with an injury at the time) and that it marked the first start for junior quarterback
Darryl Richardson
. Since then, versatile junior
Alvin Bailey
, a highly-touted wide receiver prospect, has played a lot more snaps at quarterback and Jones has come back. In last week's win, Jones rushed for 205 yards and one touchdown.
Plant comes into the game with heavy hearts due to the death last weekend of popular teacher
Nancy Farnsworth
from a car accident. The team will wear helmet stickers honoring her memory.
So far this season, the Panthers have maintained their offensive prowess with senior quarterback
James Few
and junior running back
Wesley Bullock
. Few has completed 73 of 114 passes for 1,311 yards and 14 touchdowns while Bullock has rushed for 403 yards and four scores. Plant clinched its seventh straight district title last week with a 48-6 triumph over Alonso (Tampa, Fla.).
Armwood is looking to maintain its No. 2 ranking in the FAB 50 and could begin to push No. 1 Don Bosco Prep (Ramsey, N.J.) with an impressive win. A win by Plant could vault the Panthers all the way up into the top 15.
PLAYER TO WATCH
Robert Nkemdiche, Grayson (Loganville, Ga.)
The 6-foot-5, 270-pound junior defensive lineman isn't putting up the big numbers he did as an all-state selection his sophomore season. The big-time major college Class of 2013 prospect, however, is anchoring a stingy Rams' defense that held its first eight opponents to an average of 26 rushing yards per game.
Last season, Nkemdiche recorded an eye-opening 18 sacks and 23 tackles for losses. This year, he still leads the team in sacks but only has five. Still, the Rams have moved up the FAB 50 national ranking charts to No. 11 and Nkemdiche is a major reason for that.
"Opponents need two players to block Robert," coach
Mickey Conn
says, "and that allows other defenders to make plays. But he can explode at any time."
Friday would be a good time for that to happen since the Rams play host to region rival and defending Class AAAAA state champion Brookwood (Snellville, Ga.).
UPSET ALERT
Westfield (Chantilly, Va.) 8-0 at No. 46 Centreville (Clifton, Va.) 8-0, 7:30 p.m., Friday
Centreville may be in the FAB 50, but Westfield certainly isn't far behind. In the East Region Top 20, the Wildcats are No. 7 with the Bulldogs checking in at No. 18.
Centreville has scored at least 38 points in the last seven games to cement its status as one of the best teams in Virginia but also the Washington D.C. area. Senior quarterback
Mitch Ferrick
and junior running back
Marcel Smith
give the Wildcats a lot of balance on offense, while the defense features top college prospect
Ken Ekanem
(6-3, 230) at defensive end.
Westfield's winning scores have almost been as impressive as Centreville's with a defense that has two shutouts and three other games in which just one touchdown was allowed. The Bulldogs also have an effective rushing attack with senior
Kendell Anderson
. He had 247 yards and five touchdowns in last week's win against Oakton (Oakton, Va.) and is working on a streak of seven straight 100-yard games.
Upset Alerts so far this season: 3-5
TEAM ON THE RISE?
McGill-Toolen (Mobile, Ala.) 8-0
When the unbeaten Yellowjackets upset defending Class 6A state champion Daphne (Daphne, Ala.) last week and knocked the Trojans out of the FAB 50, it didn't surprise some state observers. That's because the first-year McGill-Toolen head coach is
Bart Sessions
, who served as defensive coordinator last season at Daphne. That gave the 38-year-old Sessions three straight state title rings after serving in the same position the previous two years for state titlist Prattville (Prattville, Ala.).
In his first season as a head coach at McGill-Toolen, Sessions has guided the balanced Yellowjackets to nine straight wins and a No. 20 spot in the Southeast Region rankings. This weekend, the 'Jackets will cap the regular season at area rival Murphy (Mobile, Ala.) before entering post-season play.
If Sessions continues his coaching magic and title game streak, it will be the farthest McGill-Toolen has advanced since the 2007 squad finished a 13-1 record with a loss in the semifinals to Prattville.