High-SchoolFootball:

Chicago Bears
March, 1, 2012
3/01/12
9:38
AM ET
By
Brandon Parker
| ESPN.com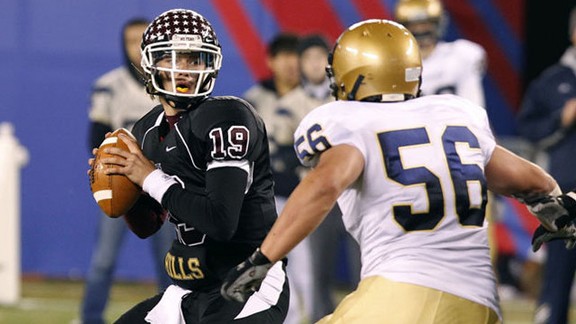 Courtesy of Wayne HillsWayne Hills (Wayne, N.J.) junior quarterback Kevin Olsen threw for 1,686 yards and 20 touchdowns last year in leading the Patriots to their second consecutive North 1, Group 3 championship.
Throughout this offseason, we'll spotlight Class of 2013 quarterbacks who have a shot at making the Elite 11 finals in July. This week we profile Wayne Hills (Wayne, N.J.) signal-caller Kevin Olsen.
Elite 11 Watch Archive
For someone like
Kevin Olsen
, it probably seems as if his future was lined up long before he uttered his first word. His dad is the long-time football coach at Wayne Hills (Wayne, N.J.), his brother
Greg
is a tight end for the Carolina Panthers, and his other brother Christian was a quarterback at Virginia.
But as Olsen's dad puts it, his youngest son doesn't just play quarterback; he is a quarterback.
"I like that he has the attitude and make-up of a quarterback," Chris Olsen said. "A lot of kids play quarterback or want to be a quarterback, but when you find a kid who can pass the ball -- not just throw it -- and have the little intangibles out there, that's special. And that's Kevin."
It certainly doesn't hurt that Kevin has had the privilege of training with the Chicago Bears during Greg's days with the team, all while gleaning tips from offensive guru Mike Martz and star quarterback
Jay Cutler
.
"One of the the biggest difference between Kevin and other players is that he's got the advantage of having his two older brothers play at high levels," Chris Olsen said, "so he's seen a lot, heard a lot and been to a lot of places. Those are all contributing factors to him progressing so well."
Olsen showed the fruits of these experiences last season. Despite directing a run-first offense, the junior and
ESPNU 150 Watch List
signal-caller completed nearly 61 percent of his passes for 1,686 yards and 20 touchdowns in leading the Patriots to their second straight North 1, Group 3 championship.
As Olsen prepares for his upcoming senior season, he took some time to talk about his past success, notable pedigree and what it takes to be an elite quarterback.
ESPNHS:
What was the key to your team winning its second straight title?
Olsen:
We work extremely hard at Wayne Hills. We're in the weight room everyday, we practice hard and there's no playing around. We're here to win and it's nice to see our hard work pay off.
ESPNHS:
Personally, how did the second championship compare to the first one?
Olsen:
The first time was great, but this year was definitely better for me personally. I thought I played a bigger role than when I was a sophomore. I helped carry the team a little more and was able to make a couple big throws when we needed it.
ESPNHS:
What are your strengths as a quarterback?
Olsen:
I'm good at the quick game. I've got down the three-step drop and can throw it deep. I've also gotten good on play-action passes where I can get the corners or safeties to jump. I can also play in the shotgun.
ESPNHS:
What are some things you are working on improving?
Olsen:
I want to improve my strength as a whole, which will help my arm strength. I also want to work on my footwork and just my overall understanding of the game.
ESPNHS:
What's it like having your dad as your high school coach?
Olsen:
I like it. Some kids may say they hate it, but I like it a lot. I feel like I have an edge compared to other guys because my dad can give me little hints at home that other guys might not get from their coach.
ESPNHS:
What's it like to have brothers who have played in college and the NFL?
Olsen:
It's awesome. Having the two of them go through Wayne Hills and be superstars and then play major college football makes me feel like it's something I can also achieve.
ESPNHS:
What type of advice have they given you about playing at the next level?
Olsen:
They say get to know the coaches, get to know the place. They said it's important to get a feel for the players and how they interact with each other. You want to make sure it's a place where you'll enjoy being for the next four years of your life.
ESPNHS:
What are some memorable experiences you've had being with your brothers in college or NFL environments?
Olsen:
I've been in a lot of college locker rooms and I've also been in the Bears and Panthers locker rooms, meeting some of the players. When Greg was in Chicago, I had a good relationship with Jay Cutler. We would text back and forth and he'd give me some tips like my brothers do.
ESPNHS:
What was your experience like at last year's Elite 11 regionals?
Olsen:
I went to the ones in Orlando and Penn State and they were both awesome. I really liked getting to know the guys and learning new things. Everybody has a way of teaching, so you take a little bit from the guys and put it into becoming the total package as a player.
ESPNHS:
What would it mean to you to be selected to the Elite 11?
Olsen:
It would be tremendous. I can tell from the TV show that it's hard. They give you a playbook and say you have to know it, and if you don't, it's going to show. That's a big challenge, but a good one to have.
ESPNHS:
How many offers have you gotten and where does your recruitment stand at this point?
Olsen:
I've gotten roughly 25 offers from schools like Stanford, Miami and Florida State. I've seen Miami and Florida State, but I feel like I need to see more schools before I can figure out which schools I like and want to put on my final list.
ESPNHS:
What else do you have planned for the offseason?
Olsen:
Just working hard on those things I mentioned, like footwork and arm strength and my body weight. I'll be throwing with my teammates, getting back into the flow so we can win as many games as possible. Hopefully, we can get another state championship and go out on a positive note.
School:
Wayne Hills (Wayne, N.J.)
Position:
QB
Class:
2013
2011 Team Record:
11-1 (won second straight North 1, Group 3 title)
2011 Stats
Completions-Attempts:
124-205 (.605)
Yards:
1,686
TD:
20
INT:
6
Brandon Parker covers high school sports for ESPNHS magazine and ESPNHS.com. Follow him on Twitter @brandoncparker or email him at brandon.c.parker@espn.com.
October, 18, 2011
10/18/11
6:42
PM ET
By
Brian Stumpf
| ESPN.com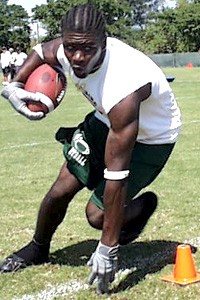 Brentt Eads/ESPNHSDevin Hester put on a show at the 2001 Miami Nike Football Training Camp, earning overall MVP honors
Devin Hester has accomplished many "firsts" in his spectacular five-plus seasons with the Chicago Bears and Sunday night he added another feat to his ledger, returning a kickoff for a touchdown and catching a touchdown pass in the same game for the first time in his career in the Bears' 39-10 rout of the Minnesota Vikings. Hester became the NFL's all-time leader in punt return touchdowns with 11 just two weeks earlier when he took a punt back 69 yards for a touchdown versus the Carolina Panthers. Hester also holds NFL records for career combined kick and punt return touchdowns (17), single season punt return touchdowns (four) and combined kick return touchdowns in a season (six). Today we take a look back at Hester when he was in high school with an ESPNHS Alumnus of the Week feature.
Devin Hester
emerged from one of the nation's top hotbeds for high school football, South Florida, as an elite prospect in the Class of 2002 after a big junior season at Suncoast (Riviera Beach, Fla.) in the fall of 2000. Despite being stuck on a team that went just 2-8 and playing in just seven games that year, Hester had 90 carries for 921 yards and 12 rushing touchdowns with seven receptions for 220 yards and one receiving touchdown. On defense, Hester had 65 tackles, two interceptions and 15 pass breakups.
His all-around playmaking ability generated strong early interest and an invite to the Miami Nike Camp in the spring of 2001, which looking back turned out to be a loaded event, as it was attended by Hester as well as several other future NFL players including WR Devin Aromashodu (Vikings), LB Jon Beason (Panthers), DE Elvis Dumervil (Broncos), OL Mario Henderson (Raiders), WR Santonio Holmes (Jets), DL Ray McDonald (49ers) and WR Sinorice Moss (Giants/Eagles).
Out of that select field including the above mentioned as well as 70-plus other prospects who would go on to sign with Division I schools, Hester was named the MVP of the Miami Nike Camp after running a camp-best 4.33 in the 40, 4.07 in the shuttle, jumping 33 inches in the vertical and doing 12 reps on the bench and dominating running back drills. The showing launched Hester into the recruiting stratosphere, and he had gathered more than 25 scholarship offers by the start of his senior season.
Hester put it all-together on the field as a senior in the fall of 2001, earning Class 3A All-State honors after rushing for 1,014 yards and 12 touchdowns on 94 carries (17 touchdowns) while compiling 1,028 yards receiving on 38 catches for nine touchdowns, in addition to throwing for five touchdowns and 225 yards. He also made 156 tackles and had three sacks as a senior on defense.
Following his senior season, Hester was selected to play in the CaliFlorida Bowl, a now defunct all-star game that pitted California's best versus Florida's best. Hester starred in the game, returning a kickoff 85 yards for a score (shown below) and also intercepting a pass to earn MVP honors. He committed to Miami shortly thereafter the game in late January after taking official visits to NC State, Purdue, Georgia and Florida State as well.
Hester was widely regarded as one of the nation's top prospects in the Class of 2002 on Signing Day, being rated by ESPNHS (then known as Student Sports) as the nation's top cornerback prospect, a five-star and the nation's No. 28 overall prospect by
Rivals.com
and a five-star as well by
Scout.com
. He was curiously omitted from
ESPN's Top 100
list that year, which was compiled by Tom Lemming.
October, 4, 2011
10/04/11
11:55
AM ET
By
Brian Stumpf
| ESPN.com
Heading in the Chicago Bears' week four matchup with the Carolina Panthers, football pundits nationally were challenging Bears' offensive coordinator to change his style, call more run plays and take some of the heat off of his seemingly punch drunk quarterback Jay Cutler. Whether or not Mike Martz listened to the critics, the Bears' new run-heavy approach paid off Sunday, as fourth-year back Matt Forte carried 25 times for a whopping 205 yards and a touchdown in Chicago's 34-29 win. Forte's big day comes as no surprise to those who follow the Bears or Forte, as the 6-2, 218 pounder has totaled 4,731 yards from scrimmage since his rookie season, ranking fifth in the NFL over that time period. Today we take a look back at Forte when he was in high school with an ESPNHS Alumnus of the Day feature.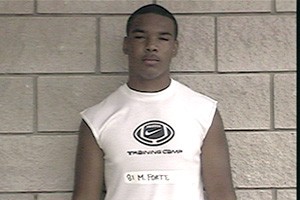 ESPNHS/ESPNHSCurrent Chicago Bear star RB Matt Forte at the 2003 Texas A&M Nike Camp
Matt Forte had an outstanding two-year career at Slidell High School (La.) before moving on to Tulane University, where his father also played. He emerged as a recruitable prospect as a junior in 2002, gaining 1,057 rushing yards with eight touchdowns, while also showing signs that he could be an elite pass-catcher out of the backfield, snagging 30 passes for 365 yards and three scores to earn all-district honors.
Forte traveled west in the spring of 2003 to attend the Texas A&M Nike Camp, where he put up solid testing numbers of 4.60 in the 40, a 4.27 shuttle time and 18 reps of 185 pounds on the bench press. Other top prospects at the same event included current NFLers Brian Orakpo, Mike Wallace, Danny Amendola, Aqib Talib and Caleb Hanie.
Despite his solid junior year, a good Nike Camp outing and an even bigger senior year in the fall of '03 in which he gained 1,375 rushing yards and scored 25 total touchdowns to earn St. Tammany Parish Player of the Year, District 5-5A Offensive MVP, all-metro and second team all-state, Forte was lightly recruited out of Slidell.
Scout.com
and
Rivals.com
both ranked him as a two-star recruit, with Rivals listing him as a fullback and Scout writing, "A big, bruising running back that can play linebacker or fullback on the next level as well."
Forte was offered by Tulane during the fall of his senior year, and with only one other scholarship offer from FCS school McNeese State, he committed to the Green Wave in December after his senior season. Once at Tulane, Forte hit the ground running, playing as a true freshman and going onto a prolific college career, which included a 2,000 yard season as a senior in 2007.
For comparison's sake, the only running back that in-state power LSU signed in the Class of 2004 was Evangel Christian (Shreveport, La.) standout Jacob Hester, who ran for 1,780 yards for the Tigers. Hester is now a starting fullback in the NFL with the Chargers. The two top-rated running backs out of Louisiana in the Class of 2004 were Plaquemine's Ja'Kouri Williams (Tennessee) and East St. John's Derron Thomas (Miami). Williams was moved to defensive back at Tennessee and Thomas rushed for 620 yards as a 'Cane.