High-SchoolFootball:

Clifton Centreville
October, 27, 2011
10/27/11
3:14
AM ET
By
Mark Tennis & Doug Huff
| ESPN.com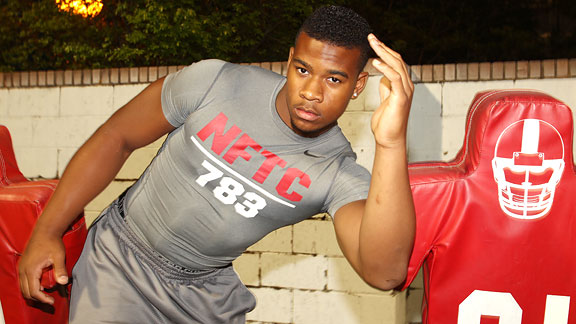 Tom Hauck for ESPN.comJunior DE Robert Nkemdiche of Grayson (Loganville, Ga.) has helped his stingy defense hold opponents to just 26 rushing yards per game.
GAME OF THE WEEK
No. 36 Plant (Tampa, Fla.) 7-0 at No. 2 Armwood (Seffner, Fla.) 8-0, 7:30 p.m., Friday
The visiting Panthers know all too well how hard it can be to score against Armwood's quick, hard-hitting defense. When the two teams played last year, the Hawks posted a 17-0 shutout and looked like they would roll to a Class 4A state title until they were upset in the final by Lincoln (Tallahassee, Fla.).
Armwood, which opened the season by winning a FAB 50 showdown 20-17 at Bishop Gorman (Las Vegas), went on a streak of four straight shutouts that ended with last week's 38-16 victory against Hillsborough (Tampa, Fla).
When we saw them play in Vegas, the scary aspect of their win was that it came without Florida-bound running back
Matt Jones
(who was out with an injury at the time) and that it marked the first start for junior quarterback
Darryl Richardson
. Since then, versatile junior
Alvin Bailey
, a highly-touted wide receiver prospect, has played a lot more snaps at quarterback and Jones has come back. In last week's win, Jones rushed for 205 yards and one touchdown.
Plant comes into the game with heavy hearts due to the death last weekend of popular teacher
Nancy Farnsworth
from a car accident. The team will wear helmet stickers honoring her memory.
So far this season, the Panthers have maintained their offensive prowess with senior quarterback
James Few
and junior running back
Wesley Bullock
. Few has completed 73 of 114 passes for 1,311 yards and 14 touchdowns while Bullock has rushed for 403 yards and four scores. Plant clinched its seventh straight district title last week with a 48-6 triumph over Alonso (Tampa, Fla.).
Armwood is looking to maintain its No. 2 ranking in the FAB 50 and could begin to push No. 1 Don Bosco Prep (Ramsey, N.J.) with an impressive win. A win by Plant could vault the Panthers all the way up into the top 15.
PLAYER TO WATCH
Robert Nkemdiche, Grayson (Loganville, Ga.)
The 6-foot-5, 270-pound junior defensive lineman isn't putting up the big numbers he did as an all-state selection his sophomore season. The big-time major college Class of 2013 prospect, however, is anchoring a stingy Rams' defense that held its first eight opponents to an average of 26 rushing yards per game.
Last season, Nkemdiche recorded an eye-opening 18 sacks and 23 tackles for losses. This year, he still leads the team in sacks but only has five. Still, the Rams have moved up the FAB 50 national ranking charts to No. 11 and Nkemdiche is a major reason for that.
"Opponents need two players to block Robert," coach
Mickey Conn
says, "and that allows other defenders to make plays. But he can explode at any time."
Friday would be a good time for that to happen since the Rams play host to region rival and defending Class AAAAA state champion Brookwood (Snellville, Ga.).
UPSET ALERT
Westfield (Chantilly, Va.) 8-0 at No. 46 Centreville (Clifton, Va.) 8-0, 7:30 p.m., Friday
Centreville may be in the FAB 50, but Westfield certainly isn't far behind. In the East Region Top 20, the Wildcats are No. 7 with the Bulldogs checking in at No. 18.
Centreville has scored at least 38 points in the last seven games to cement its status as one of the best teams in Virginia but also the Washington D.C. area. Senior quarterback
Mitch Ferrick
and junior running back
Marcel Smith
give the Wildcats a lot of balance on offense, while the defense features top college prospect
Ken Ekanem
(6-3, 230) at defensive end.
Westfield's winning scores have almost been as impressive as Centreville's with a defense that has two shutouts and three other games in which just one touchdown was allowed. The Bulldogs also have an effective rushing attack with senior
Kendell Anderson
. He had 247 yards and five touchdowns in last week's win against Oakton (Oakton, Va.) and is working on a streak of seven straight 100-yard games.
Upset Alerts so far this season: 3-5
TEAM ON THE RISE?
McGill-Toolen (Mobile, Ala.) 8-0
When the unbeaten Yellowjackets upset defending Class 6A state champion Daphne (Daphne, Ala.) last week and knocked the Trojans out of the FAB 50, it didn't surprise some state observers. That's because the first-year McGill-Toolen head coach is
Bart Sessions
, who served as defensive coordinator last season at Daphne. That gave the 38-year-old Sessions three straight state title rings after serving in the same position the previous two years for state titlist Prattville (Prattville, Ala.).
In his first season as a head coach at McGill-Toolen, Sessions has guided the balanced Yellowjackets to nine straight wins and a No. 20 spot in the Southeast Region rankings. This weekend, the 'Jackets will cap the regular season at area rival Murphy (Mobile, Ala.) before entering post-season play.
If Sessions continues his coaching magic and title game streak, it will be the farthest McGill-Toolen has advanced since the 2007 squad finished a 13-1 record with a loss in the semifinals to Prattville.
October, 25, 2011
10/25/11
5:10
PM ET
By
Mark Tennis & Doug Huff
| ESPN.com
Although the Hamilton (Chandler, Ariz.) football team was not able to move up in this week's FAB 50, remaining at No. 19, the Huskies did move up on another list as they now claim the longest active winning streak in the nation.
Hamilton has been fueled for much of the season by quarterback Blake Kemp, who had another strong outing last weekend and has been chosen as this week's POWERADE FAB 50 Spotlight Player of the Week.
Hamilton extended its win streak to 49 games with a 44-14 triumph against Basha (Chandler, Ariz.). That streak became the nation's longest when previous FAB 50 ranked Phoebus (Hampton, Va.) had its win streak snapped at 52 by Woodside (Newport News, Va.).
Kemp sparked the offense against Basha with 241 yards passing and two touchdowns. He also scored once himself on the ground.
It's the type of outing that has been critical for Hamilton to keep winning, especially since Kemp has replaced graduated standout Kyren Poe. The 6-foot-2, 204-pound senior is nearing 2,000 yards passing for the season with 1,816 and also has accounted for 15 touchdowns.
FAB 50 FOOTBALL SCHOOLS TO WATCH IN BASKETBALL
There are three teams in this week's FAB 50 in football that also appeared in the preseason FAB 50 for boys basketball, which were released last week.
Bishop Gorman (Las Vegas) leads the pack as the Gaels are starting out in boys hoops in the same No. 7 slot that they've settled into for football.
Trinity (Louisville, Ky.) is even higher than Bishop Gorman in football at No. 5, but the Shamrocks just made it in basketball with a preseason No. 50 ranking.
The third team is De La Salle (Concord, Calif.). The Spartans are No. 24 in football this week and were slotted at No. 35 for preseason basketball.
FAB 50 football No. 25 DeSoto (DeSoto, Texas) doesn't have a boys hoops counterpart that was in the preseason FAB 50, but the Eagles were No. 10 in the preseason Midlands Region rankings.
It's also notable that No. 25 preseason boys hoops team Lone Peak (Highland, Utah) is starting the Utah state football playoffs at 10-0 and is No. 14 in this week's West Region rankings.
HIGHEST RISING NEWCOMER OF THE WEEK
No. 46 Centreville (Clifton, Va.)
The Wildcats join the FAB 50 for the first time this week, but may not have long to savor the accomplishment. Centreville tackles unbeaten Concorde League rival Westfield (Chantilly, Va.) Friday night in a late-season showdown between two of the state's top-ranked teams.
Centreville took over the top Virginia ranking, and gained a FAB 50 spot, when three-time defending Class AAA champion Phoebus (Hampton, Va.) had its record 52-game win streak halted by Woodside (Newport News, Va.) last week.
Centreville's offense has scored at least 38 points in the last seven games but Westfield's defense hasn't allowed more than 14 points in eight wins. The Wildcat attack is anchored by senior quarterback Mitch Ferrick and junior running back Marcel Smith. Ferrick has passed for 776 yards and 12 scores while Smith has rushed for 983 yards and 13 touchdowns.
The Wildcat defense is anchored by the team's top college prospect in senior end Ken Ekanem (6-3, 230), who also doubles as a tight end on offense. He's been offered by several Division 1 colleges.
WELCOME BACK, FORMER FAB 50 TEAMS
When teams exit the FAB 50 rankings, it may not be a permanent situation. In fact, several teams have lost games to force an exit but have returned to the national rankings with a major win or a turnaround later in their seasons.
For example, defending Ohio Division 1 champion St. Edward (Lakewood, Ohio) returned to the list this week at No. 48 after knocking off previous FAB 50 member Moeller (Cincinnati). St. Edward dropped out after suffering back-to-back setbacks to FAB 50 No. 1 Don Bosco (Ramsey, N.J.) and No. 40 St. Xavier (Cincinnati).
Other teams that have returned to the FAB 50 this season include No. 49 Chaparral (Scottsdale, Ariz.); No. 31 Gilman (Baltimore); No. 32 Butler (Matthews, N.C.), and No. 45 Miami Central (Miami, Fla.).
Among other teams that have been knocked out of the FAB 50 this season that seem to have good chances to return include Detroit Catholic Central (Novi, Mich.); Tulsa Union (Tulsa, Okla.); Jenks (Jenks, Okla.); Centennial (Corona, Calif.); Lincoln (Tallahassee, Fla.); Colerain (Cincinnati); Daphne (Daphne, Ala.); and Hoover (Hoover, Ala.).