High-SchoolFootball:

De La Salle
September, 22, 2011
9/22/11
7:01
PM ET
By
Lucas O'Neill & Kynon Codrington
| ESPN.com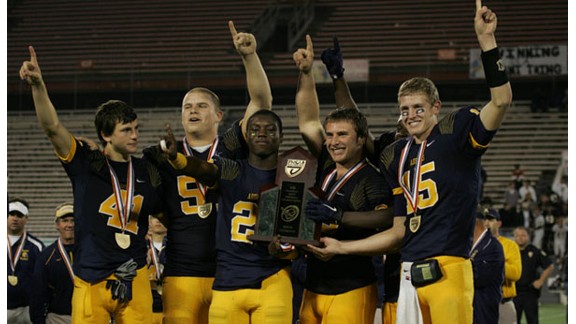 Kynon Codrington /ESPNHSThe storied program at St Thomas Aquinas (Fort Lauderdale, Fla.) has won six state championships.
You go, we go.
That's become the mantra for the St. Thomas Aquinas (Fort Lauderdale, Fla.) football team over the years. If everyone plays their part, the team succeeds above and beyond any individual accomplishments.
It can also characterize the passing of the torch from one team to the next, which is especially relevant for the Raiders this year.
On Friday night,
Aquinas plays host to De La Salle (Concord, Calif.)
in a matchup of the No. 2 and No. 3 teams in the
POWERADE FAB 50 rankings
. St. Thomas has been crowned the high school football national champion by ESPN in two of the past four years.
To a man, the Raiders will say that the only reason they have the opportunity to play one of the nation's top teams live on ESPN2 is because of the success of their predecessors. The 5,000 spectators, the television cameras, the pack of journalists, the scouts and college coaches — the entire atmosphere at Brian Piccolo Stadium on Friday night, really, will all be the result of
those who have come before them
. The Raiders teams that won 27 district titles and six state championships. The scores of players that went on to play college ball. The eight that currently suit up for NFL squads — the most pros of any high school program in the country.
"They are playing De La Salle because of the teams in the past," said George Smith, the St. Thomas Aquinas athletic director. "That's their challenge and they accept that. We are basically fueled by the past, and it's their job now to continue that past and make it the present."
The current players are saddled not only with carrying on tradition, then, but also providing opportunities for the next batch of Aquinas players. It's a challenge they embrace.
"It's a blessing just to be out here with guys that work so hard and are so passionate about what they're doing," said Dami Ayoola, a senior running back with offers from Notre Dame, Auburn and Wisconsin, among others. "We have a bunch of guys that are focused on one goal and that's to win. I'm taking the challenge to uphold the legacy that's been here so many years."
You go, we go.
This notion of passing the torch even applies to the coaching staff this year. Smith was the coach for 34 years before handing over the reigns to Rocco Casullo this season. It's a new era, but past is prologue.
"Coach Smith really did set the bar high, but I think coach Roc and the new regime, we collectively feel like we can go even higher," said Cris Carter, the former Minnesota Vikings great and current ESPN analyst who moonlights as an Aquinas coach. Carter's son, Duron, is a junior wide receiver at Alabama and was part of the Aquinas team that won the first FAB 50 national championship in 2008-09.
In De La Salle (2-0), the Raiders face another opponent steeped in tradition. From 1992-2004, De La Salle didn't lose a game. The Spartans have also produced scores of college and pro players, and this year's team is loaded with Division I prospects.
For both teams, playing top out-of-state competition on national television has become a tradition of its own.
"This is a big challenge, but our kids enjoy the challenge," said Casullo. "We take pride in that. We will be ready."
"Our whole season is not dependent upon it, but we do have certain dates targeted on the schedule and this is one of them," added Carter. "It's one of the reasons why kids come to St. Thomas, to play in games like this."
Casullo and his staff sweat the small stuff. They value tradition. Each player has a job to do.
You go, we go.
September, 21, 2011
9/21/11
5:30
PM ET
By
Mark Tennis & Kynon Codrington
| ESPN.com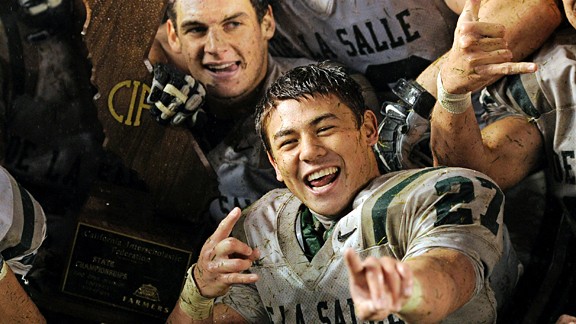 Mark J. Terrill/APThe Spartans of De La Salle (Concord, Calif.) have won the last two CIF Open Division titles.
This Friday night at 7 p.m. ET in a game that will air live on ESPN2, the Raiders of St. Thomas Aquinas (Fort Lauderdale, Fla.) host the Spartans of De La Salle (Concord, Calif.).
St. Thomas Aquinas is ranked as the No. 2 team in the
POWERADE FAB 50
while De La Salle is the top Western power in the country and the No. 3 overall team in our national rankings. Before these two powers battle for state pride and bragging rights on national television, we decided to delve into the numbers that help define these proud programs to help get you ready for the Friday night showdown.
De La Salle By The Numbers

2
Division I commits on this year's team and those who signed last year. The two signers from the 2010 squad were defensive tackle Dylan Wynn with Oregon State and linebacker Blake Renaud with Boise State. This year's commits are quarterback Bart Houston with Wisconsin and linebacker Michael Barton with Cal.
5
Years in which De La Salle has appeared in the CIF state bowl games. The event has only been held for five years and the Spartans have won three titles, including the last two in the Open Division.
7
POWERADE FAB 50 national championships (more than any other school). Years the Spartans were No. 1 were 1992, 1994, 1998, 2000, 2001, 2002, 2003.
19
Consecutive CIF North Coast Section titles. Since 1982, the only seasons in which the Spartans and coach Bob Ladoucuer did not win an NCS title were 1987 and 1991.
42
Distance between the longest win streak in U.S. history, which is 151 games (held by De La Salle from 1992 to 2004) and the second-longest, which is 109 (held by Independence of Charlotte, N.C.).
83
Length of team's current league winning streak, which began in 1989. It is an ongoing state record.

St. Thomas Aquinas By The Numbers
2
Number of POWERADE FAB 50 National championships. The Raiders captured the 2008 and 2010 crowns. If they can take care of De La Salle (Concord, Calif.) on Friday and No. 1 Don Bosco Prep loses along the way then it's possible for them to go back-to-back. Since 1980 only three teams have repeated as champions, Hampton (Hampton, Va.), De La Salle (Concord, Calif.), and Southlake Carroll (Southlake, Texas).
6
State championships. Athletic Director and former head coach George Smith is the only coach to win a state title at St. Thomas. Smith won his first state championship in 1992. The Raiders also won state rings in 1997, 1999, 2007, 2008, and 2010.
13
Number of state championship appearances. The Raiders are 6-7 all-time in state championship games.
27
District dominance. St. Thomas has won 27 district championships.
20
Consecutive playoff appearances. The last time the Raiders missed the playoffs was 1990.
96
Playoff games. The program has a 73-23-playoff tournament record.
17
Game winning streak dating back to their 15-0 season last year and 2-0 mark this season.
7
Number of BCS recruits from the 2010 national championship team. QB Jake Rudock (Iowa), WR Rashad Greene (Florida State), WR Phillip Dorsett (Miami-FL), OL Bobby Hart (Florida State), DB Marcus Roberson (Florida), OL Austin Barron (Florida State), and P Justin DuVernois (Illinois)
Prominent Alumni:
Michael Irvin, former Dallas Cowboys WR and Pro Football Hall of Famer, Brian Piccolo, former Chicago Bears RB, Geno Atkins, current Cincinnati Bengals DL, Sam Young, current Buffalo Bills OL, Major Wright, current Chicago Bears DB, Leonard Hankerson, current Washington Redskins WR, and tennis great Chris Everet, winner of eighteen Grand Slam titles.
Fun Fact:
The boy's track team and girl's soccer team won 2011 POWERADE FAB 50 National championships in their respective sports.