High-SchoolFootball:

Dontea Ayres
September, 29, 2011
9/29/11
1:06
PM ET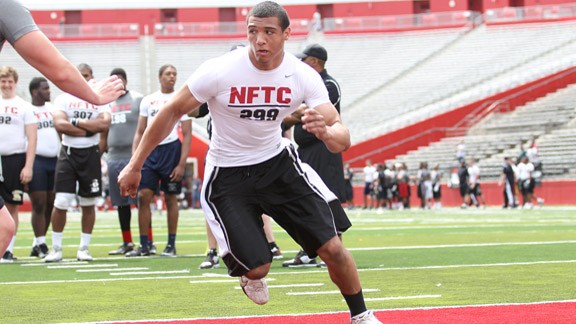 Tom Hauck/ESPNHSClass of 2013 defensive end Tashawn Bower made an impression at the Rutgers Nike Camp this past May
Each week ESPNHS will shine the light on a few non-seniors who are emerging as prospects to watch on the recruiting radar. Here is this week's
Launching Pad.
RB Dontea Ayres, Wicomico (Salisbury, Md.)

It was two years ago the Dontea Ayres caught grabbed the attention of ESPNHS as just a freshman at the Baltimore Nike Combine where he posted the highest SPARQ Rating of his class at 74.25. This year the 5-9, 208 pound running back is off to a strong start leading Wicomico to a 4-0 record.
So far he has rushed for 511 yards and 12 touchdowns on just 36 carries. When breaking that down it amounts to 14.1 yards per rush and a touchdown on every third carry. What is most impressive is that he done this in playing in only eight quarters since he has yet to play in a game after halftime.
"My offensive line is amazing, they are the ones doing all the work and all I have to do is just hit the hole. Actually our entire team is pretty strong and this year could be very special," Ayres told ESPNHS on Wednesday.
Barring any setbacks, the speedy back (ran a 4.66 at last year's Nike Combine) will surely surpass his 1,156 yards rushing from last year and needs just one more touchdown. Just after his breakout performance in 2009, Wicomico coaches told ESPNHS they would not be surprised if he was the top back in the state as a senior.
What needs to be known is how strong this young man is, Ayres was proud to mention that he is benching 455 pounds and can rep 225 up to 30 times. Everything he does he excels at, including in the classroom where he is carrying a 4.1 GPA.
Just recently he picked up his first offer from Duke and has stirred up interest from Stanford, Maryland, Vanderbilt, Virginia Tech and Virginia as well.
- Michael White
DE Tashawn Bower, Immaculata (Somerville, N.J.)

Out in Jersey, Tashawn Bower made a name for himself as a sophomore and is doing it again this fall. The 6-5, 235 pounder had 52 tackles and eight sacks in 2010 to earn ESPNHS Sophomore All-American honors, and then earned all-combine honors at the Philadelphia Nike Combine, where he posted an 89.67 SPARQ Rating. In a big win against Union (Union, N.J.) this past Friday, the superstar DE was all over the place, accounting for over 10 tackles, including a sack for a safety.
"In the offseason, I really wanted to improve my speed off the ball and my ability to play better with my technique. I'm much quicker this season, and I am doing a better job at playing half a man, which is making pass rushing a lot easier."
Bower has been no secret to college coaches and recruiting gurus alike, holding numerous scholarship offers for quite sometime. Bower talked recruiting with ESPNHS on Wednesday, stating, "Recruiting has finally been slowing down a bit because of the dead period. But I really feel that it is just the calm before the storm."
"I don't think I can name any favorites this early. But I can say that receiving scholarship offers from schools like Florida State, Tennessee, and Ohio State is an incredible experience. I am very grateful to be receiving the interest of schools of that caliber."
- Nick Ekbatani