High-SchoolFootball:

Duncan Byrnes
December, 6, 2011
12/06/11
7:29
PM ET
By
Mark Tennis & Doug Huff
| ESPN.com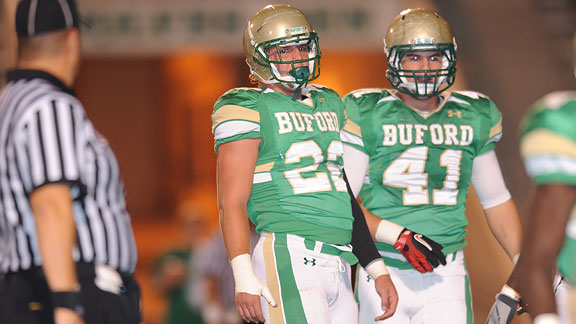 Radi Nabulsi/ESPN.comBuford (Ga.) is looking for its 27th straight win and a state title this weekend.
Stringing together multiple wins in a row is a common theme among several of the teams ranked in the
POWERADE FAB 50
. In this week's rankings, 11 teams hold winning streaks of 20 games or longer.
No. 1 Don Bosco Prep (Ramsey, N.J.)
not only leads the FAB 50 with 46 straight wins, dating back to a Sept. 13, 2008 defeat at the hands of St. Xavier (Cincinnati), but the Ironmen also claim the longest current winning streak in the nation.
In two weeks, however, Don Bosco's streak could be surpassed by Clairton (Clairton, Pa.), a smaller program that plays on the Class 1A level in the Keystone State. With two possible games left in its season, Clairton could start 2012 on a 47-game winning streak.
Two weeks ago, former FAB 50 team Hamilton (Chandler, Ariz.) had the longest winning streak in the nation stopped at 53 games in the Arizona Division I state championship by Desert Vista (Phoenix).
Other FAB 50 teams on long winning streaks:
No. 32 Lafayette County (Oxford, Miss.)
This program has gone 16-0 the past two seasons and is riding a 32-game streak. Their last loss was Dec. 5, 2009 to St. Stanislaus (Bay St. Louis, Miss.), which was quarterbacked by
Dylan Favre
(Brett Favre's nephew).
No. 17 Maryville (Maryville, Tenn.)
The Rebels have pushed their current total to 29. Their last loss was on Aug. 26, 2010 to Alcoa (Alcoa, Tenn.).
No. 18 Steele (Cibolo, Texas)
Could be 29 straight wins by end of season, but now at 27. Last loss came on Sept. 10, 2010 to Tivy (Kerrville, Texas)
No. 19 Miami Central (Miami, Fla.)
This team will probably have to knock off FAB 50 No. 2 Armwood to keep its win streak going, but if that happens the streak could get up to 28 by season's end. Last lost on Sept. 3, 2010 to Camden County (Kingsland, Ga.) in overtime.
No. 27 Buford (Buford, Ga.)
If this team wins in its state final this weekend, its win streak will be pushed to 27. Last lost on Sept. 3, 2010 to Carver (Atlanta).
No. 9 Bellevue (Bellevue, Wash.)
The Wolverines will take a 26-game win streak into the 2012 season. Last loss was on Sept. 11, 2010 to Skyline (Samammish, Wash.).
No. 3 Trinity (Louisville, Ky.)
This year's run of dominance puts the Shamrocks' streak at 26. Their last loss, like Don Bosco Prep's, is to St. Xavier (Cincinnati). That game was played on Sept. 17, 2010.
No. 21 North Allegheny (Wexford, Pa.)
Team enters this week with 21-game win streak and could get up to 23 after state finals. Last lost Oct. 29, 2010 to North Hills (Pittsburgh).
No. 13 Lake Travis (Austin, Texas)
If the Cavs win another state title, their win streak would be up to 22 at the start of next season. Last loss came on Nov. 5, 2010 to Cedar Park (Cedar Park, Texas).
No. 34 Highlands (Fort Thomas, Ky.)
This year's perfect record gives the Bluebirds a 20-game win streak heading into next year. Last lost Oct. 28, 2010 to Ryle (Union, Ky.).
FAB 50 SPOTLIGHT PLAYER OF THE WEEK
Israel Green, Trotwood-Madison (Trotwood, Ohio)
The 5-foot-9, 200-pound junior running back helped the Rams cap a 15-0 season with a Division II state title by producing a record-breaking game.
The Rams, who finished state runner-up in 2010, defeated Avon (Avon, Ohio) 42-28 as Green set an all-division title game record of six touchdowns while rushing 35 times for a Division II finals' record of 326 yards -- second best for all divisions. He scored four touchdowns in the first half and added the final two in the third quarter.
Green ended the season with 2,085 yards and 27 touchdowns on 222 carries and could be one of the top college prospects among Ohio running backs next season.
In addition to this honor for Green, the Rams were deemed as a worthy FAB 50 program with the No. 42 ranking.
RISING NEWCOMER OF THE WEEK
No. 35 Byrnes (Duncan, S.C.)
The Rebels started the season as the No. 33 team in the preseason FAB 50, but lost two of their first four games to Myrtle Beach (Myrtle Beach, S.C.) and Gaffney (Gaffney, S.C.).
The defending Class 4A-I state champions then reeled off 11 straight wins and avenged the earlier loss to Gaffney by defeating the Indians in the state finals 31-24.
In addition to being undefeated, Gaffney also had risen to No. 8 in the FAB 50 and was as high as No. 2 in another national poll.
It was the fifth straight title game for Byrnes, which has won eight of the last 10 championship contests. The Rebels also have now won 11 overall state crowns.
With sophomore quarterback
Shuler Bentle
y and standout junior wide receiver
Akia Booker
both returning next season, the Rebles should continue to contend in both the state and national rankings.
LOOKING AHEAD: CIF state bowl games
If all results go according to plan in this weekend's various section title games played throughout California, the sixth edition of the CIF state bowl games should feature a pair of games involving two FAB 50 teams.
In the CIF Open Division bowl game, the favorites to be chosen as representatives from Northern California and Southern California are FAB 50 No. 11 De La Salle of Concord and No. 14 Westlake of Westlake Village. If that happens, then the 10 CIF section commissioners who will pick the games next Sunday would likely select FAB 50 No. 24 Bellarmine of San Jose to play against FAB 50 No. 44 Centennial of Corona.
De La Salle won the title in the CIF Open Division last year with a 48-8 win against Servite of Anaheim and is the only school in the state that has been in the bowl games every year since the event began in 2006.
October, 27, 2011
10/27/11
10:11
AM ET
By
Mark Tennis & Doug Huff
| ESPN.com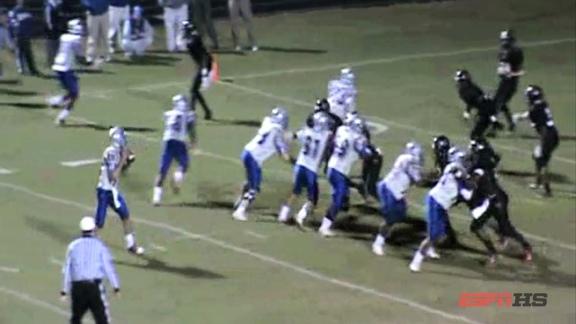 (After games of Oct. 20-Oct. 22)

One player is chosen from each region of the country. The only other criteria is that no player will be chosen more than once during a season.
EAST
Dane Brown, Franklin Regional (Murrysville, Pa.)
Promising junior running back who has had a breakout season so far rushed for 226 yards on 21 carries and scored three touchdowns to help his undefeated Franklin Regional (Murrysville, Pa.) team move into sole possession of first-place in the WPIAL Class AAA Keystone Conference. The junior enters this week's game against Greensburg Salem (Greensburg, Pa.) with 1,482 yards on the ground and 26 touchdowns with nearly 12 yards per carry on the season.
SOUTHEAST
Shuler Bentley, Byrnes (Duncan, S.C.)
The 6-foot-1, 180-pound sophomore quarterback had a first-half to remember in a 65-0 blowout rout of Hillcrest (Simpsonville, S.C.). He completed 21-of-31 passes for 288 yards and six touchdowns -- all with eight minutes left in the half -- as the Rebels led 42-0 at intermission. The six-TD effort was two short of the state record. After the opening game series came up empty, Bentley tossed for four touchdowns on nine plays, including three in a row, as the Rebels led 28-0 after a quarter. Shuler is the son of Rebels' offensive coordinator and athletic director Bobby Bentley, a former head coach who guided Byrnes to four straight state titles and numerous national rankings in the 2000s.
MIDWEST
Ian Woodworth, Marist (Chicago)
The 6-foot, 165-pound junior quarterback recorded his second straight eye-opening passing effort in a wild 56-51 victory over Joliet Catholic (Joliet, Ill.). He completed 35-of-45 passes for 557 yards and four touchdowns and rushed for a fifth score. A week earlier, in another shootout -- a 64-63 double-overtime win over Carmel (Mundelein, Ill.) -- he completed 33-of-51 aerials for 452 yards and eight TDs. His two-game totals entering this weekend are 1,009 passing yards and 12 scores. On the season, Woodworth also has passed for 2,598 yards and 28 touchdowns.
MIDLANDS
Jerame Littell, Stillwater (Stillwater, Okla.)
One week after Littell helped Stillwater to a big win against region-ranked Owasso (Owasso, Okla.), the 6-foot-4, 195-pound senior quarterback passed for seven touchdowns to lead the Pioneers past Enid (Enid, Okla.) 52-28. Littell, regarded as one of the top quarterbacks in the state, completed 15-of-25 passes for 288 yards. He also increased his season totals to 2,627 yards and 31 touchdowns. Littell has surpassed several Stillwater passing totals that were once set by Matt Holliday, currently playing in the World Series for the St. Louis Cardinals.
WEST
Jake LaCoste, West Albany (Albany, Ore.)
Just a sophomore, LaCoste put his name atop the all-time best single-game list for Oregon running backs by rushing for 508 yards on 39 carries and scoring five touchdowns as his team beat Silverton (Silverton, Ore.) 35-21. Despite missing the final 11 minutes of the game with a bruised knee and going against an opponent that like West Albany also was among the top 10 in the Class 5A state rankings, LaCoste broke the previous state record of 481 yards set in 1998 by Joel Williams of North Douglas (Drain, Ore.). LaCoste is following the path of older brother Anthony, who is now playing at Air Force. Anthony rushed for 6,419 yards and scored 87 touchdowns during his years at West Albany. Jake already has 1,589 yards and 17 scores this year so with two years to go it looks like older brother's records will be beaten by younger brother.