High-SchoolFootball:

ESPNHS Alumni
November, 1, 2011
11/01/11
2:52
PM ET
By
Brian Stumpf
| ESPN.com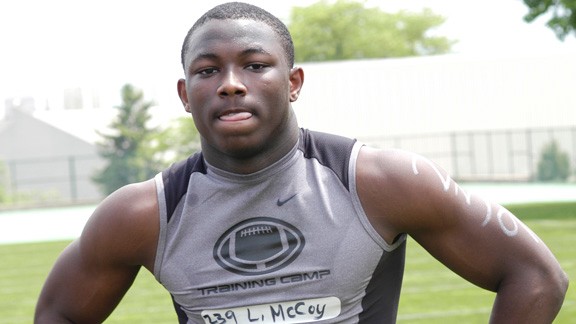 Tom Hauck/ESPNHSLeSean McCoy clocked a blazing 4.25 40 back at the 2004 Penn State Nike Camp.
LeSean McCoy shredded the Dallas Cowboys' No. 1 ranked run defense Sunday night, rushing 30 times for a career-high 185 yards and two touchdowns as the Eagles won their second straight and are starting to round into the team many thought they could be in the preseason. McCoy, a third-year back of out Pitt, is a big reason, as he's the only NFL player to score a touchdown in every game this year and is now the NFL's second-leading rusher (754 yards) and touchdown-scorer (10). Today we take a look back at McCoy when he was in high school with an ESPNHS Alumnus of the Week feature.
LeSean McCoy
was one of the most heralded running backs in Pennsylvania state history by the time his career at Bishop McDevitt (Harrisburg, Pa.) concluded in the fall of 2005. "Shady" burst upon the scene as a sophomore at McDevitt in 2003, as he led the state in rushing in just 10 games with 2,561 yards and had 28 TDs and was the only sophomore on the first team all-state Class AAAA squad. He was named ESPNHS Sophomore All-American as well, joining other RBs on the squad such as Chris Wells, Toby Gerhart, Stafon Johnson and Evan Royster.
McCoy then turned more heads in the spring of 2004 while attending the Penn State Nike Camp; he turned in the fastest 40 time in the event's history* at 4.25 seconds, while also clocking a 4.10 shuttle and jumping 30.3 inches in the vertical. After his sophomore year on the field and the big Nike Camp, recruiting started in earnest and schools such at Pitt, Miami, Penn State, Maryland, NC State, West Virginia and others had already offered before the start of his junior season.
As a junior in the fall of 2004, McCoy ran for 2,828 yards, scored 33 touchdowns, and earned ESPNHS Junior All-American, AP Class AAAA player of the year and Offensive MVP of the Mid-Penn Commonwealth Conference, helping McDevitt to a 10-3 mark. McCoy returned to the Penn State Nike Camp in the spring of 2005 to compete, and while he stood on his 4.25 40 from the year before, he did bench 18 reps of 185 and post a 30.3-inch vertical jump and also stood out in drills and one-on-ones at a camp with perhaps one of the most loaded running back groups ever looking back -- including Ray Rice and four other current active NFL backs (Arizona Cardinal LaRod Stephens-Howling, Miami Dolphin Steve Slaton and Houston Texan Ben Tate.)
McCoy entered his senior season in the fall of 2005 on pace to break the state career rushing mark, but suffered a compound fracture on his right ankle in the fourth game and missed the rest of the year. In just three-plus games that year, rushed for 859 yards and 10 touchdowns on 83 carries and he finished his high school career as Pennsylvania's ninth all-time leading rusher with 6,640 yards and scored 75 TDs.
Following his injury, McCoy, still uncommitted but holding offers from major programs nationwide, visited USC, Virginia Tech and Penn State officially and then shocked many when he committed to Miami on National Signing Day in 2006. However, still recovering from his injury and needing to do some work academically, McCoy did not sign with Miami that February and headed instead to Milford Academy in New York, where after a year of post-grad work he eventually signed with and enrolled at Pittsburgh in the winter of 2007.
McCoy was highly-regarded in recruiting circles despite the major injury as a senior, finishing as Scout.com's No. 5 RB recruit and No. 22 player overall nationally, Rivals.com's No. 7 RB and No. 43 player overall and ESPN.com's
No. 8 RB and No. 50 player overall
.
* The 40 times at the Nike Football Training Camps were measured with stopwatches prior to 2006. They are now laser timed.
October, 25, 2011
10/25/11
11:19
AM ET
By
Brian Stumpf
| ESPN.com
Talk about making an entrance. On Sunday, Dallas Cowboys rookie and third-string running back at the beginning of the season DeMarco Murray, ran for 253 yards against the St. Louis Rams, breaking Emmitt Smith's single game rushing record for a Dallas Cowboys running back of 237 yards (set at Philadelphia against the Eagles on October 31, 1993). The record total included a first-quarter 91-yard touchdown run that is second longest in Cowboys history, after a NFL-record 99-yard run by Tony Dorsett in January 1983. Sunday was Murray's first start as a pro after Felix Jones was injured the prior week versus the Patriots, but if his record-setting day is any indicator, it won't be his last start. Today we take a look back at Murray when he was in high school with an ESPNHS Alumnus of the Week feature.
DeMarco Murray attended Bishop Gorman in Las Vegas, a school that is now a national power currently sitting at No. 9 in the POWERADE FAB 50 rankings, but was just building as such with the help of Murray and others in the mid-2000s. Murray was a star from the beginning of his Gael career as a sophomore in 2003, when he rushed for 1,395 yards and 17 touchdowns to earn all-conference honors.
A year behind another top notch recruit at Gorman, LB Ryan Reynolds who went onto a solid career at Oklahoma, Murray was no secret after his breakout sophomore campaign, especially when he showed up at the 2004 Stanford Nike Camp and posted the ninth-fastest 40-yard dash time at 4.49 seconds out of over 500 participants. Current NFL wideouts Desean Jackson (4.43) and Brandon Gibson (4.46) were a few of the handful who bested Murray in the 40 that day, but his star was clearly on the ascent, as he landed early offers from the likes of Oklahoma, Florida, Nebraska and Wisconsin prior to the start of his junior season that fall.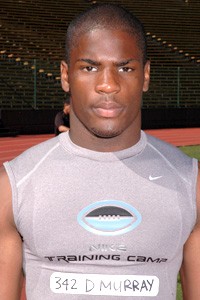 Tom Hauck/ESPNHSDeMarco Murray, who ran for a Cowboys' record 253 yards on Sunday, shown here at the 2005 Stanford Nike Camp, where he clocked a 4.52 40-yard dash.
Murray didn't disappoint as a junior, rushing for 1,271 yards and 12 touchdowns on just 138 carries in eight games while also catching 19 passes for 223 yards to earn ESPNHS Junior All-American honors. He returned again to the Stanford Nike Camp in May of 2005 to once again post one of the event's fastest 40s (4.52 on a slow track, eighth-best out of 500-plus competitors). The then 6-foot, 183 pounder also showed his terrific pass-catching ability to dominate in drills, a pre-cursor of what would come in his college career.
As a senior in the fall 2005, Murray rushed for 1,947 yards and 27 touchdowns and also caught 22 passes for 624 yards and 7 touchdowns, earning him ESPNHS All-American honors, all-state honors and the 2005 Sunset Region Offensive Player of the Year award. He even chipped in 64 tackles, three sacks and two interceptions on the defensive side of the ball to lead Gorman to a 9-3 record. Murray visited Florida, Oklahoma, USC and Penn State before selecting the Sooners during the 2006 U.S. Army All-American Bowl.
Considered one of the top running backs of his class alongside Chris Wells, C. J. Spiller and Michael Goodson, Murray was rated the nation's top RB and No. 6 overall in the ESPNU 150 for the Class of 2006 by ESPN, the nation's No. 2 all-purpose back and No. 35 overall player by Rivals.com and the nation's No. 8 RB and No. 37 player overall by Scout.com.
Brian Stumpf is the director of football events for ESPN HS. You can follow him on Twitter at @BrianStumpfESPN.
October, 18, 2011
10/18/11
6:42
PM ET
By
Brian Stumpf
| ESPN.com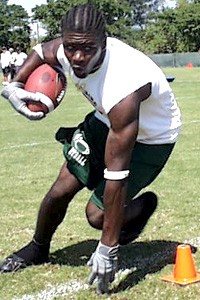 Brentt Eads/ESPNHSDevin Hester put on a show at the 2001 Miami Nike Football Training Camp, earning overall MVP honors
Devin Hester has accomplished many "firsts" in his spectacular five-plus seasons with the Chicago Bears and Sunday night he added another feat to his ledger, returning a kickoff for a touchdown and catching a touchdown pass in the same game for the first time in his career in the Bears' 39-10 rout of the Minnesota Vikings. Hester became the NFL's all-time leader in punt return touchdowns with 11 just two weeks earlier when he took a punt back 69 yards for a touchdown versus the Carolina Panthers. Hester also holds NFL records for career combined kick and punt return touchdowns (17), single season punt return touchdowns (four) and combined kick return touchdowns in a season (six). Today we take a look back at Hester when he was in high school with an ESPNHS Alumnus of the Week feature.
Devin Hester
emerged from one of the nation's top hotbeds for high school football, South Florida, as an elite prospect in the Class of 2002 after a big junior season at Suncoast (Riviera Beach, Fla.) in the fall of 2000. Despite being stuck on a team that went just 2-8 and playing in just seven games that year, Hester had 90 carries for 921 yards and 12 rushing touchdowns with seven receptions for 220 yards and one receiving touchdown. On defense, Hester had 65 tackles, two interceptions and 15 pass breakups.
His all-around playmaking ability generated strong early interest and an invite to the Miami Nike Camp in the spring of 2001, which looking back turned out to be a loaded event, as it was attended by Hester as well as several other future NFL players including WR Devin Aromashodu (Vikings), LB Jon Beason (Panthers), DE Elvis Dumervil (Broncos), OL Mario Henderson (Raiders), WR Santonio Holmes (Jets), DL Ray McDonald (49ers) and WR Sinorice Moss (Giants/Eagles).
Out of that select field including the above mentioned as well as 70-plus other prospects who would go on to sign with Division I schools, Hester was named the MVP of the Miami Nike Camp after running a camp-best 4.33 in the 40, 4.07 in the shuttle, jumping 33 inches in the vertical and doing 12 reps on the bench and dominating running back drills. The showing launched Hester into the recruiting stratosphere, and he had gathered more than 25 scholarship offers by the start of his senior season.
Hester put it all-together on the field as a senior in the fall of 2001, earning Class 3A All-State honors after rushing for 1,014 yards and 12 touchdowns on 94 carries (17 touchdowns) while compiling 1,028 yards receiving on 38 catches for nine touchdowns, in addition to throwing for five touchdowns and 225 yards. He also made 156 tackles and had three sacks as a senior on defense.
Following his senior season, Hester was selected to play in the CaliFlorida Bowl, a now defunct all-star game that pitted California's best versus Florida's best. Hester starred in the game, returning a kickoff 85 yards for a score (shown below) and also intercepting a pass to earn MVP honors. He committed to Miami shortly thereafter the game in late January after taking official visits to NC State, Purdue, Georgia and Florida State as well.
Hester was widely regarded as one of the nation's top prospects in the Class of 2002 on Signing Day, being rated by ESPNHS (then known as Student Sports) as the nation's top cornerback prospect, a five-star and the nation's No. 28 overall prospect by
Rivals.com
and a five-star as well by
Scout.com
. He was curiously omitted from
ESPN's Top 100
list that year, which was compiled by Tom Lemming.
October, 11, 2011
10/11/11
11:26
AM ET
By
Brian Stumpf
| ESPN.com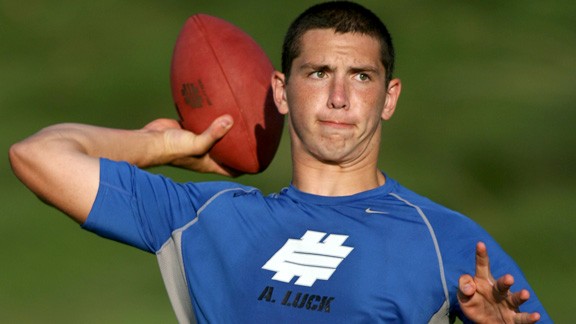 Tom Hauck/ESPNHSAndrew Luck was the Elite 11 MVP runner-up to Blaine Gabbert in the summer of 2007.
After a stellar sophomore season in 2010 in which he led Stanford to a top five national ranking and Orange Bowl victory, quarterback Andrew Luck entered the 2011 season as the most highly-regarded college signal caller in NFL Draft circles since at least Peyton Manning in 1998. So far this fall the 6-4, 235 pound redshirt-junior has done nothing to dispel that reputation, leading Stanford to a 5-0 start. The son of former West Virginia and NFL quarterback Oliver Luck, Andrew had his top game of the season to this point this past Saturday, completing 26-of-33 passes for 370 yards and three touchdowns as Stanford drilled Colorado 48-7. On the year so far, Luck is completing 73.1% of his passes for 1,383 yards and 14 touchdowns with just two interceptions, and has Stanford up to No. 5 in the latest coaches' poll. Today we take a look back at Luck when he was in high school with an ESPNHS Alumnus of the Week feature.
Andrew Luck
was a three-year starter at Stratford High School in Houston, assuming the starting role as a sophomore in 2005 and holding his own at one of the largest high schools in Texas, earning all-district honors as he completed 116 of 229 passes for 1,529 yards and seven TDs while also rushing for 700 yards. Following his sophomore season, Luck attended a Nike Combine in Houston and flashed some of the underrated athleticism that has scouts now drooling over his upside, posting a 35.5-inch vertical jump and 4.48 shuttle at the event.
The next fall as a junior, Luck really came into his own, earning District 19-5A MVP honors as he threw for 2,926 yards and 27 TDs on 176 of 257 passing while rushing for 714 yards and 10 scores, leading Stratford to a 10-2 record. Houston, Baylor and Nebraska were the first to step up with scholarship offers for Luck during the fall of his junior season, and by January of 2007, Texas A&M, Oklahoma State, Kansas, Kansas State, Purdue, Northwestern and Duke had also all entered the race.
Luck attended the TCU Elite 11 QB regional camp that April, and after a strong showing at the event, he was the first QB in the Class of 2008 invited to the Elite 11 finals. One of few prospects to ever truly act on words that academics were important to him, Luck showed just how important school was to him when he cut his list to five in early-June, eliminating some national powers like LSU and Nebraska in favor of Purdue, Northwestern, Stanford, Virginia, and Rice. Luck announced Stanford as his choice shortly thereafter on June 30th.
At the Elite 11 finals that July, Luck had a strong showing alongside the other competitors, which included now Jacksonville Jaguar Blaine Gabbert as well as Mike Glennon (NC State), Jacory Harris (Miami), Landry Jones (Oklahoma), E.J. Manuel (FSU), Sean Renfree (Duke) and former Clemson starter and now minor league baseball player Kyle Parker. He was ranked by the college counselors as the runner-up to Gabbert as the MVP of the finals, showing many of the same attributes that have now made him one of college football's most celebrated prospects - intelligence, accuracy, arm strength and the focus and drive to be great and not let outside elements distract or deter him.
Luck led Stratford to a 9-4 mark as senior that fall, completing 196 of 338 passes for 2,684 yards and 19 TDs while rushing for 671 yards and 14 scores, earning second team all-state and various All-American honors and playing in the Army All-American Bowl.
Before signing with the Cardinal, Luck was ranked as high as the
No. 4 quarterback in the nation and No. 47 player overall by Scout.com
, the
No. 4 pro-style QB and No. 68 overall player nationally by Rivals.com
, and the
No. 7 QB and No. 61 player overall by ESPN Recruiting
. He served as the valedictorian of Stratford's graduating class of 2008. Former Ohio State and now Oakland Raider rookie QB Terrelle Pryor was the consensus No. 1 overall player and QB in the Class of 2008.
September, 12, 2011
9/12/11
2:20
PM ET
By
Brian Stumpf
| ESPN.com
Fantasy football owners who ignored the advice of "experts" and left Ray Rice in their lineups yesterday were rewarded, as the fourth-year running back of the Baltimore Ravens shredded the vaunted Pittsburgh Steeler defense for 107 yards and a TD on the ground and another touchdown and 42 yards receiving. Today we take a look back at Rice when he was in high school with an ESPNHS Alumnus of the Day feature.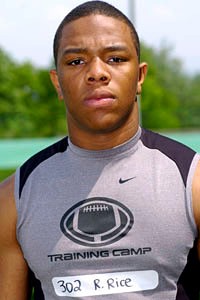 ESPNHSESPNHS knew Ravens running back Ray Rice in high school when he attended Nike Football Training camp in 2004. Rice had a strong start to the NFL season with 149 total yards and two touchdowns against the Steelers Sunday.
While he is now a star and one of the most highly-regarded running backs in the NFL,
Ray Rice
was not regarded as a five-star or blue-chip type of recruit in high school. Although he was extremely productive, rushing for 1,332 yards and 21 touchdowns as a junior and leading his team, New Rochelle (New Rochelle, N.Y.) to a state title, some in recruiting circles questioned Rice's height, and he was only the
11th ranked prospect in the Empire State in the Class of 2005 by Rivals.com
, despite another stellar campaign as a senior in which he rushed for 1,192 yards on just 122 carries and scored 31 times.
Rice did star at the Penn State Nike Camp prior to his senior season, posting the 7th-best SPARQ Rating at the event at 89.24 out of 429 total attendees, which included the camp's top shuttle time at 3.86, and solid marks in the 40 at 4.59, and vertical jump at 35.6 inches. He also stood out in drills and one-on-ones at a camp with perhaps one of the most loaded running back groups ever looking back - including Rice and four other current active NFL backs; Arizona Cardinal
LaRod Stephens-Howling
, Houston Texan
Steve Slaton
, Philadelphia Eagle
LeSean McCoy
and Houston Texan
Ben Tate
.
Shortly after the Nike Camp, Rice committed to Syracuse and then-Orange head coach Paul Pasqualoni in June, only holding one other scholarship offer at that point from Virginia. When Pasqualoni was fired following the 2004 season, Rice visited Rutgers in January and changed his commitment to the Scarlet Knights just two weeks before National Signing Day in February.
September, 9, 2011
9/09/11
2:51
PM ET
By
Brian Stumpf
| ESPN.com
Kynon Codrington/ESPNHSGreen Bay Packers' Randall Cobb racked up two touchdowns in his debut, including a 108-yard kickoff return. A high school Cobb attended Elite 11 regional camp in Atlanta in 2007.
Green Bay Packer rookie WR Randall Cobb had the football world buzzing last night with his tremendous debut at Lambeau Field, scoring both on a 35-yard touchdown reception and an NFL-record tying 108-yard kickoff return. Today we take a look back at Cobb when he was in high school with an ESPNHS Alumni of the Day feature.
Before
Randall Cobb
was making plays at Kentucky as a wideout and wildcat-quarterback, he was a star at perennial power Alcoa (Alcoa, Tenn.), a school that actually began 2011 in the POWERADE FAB 50. Cobb was named "Mr. Football" for Class AA in Tennessee as a senior, completing 89 of 139 passes for 1,765 yards, 22 touchdowns, and only two interceptions while also rushing for 793 yards and 13 touchdowns. During his junior season, Cobb threw for 1,893 yards, 25 TDs, and just four interceptions. He was a two-time all-state selection and also led Alcoa to Class AA state title in both his junior and senior seasons, compiling a 27-3 record as a starting quarterback.
ESPNHS saw Cobb in person in April of '07, as the then aspiring quarterback attended an Elite 11 QB regional camp at Georgia Tech and also a Nike Camp at Georgia. While Cobb didn't make the cut for the Elite 11 finals that year, he did impress with his athletic ability.
"There was something special about the kid," then-Elite 11 coach and now Kentucky WR coach Tee Martin
told Fox Sports Wisconsin
. "He wasnt a prototypical quarterback. He had some height challenges, but he threw the ball well and was very athletic. He was one of those kids where it was like, I should watch out for that guy."