High-SchoolFootball:

FAB 50 Game of the Week
December, 15, 2011
12/15/11
11:17
AM ET
By
Mark Tennis & Doug Huff
| ESPN.com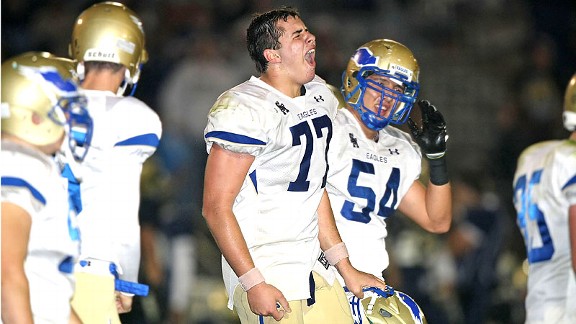 Courtesy Robert Russell Photography Can senior offensive tackle Max Tuerk and POWERADE FAB 50 No. 45 Santa Margarita (Rancho Margarita, Calif.) pull off the upset against No. 23 Bellarmine (San Jose, Calif.)?
A look at the top games and story lines for
POWERADE FAB 50
teams heading into the final weekend of the 2011 high school football season.
GAME OF THE WEEK
No. 2 Armwood (Seffner, Fla.) vs. No. 17 Miami Central (Miami) 1 p.m. Saturday at Citrus Bowl, Orlando, Fla.
This FAB 50 headliner matches the No. 2 Hawks, seeking a Class 6A state title after falling short in Class 4A last season, against defending 6A champion Miami Central.
Armwood lost its only 2010 game to Lincoln (Tallahassee, Fla.) in the finale last year, but started its 14-0 record campaign with a bang. The Hawks traveled to Las Vegas and handed FAB 50 No. 9 Bishop Gorman (Las Vegas) its only loss of the season. If Armwood beats the No. 17 Rockets to wrap up the state crown, it would solidify a final No. 2 ranking in the FAB 50.
The Hawks survived a 46-38 semifinal shootout win over Bartram Trail (St. Johns, Fla.) last weekend, while Miami Central was ousting Mainland (Daytona Beach, Fla.) 17-7 in the other semifinal.
Armwood's offense is run by junior quarterback
Alvin Bailey,
but senior tailback
Wade Edwards
came up big last week with 235 yards on 28 carries with two key fourth-quarter touchdowns. Miami Central has been led all year by touted sophomore tailback
Joseph Yearby
, who rushed for a game-high 160 yards and two scores on 25 carries against Mainland.
These teams have been ranked at the top of the Florida Class 6A polls all season. So to see both of them get this far and face each other in the final only makes the showdown that much more enticing.
PLAYER TO WATCH
Tommy Armstrong, Steele (Cibolo, Texas)
We sure hope we don't jinx Armstrong by calling him out because last week's Player to Watch, kicker Alex Ball from Westlake (Westlake Village, Calif.), suffered a torn ACL in his game the next day and will miss this week's CIF state bowl game.
Armstrong, a 6-foot-2, 210-pound senior dual-threat quarterback, will bid to guide the Knights to a second straight Class 5A-II state championship this weekend. Steele (15-0), ranked No. 14 in the FAB 50, will tackle 13-2 Dekaney (Houston) Saturday night in the title game at Cowboys Stadium in Arlington.
The Nebraska recruit has led the Knights to 28 straight wins, including a 51-31 rout of Memorial (Port Arthur, Texas) in the semifinals last weekend. In that game, Armstrong ran for four touchdowns and passed for another score. On the season, Armstrong has accounted for more than 3,000 yards of total offense and 43 touchdowns. He's also passed for more than 1,900 yards with 27 touchdowns and no interceptions.
The title game matchup also pits Armstrong against touted Dekaney running back
Trey Williams
, a Texas A&M recruit who has rushed for 3,633 yards and 45 TDs this season.
UPSET ALERT
FAB 50 No. 45 Santa Margarita (Rancho Santa Margarita, Calif.) vs. No. 23 Bellarmine (San Jose, Calif.), Friday at The Home Depot Center, Carson, Calif.
This matchup for the CIF Division I state bowl title could be the quickest game ever played because both teams are well-known for ball-control, offensive possessions that can take eight to 10 minutes off the clock. Santa Margarita had one like that in the second half of its 27-13 victory over San Clemente (Calif.) in last week's CIF Southern Section Pac-5 Division championship at Anaheim Stadium. The Bells had one like that as well in the fourth quarter when they played FAB 50 No. 11 De La Salle (Concord, Calif.) in their first game. That helped Bellarmine tie the game and send it into overtime, where a missed PAT was costly in a 26-23 loss.
Both teams can throw but love to leave it in the hands of their Tim Tebow-sized quarterbacks. Santa Margarita's
Johnny Stanton
enters the game with 2,027 yards passing and 1,204 yards rushing. He has accounted for 27 touchdowns. Bellarmine's
Travis McHugh
doesn't throw as often, but has 1,373 yards rushing in one less game. McHugh also has 847 yards in the air and has accounted for 33 scores.
While Bellarmine runs its double-wing offense as good as anyone and may have an edge on defense with active linebackers
Joe Gigantino
and
Brad Kuh
, the Eagles are a much bigger, perhaps more powerful group up front. Their line, which includes 6-foot-5, 320-pound junior
Riley Sorensen
and 6-foot-7, 310-pound junior
Erik Bunte
, is led by 6-foot-6, 265-pound
Max Tuerk
. The USC-bound Tuerk is perhaps the top postseason honors candidate for a lineman in California this season.
Santa Margarita has never been in a CIF state bowl game, but coach
Harry Welch
has been twice with different schools and won both times. His team in 2006 at Canyon (Canyon Country, Calif.) knocked off De La Salle when the Spartans were favored and expected to finish off another undefeated season.
Upset Alerts So Far This Season: 8-7
Team On The Rise?
Del Oro (Loomis, Calif.)
There's actually two games in the CIF state bowl championships at The Home Depot Center that could greatly alter Del Oro's final overall ranking in California and could even get them into next week's final FAB 50.
First, on Saturday in the CIF Division II state bowl game, the Golden Eagles (13-1) need to get past an extremely talented squad from Helix (La Mesa, Calif.). Then a few hours later, if FAB 50 No. 14 Westlake beats No. 11 De La Salle and does so by more than three points, Del Oro can claim it gave the Warriors their toughest game of the year. In that game, coach
Casey Taylor's
team came within one play of beating Westlake in a 30-27 overtime loss. If both scenarios come true, Del Oro could rise to as high as No. 2 in California.
Del Oro's chances against Helix will hinge on the team's multi-faceted offense. It's a unit that features a "thunder and lightning" backfield combo with senior
Nick O'Sullivan
and junior
Brandon Monroe
. O'Sullivan, the thunder part of the duo, enters the game with 1,342 yards rushing and 23 touchdowns. Monroe, definitely serving in the lightning role, has 1,605 yards rushing and 22 touchdowns. Quarterback
Bobby Heatherington
also has shown he can throw with 2,133 yards and 22 touchdown passes.
Del Oro, which still has not lost to any other team this season other than Westlake, captured its second straight CIF Sac-Joaquin Section Division III title two weeks ago with a 21-7 triumph over previously unbeaten Oakdale (Calif.).
December, 1, 2011
12/01/11
11:43
AM ET
By
Mark Tennis & Doug Huff
| ESPN.com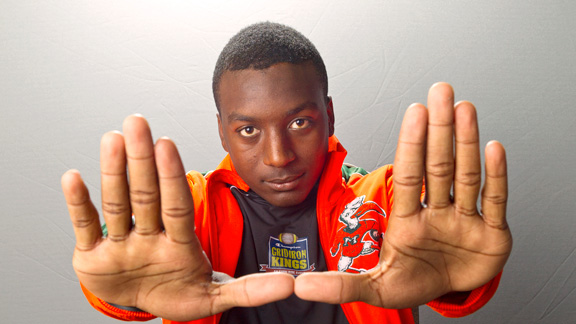 Courtesy Miller SafritFAB 50 No.12 Miami Norland (Fla.) and star tailback Randy "Duke" Johnson face No. 39 Glades Central (Fla.) in a Class 5A regional final on Friday.
GAME OF THE WEEK
No. 12 Miami Norland (Miami, Fla.) 11-0 at No. 39 Glades Central (Belle Glade, Fla.) 12-0, Friday at Effie C. Grear Field
This is a postseason matchup that many South Florida observers have been waiting for all season.
The Class 5A regional final showdown pits two unbeaten,
FAB 50-ranked
powers, both of which field top-flight individual talent. Both teams are hungry for state crowns after falling short in their respective 2010 title games.
Norland, which has been ranked in the FAB 50 since the preseason, is seeking the state title that eluded it last season when Jefferson (Tampa, Fla.) prevailed 44-34 in the Class 3A finale. The Vikings are led by 5-foot-9, 174-pound senior tailback
Randy (Duke) Johnson
. The University of Miami recruit has rushed 134 times for 1,352 yards and 19 scores this season.
Meanwhile, Glades Central, which was a 14-13 victim of unbeaten Cocoa (Fla.) in last season's Class 2A finals, has wreaked havoc on its 12 foes this year. The Raiders have outscored teams 515-74 with shutouts their last three games. Their offense includes senior wide receiver
Jamie Wilson
and 5-10, 170-pound junior running back
Will Likely
. Wilson has landed 50 passes for 867 yards and 20 scores, while Likely has rushed for 685 yards and 12 touchdowns and caught 31 passes for 556 yards and six scores.
The outcome of this game will have a big impact on next week's FAB 50 since the winner could go on to being an undefeated state champion.
PLAYER TO WATCH
Zack Blaylock, Walton (Marietta, Ga.)
While running back
Tyren Jones
has been the offensive catalyst for the 13-0 Raiders, who zoomed up to No. 28 in this week's FAB 50, Blaylock has been one of the team's top defenders and looks like a cinch to be an all-state pick.
In last week's 21-13 win over Dacula (Dacula, Ga.) in the Class 5A playoffs, Blaylock intercepted a pair of passes, upping his season total to 10. The 6-foot-1, 190-pound free safety also was in on seven tackles and broke the game open on offense in the fourth quarter by scoring on a 95-yard touchdown reception from quarterback Parker McLeod.
Blaylock is the son of former NBA point guard Mookie Blaylock and plays alongside his twin brother, Daron, in the Walton secondary. Both Blaylock brothers have committed to Kentucky.
If Walton can get past Cobb County rival Lassiter (Marietta, Ga.) in Friday's semifinals, that could set up a fantastic 14-0 vs. 14-0 state championship on Dec. 10 against FAB 50 No. 4 Grayson (Loganville, Ga.). Grayson plays Colquitt County (Moultrie, Ga.) in this weekend's other Class 5A semifinal.
UPSET ALERT
Prattville (Prattville, Ala.) 11-2 vs. No. 35 Hoover (Hoover, Ala.) 13-1, Friday in Tuscaloosa, Ala.
Two familiar foes and Alabama's top two preseason-ranked teams square off for the Class 6A state championship.
Entering the season, Prattville (11-2) was ranked No. 13 in the FAB 50, while Hoover (13-1) was No. 35. The Lions dropped their opening game to defending FAB 50 national champion St. Thomas Aquinas (Fort Lauderdale, Fla.) 34-31 and later was upset by Opelika (Opelika, Ala.) 16-14 to fall out of the national rankings.
Hoover, meanwhile, has suffered only a 17-9 loss to Birmingham-area rival Mountain Brook (Ala.) 17-9. While the Bucs have struggled somewhat in recent games, the Lions have dominated foes with wins of 45-12, 38-0, 56-14 and 52-13 sandwiched around a 13-3 playoff win to knock defending champion Daphne (Daphne, Ala.) out of contention. Hoover's last three playoff wins have been 32-22, 21-14 and 26-17. Last season, Hoover lost the title game to Daphne 7-6.
In 2009, Hoover, which has played in 11 title games the last 12 years, defeated Prattville 28-23 in the championship game. The two teams don't meet in the regular season but have split four title games since 2004. The two schools do compete regularly in junior varsity games and in seven-on-seven competitions, so they are familiar with each other.
With Prattville coming on strong since the two setbacks, don't be surprised if it's the Lions hoisting the title trophy this weekend.
Upset Alerts So Far This Season:
6-7
TEAM ON THE RISE?
St. Thomas Aquinas (Fort Lauderdale, Fla.)
Remember these guys? The FAB 50 national champs from last year and 2008 were riding high earlier this season after wins over Prattville (Prattville, Ala.) and current California No. 1 De La Salle (Concord, Calif.). Then came a loss to current FAB 50 No. 6 Miramar (Miramar, Fla.) followed by another one shortly afterward to Cooper City (Cooper City, Fla.).
But the banged-up Raiders (10-2), who have lost senior defensive end
Jelani Hamilton
and some other players to injury, may be on the way back. They played Cooper City again last week in the Class 7A state playoffs and avenged the earlier loss with a 27-10 triumph.
Fred Coppet
rushed for 140 yards on 23 carries and scored twice as St. Thomas Aquinas rallied from a 3-0 halftime deficit.
With one of the losses now avenged, the Raiders will be looking to move into next week's Class 7A state semifinals with a win Friday against Dwyer (Palm Beach Gardens, Fla.). They could play FAB 50 No. 16 Manatee (Bradenton, Fla.) in that game, and another win there would probably get them back up into the national rankings. Even with two losses on their record at the end of the season, the Raiders could still climb all the way back to near the top 10. After all, those two teams they beat earlier in the season could be state champions too.
November, 3, 2011
11/03/11
12:57
AM ET
By
Mark Tennis & Doug Huff
| ESPN.com
GAME OF THE WEEK
No. 14 Warren Central (Indianapolis) 11-0 at No. 43 Carmel (Carmel, Ind.) 10-1, 7 p.m., Friday
This
Hoosier State
playoff showdown has all the ingredients for a classic confrontation, and for the first time this year we have a
FAB 50
Game of the Week in which the loser is done for the season.
The two in-state Metropolitan Conference rivals play every regular season and, as is the case this year, sometimes there's a rematch in the Class 5A postseason. In 2009, Warren Central defeated Carmel 42-36 in the title game after Carmel won the regular-season game 24-22. In 2006, Warren Central capped a 15-0 state title season with a 35-14 win over Carmel after besting the Greyhounds 28-0 in the regular season. Last season, the Warriors won the regular-season matchup 37-27.
From 2003 to 2006, Warren Central won four straight state titles, and the coach of those first three clubs was
Kevin Wright
, the current second-year coach at Carmel.
Wright's first 2011 Carmel matchup against his former team came down to a final-play field goal earlier this season. The Warriors, now coached by
John Hart
, who guided them to the 2009 state crown, prevailed over Carmel 22-20 as sophomore place-kicker
Max Hernandez
booted a 38-yard field goal as time expired.
Both teams boast explosive offenses and stingy defensive units. Warren Central has outscored foes 492-168, but Carmel has a more impressive margin of 500-107. Both running backs --
Deionte Buckley
of the Warriors and
Jalen Duncan
of the Greyhounds -- have had stellar outings in recent weeks, and the team that does a better job of stopping the opposing back will probably win.
PLAYER TO WATCH
Justin Moore, Westlake (Westlake Village, Calif.)
There are whispers around California that Moore could be a candidate for State Junior Player of the Year. He has definitely done a great job stepping into the starting quarterback role for a team that has climbed to No. 3 in the state and No. 34 in the FAB 50.
The 6-foot-0, 175-pounder played as a freshman in the CIF Southern Section Northern Division championship when starting quarterback Nick Isham went out with an injury; Moore scored a touchdown as the Warriors completed a 14-0 season. He backed up Isham last year, when Westlake's hopes for back-to-back 14-0 seasons were dashed in a one-point loss to Oaks Christian (Westlake Village, Calif.) in the same section final.
Entering this weekend's next-to-last regular-season game, Moore has passed for 1,386 yards and 12 touchdowns to go with 643 yards rushing plus eight more scores. He can play defense, as evidenced by his 37 tackles as a sophomore starting safety last season, but it's what he's done on offense that has helped push Westlake toward the top of California.
UPSET ALERT
Brother Rice (Birmingham, Mich.) 6-4 at No. 9 Harrison (Farmington Hills, Mich.) 10-0, 7 p.m. Saturday
This one really would be an upset since Harrison has become a
top-10 team
and the loss would be to a team coming in at 6-4.
To insiders in
Michigan
, though, it wouldn't be that shocking. After all, the two teams played last year in the state playoffs, and it was hard to believe that Brother Rice lost 37-27, considering that all the Warriors had to do was run out the clock late in the fourth quarter for a 27-22 win. Then disaster struck as a fumble was returned for a touchdown, followed by an interception return for a score.
Brother Rice's four losses this year have all been to strong teams in close games by scores of 21-20, 10-9, 21-19 and 21-13. The Warriors also are used to winning big games since they are guided by veteran coach
Al Fracassa
, who earlier this season won his 400th game.
Yet another reason that Harrison could be ripe to get knocked down: Versatile senior quarterback
Jake Vento
may not be able to play due to an ankle injury. Vento's status won't be known until game time, but he rarely comes off the field for the Hawks. Who do you think returned that fumble for a go-ahead score last year?
Even without Vento, Harrison can still get through this game. The Hawks have a coaching legend of their own on the sidelines in
John Herrington
. Many of the backups, including quarterback
Lamarr Mitchell
, have gotten a lot of reps because every game has been over somewhat early. Super sophomore running back
Lorenzo Collins
is another weapon for Harrison and is only getting better each time he plays.
Upset Alerts so far this season: 4-5
TEAM ON THE RISE?
Lafayette County (Oxford, Miss.) 11-0
The Commodores made history last season when the Class 4A state champions became the first team in Mississippi history to finish with a 16-0 record. They have since extended the win streak to 27 games after capping an 11-0 regular season with a 49-7 rout last weekend over North Pontotoc (Pontotoc, Miss.).
Lafayette opens defense of its state crown Friday with a first-round playoff game against visiting Leake Central (Carthage, Miss.).
Lafayette entered the season ranked No. 2 overall in Mississippi behind two-time defending Class 6A state champion South Panola (Batesville, Miss.). The Commodores took over the top spot when the Tigers lost their first in-state game at Gulfport (Gulfport, Miss.) and have been on the FAB 50 bubble the last few weeks.
Lafayette is led by 6-foot-4, 260-pound run-pass quarterback
Jeremy Liggins
, who earned first team all-state honors last season. This season, he has passed for 1,207 yards and 11 TDs and rushed for 527 yards and 11 scores. Liggins is joined in the backfield by productive running back
DeMarkus Dennis
, who leads the team with 1,677 rushing yards and 20 scores.
With the postseason starting in most states, and some ranked teams dropping out of the national list, the Commodores are poised to make a serious run up the
FAB 50 rankings
.