High-SchoolFootball:

Florida State
April, 23, 2012
4/23/12
9:51
AM ET
A sojourn is traditionally understood to mean a temporary stay or short visit. But in the case of
Sojourn Shelton
, a star cornerback for Plantation (Fla.), he's planning on a long football journey that transitions from Friday nights to Saturday afternoons, with a hopeful eye on playing on Sundays in the future.
The 5-foot-9, 152-pound dynamo played big at the
Miami Nike Football Training Camp
on April 15, earning some serious accolades. Not only did Shelton take home the positional MVP in a deep and talented group of defensive backs, he also earned
top billing on the All-Camp team
and a coveted invite to
The Opening
.
With a busy offseason ahead of him and his senior season just months away, it's time to Get Familiar with one of the Sunshine State's rising stars.
ESPNHS:
What are your goals in this final offseason of your high school career?
Shelton:
My motivation this offseason is to improve everyday and become the best player that I can be. You can never rest on what you have accomplished. I'm so excited to have been invited to The Opening and know from my friends
Tracy Howard
and
Duke Johnson
and others on my 7-on-7 team that went to it last summer that it's a special event and a special honor to go there. But at the same time I can't be satisfied. Motivation comes to me in so many ways; with the
ESPN 150
coming out and me not being on it, I feel as though I should be on there and I'm determined to get there.
ESPNHS:
What are the goals for Plantation in 2012?
Shelton:
Man, making the playoffs for one. Our team goal as seniors is definitely to make the playoffs, especially since we haven't made them since I've been in high school. Just talking to my friends on other teams who have been in the playoffs, and in Florida down here high school ball is so important, it is the type of pressure I want to be a part of and experience that win-or-go home feeling of the playoffs.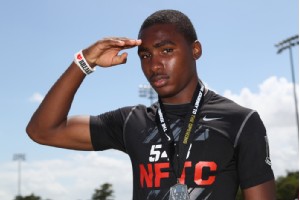 Tom Hauck/ESPNHSPlantation (Fla.) cornerback Sojourn Shelton committed to Florida State this past June but is keeping his options open as he heads into his senior season.
ESPNHS:
Is there a unique mentality to playing corner?
Shelton:
The island mentality is to never let anyone beat you. On every single play when you are out there one-on-one as a corner the risk is six points on every play. There is nothing between me and the end zone, and getting beat can lead to six really quick. You have to have that confidence level knowing you are there to stop the guy you line up against. What I really like is that it's a position that demands not just ability but confidence. The idea is that I have to protect my island.
ESPNHS:
Florida has been known to produce talented players that bring a distinct swagger and confidence to the field. What is it about the football culture there that contributes to this?
Shelton:
Everybody down here is competitive and the culture of football down here demands the best of you. The most simple way to put it is that in Florida football everyone wants to be the best and with so much talent you are always being challenged. It's not that you face a team and they have one guy that is really good, it's all over the field and everywhere you look you see that. We have that swagger and mentality that down here in the Sunshine State we are the best in the U.S. and when we get around players from all over the country it's show time and we are always ready to compete.
ESPNHS:
Even though you verbally committed to Florida State back in June, you seem to be keeping your options open as you head into your senior campaign. What are your priorities in the recruiting process?
Shelton:
My main priority with the recruiting process is to keep an open mind and not close any doors. This is a huge decision and there's no turning back once it's clear where I'll be spending the next four years of my life. I also have to consider how fast can I get on the field and feel really comfortable with the coaching. I also look to the college atmosphere and academics and want to become a stronger and better person all around during the process. There are a lot of things that go into the process, but with my ultimate goal being to play in the NFL one day, that takes the experience of college and playing time is the key to gaining that experience.
Sojourn Shelton
School:
Plantation (Fla.)
Class:
2013
Position:
Cornerback
HT:
5-9
WT:
152
FAVORITES
TV Show:
Whatever is on ESPN or NFL Network
Movie:
"The Dark Knight" & "He Got Game"
Athlete:
Darrelle Revis
Song:
"All Of The Lights" by Kanye West
Food:
A great steak that doesn't need any A1
September, 19, 2011
9/19/11
9:17
AM ET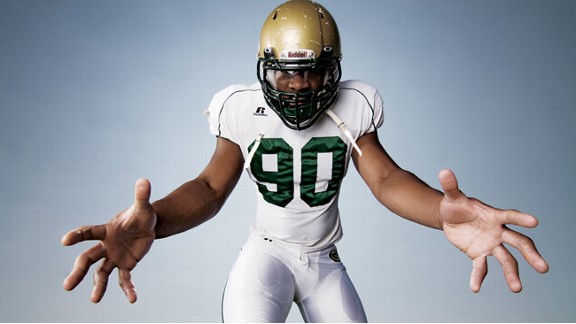 Ryan Gibson/ESPNHSGrayson (Ga.) junior Robert Nkemdiche might be the nation's top football player
Robert Nkemdiche certainly passes the eyeball test.
At 6-foot-5 and 270 pounds, he looks more like Julius Peppers than a high school student. The Grayson (Loganville, Ga.) defensive end plays like Peppers, too.
With his size, strength (he benches 340 pounds, squats 500 and power cleans 340) and speed (4.6 seconds in the 40-yard dash), Nkemdiche (pronounced kim-DEECH-ee) can do pretty much anything he wants against offensive linemen. Last year, he wreaked havoc in the trenches to the tune of 58 tackles, 23 tackles for loss and 18 sacks.
This season, he's faced a variety of game plans designed to prevent him from crushing the quarterback. Nevertheless, he's made a huge impact for Grayson, which is 4-0
and ranked No. 16
in the
POWERADE FAB 50 ESPNHS Team Rankings
.
Nkemdiche has also seen time at running back this season and ran for the game-winning touchdown in the Rams' season-opening win over Kell (Marietta, Ga.).
Oh, by the way, Nkemdiche is only a junior. And the superb skills he's shown at such a young age is why he's arguably the top player in the country, regardless of class.
Not surprisingly, a number of the nation's top college teams have taken notice. Nkemdiche is considering the likes of Mississippi (where his brother Denzel is a freshman defensive back), Alabama, Auburn, LSU, Miami, Florida, Florida State and Oregon, but he's yet to narrow down his extensive list of offers.
Right now, he's more focused on leading Grayson to a state title and is excited about the possibility of his mom, Beverly, watching one of his games this year. Beverly is a legislator in Nigeria and rarely has the opportunity to come home and watch her talented son play.
So what makes this man-child tick? It's time to Get Familiar with Robert Nkemdiche.