High-SchoolFootball:

Gaffney
November, 16, 2011
11/16/11
1:02
PM ET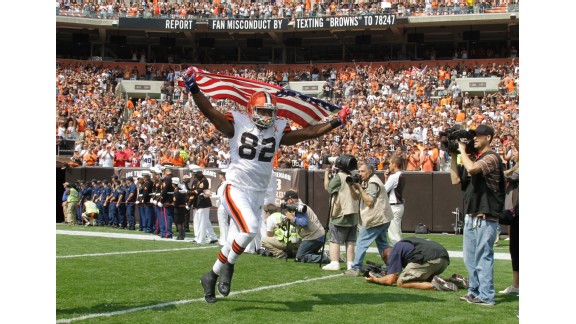 Mark Duncan/APBen Watson has won a Super Bowl and led the Browns in receptions and yardage last season, but his times playing for Northwestern (Rock Hill, S.C.) remain some of his greatest gridiron memories.
There is something special about senior year in high school. It's a particularly bittersweet time in life; the pinnacle of the high school experience but also the final year enjoying the friendships and familiarities developed over several years.
For high school football players it's a similarly sentimental time, as it marks the final season spent under the Friday night lights. We spoke with several NFL players to discuss what makes this time in life so unique, and to share some of the lessons they'd like to impart to the Class of 2012. Our first installment featured Rams rookie defensive end Robert Quinn and the lessons he learned during a trying senior year in high school.
This week's edition features Cleveland Browns tight end Ben Watson.
A first-round pick out of Georgia in the 2004 draft, Watson spent the first six seasons of his NFL career with the Patriots, winning the Super Bowl in his rookie year.
Check back every Wednesday for the next four weeks for another installment of Senior Season.
Ben Watson
has been involved in some huge games during the course of his football career. With the Patriots, he was a part of several crucial playoff contests, won a Super Bowl and contributed to a perfect regular season.
But if you ask him what game he remembers most distinctly in his career, he'll take you back to South Carolina in 1997, when he was playing for the Trojans of Northwestern High (Rock Hill, S.C.).
"My most memorable single game was the state championship against Gaffney at Memorial Stadium," said Watson. "Even though we lost that game, the whole road to get there that season and playing for it all was so special."
His Trojans fell short of state glory in a 37-30 blockbuster battle, but the game remains a highlight of a stellar career for Watson.
"They always talk about the games you will never forget" said Watson. "And at the time I was probably like 'yeah, yeah, whatever coach,' but honestly that game against Gaffney still sticks out above some big college and pro games. I can just still remember the feeling, the bus ride, how it really meant everything to us."
The son of a college linebacker, Watson's love for football was always strong, but it wasn't until his family moved from his hometown of Norfolk, Va., to Rock Hill in the tenth grade that he became engrossed in a real football hotbed.
"My dad had told me that they take their football seriously down in this small town we were moving to, a move I didn't even want to make," said Watson. "I get there and it was unbelievable; the entire town shuts down on Fridays, thousands of fans at the games in this small community. Our biggest rival was Rock Hill, and at the time there were only two schools in the town, and the games were always huge. One year they beat us and went to the state championship and the following season we beat them and went on to play in the state championship game, so it wasn't just a rivalry in a small town — it was really good football."
Watson still marvels at the high school experience and how much he learned in those formative years.
"It's amazing how quickly things change for you in the course of high school," said Watson. "You are a freshman looking up at these seniors like they are a world apart from you, and then three years later you are in that position. It's a lot of responsibility being a senior; you are the leader not just on your team but in nearly every way. Just remember how you looked up to these guys when you were a freshman or sophomore, it's how you are being viewed as a leader. It's a time that you should really appreciate, because it goes by fast and I remember I was focused on that next year, on college, but there is nothing quite like the high school years."
Watson has enjoyed plenty of success during his football career, and last year he led the Cleveland Browns in receptions, receiving yards and receiving touchdowns. But making sure to be prepared for life after football has always been a personal priority.
"For most high school football players it's the last stop in their football careers," said Watson. "And really, even at the college level, it's difficult to get to the professional level. That's why you not only really need to enjoy the game while you have it, but also take the rest of your life seriously and what I really mean by that is your academics. That's what you'll really need in life; enjoy the cheering and playing the game, but it will end for everyone and there is a lot of life to be lived after football."
November, 1, 2011
11/01/11
5:41
PM ET
By
Mark Tennis & Doug Huff
| ESPN.com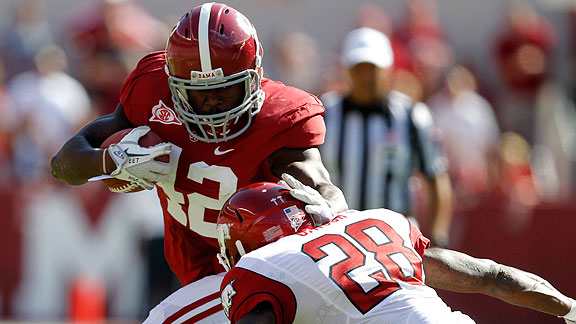 AP Photo/Butch DillEddie Lacy of Alabama (pictured) and safety Eric Reid of LSU are former teammates at Dutchtown (Geismar, La.) in high school.
Our favorite moment of Saturday's titanic clash between No. 1 LSU and No. 2 Alabama is going to come if sophomore running back Eddie Lacy of Alabama breaks into the clear and up comes sophomore strong safety Eric Reid of the Tigers to try to stop him.
Lacy and Reid are former teammates at Dutchtown (Geismar, La.), a program that has continued to thrive after those two graduated and currently sits at No. 38 in this week's POWERADE FAB 50.
Four players on Alabama's roster, including All-SEC center William Vlachos, are from Mountain Brook (Mountain Brook, Ala.), which moved up to No. 40 in this week's FAB 50. The other three former Spartans playing in Tuscaloosa are offensive linemen Tyler Love and Wilson Love and freshman quarterback Morgan Ogilvie.
The Crimson Tide also feature two players on their roster who were members of the 2008 FAB 50 national championship squad at St. Thomas Aquinas (Fort Lauderdale, Fla.). Junior wide receiver Duron Carter, the son of ESPN NFL analyst Cris Carter, is redshirting this season. Sophomore receiver Nick Williams is listed, but has not seen action.
For LSU, three players on the roster are from West Monroe (West Monroe, La.), which was No. 48 in last year's final FAB 50. The best of those three is starting offensive lineman Will Blackwell. The other two are freshmen Paul Turner, a defensive back, and Jordan Allen, a defensive end.
Two Tigers from current FAB 50 ranked schools are freshman quarterback Jerrard Randall of No. 12 Miramar (Miramar, Fla.) and freshman offensive lineman Evan Washington of No. 25 DeSoto (DeSoto, Texas).
FAB 50 SPOTLIGHT PLAYER OF THE WEEK:
Quinshad Davis, Gaffney (Gaffney, S.C.)
The 6-foot-3, 190-pound wide receiver has been one of the main offensive weapons for the explosive Indians, who average 52.4 points a game and have moved up to No. 22 in the FAB 50.
Davis has been a favorite target of quarterback Joey Copeland as the Indians have reeled off 10 straight wins entering this Friday's regular season finale trip to Spartanburg (Spartanburg, S.C.).
In the last two wins over Lancaster (Lancaster, S.C.) and Northwestern (Rock Hill, S.C.), Davis totaled 18 receptions for 399 yards and five scores in less than six quarters. That upped his season totals to 68 catches for 1,374 yards and 19 touchdowns.
The college prospect with a 4.1 grade point average is considering his college options, which seem to be growing each week.
HIGHEST RISING NEWCOMER OF THE WEEK
No. 46 Colerain (Colerain, Ohio)
The Cardinals return to the FAB 50 as the post-season playoffs start this week in the Buckeye State.
Colerain has won its last seven starts since dropping its only game 17-14 to city rival St. Xavier (Cincinnati). The victims have included two other Division 1 playoff teams -- 9-1 record Middletown (Middletown, Ohio) and 7-3 Mason (Mason, Ohio).
The Cardinals' ground-oriented offense is led by 6-foot, 185-pound junior running back Jackson Sorn, who has 914 rushing yards and 11 touchdowns on 138 carries.
The top defender is 6-foot, 220-pound senior linebacker Jake Blust. He has recorded 60 tackles and 6 1/2 sacks.
Colerain's first state playoff opponent Saturday night is 8-2 Walnut Hills, another Cincinnati foe.
LOOKING AHEAD: Allen's road probably won't include Katy
After completing its regular-season schedule this weekend with a matchup against district rival Flower Mound (Flower Mound, Texas), the playoff road for FAB 50 No. 3 Allen (Allen, Texas) looks like it could be tough, but likely won't include a titanic matchup against No. 4 Katy (Katy, Texas).
The Eagles have certainly had a series of tough tests against their previous district opponents, including last-minute triumphs over Hebron (Carrollton, Texas)), Marcus (Flower Mound, Texas) and Plano East (Plano, Texas).
It can be complicated to look ahead to potential matchups in the Texas playoffs before the regular season ends, but it does look probable that in Allen's second game it will have to face No. 8 Euless Trinity (Euless, Texas) in a Division I area playoff rematch of last year's second-round game that resulted in an epic 37-35 win for Trinity before an estimated 40,000 fans at Cowboys Stadium.
If the Eagles get to the state final, it looks like their opponent in the Class 5A Division I state final will not be No. 4 Katy (Katy, Texas). According to research by Randy Jennings of ESPNDallas.com and the main compiler of our Texas top 25 overall rankings, Katy's enrollment compared to other playoff-qualifying teams in its district is going to put the Tigers in Class 5A Division II instead of Division I. The debate between the two therefore may not ever be solved if both finish unbeaten and win state titles.