High-SchoolFootball:

Hoover
August, 31, 2011
8/31/11
1:18
PM ET
By
Mark Tennis & Doug Huff
| ESPN.com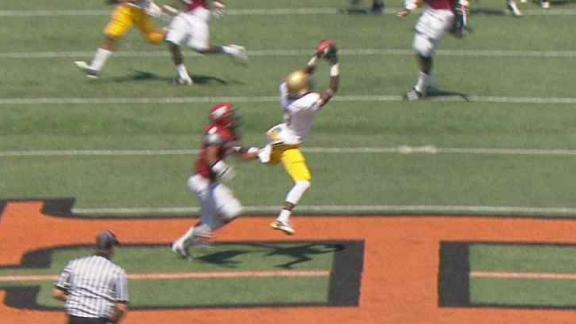 There doesn't seem to be a dual baseball and football star this season on the national level of
Bubba Starling
or
Archie Bradley
from last year. But watch out for
Sam Gillikin
of Hoover (Hoover, Ala.). His first outing as the starting quarterback for the Bucs in their 24-13 victory over South Panola (Batesville, Miss.) in a matchup of FAB 50 teams was sensational (video of the game above).
Facing an opponent that was No. 16 in the preseason FAB 50 and on a 28-game winning streak, Gillikin sparked Hoover by completing 18 of 30 passes for 181 yards and three touchdowns. He also rushed 13 times for 82 yards.
With Hoover leading 3-0 late in the second quarter, Gillikin led a 14-play, 97-yard drive that put his team up 10-0 at halftime. He had 37 yards rushing and 44 yards passing in that series alone.
With the win, Hoover moved up from No. 41 to No. 24 in this week's FAB 50. Gillikin also has been chosen as the
POWERADE FAB 50 Spotlight Player of the Week.
Gillikin had to miss a few preseason football practices because he was selected and played in the Under Armour All-America baseball game at Wrigley Field in Chicago. The 6-foot-2, 190-pound outfielder is the first Hoover baseball player ever chosen for the event.
As a junior, Gillikin played wide receiver in football and batted nearly .330 for the baseball team. He gave a glimpse of what he might do as the quarterback in football with 280 yards of passing and three touchdowns in just one half of Hoover's spring game. Gillikin has committed to play baseball at Auburn.
Here is the rest of this week's edition of
Inside the FAB 50:
POWERADE FAB 50 GEOGRAPHY LESSON
Based on the 50 teams that appear in this week's rankings, here's a look at where they stand in geographical terms
.
Northernmost school – No. 36 Bellevue (Bellevue, Wash.).
A school in the East would have to come from Maine to further north than the Wolverines.
Southernmost school – No. 35 Miami Norland (Miami, Fla.).
At the present time, there's only one Dade County team in the FAB 50. If there were two or more, this determination gets trickier.
Westernmost school – No. 36 Bellevue (Bellevue, Wash.).
This required some digging because No. 2 De La Salle (Concord, Calif.) is far west as well. Bellevue's longitude of 122.20 is slightly west of Concord's 122.03.
Easternmost school – No. 1 Don Bosco Prep (Ramsey, N.J.).
This was another easy one to figure out because no other teams from New Jersey and no teams from New York or from any New England states are currently ranked.
School closest to center of USA – No. 50 Rockhurst (Kansas City, Mo.).
The campus of Rockhurst is literally across the street from Kansas and is approximately 260 miles from the center point of the continental U.S. near Smith Center, Kan.
Schools closest together
–
No. 44 Colerain of Cincinnati
is just seven miles from
No. 25 St. Xavier of Cincinnati
and went into this week's rankings after a big win over Cocoa (Cocoa, Fla.).
Schools farthest apart – No. 36 Bellevue (Bellevue, Wash.)
and
No. 35 Miami Norland (Miami, Fla.)
are 3,295 miles from each other. On Sept. 23 on ESPN2, two schools that are 3,019 miles apart,
No. 2 De La Salle (Concord, Calif.) and No. 3 St. Thomas Aquinas (Fort Lauderdale, Fla
.), will hook up for a huge matchup
.
HIGHEST RISING NEWCOMER OF THE WEEK
No. 41 Mallard Creek (Charlotte, N.C.)
North Carolina's top-ranked team joined the FAB 50 this week at No. 41 after opening with two wins, including a debut 28-20 victory over preseason FAB 50 No. 8 Butler (Matthews, N.C.). The loss snapped a 31-game win streak for the two-time defending Class 4AA state champions. The Mavericks followed up the Butler win with a 52-21 rout last weekend of Sun Valley (Monroe, N.C.).
The new FAB 50 member will visit another Charlotte team, Berry Academy, this weekend before facing an upset-minded Mooresville (Mooresville, N.C.) on Sept. 16. Mooresville opened the season by ending the nation's longest active victory streak of 46 games with a 21-14 victory over West Rowan (Mt. Ulla, N.C.).
Mallard Creek entered the season with a major question mark -- who was going to be the quarterback to replace All-American and North Carolina recruit
Marquise Williams
.
That was answered when
Andrew Goodman
transferred from First Assembly School of Concord, N.C. After leading the Mavericks to their big win over Butler, Goodman passed for 284 yards and four touchdowns and rushed for a fifth score in the rout of Sun Valley.
WHERE HAVE ALL THE WIN STREAKS GONE?
It didn't take long for three of the nation's top five longest current football winning streaks to end in pre-September matchups. And FAB 50 teams were smack dab in the middle of it.
In North Carolina, the nation's longest current streak of 46 consecutive wins ended in the season opener on Aug. 19 for West Rowan (Mt. Ulla, N.C.). The Falcons bowed at Mooresville (Mooresville, N.C.) 21-14.
Last weekend, four other long win streaks ended and all were involving FAB 50 ranked teams.
Included was a 44-game streak by previous No. 46 Alcoa (Alcoa, Tenn.) and a 38-game streak held by previous No. 24 Cocoa (Cocoa, Fla.). Alcoa, which also has won seven straight state titles, lost to current FAB 50 No. 31 Maryville (Maryville, Tenn.) 26-19. Cocoa, meanwhile, fell to new No. 44 Colerain (Cincinnati) 17-7.
The other two schools to lose for the first time in a long time last week were previous No. 18 Aledo (Aledo, Texas) and previous No. 38 South Panola (Batesville, Miss). Aledo's win streak ended at 29 games while South Panola's was stopped at 28.
Entering this weekend, the longest active win streak in the nation belongs to FAB 50 No. 32 Phoebus (Hampton, Va.). The three-time defending state champions open the season Friday at Warwick (Newport News, Va.) with a 45-game win streak.
Second on the list with 41 straight wins is FAB 50 No. 28 Hamilton (Chandler, Ariz.), which opened the season last weekend with a 17-7 win over Mountain Pointe (Phoenix). Two other FAB 50 ranked teams with long win streaks are No. 1 Don Bosco Prep (Ramsey, N.J.) at 35 games and No. 23 Mullen (Denver, Colo.) at 31 games.
August, 27, 2011
8/27/11
10:49
PM ET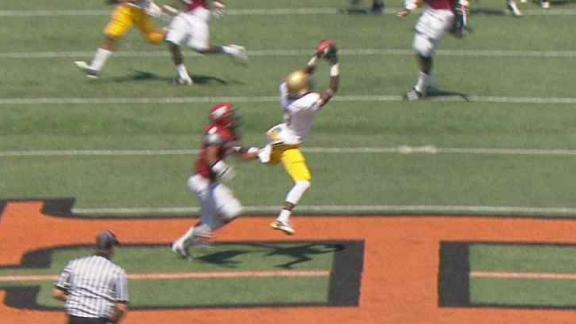 Hoover, Ala.
--
It shouldn't be a surprise that Hoover wins another big game. After all, they have been one of the top high school football programs in the nation over the last decade. The Bucs have played in 10 of the past 11 state championship games in Alabama. But they did shock some in beating Mississippi powerhouse South Panola 24-13 in front of their home crowd.
Hoover, known for their offensive fireworks, won this contest with their defense. Holding a 3-0 lead late in the second quarter, the Buc defense stymied South Panola on a fourth and goal on their own three. They stuffed
Antonio Conner
for no gain. Behind quarterback
Sam Gillikin
, Hoover proceeded to drive the ball the length of the field with less than two minutes. Gillikin threw a touchdown pass with 16.8 seconds left in the half to put the Bucs up 10-0. More importantly, it gave Hoover a big dose of confidence going into the second half.
South Panola had their chances in the third quarter but couldn't convert. Super junior safety Conner scored the Tigers first touchdown on a 75-yard punt return. Hoover responded with the legs and arm of Gillikin. He connected with
Josh Jackson
for one Buc score and threw for another to put Hoover up 24-6. Conner scored South Panola's second touchdown on a five-yard run late in the game.
Credit the Hoover defense, as they held the South Panola offense in check for just about the entire game. The Buc defense played very well against the run and didn't allow much, if anything, through the air.
What it means for next week's first POWERADE FAB 50 for the regular season:
This was a very impressive win for Hoover
Josh Niblett
and his Buccaneer team. They are currently ranked No. 41 in the
POWERADE FAB 50 preseason poll
and beating a team like South Panola should give Hoover a boost. They don't have any more big games with out-of-state opponents but you can bet they will face tough battles ahead in Alabama. Meanwhile, the Tigers held the No. 13 ranking coming into this contest. It wasn't an impressive performance offensively for the Tigers but they have time to correct their mistakes and work their way up the rankings once again, as they begin play in the Magnolia State.
Rising Star of the Night:
South Panola junior safety Antonio Connor is a star in the making and is looking like one of the top recruits in the nation for the Class of 2013. Connor was Superman for the Tigers against Hoover and was the best player on the field. He is a hard hitting safety that made his presence felt in the South Panola secondary with a few bone-jarring hits in the first half. As the game progressed, his team needed him to make play on offense and on special teams. He returned a long punt for a score in the third quarter and was also their primary offensive weapon all game long, especially when he to the perimeter where he could utilize his great speed.
More Stars:
This will be the likely last football season for Hoover quarterback Sam Gillikin. He has accepted a baseball scholarship at Auburn and that's where he says his future lies. Meanwhile, he has this final fall on the gridiron to make a name for himself. If his performance against a tough South Panola defense is any indication then Hoover will be just fine in 2011. He's steady, makes good decisions and can make plays with his arm and legs. Gillikin looks like a good leader for the Buc offense. Sophomore cornerback
Marlon Humphrey
, the son of former Alabama running back Bobby Humphrey, looks like a star of the future. He had one interception against South Panola, although the Tigers really didn't test the Buc secondary very often because they tried to pound the football. For South Panola, defensive end
Temario Strong
had a good game for the Tigers, as did linebacker
Je'Tavious Turner.
In fact, Turner had several big plays and hits for the South Panola defense.
Hoover head coach Josh Niblett:
"That was a big win for us. We had to overcome some turnovers and South Panola had something to do with that. We have been pumped about this game and I prayed to God all week. We showed up and showed out. We played hard and we played physical. I am proud of our offense and I am proud of our defense. We answered the bell."
South Panola head coach Lance Pogue:
"I don't want to take anything away from Hoover. They played very well and we didn't capitalize on chances we had. But I was pleased with our effort. Our kids played hard and we will be back. We are fighters. This will be a good team when we get back to Mississippi. This loss will make us a better team in the end."
Up Next:
Hoover (1-0) plays at Hoover Spain Park next Friday. South Panola (1-1) plays at Memphis University School on Friday.
Jamie Newberg is the southeast regional coordinator for ESPN.com