High-SchoolFootball:

Inside the FAB 50
December, 13, 2011
12/13/11
5:49
PM ET
By
Mark Tennis & Doug Huff
| ESPN.com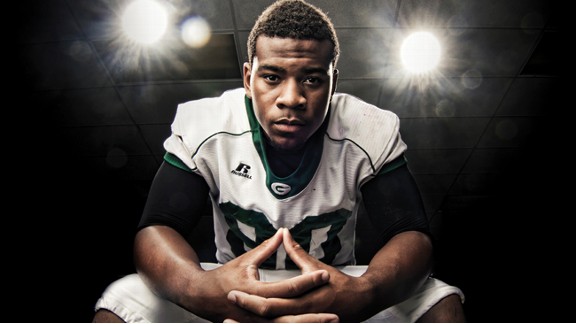 Ryan Gibson/ESPNHSGrayson (Ga.) junior Robert Nkemdiche might be the nation's top football player.
Preparation for the 2012 preseason rankings has already begun and one team that clearly has a shot to start No. 1 in the nation is current No. 4 Grayson (Loganville, Ga.).
Although the Rams will have to replace a starting quarterback, they have a great deal of talent coming back from this year's team, which captured its first Class AAAAA title last weekend with a 24-0 shutout of Walton (Marietta, Ga.).
While senior quarterback
Nick Schuessler
capably ran the offense for the 15-0 Rams, the team hung its hat on a young defensive unit that surrendered fewer than 40 rushing yards per game -- by far the best average allowance in the Class AAAAA state ranks.
This stingy defense limited a previously-unbeaten Walton team to 58 yards on the ground in the state title game win. Walton's offense was led by the state's top rusher,
Tyren Jones
, who had averaged 160 yards per game before meeting the stout Rams defense .
Returning next season for the Rams will be 6-foot-5, 270-pound defensive tackle
Robert Nkemdiche
, who is considered the nation's top junior recruit. The
class of the '13 class
is joined by several other proven talents and several members of a touted junior varsity squad. Others returning include defensive ends
Zach Barnes
and
Wayne Gallman
plus defensive backs
Ryan Carter, David Kamara, Austin Meadows
and
Kasey Gaines
.
While Grayson appears to be a solid top-tier FAB 50 team to start next season, other teams returning key talents include No. 2 Armwood (Seffner, Fla.); No. 3 Trinity (Louisville, Ky.); No. 7 Southlake Carroll (Southlake, Texas), No. 9 Bishop Gorman (Las Vegas); No. 10 Bellevue (Bellevue, Wash.); No. 11 De La Salle (Concord, Calif.); No. 12 Lake Travis (Austin, Texas); and No. 15 Manatee (Bradenton, Fla.).
While we still wait for four states complete their seasons this weekend, let the 2012 preseason hype begin.
FAB 50 SPOTLIGHT PLAYER OF THE WEEK
Tiapepe Vitale, De La Salle (Concord, Calif.)
Injuries early in the season propelled Vitale up the tailback depth chart for the FAB 50 No. 11 Spartans and he's become the team's top threat.
The 5-foot-10, 195-pound junior surged for six touchdowns in this past Saturday's 49-13 win against San Ramon Valley (Danville, Calif.) in the CIF North Coast Section Division I championship at the Oakland Coliseum. He also rushed 19 times for 181 yards.
The huge effort marked the fourth straight game in which Vitale has gone over 100 yards even though he has been on the sidelines in the second half due to the team's big leads. In his past two playoff outings he had 14 carries for 108 yards and three scores against Pittsburg (Pittsburg, Calif.) and 19 totes for 190 yards and two scores against Freedom (Oakley, Calif.).
Vitale and the rest of the Spartans, who won their 20th straight section title, will go for their third straight CIF Open Division state bowl crown on Saturday against FAB 50 No. 13 Westlake (Westlake Village, Calif.) at The Home Depot Center in Carson, Calif.
RISING NEWCOMER OF THE WEEK
No. 31 Tucker (Tucker, Ga.) 15-0
The Tigers moved into the FAB 50 after capturing their second Class AAAA state title in four years and the school's first-ever unbeaten team.
A potent offense -- No. 1 in AAAA state ranks -- averaged over 45 points per game through the first 13 wins but the defense carried Tucker to the final two playoff decisions over previously-unbeaten foes -- a 17-16 semifinal squeaker over Northside Warner Robins (Warner Robins, Ga.) and a 22-7 title win over Lovejoy (Lovejoy, Ga.).
The Tigers led Lovejoy 22-0 before allowing a late fourth quarter score. Tucker's defense also intercepted two passes and recorded a safety.
For the season on offense, the Tigers rushed for over 4,000 yards and outscored opponents 652-to-170.
Tucker coach Franklin Stephens became the first African-American to win two Georgia High School Association state titles. His alma mater, Burke County (Waynesboro, Ga.), also won its first Class AAA state title.
Southeast Region rules in preps much like SEC does in college
For the first time this season, the Southeast region proved to be so powerful in the FAB 50 that more than the top 20 teams appeared in
this week's rankings
.
In most weeks during the season, there were an average of 18 teams that were in the FAB 50 from Alabama, Arkansas, Florida, Georgia, Kentucky, Louisiana, Mississippi, North Carolina, South Carolina and Tennessee.
This week, all 20 region-ranked teams were in the FAB 50 along with Walton (Marietta, Ga.), which was No. 49 in the FAB 50 but was "on the bubble" for the Southeast Region.
Reasons for the Southeast region being so strong are similar why the Southeast Conference is so strong in college football. Every state in the region has a rabid fan base and there are a lot of talented players in every state that dedicate to the sport.
November, 29, 2011
11/29/11
8:42
PM ET
By
Mark Tennis & Doug Huff
| ESPN.com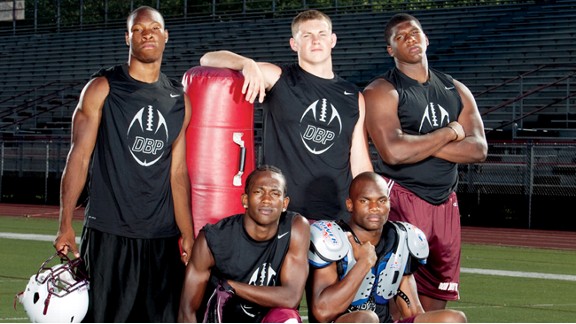 Steve Boyle/ESPNHSDon Bosco Prep, the top-ranked football team in the POWERADE FAB 50 and five-time defending state champ, is led by this senior quintet. Clockwise from left: Elijah Shumate, Mike Strizak, Darius Hamilton, Leonte Carroo and Yuri Wright
New Jersey power Don Bosco Prep (Ramsey, N.J.) will not only be seeking its 46th consecutive win and sixth straight Non-Public Group 4 state title Friday against rival Bergen Catholic (Oradell, N.J.), but the Ironmen could join an elite list with a victory.
Don Bosco Prep could become the 11th team in the last 15 years to go wire-to-wire from the preseason to the final rankings as No. 1 in the POWERADE FAB 50.
The Ironmen have been No. 1 all season in the FAB 50, which also was the case from 1997 to 2006 as all 10 preseason No. 1 ranked teams in those years went wire-to-wire and finished No. 1 in the final rankings.
The decade-long No. 1 streak started with Hampton (Hampton, Va.) in 1997, followed by De La Salle (Concord, Calif.) in 1998 and Evangel Christian (Shreveport, La.) in 1999. From 2000-03, De La Salle went wire-to-wire as the No. 1 team four times, while extending its national record win streak to 151 games.
The No. 1 wire-to-wire baton was passed to Southlake Carroll (Southlake, Texas) in 2004 and 2005 followed by Lakeland (Lakeland, Fla.) in 2006.
The streak ended in 2007 when preseason No. 2 Miami Northwestern (Miami, Fla.) upended preseason No. 1 Southlake Carroll (Southlake, Texas) and went on to capture the FAB 50 crown.
Since then, three more preseason No. 1 teams fell short of the accomplishment; including last year when Euless Trinity (Euless, Texas) lost in its final game. Will Don Bosco Prep be like teams of the last four years and not go wire-to-wire or will the Ironmen start a new streak of wire-to-wire FAB 50 champions? We'll find out Friday night.
FAB 50 SPOTLIGHT PLAYER OF THE WEEK
Romello Goodman, Centennial (Corona, Calif.)
Running backs with prolific yardage and scoring totals is nothing new at Centennial, which went back into this week's FAB 50 at No. 44 after a 56-21 victory against Chaparral (Temecula, Calif.) in the CIF Southern Section Inland Division playoffs.
Goodman, a mighty mite at 5-foot-6, 165-pounds, is the latest feature back in coach Matt Logan's no-huddle, quick-tempo, spread offense. In the game against Chaparral, he carried 27 times for 355 yards and set a school record by scoring eight touchdowns. This came one week after Goodman shined with 32 carries for 325 yards and five scores in a first-round playoff win over Redlands (Redlands, Calif.).
Setting school records in rushing or scoring at Centennial is not the same as any other school in California; it's hard to do. Since the 2000 season, tailbacks for the Huskies have included
Mike Bass
, who tallied 2,875 yards and 41 TDs in 2000,
Brandon Minor
with 2,714 yards and 50 TDs in 2004,
Terrell Jackson
with 2,664 yards and 43 TDs in 2003 (he also scored 50 times in 2002),
Ryan Bass
with 2,608 yards and 48 TDs in 2007 and
Barrinton Collins
with 2,427 yards and 42 TDs one year ago.
After his first two playoff games and with perhaps two or even three games left (depending on whether Centennial is chosen to play in a CIF bowl game), Goodman enters this week with 2,269 yards and 40 TDs. He's certainly put himself into the discussion with those before him and at Centennial that is saying something.
RISING NEWCOMER OF THE WEEK
No. 23 Page (Greensboro, N.C.)
The Pirates will be seeking their first state title since 1985 after upsetting two FAB 50-ranked teams and advancing to Saturday's Class 4-AA title game against 15-0 Garner (Garner, N.C.).
Page moved into the FAB 50 this week after knocking off two-time defending champion Butler (Matthews, N.C.) 40-26 before eliminating previously unbeaten Mallard Creek (Charlotte, N.C.) 41-27 last weekend. After being the "hunter" the last two playoff weeks, the Pirates are now the 'hunted." And it's been a long time coming for the school. Page was a state football power in the early 1980s and reeled off a state record unbeaten streak of 46 games from 1982-85, a mark that would last for two decades.
The current Pirate football team, coached by Kevin Gillespie, took a back seat all season to Charlotte area powers Butler and Mallard Creek before recording the playoff upsets.
Page is led by 6-foot-2, 195-pound versatile quarterback
James Summers
. The North Carolina State recruit accounted for 336 total offense yards and four scores in last week's 41-27 win over then FAB 50 No. 13 Mallard Creek.
LOOKING AHEAD: STATE SHOWDOWNS
There are four matchups this weekend involving two FAB 50 teams and several more on the horizon.
Of this week's showdowns, two will determine state championships with No. 23 Page (Greensboro, N.C.) playing No. 50 Garner (Garner, N.C.) and No. 34 Union (Tulsa, Okla.) battling No. 47 Broken Arrow (Broken Arrow, Okla.).
The other two are essentially state quarterfinals in Florida and Texas. In Florida, No. 12 Miami Norland travels to meet No. 39 Glades Central while in Texas it is No. 18 Southlake Carroll matching up with No. 38 Arlington Martin.
On the weekend of Dec. 10-11, the best games could be in Georgia, Texas and Oregon. Provided all teams keep winning, those contests would match No. 3 Grayson (Loganville, Ga.) against No. 28 Walton (Marietta, Ga.) for the Class AAAAA state title; No. 9 Skyline (Dallas) against No. 18 Southlake Carroll (Southlake, Texas) in the Class 5A Division I semifinals; No. 19 Steele (Cibolo, Texas) against No. 27 La Porte (La Porte, Texas) in the Class 5A Division II semifinals; and No. 32 Sheldon (Eugene, Ore.) against No. 48 Lake Oswego (Lake Oswego, Ore.) for the Class 6A state crown.
Then on the final weekend of the nation's high school football season on Dec. 17-18, the best games may be in Florida and California. Again, provided all teams continue to win and the California state bowl game selections go as expected, those matchups would include No. 2 Armwood (Seffner, Fla.) against No. 20 Miami Central (Miami, Fla.) for the Class 6A state crown; No. 13 De La Salle (Concord, Calif.) against No. 15 Westlake (Westlake Village, Calif.) in the CIF State Open Division bowl game; and No. 25 Bellarmine (San Jose, Calif.) against No. 44 Centennial (Corona, Calif.) in the CIF State Division I bowl game.
November, 22, 2011
11/22/11
11:48
AM ET
By
Mark Tennis & Doug Huff
| ESPN.com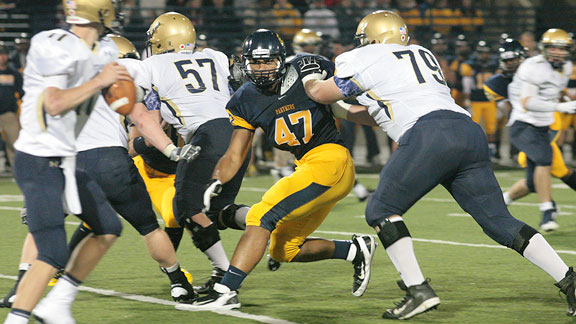 Chantel Jennings/ESPN.com The Whitmer (Ohio) defense has limited nine opponents to seven points or fewer thanks to Michigan commit Chris Wormley, a 6-foot-4, 230-pound all-state defensive end.
They may be hundreds of miles apart, but it's hard to dispute the similarities of running backs
Jela Duncan
of FAB 50 No. 13 Mallard Creek (Charlotte, N.C.) and
Jalen Duncan
of FAB 50 No. 19 Carmel (Carmel, Ind.).
As the ad says, America runs on Dunkin, but Mallard Creek and Carmel run with Duncan.
Jela Duncan, a 5-foot-10, 190-pound senior, bolted for 191 yards on 22 carries and scored a pair of touchdowns when Mallard Creek defeated Myers Park (Charlotte, N.C.) 42-10 last Friday in the Class 4AAA state quarterfinals.
Jela also was a standout as a junior with nearly 1,400 yards rushing and 17 touchdowns. He's already surpassed those totals this season and is looking at college offers from Duke, Pitt, Purdue, South Carolina and others
Jalen Duncan, a 5-foot-10, 205-pound senior, has emerged as one of the top players in Indiana. He didn't have a junior season quite like Jela Duncan in North Carolina, but is making up for it this fall.
In Carmel's 21-17 victory over Center Grove (Greenwood, Ind.), Jalen led the way with 22 carries for 132 yards and three touchdowns. He does not yet have any reported college offers, but is receiving interest from a few Big Ten schools and the Mid-American Conference.
Both Duncans also will need to stay productive in major contests for their teams this week. Jela's team faces 13-0 Page (Greensboro, N.C.) in the state semifinals while Jalen's team is going up against 14-0 Penn (Mishawaka, Ind.) in the Class 5A state championship at Lucas Oil Stadium.
FAB 50 SPOTLIGHT PLAYER OF THE WEEK
Jonquel Dawson, M.L. King (Lithonia, Ga.)
The 5-foot-10, 185-pound senior quarterback has led the Lions to a 12-0 record and No. 22 ranking in the FAB 50.
Last week, in Class AAAAA state playoff eliminations, he passed for 344 yards and three scores to lead a 27-21 overtime victory over defending state titlist Brookwood (Snellville, Ga.).
The three touchdown passes gave Dawson 92 for his career and puts him in a three-way tie for second-place on the all-time state charts. Dawson, who has completed 186 of 314 passes for 2,891 yards and 35 touchdowns this season, could threaten the state record of 103 TD tosses set from 2007-10 by Nick Marshall of Wilcox County (Rochelle, Ga.). This week's playoff opponent is Lassiter (Marietta, Ga.).
RISING NEWCOMER OF THE WEEK
No. 41 Whitmer (Toledo, Ohio)
The 13-0 record Panthers are the only unbeaten team competing in this week's Division 1 semifinals in Ohio.
Whitmer, which lost to eventual state champion Lakewood St. Edward in the 2010 semifinals, advanced last weekend with a convincing 37-0 blanking of Wadsworth (Wadsworth, Ohio). Whitmer's semifinal foe Saturday in Mansfield is 10-time state champion Cleveland St. Ignatius.
The Panthers, who are seeking their first state crown, are led on offense by all-state running back Jody Webb, who rushed for 992 yards and 24 touchdowns in the regular season. He runs behind a line anchored by 6-foot-8, 300-pound tackle
Storm Norton
, a University of Toledo recruit.
The Whitmer defense, which has limited nine opponents to seven points or less, is led by University of Michigan recruit
Chris Wormley
, a 6-foot-4, 230-pound all-state defensive end. Whitmer is the sixth Ohio team to be listed as the Rising Newcomer this season as the Buckeye State has been the scene of several power changes with upsets for a number of ranked teams.
Other 'Risers' from Ohio have included Hilliard Davidson, Mentor and three Cincinnati teams -- Moeller, St. Xavier and Colerain.
LOOKING AHEAD: Leaders in the Clubhouse
As the Thanksgiving weekend concludes, there could be as many as nine teams that will have locked up final positions in the last FAB 50 rankings of the season.
Two teams already are finished and have put the capper on a championship – No. 6 Good Counsel (Olney, Md.) and No. 25 Gilman (Baltimore). In golfing terms, Good Counsel also could be called our leader in the clubhouse to be No. 1 for the final rankings. It's not likely, though, that all five teams ahead of coach Bob Milloy's team will lose.
The other seven FAB 50 teams are all favored to win state titles over the next weekend, but history says that probably one or two will get upset.
Two of those seven are in Arizona where No. 11 Hamilton (Chandler, Ariz.) and No. 32 Chaparral (Scottsdale, Ariz.) also are going for multiple titles in a row. The other five are No. 19 Carmel (Carmel, Ind.); No. 31 Christian Brothers (St. Louis); No. 39 Loyola Academy (Wilmette, Ill.); No. 43 Detroit Catholic Central (Novi, Mich.); and No. 47 Wayzata (Plymouth, Minn.).
We can't say that both No. 39 Allen (Allen, Texas) and No. 46 Warren Central (Indianapolis) have wrapped up final spots in the FAB 50 even though both teams are done for the season. This is because both teams' final placement is dependent on how the teams they lost to fare later on in the playoffs.
October, 18, 2011
10/18/11
5:35
PM ET
By
Mark Tennis & Doug Huff
| ESPN.com
Besides having one of the quickest defenses you'll ever see and possessing a power running back like 6-foot-3, 215-pound
Matt Jones
, another reason to be impressed with this year's football team at Armwood (Seffner, Fla.) is talented junior speedster
Alvin Bailey
.
Bailey is this week's
POWERADE FAB 50 Spotlight Player of the Week
after he returned a punt 46 yards for a touchdown, ran back a kickoff 78 yards for a score and added a touchdown catch during Armwood's 80-0 romp past Strawberry Crest (Dover, Fla.).
Coach
Sean Callahan
of the FAB 50's No. 2 ranked team tries to utilize Bailey's skills in varied ways. The obvious is as a pass catcher as was the case in the team's first game when it traveled to Las Vegas and beat Bishop Gorman 20-17 in a matchup of top ranked squads. But Bailey also has completed 20 of 30 passes as a quarterback for 414 yards and five touchdowns. And he's also run the ball 35 times for 388 yards and two other scores.
The 6-foot-1, 170-pounder, who was a quarterback as a freshman, is beginning to attract the interest of top college programs. Florida, Alabama, Notre Dame and Vanderbilt are among those who could be checking him out.
NFL HALL OF FAMERS FROM FAB 50 SCHOOLS
We have a shorter list than usual this week because there's only two members of the NFL Hall of Fame who are from high schools in this week's FAB 50.
Longtime Miami Dolphins' quarterback
Dan Marino
, who was inducted at Canton, Ohio, in 2005, is the most famous football alum from No. 15 Pittsburgh Central Catholic (Pittsburgh).
The only other player on this list is receiver
Michael Irvin
. The longtime member of the Dallas Cowboys, who was inducted into the Hall of Fame in 2007, is from No. 17 St. Thomas Aquinas (Fort Lauderdale, Fla.).
Marino was on the sidelines recently at St. Thomas Aquinas when the Raiders defeated No. 24 De La Salle (Concord, Calif.) in a game shown on ESPN2.
HIGHEST RISING NEWCOMER OF THE WEEK
No. 38 Mentor (Mentor, Ohio)

The Cardinals have taken over the No. 1 ranking in the Buckeye State and moved into the FAB 50 after spending several weeks in the Midwest Region rankings.
Mentor has never won a state football crown, but its 2006 team finished a 13-2 season as Division 1 runnerup to Davidson (Hilliard, Ohio) after a 36-35 shootout in the finals.
This season's team emerged as a contender in the third week when the Cardinals handed St. Ignatius (Cleveland) its lone season loss 38-24 while recording a school record 608 total offense yards. That win was led by 6-foot-3, 195-pound junior quarterback
Mitch Trubisky
, who amassed a school record 553 yards, including 469 by passing.
Last weekend, Trubisky continued his season-long productivity by passing for 334 yards and four scores in a 45-7 rout of Medina (Medina, Ohio). A week earlier, Mentor also handed Solon (Solon, Ohio) its lone season loss. The Cardinal defense is led by end
Tom Strobel
, a Michigan recruit.
Mentor, coached by 15-year veteran
Steve Trivisonno
, closes the regular season with road games against Strongsville (Strongsville, Ohio) and Twinsburg (Twinsburg, Ohio).
LOOKING AHEAD: LET'S PLAY TWO REMATCHES POSSIBLE
In at least three states, there could be playoff rematches of teams currently ranked in the FAB 50 and chances for losing teams to avenge regular season setbacks.
In Indiana, the two FAB 50 teams that played in the regular season would be No. 12 Warren Central (Indianapolis) and No. 48 Carmel (Carmel, Ind.). They could meet again in the Class 5A state playoffs, which begin this weekend. Warren Central survived its closest scare to remain unbeaten when the Warriors outlasted 22-20 on Sept. 30. The rematch rivalry takes another twist because the Carmel coach,
Kevin Wright
, used to coach nationally-ranked teams at Warren Central.
In North Carolina, observers already are pointing toward a postseason Class 4A rematch between FAB 50 ranked teams Mallard Creek of Charlotte (No. 21) and Butler of Matthews (No. 35). Mallard Creek opened the season with a 28-20 victory over two-time defending state champion Butler, which was sitting way up at No. 8 in the preseason FAB 50.
In Ohio, St. Xavier (Cincinnati) also could face a backyard playoff rematch against Moeller (Cincinnati) in the Division 1 playoffs. St. Xavier, ranked No. 43 this week, lost to Moeller 27-24 on Sept. 23 but has rebounded with three straight wins, including last Saturday's 17-10 win over defending state champion St. Edward (Lakewood, Ohio). Moeller was ranked in the FAB 50 before being upset last weekend by Cathedral (Indianapolis) and is now No. 12 in the Midwest Region rankings.
September, 27, 2011
9/27/11
5:41
PM ET
By
Mark Tennis & Doug Huff
| ESPN.com
To attain the status of being a legendary coach in high school school football, the milestone that often seems to get someone over the top is 200 career victories.
Among the teams in this week's
POWERADE FAB 50
, nine of them are coached by men with 200 wins or more. Four of the nine also have passed the 300-win milestone. They are
Bob Milloy
of No. 8 Good Counsel (Olney, Md.);
John Herrington
of No. 11 Harrison (Farmington Hills, Mich.);
Bob Ladouceur
of No. 25 De La Salle (Concord, Calif.); and
Tony Severino
of No. 34 Rockhurst (Kansas City).
Greg Toal
, the coach of No. 1 Don Bosco Prep (Ramsey, N.J.), is among those with at least 200 career triumphs. The others are
Steve Lineweaver
of No. 8 Euless Trinity (Euless, Texas);
Bob Johnson
of No. 31 Mission Viejo (Mission Viejo, Calif.);
Joe Kinnan
of No. 37 Manatee (Bradenton, Fla.); and
Harry Welch
of No. 49 Santa Margarita (Rancho Santa Margarita, Calif.)
Several of these coaches faced off earlier this season with Toal's club beating Bob Johnson's while Milloy's boys posted a double-overtime win over Kinnan's team.
On Thursday, Welch's team at Santa Margarita will take on Los Alamitos (Los Alamitos, Calif.), which is coached by John Barnes, who may get to 300 wins next season and who just moved into the top five on the all-time California list that is led by Ladoucuer (373 victories).