High-SchoolFootball:

John Curtis (River Ridge
May, 23, 2012
5/23/12
9:46
AM ET
By
Mark Tennis
| ESPN.com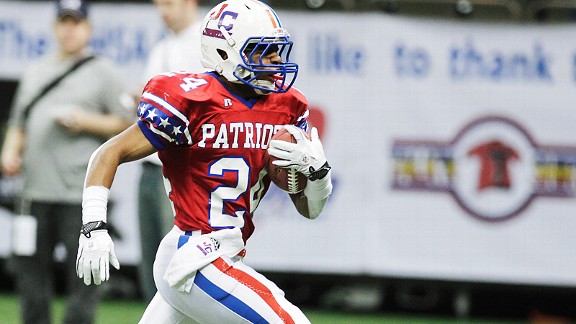 AP Photo/Bill HaberJohn Curtis (River Ridge, La.) sophomore running back Raekwon James helped lead the Patriots to their 24th state title this past fall.
During the offseason, we'll check out one team per week that looks like a sure bet to be among the best in the nation this fall.
FAB 50 Offseason Primer archive
This week's team:
John Curtis Christian (River Ridge, La.)
2011 Season:
14-0,
Class 2A state champion
, No. 28 in the final
POWERADE FAB 50
.
Projected 2012 Preseason Ranking:
Top 20. It was a historic season for the Patriots last fall, not so much for their 24th state title but when coach J.T. Curtis -- who has been leading the football program at the school named for his father since 1969 -- won his 500th game. Curtis became just the second coach in U.S. history to achieve that many wins and ended the season at 506-54-6. The only coach with more wins is 85-year-old John McKissick, who's still coaching at Summerville (S.C.). The numbers should continue to accumulate in 2012 and the national ranking could be much higher as well. Almost all of the top players from last year will be back. And if the Patriots get past probable FAB 50 preseason ranked Byrnes (Duncan, S.C.) at the Allstate Sugar Bowl Prep Classic in September, they could be pushing for the top 10 or higher.
Team Strengths:
Breakaway speed on offense and an outstanding linebacker-secondary corps on defense gives the Patriots much to build on. Offensively, junior running back
Sherman Badie
earned Class 2A all-state honors after rushing for 1,239 yards and 19 touchdowns on only 87 carries (14.2 yards per carry). Sophomore Raekwon James scored a pair of touchdowns in the 33-3 win over Winnfield (La.) in the state championship and ran for 761 yards and 11 scores on the season. And junior
Tevin Horton
rushed for 765 yards and 12 scores. Quarterback Abby Touzet is just a freshman, and although the Patriots are a team that doesn't throw much, he did gain valuable experience. Another plus on offense will be the return of lineman Anthony Taylor (6-7, 330), who is yet another of the team's major college prospects. Defensively, Class 2A Player of the Year
Duke Riley
will lead the returnees. The linebacker is perhaps John Curtis Christian's best overall player. Junior
Richard Allen
will lead the secondary.
Another Louisiana team to watch:
Karr (New Orleans) motored to an 11-4 season in 2011 and made it to the Class 4A state final, where it lost to Neville (Monroe, La.) 27-6. It was a Cinderella ride that should be followed up by a season of higher expectations since so many top players for the Cougars were underclassmen. Sophomore quarterback Devante Noil passed for 1,654 yards and 26 touchdowns and rushed for 772 yards and eight scores. Also returning will be tight end
Standish Dobard
, a Miami commit rated No. 131 in the
ESPN 150
, and
Noel Ellis
, who's
rated the nation's No. 17 cornerback by ESPN
. The defensive line for Karr should be tough as well due to the expected return of junior Titus Charles and standout sophomore
Gerald Willis
.
October, 27, 2011
10/27/11
11:10
PM ET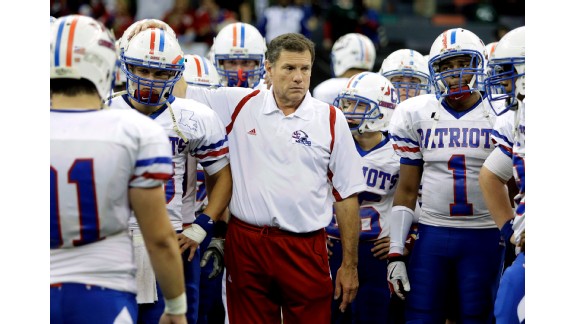 Patrick Semansky/APCoach J.T. Curtis consoles his team after losing the Class 2A championship in New Orleans in 2010. He has coached his team to 23 state titles over the years.
There are now two members of the exclusive "500 Club."
With a 49-6 win over Clark (New Orleans) on Thursday night for
John Curtis Christian School (River Ridge, La.)
, head coach
J.T. Curtis
became just the
second coach in high school football history to reach the 500-win threshold
. Curtis joins
John McKissick
of
Summerville (Summerville, S.C.) as the only coaches at any level -- high school, college or professional – to have amassed as many wins. McKissick, 85, has won a record 592 victories since 1952 entering his team's home game Friday against Beaufort (Beaufort, S.C.).
In the fall of 1969, after taking over for his father as head coach, the Patriots went 0-10. Only six players showed up to his first practice that summer. Since then, Curtis hasn't had another losing season. The staggering success he and his teams have sustained over the years is well supported by the numbers. Now in his 43rd year at the helm of the program, his Patriots have won at least 10 games and made the playoffs for the past 35 seasons in a row. They have won 23 state titles, with the first coming in 1975, just six seasons removed from that winless first campaign. In each decade since 1980, he has led the Patriots to at least six state titles.
Curtis and his resilient team, school and community were the focus of a 2007 book that detailed their unique experience in recovering from the resonating influence of Hurricane Katrina (
you can read an excerpt of the book here
).
It's always been a family affair in the winning program, as the 15-person coaching staff is stocked with eight family members. Curtis is also the school's headmaster and an ordained minister in the tradition of his father, John, Sr., the school's founder. A man of many leadership roles, you can find Curtis preaching on campus on Sundays or hosting a popular Friday night football television program that airs in New Orleans.
A legendary coach and leader added to his legacy on Thursday night, joining one of the most prestigious coaching clubs.
October, 26, 2011
10/26/11
10:35
AM ET
Most coaching wins in American high school football history (as of Oct. 27, 2011)
592
-- John McKissick, Summerville (Summerville, S.C.), 1952-active
500
-- J.T. Curtis, John Curtis (River Ridge, La.), 1969-active
455
-- Larry Campbell, Lincoln County (Lincolnton, Ga.), 1972-active
425
-- G.A. Moore Jr., Aubrey (Aubrey, Texas) (earlier Texas schools; Celina, Sherman, Pilot Point, Bryson), 1962-70, 1972-active
425
-- Mike Smith, Hampton (Hampton, Va.), 1971-active
413
-- George Curry, Berwick (Berwick, Pa.) (other Pa. schools; Plymouth, Wyoming Valley West, Lehman, Lehman-Lake), 1967-2008
412
-- Jack Holley, Wallace-Rose Hill (Teachey, N.C.) (other N.C. schools; Tabor City, Hallsboro, South Columbus, Harrells Christian Academy),1964-2010
405
-- Pete Adkins, Jefferson City (Jefferson City, Mo.) (also Centralia, Mo.), 1951-94
405
-- Charles "Corky" Rogers, Bolles School (Jacksonville, Fla.), 1968-active
402
-- Robert Paroli, Seventy-First (Fayetteville, N.C.) (earlier N.C. schools; Fayetteville Douglas Byrd, Burlington Cummings, Wilson Fike, Jacksonville, Benson), 1958-active
400
-- Al Fracassa, Brother Rice (Birmingham, Mich.), 1963-active
395
-- Gordon Wood, Brownwood (Brownwood, Texas) (earlier Texas schools Victoria, Stamford, Winters, Seminole, Roscoe, Haskell, Rule), 1940-85
390
-- Dick Tighe, St. Edmond (Fort Dodge, Iowa) (earlier Iowa schools Iowa Falls, Webster City, Carroll Kuemper Catholic), 1954-active
385
-- John Herrington, Harrison (Farmington Hills, Mich.), 1970-active
383
-- Willie Varner, Woodruff (Woodruff, S.C.), 1954-96
381
-- Ron Holtman, Marquette (Alton, Ill.) and Mary Institute-Country Day (St. Louis, Mo.), 1955-2004
379
-- Bob Lutz, Ironton (Ironton, Ohio), 1969-active
377
-- Bob Ladouceur, De La Salle (Concord, Calif.), 1979-active
375
-- Victor Paternostro, Pope John XXIII (Sparta, N.J.), 1968-2010
374
-- Phil Danaher, Calallen (Corpus Christi, Texas),1974-active