High-SchoolFootball:

Johnathon McCrary
March, 29, 2012
3/29/12
9:44
AM ET
By
Christopher Parish
| ESPN.com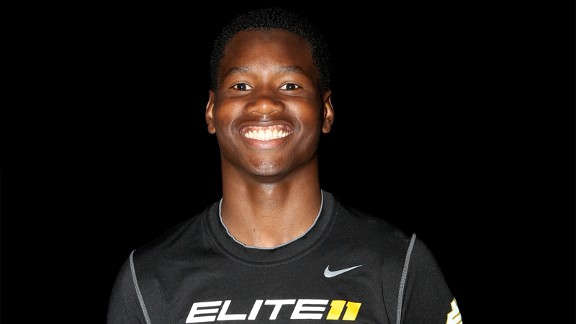 Tom HauckVanderbilt commit Johnathon McCrary of Cedar Grove (Ellenwood, Ga.) has thrown a combined 52 touchdown passes over the past two seasons.
Throughout this offseason, we'll spotlight Class of 2013 quarterbacks who have a shot at making the
Elite 11 finals
in July. This week we profile Cedar Grove (Ellenwood, Ga.) signal-caller Johnathon McCrary.
There's coveted recruits. And then there's
Johnathon McCrary
.
One of the most hyped athletes in the Southeast, the Cedar Grove (Ellenwood, Ga.) junior signal-caller was on the must-have list of schools across the country. In all, more than 40 schools offered McCrary a scholarship offer.
It's easy to see why. During his sophomore campaign, McCrary threw for 3,345 yards and 25 touchdowns. And this past fall, he was just as impressive, tossing for nearly 2,700 yards and 27 scores.
But after all the schools came calling, McCrary opted to commit to Vanderbilt in February. Now he's got his sights set on having a big summer, which includes the Elite 11 competition, and hopefully chasing a state championship.
The young quarterback stopped to chat with us recently about offseason workouts, the allure of Vandy and the chase for a title.
ESPNHS
: How's the offseason going? What sorts of things are you doing?
McCrary
: I'm trying to grind, really. I'm doing three-a-days and I'm trying to get ready for next season.
ESPNHS
: Three-a-days? That sounds tough. What sorts of things are you doing?
McCrary
: Well, I wake up at about 4:30 every morning. I get to school at around 6, and I work out for an hour and a half. Then I head to class. Then there's another workout, usually more weight training, and then I go to class again for a while. Then if it's track season, I work out with them, doing sprints, or I'll just hit the weight room again. Then I go home. And if it's football season, it's film study before bed.
ESPNHS
: Film study before bed? You must dream of football all night.
McCrary
: I am always thinking about it. Sometimes when I'm in class, I'm sitting there playing out scenarios in my head. It feels great when you start really learning the game. I've got a whole lot to learn, still, but I'm doing better than I did last year.
ESPNHS
: So with these three-a-days, are you trying to gain weight? Get stronger?
McCrary
: It's more mental than anything, actually. I figure that most players can't do three-a-days. I figure I won't ever be the biggest guy, but I'll be the best guy mentally.
ESPNHS
: You've committed to Vanderbilt. What made that the right choice for you?
McCrary
: They have a lot to offer. Every week you play against the best in the nation in the SEC. You can get a top-flight education there. It doesn't get any better than that. And it's close to home. They were really sincere about what they said about me. They said I was really the only quarterback they recruited, and I figured, heck, if you're going to put your neck out there for me, I can put my neck on the line for you by committing here.
ESPNHS
: Tell me a little bit about what you're looking forward to about the Elite 11 competition.
McCrary
: Well I want to do it, and I want to win. It's a great competition, and I love competition. But I don't think it's everything. When you put pads on, it's a different story. When you've got the pads on and a guy's out there trying to get after you and you dodge him and then you make a play, that's when you know you're going to be a good football player.
ESPNHS
: What's one thing you're really looking forward to learning at Elite 11?
McCrary
: Everything, really. I just want to get the knowledge, and they have coaches there who have great knowledge. I'm trying to use it all to my advantage, and I'm looking forward to making some great relationships with the other guys there.
ESPNHS
: Lastly, tell us a little about your senior season. What are you looking forward to most?
McCrary
: Trying to win a championship. Everybody on my team this year is trying to win. It's a great thing to have under your belt before you go away to college. Last year, right before the playoffs, some of the guys on my team weren't really focused. You could see it in their eyes. But this year we have a chance to actually be the best. My whole line is hungry this year. Nothing's going to get in our way. This year, everybody's ready.
School:
Cedar Grove (Ellenwood, Ga.)
Position:
QB
Class:
2013
College:
Vanderbilt
2011 Team Record:
7-4 (lost in first round of Class AAA playoffs)
2011 Stats
Yards:
2,643
TD:
27
INT:
9
October, 20, 2011
10/20/11
1:15
PM ET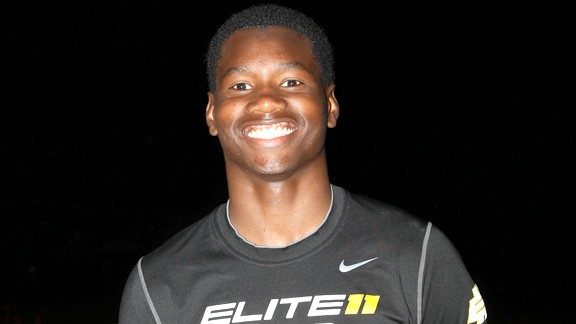 Tom Hauck/ESPNHSJunior QB Johnathon McCrary out of Cedar Grove (Ellenwood, Ga.) has a lot to smile about when it comes to football and recruiting.
Each week ESPNHS will shine the light on a few non-seniors who are emerging as prospects to watch on the recruiting radar. Here is this week's Launching Pad.
DT Caleb Brantley, Crescent City (Crescent City, Fla.)

Although the 2011 season hasn't been very good to Crescent City High, currently sitting at 1-6, the same can't be said for their interior stalwart defensive tackle Caleb Brantley. Brantley, a 6-3, 295 pounder, has been a load for all of Crescent City's opponents, and has been very productive, despite playing for a team with six losses.
"I am averaging over nine tackles a game," Brantley shared Wednesday. "Most of the teams we play like to run the ball, so I don't get a chance to pass rush as much as I'd like. But when I do, you can count on me getting in the backfield. Despite our record, our defense rarely gets scored on."
Brantley holds an early offer from Florida State, but he told ESPNHS that he expects his recruitment to pick up once he gets his film out.
"Everyone is waiting to see how I play. I come off the ball hard, I never give up much ground, and I have a real nose for the ball. I've been working to improve my strength in the weight room. If I keep working like I do, I know I can be the best in the state."
He had impressive showing last spring at both the Orlando Nike Combine, where he made the all-combine team and posted an 84.24 SPARQ Rating on the strength of a 42-foot power ball toss, and also at the Florida State Nike Camp.
QB Johnathon McCrary, Cedar Grove (Ellenwood, Ga.)

The Cedar Grove field general is emerging as one of the top quarterback prospects in the Southeast for the Class of 2013. As a sophomore last fall, McCrary threw for 3,345 yards and 25 touchdowns while adding 10 rushing scores and leading his team to the third round of the Class AAA playoffs.
McCrary also plays point guard for the Saints hoops team and has been a starter since his freshman year. Duke, Georgetown, Kentucky, and North Carolina have shown interest in his hardwood skills. The multi-sport star comes from an athletic pedigree, as his father Greg McCrary played tight end in the NFL for six seasons.
Last spring, McCrary attended the Georgia Elite 11 and Nike Camp. His sister attends Georgia and the 'Dawgs are among his top five schools. The 6-3, 180 pounder reports over 40 offers and has an early favorite list that includes Alabama, Arkansas, Georgia, Oklahoma, and Oregon. He has already taken unofficial visits to Alabama, Georgia, and Georgia Tech this fall.
McCrary told ESPNHS this week, "All of the schools that standout have good situations and fit me. I took a visit to Georgia Tech because I wanted to check it out, but their offense isn't for me."
This fall he has already passed for 1,800 yards and 22 touchdowns to go with five rushing scores. His team is 5-3 overall with a 4-1 district mark. Earlier in the season he suffered an eye infection and chose to cut himself to relieve the pressure, so that he wouldn't miss his team's game. When asked about his individual success he stated, "To be successful you have to overcome adversity. I'm a big believer in overcoming obstacles and having faith will lead to success." – Kynon Codrington
OL Mike McGlinchey, William Penn Charter (Philadelphia)

The 6-8, 285 pounder told ESPNHS on Wednesday that things couldn't be going any more swell over in Philadelphia. William Penn Charter (4-2) is off to their best start in over three years and McGlinchey has been providing his services on both sides of the ball, and making his presence clearly felt.
"Its hard to keep stats as an offensive lineman, but I know I have a ton of pancake blocks, and I don't give up any sacks. I also have a lot of sacks and forced fumbles on defense."
McGlinchey's massive frame and exceptional athleticism make him a very desirable recruit. He holds offers from the likes of Boston College, Virginia, and Penn.
"I feel recruiting is really going to start heating up. I have a few offers right now, but I am hearing from a lot of schools. I'm excited for whats to come." - Nick Ekbatani
ATH Jalen Ramsey, Brentwood Academy (Brentwood, Tenn.)

Aside from a blowout loss in the opener to POWERADE FAB 50 No. 5 Trinity (Louisville, Ky.), Brentwood Academy has had an excellent campaign to this point and now stands at 7-1 with two games remaining in the regular season. One key cog in the Eagles big year so far is do-it-all junior athlete Jalen Ramsey, a 5-11, 180 pounder who has lined up at cornerback, strong safety, running back and wide receiver.
Ramsey, who figures to be recruited primarily as a defensive back, has seen more time at running back on offense then he expected this fall, shifting to the backfield when injuries struck at the position and rushing for 348 yards and six scores to this point, while also catching 10 passes including a seventh touchdown. He hasn't been tested much at cornerback but does have 30 tackles and three interceptions.
An explosive athlete who didn't see much time last fall as a sophomore at Ensworth School in Nashville, Ramsey burst upon the recruiting scene with a breakout showing at the Atlanta Nike Combine last March. He clocked an impressive 4.63 40, a 4.19 shuttle and jumped 40.9 inches in the vertical to finish with an eye-opening 104.94 SPARQ Rating, good for fifth-best at the event out of over 1,000 participants. His SPARQ Rating was bested only by Cory Batey and Kofi Amichia, two players who were invited to The Opening, and also UAB commitment Destin Challenger and LB John Silas, another senior who holds Division I scholarship offers.
The showing put Ramsey on the recruiting map, and after a few strong showing at college camps over the summer he picked up offers from Arkansas State, Kentucky and Tennessee. Since the season started this fall, Vanderbilt, Georgia Tech and most recently Purdue have also offered scholarships.
In addition to the schools that have already offered, Ramsey is communicating with Penn State, Michigan State, South Carolina, Mississippi State, North Carolina, Georgia, Cincinnati, and Miami on a regular basis.
"He has visited Tennessee and Arkansas State already this fall and will visit Vanderbilt this weekend," Ramsey's father Lamont told ESPNHS Thursday. He has plans to visit Kentucky, Louisville and Cincinnati.
Know of an underclassman prospect who should be featured in the Launching Pad? E-mail Kynon Codrington (Southeast),Nick Ekbatani (Linemen), Brian Stumpf (national) or Michael White (Midwest/Northeast) with your nominee.