High-SchoolFootball:

Ken Hill
December, 8, 2011
12/08/11
11:20
AM ET
By
Mark Tennis & Doug Huff
| ESPN.com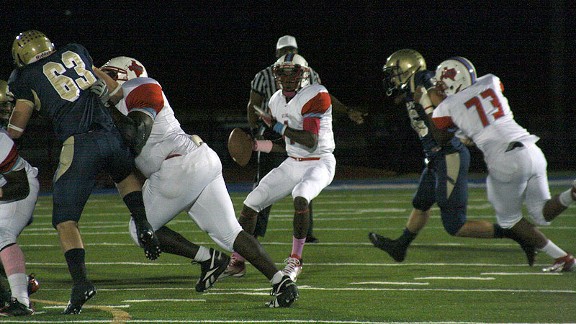 Travis L. Brown/ESPNDallas.comSkyline (Dallas) is looking to become the first Dallas ISD school in more than 60 years to win a state football title in 2012.
GAME OF THE WEEK
No. 8 Skyline (Dallas) 14-0 vs. No. 12 Southlake Carroll (Southlake, Texas) 14-0, Saturday at SMU's Ford Stadium
Two of the most talked-about junior quarterbacks in Texas will take center stage in this playoff showdown that will send the winner to the Class 5A Division I state final the following Saturday at Cowboys Stadium.
Skyline's
Devante Kincaide
has been at the heart of an offense that has scored at least 31 points in every game so far. Kincaide can take off and run on any play, but he'd rather get the ball into the hands of wideouts
Thomas Johnson
(Texas),
Jordan Woods
(Purdue) and
Tray Rabon
(Kansas State). Few receiving corps around the nation are so deep with talent and high-profile commits. Johnson has been the most potent of that bunch, but double-teaming him has lead to more problems for opposing defenses given Kincaide's other wideout weapons.
Southlake Carroll's
Ken Hi
ll
has been just as outstanding. Hill accounted for four touchdowns in last week's regional final win against Martin (Arlington, Texas). For the season, he has passed for 2,561 yards and 23 touchdowns and has rushed for 1,217 yards and 19 more scores. One of his receivers,
Peyton Williams
, is going to a major college as he's committed to Colorado.
Beyond the offenses, this game also is important for all Dallas ISD schools since it has been more than 60 years since a Dallas ISD school has won a state football title. Southlake Carroll, of course, has tasted success much more recently and at the national level as well. The Dragons, who were FAB 50 national champions for 2004 and 2005, have won seven state titles in all. They won four of five from 2002 through 2006.
There are two common opponents for the two teams and judging by those scores Skyline would be the favorite. The Raiders beat Bowie (Arlington, Texas) 47-14 and Berkner (Richardson, Texas) 36-0. Southlake Carroll played both as well and won 21-17 and 20-10, respectively.
PLAYER TO WATCH
Alex Ball, Westlake (Westlake Village, Calif.)
In Friday's rematch of last year's CIF Southern Section Northern Division championship, Ball would like nothing better than to boot multiple field goals from long distances to help his team from Westlake beat Oaks Christian (Westlake Village, Calif.).
Ball happened to have a potential game-winning field goal hit the goal post one year ago when Oaks Christian edged Westlake 29-28. That win not only gave the Lions a section title, but denied the Warriors a chance to be 14-0 and eligible for selection to a CIF state bowl game.
Entering this year's matchup, Westlake is in an even stronger position for the CIF bowl games. The Warriors, 13-0 and No. 14 in this
week's FAB 50
, would likely be chosen for the CIF Open Division title game with a win over the Lions.
It's ironic that Ball's missed field goal last season was so significant because the 6-foot-3, 200-pound senior is one of the best specialists in the country and is rewriting the ESPNHS Cal-Hi Sports state record book. With possibly two games still to go, Ball already has set new state records for most kicking points in a career with 327 (no one else had ever topped 300) and for most PAT conversions for a career (222). For most field goals in a season, Ball's current total of 19 is three away from the state record of 22 set in 1994 by Chris Sailer from Notre Dame (Sherman Oaks, Calif.). Ball also is just three field goals shy of the state career field goal record of 39 set last year by Jake Van Ginkel of Upland (Upland, Calif.).
UPSET ALERT
Oscar Smith (Chesapeake, Va.) vs. FAB 50 No. 49 Centreville (Clifton, Va.), 4 p.m. Saturday at Scott Stadium, Charlottesville, Va.
Oscar Smith is making its second state title game appearance in four years and takes a 13-game win streak into Saturday's Class AAA-Division 6 finals vs. FAB 50 No. 49 Centreville. The Tigers eliminated defending champion Battlefield (Haymarket, Va.) 42-16 in the semifinals.
Zack Jones
led the win with 228 total yards, two touchdowns and a pass interception. Quarterback
J. J. Williamson
also passed for four scores.
The Tigers have been on a roll in recent weeks while scoring no less than 34 points the last five games. In fact, Oscar Smith is unbeaten versus in-state foes after opening the season with a 51-27 setback to FAB 50 No. 23 Gilman (Baltimore).
Centreville, meanwhile, has won its last three playoff games by a total of seven points, including last weekend's 10-9 semifinal win over Hermitage (Richmond, Va.). Senior defensive end
Ken Ekanem
led the defense with 10 tackles, including six for losses.
The Wildcats, in the state final for the first time since 2000, avenged their only season setback in the state quarterfinals 27-24 over Westfield (Chantilly, Va.). The Westfield Bulldogs won the regular season game vs. Centreville in overtime 13-10.
Upset Alerts So Far This Season: 7-7
Team On The Rise?
Tucker (Tucker, Ga.)
The Tigers, who are 14-0 heading into the weekend, have been on the Southeast Region "bubble" for most of the season and could make a bid for the FAB 50 with a strong finish in Friday's Class 5A state title game at the Georgia Dome vs. 14-0 Lovejoy (Lovejoy, Ga.).
It's the second state final in four years for Tucker, which won the 2008 championship.
Tucker is the state's highest-scoring Class AAAA team with 45.3 points per game, including five games with over 50 points. But the 17-16 semifinal win over previously unbeaten Northside Warner Robins (Warner Robins, Ga.) was a stiff test. Northside had the ball on Tucker's 2-yard line, while leading by 16-10, when defensive end
Justin Rivers
scooped up a fumble and returned it 100 yards for the winning score with less than five minutes to play.
Tucker's title game foe, Lovejoy, should present another challenge with the state's stingiest AAAA scoring defense at just 3.6 points allowed per game.
November, 10, 2011
11/10/11
2:42
AM ET
By
Mark Tennis & Doug Huff
| ESPN.com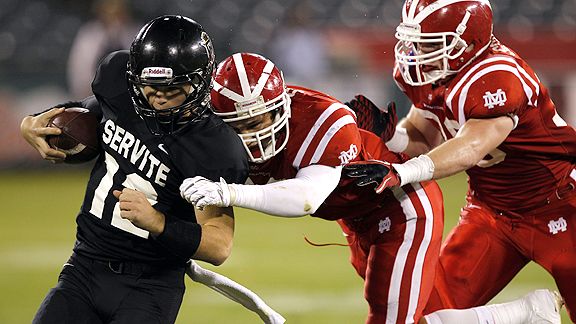 Alex Gallardo/Special to ESPNLA.comServite (Anaheim, Calif.) faces a big test versus Santa Margarita (Rancho Santa Margarita, Calif.) this weekend.
GAME OF THE WEEK

Santa Margarita (Rancho Santa Margarita, Calif.) 8-1 vs. No. 22 Servite (Anaheim, Calif.) 8-1 at Cerritos College, 7:30 p.m., Friday
Since there are no games this weekend between FAB 50 teams, this matchup comes the closest because Santa Margarita was No. 44 before the Eagles suffered their only loss 21-14 to Mater Dei of Santa Ana.
Servite beat Mater Dei 35-28 last weekend and enters the game needing to beat Santa Margarita to complete a third straight perfect run through the Trinity League, which is one of the toughest leagues, if not the toughest, in California. If the Eagles win, they would force a tie at the top and would take the league's No. 1 seed into the CIF Southern Section Pac-5 Division playoffs by virtue of a head-to-head win.
The Friars, who suffered their only loss 31-28 to FAB 50 No. 7 Bishop Gorman (Las Vegas), have been as good as advertised on offense behind quarterback
Cody Pittman
. It seems like a different running back in every game takes the lead role, but Pittman has been consistent throughout. On defense, Servite's clear leader is BYU-bound
Butch Pauu
. The linebacker flies sideline-to-sideline making plays and also has been a standout pass-catcher and blocker on offense.
Santa Margarita has shown it is vulnerable to an opponent with speed, but the Eagles' dominance up front could be the difference against Servite and in the CIFSS playoffs. The offensive line is led by 6-foot-5, 275-pound
Max Tuerk
(committed to USC) and 6-4, 320-pound junior
Riley Sorenson
. In last week's win against St. John Bosco, junior quarterback
Johnny Stanton
also had a big game. He passed for 153 yards and rushed for 173 yards and two touchdowns.
PLAYER TO WATCH
Ken Hill, Southlake Carroll (Southlake, Texas)
The 6-2, 210-pound junior quarterback has led the Dragons to a 10-0 regular-season mark and a No. 46 spot in this week's FAB 50 rankings. Last weekend, the son of former Texas Rangers pitcher Ken Hill passed for 309 yards and four scores and rushed for 161 yards and two touchdowns in a 42-29 win over Denton Guyer (Denton, Texas). That boosts his season totals to 1,996 passing yards and 19 TDs plus 756 rushing yards and 12 scores.
Hill, who passed for 1,752 yards as a sophomore, opened his junior season with a 402-yard passing effort in a 38-31 win over Copperas Cove (Copperas Cove, Texas). This weekend, Carroll opens the Class 5A state playoffs against Plano East (Plano, Texas). Even though Plano East is just 6-4, it's not going to be easy for the Dragons, who may need another huge game from Hill to advance. Plano East won its game last week 52-28 against Lewisville (Lewisville, Texas) and lost one of its games by just 41-38 to FAB 50 No. 3 Allen (Allen, Texas). The Eagles had to score in the game's final minute to win, too.
UPSET ALERT
Lowndes (Valdosta, Ga.) 7-3 vs. No. 49 Stephenson (Stone Mountain, Ga.) 9-1, Saturday at Haliford Stadium
This could be the best opening-round game in the Georgia Class AAAAA state playoffs.
Looking at comparative scores, Stephenson should bounce back from its hard-to-believe 50-49 loss to M.L. King (Lithonia, Ga.) last week, but recent playoff history has not been kind to the Jaguars. One year ago, they lost their final regular-season game and then were eliminated in their first playoff game by current FAB 50 ranked Hillgrove (Powder Springs, Ga.). Two years ago, Stephenson went out in the second round while in 2007 and 2008 they were gone by the second round, as well.
Lowndes has had stronger teams in the past, but it's still Lowndes, a traditional power that can spring a surprise at any time. Two of the losses by this year's team have come by close scores against strong teams McEachern (Powder Springs, Ga.) and Valdosta (Valdosta, Ga.) and the team enters this week's game after wins of 36-16 against Coffee County (Douglas, Ga.) and 21-0 over Tift County (Tifton, Ga.).
The Jaguars will be looking to spring University of Florida-commit
Mike Davis
to frequent long runs. Davis is among the state leaders this season with 1,793 yards rushing. Lowndes will try to keep pace with running back
Mike Moore
and quarterback
Lance Jarriel
leading the way.
Upset alerts so far this season: 5-5
TEAM ON THE RISE?
Rockford (Rockford, Mich.)
The Rams have been one of Michigan's top Division 1 programs for several years, but may have gotten lost in the rankings mix by opening the season with a 28-7 setback to Lowell (Lowell, Mich.). Since then, Rockford has won 10 straight games while scoring more than 40 points in seven wins.
Last weekend, the Rams won a second-round playoff game 42-14 over Grand Ledge (Grand Ledge, Mich.). The Rams led 35-0 at halftime against a team that hadn't allowed more than two TDs to any foe this season. This week, the third-round opponent is Grand Blanc (Grand Blanc, Mich.).
The tradition-laden program with more than 700 all-time wins has won three state titles since 2004 with the last in 2008 when the Rams went 13-1. Two 11-win seasons followed with Rockford seeking to match that win total this weekend.
Coach
Ralph Munger
's team is led by 6-6, 285-pound offensive lineman
Ben Braden
, a Michigan recruit, and quarterback
Matt LaPrairie
.