High-SchoolFootball:

Launching Pad
October, 27, 2011
10/27/11
12:32
PM ET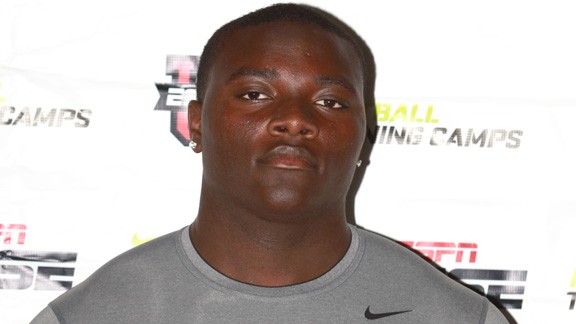 Tom Hauck/ESPNHSDooly County (Vienna, Ga.) DT Montravius Adams has landed his first offer from the Clemson Tigers.
Each week ESPNHS will shine the light on a few non-seniors who are emerging as prospects to watch on the recruiting radar. Here is this week's Launching Pad.
DL Montravius Adams, Dooly County (Vienna, Ga.)

Adams is a stout, strong run-stopper with good pass rushing ability. The 6-2 ½, 280-pounder is quick off the ball and can disrupt an offense from the tackle spot. He was a second team all-Region 4 selection as a sophomore after posting over 70 tackles and 15 sacks in 2010.
This season he leads his team in tackles and is starting to get the attention of opposing offensive coordinators that look to slow him down with double and triple teams. College coaches have started to take notice as well. The defensive tackle reports an early offer from Clemson and is receiving mail from Alabama, Georgia, Nebraska, and Oregon. Florida stopped by his school this week and he thinks they may be close to offering.
Last spring, he attended the Orlando Nike Combine and registered a 74.04 SPARQ Rating on the strength of his 40-foot power ball toss and 24-inch vertical jump. His performance landed him on the All-Combine team. He attended the Tallahassee Nike Camp a couple months later and held his own in a strong field that featured Faith Academy (Mobile, Ala.) DL Chris Casher, Lakewood (St. Petersburg, Fla.) DL Dante Fowler, and Pierce County (Blackshear, Ga.) DL Quavon Hicks.
Adams tells ESPNHS, "This season started off slow for our team dropping the first two games, but we've won six in a row. My goals for the season were to make the playoffs and finish with over 100 tackles."
After Adams takes care of his junior season on the gridiron he will look to attend ESPNHS events again this offseason to increase his recruiting stock.
– Kynon Codrington
OL Bradley Bozeman, Handley (Roanoke, Ala.)

Handley High is undefeated and sitting pretty at 9-0 this season and standout offensive line prospect Bradley Bozeman has had plenty to do with the team's success in 2011. Bozeman has been enjoying himself thoroughly in the trenches, on both sides of the ball.
"We are really dominating on offense and defense this season. I have been going both ways all year, and I haven't graded below an 80 in any game," Bozeman shared with ESPNHS, "I think we have what it takes to win it all this year."
The 6-5, 315 pound offensive tackle committed to No. 2 Alabama way back in June, and doesn't seem to be wavering on that choice one bit.
"Recruiting has been going well. I haven't taken any visits besides 'Bama, and I am really loving Tuscaloosa a little more each time I go visit."
- Nick Ekbatani
October, 20, 2011
10/20/11
1:15
PM ET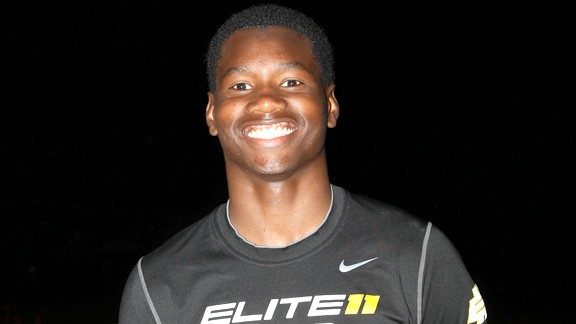 Tom Hauck/ESPNHSJunior QB Johnathon McCrary out of Cedar Grove (Ellenwood, Ga.) has a lot to smile about when it comes to football and recruiting.
Each week ESPNHS will shine the light on a few non-seniors who are emerging as prospects to watch on the recruiting radar. Here is this week's Launching Pad.
DT Caleb Brantley, Crescent City (Crescent City, Fla.)

Although the 2011 season hasn't been very good to Crescent City High, currently sitting at 1-6, the same can't be said for their interior stalwart defensive tackle Caleb Brantley. Brantley, a 6-3, 295 pounder, has been a load for all of Crescent City's opponents, and has been very productive, despite playing for a team with six losses.
"I am averaging over nine tackles a game," Brantley shared Wednesday. "Most of the teams we play like to run the ball, so I don't get a chance to pass rush as much as I'd like. But when I do, you can count on me getting in the backfield. Despite our record, our defense rarely gets scored on."
Brantley holds an early offer from Florida State, but he told ESPNHS that he expects his recruitment to pick up once he gets his film out.
"Everyone is waiting to see how I play. I come off the ball hard, I never give up much ground, and I have a real nose for the ball. I've been working to improve my strength in the weight room. If I keep working like I do, I know I can be the best in the state."
He had impressive showing last spring at both the Orlando Nike Combine, where he made the all-combine team and posted an 84.24 SPARQ Rating on the strength of a 42-foot power ball toss, and also at the Florida State Nike Camp.
QB Johnathon McCrary, Cedar Grove (Ellenwood, Ga.)

The Cedar Grove field general is emerging as one of the top quarterback prospects in the Southeast for the Class of 2013. As a sophomore last fall, McCrary threw for 3,345 yards and 25 touchdowns while adding 10 rushing scores and leading his team to the third round of the Class AAA playoffs.
McCrary also plays point guard for the Saints hoops team and has been a starter since his freshman year. Duke, Georgetown, Kentucky, and North Carolina have shown interest in his hardwood skills. The multi-sport star comes from an athletic pedigree, as his father Greg McCrary played tight end in the NFL for six seasons.
Last spring, McCrary attended the Georgia Elite 11 and Nike Camp. His sister attends Georgia and the 'Dawgs are among his top five schools. The 6-3, 180 pounder reports over 40 offers and has an early favorite list that includes Alabama, Arkansas, Georgia, Oklahoma, and Oregon. He has already taken unofficial visits to Alabama, Georgia, and Georgia Tech this fall.
McCrary told ESPNHS this week, "All of the schools that standout have good situations and fit me. I took a visit to Georgia Tech because I wanted to check it out, but their offense isn't for me."
This fall he has already passed for 1,800 yards and 22 touchdowns to go with five rushing scores. His team is 5-3 overall with a 4-1 district mark. Earlier in the season he suffered an eye infection and chose to cut himself to relieve the pressure, so that he wouldn't miss his team's game. When asked about his individual success he stated, "To be successful you have to overcome adversity. I'm a big believer in overcoming obstacles and having faith will lead to success." – Kynon Codrington
OL Mike McGlinchey, William Penn Charter (Philadelphia)

The 6-8, 285 pounder told ESPNHS on Wednesday that things couldn't be going any more swell over in Philadelphia. William Penn Charter (4-2) is off to their best start in over three years and McGlinchey has been providing his services on both sides of the ball, and making his presence clearly felt.
"Its hard to keep stats as an offensive lineman, but I know I have a ton of pancake blocks, and I don't give up any sacks. I also have a lot of sacks and forced fumbles on defense."
McGlinchey's massive frame and exceptional athleticism make him a very desirable recruit. He holds offers from the likes of Boston College, Virginia, and Penn.
"I feel recruiting is really going to start heating up. I have a few offers right now, but I am hearing from a lot of schools. I'm excited for whats to come." - Nick Ekbatani
ATH Jalen Ramsey, Brentwood Academy (Brentwood, Tenn.)

Aside from a blowout loss in the opener to POWERADE FAB 50 No. 5 Trinity (Louisville, Ky.), Brentwood Academy has had an excellent campaign to this point and now stands at 7-1 with two games remaining in the regular season. One key cog in the Eagles big year so far is do-it-all junior athlete Jalen Ramsey, a 5-11, 180 pounder who has lined up at cornerback, strong safety, running back and wide receiver.
Ramsey, who figures to be recruited primarily as a defensive back, has seen more time at running back on offense then he expected this fall, shifting to the backfield when injuries struck at the position and rushing for 348 yards and six scores to this point, while also catching 10 passes including a seventh touchdown. He hasn't been tested much at cornerback but does have 30 tackles and three interceptions.
An explosive athlete who didn't see much time last fall as a sophomore at Ensworth School in Nashville, Ramsey burst upon the recruiting scene with a breakout showing at the Atlanta Nike Combine last March. He clocked an impressive 4.63 40, a 4.19 shuttle and jumped 40.9 inches in the vertical to finish with an eye-opening 104.94 SPARQ Rating, good for fifth-best at the event out of over 1,000 participants. His SPARQ Rating was bested only by Cory Batey and Kofi Amichia, two players who were invited to The Opening, and also UAB commitment Destin Challenger and LB John Silas, another senior who holds Division I scholarship offers.
The showing put Ramsey on the recruiting map, and after a few strong showing at college camps over the summer he picked up offers from Arkansas State, Kentucky and Tennessee. Since the season started this fall, Vanderbilt, Georgia Tech and most recently Purdue have also offered scholarships.
In addition to the schools that have already offered, Ramsey is communicating with Penn State, Michigan State, South Carolina, Mississippi State, North Carolina, Georgia, Cincinnati, and Miami on a regular basis.
"He has visited Tennessee and Arkansas State already this fall and will visit Vanderbilt this weekend," Ramsey's father Lamont told ESPNHS Thursday. He has plans to visit Kentucky, Louisville and Cincinnati.
Know of an underclassman prospect who should be featured in the Launching Pad? E-mail Kynon Codrington (Southeast),Nick Ekbatani (Linemen), Brian Stumpf (national) or Michael White (Midwest/Northeast) with your nominee.
October, 13, 2011
10/13/11
11:39
AM ET
Each week ESPNHS will shine the light on a few non-seniors who are emerging as prospects to watch on the recruiting radar. Here is this week's Launching Pad.
DB Reon Dawson, Trotwood-Madison (Trotwood, Ohio)

Trotwood-Madison has been emerging as one of the top programs in Ohio ever since former NFL defensive back Maurice Douglass took over as head coach a few years back. This year Coach Douglass could very easily have one of the best secondaries in the nation, led by senior Bam Bradley and 2013 ESPNU 150 Watchlist prospect Cam Burrows.
Junior Reon Dawson has made this group even stronger and has been playing out of his mind since the start of the season. Not too many opponents have been able to pass on the Rams, so midway thru the season Dawson's stats will not do justice to what his impact has been. On the year he has with two interceptions, a fumble recovery and six pass break ups.
When asked about his performance this year, Dawson told ESPNHS, "Everything is going great, I am just trying to play at my highest potential and win games for our group of seniors. We have a big game this week and with a win it would be our fourth straight league crown."
He has made sure to take advantage of playing for Coach Douglass by asking as many questions as possible. "Coach Doug(lass) has been such a great coach, he will do anything to help me reach my full potential. He has really taught me a lot on how to read receivers body language and most important how to watch film to learn and get better."
Currently weighing just 170 pounds, Dawson is prepared to put in the work to get bigger this spring. One huge advantage already going for Dawson is his height at 6-2. He understands that this is something to take advantage of makes sure to watch corners on Sundays who have similar length to see how the attack and play receivers.
As far as recruiting goes, Vanderbilt is his lone offer but schools such as Kentucky, Louisville, Michigan, Michigan State, and Wisconsin are coming on strong, and the one school he most wants to hear from is Ohio State. Dawson currently holds a 3.3 GPA. - Michael White
DE Lewis Neal, James B. Hunt (Wilson, N.C.)

Neal is an ultra athletic defensive end prospect who is making a lot of noise out in North Carolina with his steady play. Hunt is undefeated (7-0) headed into a big game this Friday against Southern Nash (Bailey, N.C.). Neal told ESPNHS that he has been enjoying every bit of his junior season. His opponents on the other hand, can't say the same.
"I feel like I am playing great so far this year," Hunt tells ESPNHS. "I'm averaging at least 9 tackles a game and I don't let anyone beat me. I don't care how big or strong they are… I won't lose because I won't quit; I always want more.
"We are undefeated and doing very well because we are all playing together. No one puts themselves over the team and we all have each others back."
Neal is sitting on an early offer from N.C. State and you can expect his list to grow as he gains more exposure. – Nick Ekbatani
OL Evan Voeller, West Linn (West Linn, Ore.)

Voeller is a 6-4, 285 pound run-blocking machine who was part of a group of select underclass offensive linemen who really shined during the NFTC tour in 2011. He has since seen his game reach new levels and is pleased with his overall play during his junior season.
"I trained very hard to get quicker and stronger and it has paid off. I'm a much better run blocker because of it, and my OL coach has been raving about my improved footwork."
West Linn is certainly benefitting from the talented junior's improved play. The Lions are 5-1 and have paved the way with their run-heavy offense.
Washington is the first to offer Voeller, and he told ESPNHS that he feels Oregon, Stanford, and Duke might be on the verge of offering as well.
"I have been out to Seattle, and I really like it. I am going to the Oregon-ASU game this weekend. I'll probably check out a Stanford game as well." – Nick Ekbatani
DB Shaquille Wiggins, Sandy Creek (Tyrone, Ga.)

The Sandy Creek Patriots have had a great deal of success on the gridiron in the past decade, producing five 10+ victory seasons since 2003, back-to-back state titles over the past two seasons and prominent alumni like NFL star Calvin Johnson of the Lions as well as Redskin DT Kedric Golston and Texans guard Andrew Gardner. This fall it's more of the same for the 6-0 Patriots, and a major reason why is 5-9, 160 pound junior cornerback Shaquille Wiggins.
Wiggins, who moved to Sandy Creek from Atlanta's Westlake High School over the summer, has been an immediate playmaker in the Patriots' secondary, intercepting seven passes and returning two for scores already this fall, while also forcing a fumble and catching a touchdown pass on offense as well.
The play-making corner also impressed this past spring at the Georgia Nike Camp and picked up his first few offers over the summer from Cincinnati, Ohio University, Michigan, Ohio State, Toledo and Ball State after a swing through several college camps in the Midwest.
The offers haven't stopped there for Wiggins.
"My latest offer is from Tennessee," Wiggins told ESPNHS on Monday. "So far this fall I've been to games at Auburn, Florida and Tennessee and I'm planning to go up to the Notre Dame-USC game on Oct. 22nd and also the Michigan-Ohio State game in November."
Wiggins thinks Florida could also be close to offering and he's also hearing from other schools such as LSU, Oregon and Wisconsin. - Brian Stumpf
Know of an underclassman prospect who should be featured in the Launching Pad? E-mail Kynon Codrington (Southeast),Nick Ekbatani (Linemen), Brian Stumpf (national) or Michael White (Midwest/Northeast) with your nominee.
October, 6, 2011
10/06/11
12:31
PM ET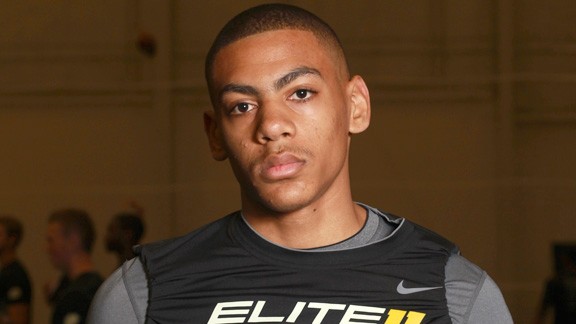 Tom Hauck/ESPNHSBishop McNamara (Forestville, Md.) QB/Ath Milan Collins already has one offer from Syracuse
Each week ESPNHS will shine the light on a few non-seniors who are emerging as prospects to watch on the recruiting radar. Here is this week's Launching Pad.
OL Kyle Bosch, St. Francis (Wheaton, Ill.)
St. Francis has been enjoying the luxury of utilizing Kyle Bosch on both sides of the ball in 2011. The Spartans are 4-2 on the season and have a big game this weekend against Marmion Academy (Aurora, Ill.).
Bosch spoke to ESPNHS a little more about his junior season.
"This season is going real well. We are 4-2, and are looking to get our fifth win this week. Offensively we have been blowing up. I have been tallying at least 10 pancakes a game, and even though our defense is more linebacker orientated, I have been making a good amount of plays at DE as well."
The talented underclassman boasts eight scholarship offers, including one from the Stanford Cardinal, who are undefeated and currently ranked No. 7 in the country.
"Recruiting is amazing. I am very excited about the offers that I have this early in my junior season, and I definitely plan on seeing what each school has to offer. I will be attending the Stanford-Notre Dame game as well as the Alabama-LSU game here in the next few weeks."
- Nick Ekbatani
QB Milan Collins, Bishop McNamara (Forestville, Md.)
The smooth athlete made the most of his opportunities last spring, attending the State College and Durham Nike Camps as well as the Elite 11 in Happy Valley. He was able to stand out at both events consistently delivering the ball with accuracy and nice zip. At 6-1, 185-pounds he has some athletic tools that help him extend plays and make throws on the run.
In June, he received his first offer from Syracuse. It was a big time pick up for the talented signal caller. His dad told ESPNHS, "The Nike Camps helped elevate his game. The competition was great and he learned from the instructors. It's a big reason he was offered." Maryland, Michigan State, Oregon, Penn State, and Wisconsin have sent mail and are keeping tabs on him.
Last fall, Collins passed for 1,276 yards and nine touchdowns while rushing for 493 yards and scoring twice. Local media outlets listed him as a pre-season player to watch and honorable mention all-state team selection.
This season, he has accounted for over 1,000 yards of total offense and nine scores through four games and has lined up at safety. Syracuse offered at QB, but some programs want him at DB.
He has been invited to a few college games, but could not make it due to scheduling conflicts. At the moment he doesn't claim a favorite school. Whether he ends up playing QB or DB Collins has the tools to be a contributor at the next level.
– Kynon Codrington
QB Joshua Dobbs, Alpharetta (Alpharetta, Ga.)
Sometimes a change of scenery can make all the difference. It certainly has this fall for junior quarterback Joshua Dobbs, who after coming over to Alpharetta from Wesleyan (Norcross, Ga.), where he backed up senior Andrew Frerking (now at Baylor), has lit the Georgia high school football landscape on fire in 2011.
Dobbs, a 6-3, 190 pounder, passed for 376 yards and four touchdowns in a 27-14 win over West Forsyth last week and currently leads all Georgia quarterbacks in passing yardage so far this fall with 1,768 yards. He's completed 139 of his 220 passes for 14 touchdowns with six interceptions, helping Alpharetta to a 5-1 start. And the colleges are taking notice.
"So far Joshua is getting regular emails and mail from Stanford, Auburn, Duke, Ole Miss, Georgia, Florida, Vanderbilt, Georgia Tech, South Carolina, Cincinnati, Princeton and others," Dobbs' mother Stephanie told ESPNHS.
"We've already been to Florida twice for games on unofficial visits, plus Duke and Clemson as well. We'll be visiting Stanford, Princeton, Georgia Tech, Vanderbilt and also Ole Miss as well later this fall."
Dobbs camped with both Stanford and Princeton over the summer and currently lists those two institutions as his early leaders.
- Brian Stumpf
DT Jay Ellison, Harris County (Hamilton, Ga.)

Ellison, an athletic 6-2, 280 pounder, is an absolute load up front on both sides of the ball for Harris County. Opposing teams have had to double-team him on virtually every down just to keep him covered up! While on offense, Ellison has been blowing holes open from his tight end spot, contributing heavily to Harris County's (4-2) offensive production.
ESPN HS caught up with the Class of 2013 up-and-comer on Tuesday.
"I am playing pretty good at this point in the season, but I still have room for improvement. I feel I am a more efficient pass rusher, thanks to improving my leverage and ability to shed blocks."
Ellison has been extended scholarship offers by the likes of South Carolina, Auburn, Georgia Tech, Michigan, and Tennessee.
"Recruiting has been going great. I wouldn't say I have any favorites this early, but I am going to go check out some schools pretty soon. I am actually going to watch the Tennessee-Georgia game this weekend. I'm very excited to see both schools play."
- Nick Ekbatani
Know of an underclassman prospect who should be featured in the Launching Pad? E-mail Kynon Codrington (Southeast),Nick Ekbatani (Linemen), Brian Stumpf (national) or Michael White (Midwest/Northeast) with your nominee.
September, 29, 2011
9/29/11
1:06
PM ET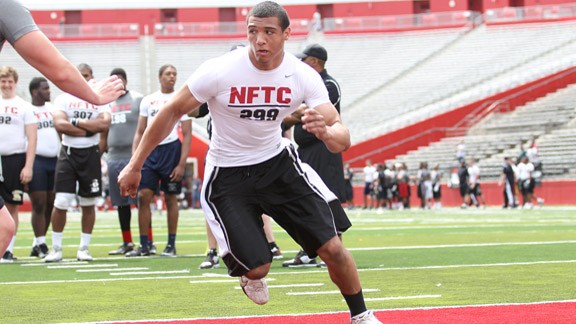 Tom Hauck/ESPNHSClass of 2013 defensive end Tashawn Bower made an impression at the Rutgers Nike Camp this past May
Each week ESPNHS will shine the light on a few non-seniors who are emerging as prospects to watch on the recruiting radar. Here is this week's
Launching Pad.
RB Dontea Ayres, Wicomico (Salisbury, Md.)

It was two years ago the Dontea Ayres caught grabbed the attention of ESPNHS as just a freshman at the Baltimore Nike Combine where he posted the highest SPARQ Rating of his class at 74.25. This year the 5-9, 208 pound running back is off to a strong start leading Wicomico to a 4-0 record.
So far he has rushed for 511 yards and 12 touchdowns on just 36 carries. When breaking that down it amounts to 14.1 yards per rush and a touchdown on every third carry. What is most impressive is that he done this in playing in only eight quarters since he has yet to play in a game after halftime.
"My offensive line is amazing, they are the ones doing all the work and all I have to do is just hit the hole. Actually our entire team is pretty strong and this year could be very special," Ayres told ESPNHS on Wednesday.
Barring any setbacks, the speedy back (ran a 4.66 at last year's Nike Combine) will surely surpass his 1,156 yards rushing from last year and needs just one more touchdown. Just after his breakout performance in 2009, Wicomico coaches told ESPNHS they would not be surprised if he was the top back in the state as a senior.
What needs to be known is how strong this young man is, Ayres was proud to mention that he is benching 455 pounds and can rep 225 up to 30 times. Everything he does he excels at, including in the classroom where he is carrying a 4.1 GPA.
Just recently he picked up his first offer from Duke and has stirred up interest from Stanford, Maryland, Vanderbilt, Virginia Tech and Virginia as well.
- Michael White
DE Tashawn Bower, Immaculata (Somerville, N.J.)

Out in Jersey, Tashawn Bower made a name for himself as a sophomore and is doing it again this fall. The 6-5, 235 pounder had 52 tackles and eight sacks in 2010 to earn ESPNHS Sophomore All-American honors, and then earned all-combine honors at the Philadelphia Nike Combine, where he posted an 89.67 SPARQ Rating. In a big win against Union (Union, N.J.) this past Friday, the superstar DE was all over the place, accounting for over 10 tackles, including a sack for a safety.
"In the offseason, I really wanted to improve my speed off the ball and my ability to play better with my technique. I'm much quicker this season, and I am doing a better job at playing half a man, which is making pass rushing a lot easier."
Bower has been no secret to college coaches and recruiting gurus alike, holding numerous scholarship offers for quite sometime. Bower talked recruiting with ESPNHS on Wednesday, stating, "Recruiting has finally been slowing down a bit because of the dead period. But I really feel that it is just the calm before the storm."
"I don't think I can name any favorites this early. But I can say that receiving scholarship offers from schools like Florida State, Tennessee, and Ohio State is an incredible experience. I am very grateful to be receiving the interest of schools of that caliber."
- Nick Ekbatani
September, 22, 2011
9/22/11
11:30
AM ET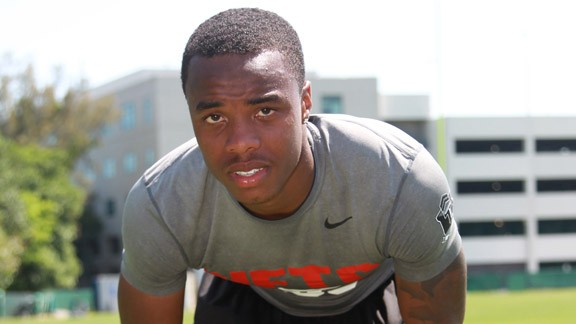 Tom Hauck/ESPNHSGlades Central (Belle Glade, Fla.) junior William Likely is a two-time DB MVP at the Nike Camp
WR Tyler Boyd, Clairton (Clairton, Pa.)

Boyd is the latest star to play for one of Western Pennsylvania's top small school programs in Clairton. The school is riding a 34-game winning streak dating back to the season opener of 2009 and this year seems to be just like the past with a 3-0 start.
A stwo-way starter as a sophomore at wideout and defensive back, Boyd was looking to improve upon last year's numbers but over the summer things changed when Clairton's starting running back went down with a torn ACL. Thrust into a new role, it didn't take long for the 6-1, 183 pound athlete to make an immediate impact at the team's new running back. In just the second game of the season, Boyd went for 203 yards on just 13 carries with four rushes over 20 yards.
Also starting again at safety, Boyd has two picks and in last week's game returned one for a touchdown to go along with a 62-yard rushing score, leading to a 44-0 win over Carlyton (Carnegie, Pa.). Despite the early success running the ball, Boyd tells ESPNHS, "I am going to be a receiver in college and just doing what is needed to get the team victories this year."
Through three games this fall he has rushed for 390 yards on 24 carries and scored 11 total touchdowns. On the recruiting front, Pittsburgh is the first team to offer the local star with a good amount of other schools showing interest.
"Right now I am getting a ton of mail and emails from so many different schools it is hard to tell what schools are really recruiting me more than the other," Boyd said when asked to name a few that he felt would be close to offering soon. He did say he is looking to stay close to home and did not want go cross country.
- Michael White
DL Taco Charlton, Pickerington Central (Pickerington, Ohio)

Although his name might sound like a delectable Mexican dish, don't be fooled; Taco is a force to be reckoned with. The swift and talented defensive end prospect out of the Buckeye State made waves at the 2011 Ohio State Nike Football Training Camp, and has carried that momentum into his junior season.
"We got off to a slow start losing our first two games, but we won our last game and are looking to turn our season around. I have been playing a lot of different positions to help my team out. I have played linebacker, defensive end and tight end. Although I am learning new positions, I feel I have been playing well."
Aside from showcasing his versatility this season, Charlton has noticed much improvement since his sophomore season.
"I really worked on my hands and my get off in the off-season. I don't think I have the best stats so far this season, but I'll put better numbers up as I become more comfortable playing all over the field."
Charlton told ESPNHS that his recruiting is really beginning to pick up. He already holds offers from the likes of Michigan, UCLA, Cincinnati, Syracuse and Purdue.
"I have no favorites as of yet. Im just focused on getting it done on the field and helping my team win."
- Nick Ekbatani
OL Brayden Kearsley, Aloha (Aloha, Ore.)

Kearsley is a junior offensive lineman to keep an eye out for in the Pacific Northwest. At 6-5, 270 pounds, Kearsley possesses the lean frame that most college coaches love to build upon. He showcased good feet and lightning quick reactive ability which helped him shut down the inside move all day at the 2011 Oregon Nike Football Training Camp. Aloha is 2-1 to start the season, and Kearsley is enjoying himself through three games of his junior season.
"I have not allowed a sack and have over 25 pancake blocks so far", Kearsley told ESPNHS on Monday.
"I have really worked hard to improve my pass protection this year, which is something I wanted to get better so I can fit into BYU's 'Air Raid' offense."
Kearsley has been long committed to BYU and says his commitment is rock solid.
"I am a Cougar for life and will not change my mind. But it is nice to hear from schools like Notre Dame, Michigan, Oregon, UCLA, Colorado, Alabama, and Nebraska. College football recruiting only happens once, and I am enjoying it."
- Nick Ekbatani
DB/WR William Likely, Glades Central (Belle Glade, Fla.)

This diminutive athlete isn't the biggest at just under 5-7, 161-pounds, but what he lacks in size Likely makes up for with big play ability. During his freshman season he recorded 65 tackles, five interceptions, and seven return touchdowns while leading the team in tackles in the state championship game against Cocoa. Likely made a name for himself on the camp tour with a MVP performance at the 2010 Gainesville Nike Football Training Camp.
He didn't have much of a drop-off his sophomore year collecting 53 tackles, eight interceptions, and six touchdowns en route to being named an all-area selection by the Palm Beach Post. Last spring, he was named DB MVP of the Miami Nike Football Training Camp as an underclassman for the second consecutive time.
This season he is spending time at wide receiver to help the Raider offense. So far he has already scored seven touchdowns including a 99-yard kick return that was featured on SportsCenter's Top Plays. On defense he has posted 15 tackles and 11 pass break ups.
Alabama, Florida, Florida State, LSU, and Miami are showing early interest and the Muck-area star was in Tallahassee last weekend for the Florida State-Oklahoma game. He is planning to attend the Alabama-Florida game in Gainesville next Saturday.
The speedy cover corner told ESPNHS, "Alabama is really recruiting me hard. I attended Florida's Friday Night Lights camp and they are up there too. Miami is a good school, I just have to wait and see what the NCAA does."
Florida State is his childhood favorite and the 'Noles are in the mix as well. Look for this to be in-state battle, but don't count out a SEC power to land this talented two-way prospect.
– Kynon Codrington
RB
Dontre Wilson
, DeSoto (DeSoto, Texas)
DeSoto has a long tradition of producing college stars and even NFL players, particularly at the running back position with Byron Hanspard and more recently Cyrus Gray (Texas A&M), Marcus Murphy (Missouri) and Antoine Jimmerson (North Texas). The next in line for the Eagles, who currently sit at No. 31 in the FAB 50, could be junior scatback Dontre Wilson.
Wilson, a 5-10, 170 pounder, ran for 555 yards and scored 18 touchdowns last fall as a sophomore, and is off to a solid start this fall despite seeing limited time in a few contests for the 4-0 Eagles due to blowouts. So far he's rushed for 258 yards and a team-best six touchdowns, including a 16-carry, 148-yard, two-touchdown performance against state power Cedar Hill (Cedar Hill, Texas).
"There is a lot of interest out there in Dontre right now," DeSoto coach Claude Mathis told ESPNHS Wednesday.
"Off the top of my head he's been offered already by almost every top 15 program out there – Texas, Oklahoma, Oklahoma State, Oregon, Notre Dame, Clemson and a bunch more.
"He's comparable to Marcus (Murphy) in size but is both faster and quicker."
Two Eagles in the Class of 2012, Bryson Echols and Curtis Riser, ended their recruitments early this spring by committing to Texas shortly after they were extended offers. Mathis thinks Wilson will play it out longer than his teammates, particularly in light of all the out-of-state interest from programs that he really hasn't gotten a chance to learn much about at this early stage.
- Brian Stumpf
September, 15, 2011
9/15/11
2:16
PM ET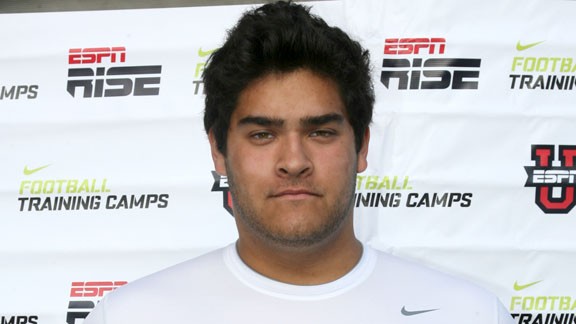 Tom Hauck/ESPNHSOrange Lutheran (Calif.) OL John Lopez already has one offer from UCLA.
Each week ESPNHS will shine the light on a few non-seniors who are emerging as prospects to watch on the recruiting radar. Here is this week's

Launching Pad.
WR Dylan Cantrell, Whitehouse (Whitehouse, Texas)

Cantrell, a 6-2, 190 pound junior, showed tremendous athletic potential this spring on the Nike Combine tour and has backed it up on the field this fall so far at Whitehouse. One of the top performers at the Dallas Nike Combine this April, Cantrell posted one of the nation's top SPARQ Ratings at 126.15, on the strength of a 4.55 40 yard dash and a 38.2-inch vertical jump.
This fall the lanky pass-catcher has been equally as impressive in between the lines as he was on the camp/combine circuit. Cantrell caught 10 passes for 161 yards and two scores this past week against Sulphur Springs (Sulphur Springs, Texas) and through three games he has accumulated 28 receptions for 423 yards and six touchdowns.
"I don't have a preference on schools yet, it is too early," Cantrell told ESPNHS on Monday. "I have received a lot of letters but so have other kids. I don't know who is really interested or not.
"I am going to SMU this weekend. They invited me to a home game. So has Oregon, Notre Dame, CaI, Tulsa, Baylor, and Penn State."
- Brian Stumpf
OL John Lopez, Orange Lutheran (Orange, Calif.)
The big fella' out of SoCal powerhouse Orange Lutheran was a man amongst boys… while essentially being a boy amongst men at the 2011 USC Nike Football Training Camp. One of the few underclass OL in attendance, Lopez showcased tremendous potential and punished opposing defensive linemen during the one-on-one drills.
Orange Lutheran is off to a 2-0 start on the 2011 season. The Lancers rushed for over 281 yards in a big win against Los Osos (Rancho Cucamonga, Ca) last week thanks to the stellar play of Lopez and the rest of the Orange Lutheran offensive line.
"I worked really hard on my conditioning during the off-season and improving my awareness and ability to know my assignments since last season has really allowed me to be a bully down in the trenches," Lopez told ESPNHS on Tuesday. "I haven't checked the stats yet, but I know I have a ton of pancake blocks."
Lopez has seen his improved gameplay directly correlate with increased recruiting attention. "Recruiting has been exciting. Coming home everyday to a mailbox full of letters, I sometimes feel overwhelmed. I'm excited to start planning all my trips. I plan to visit the schools that prove they are truly interested in me".
Lopez holds an early offer from UCLA and you can expect to his list of offers pile high as the season progresses.
- Nick Ekbatani
WR Alex Montgomery, Cypress Bay (Weston, Fla.)
Montgomery is a 6-2, 194-pound junior that plays in a predominately run oriented offense. However, that doesn't stop him from making plays in the passing game when his team decides to throw the ball. He is the go-to receiver for the Lightning, who finished as the 2010 Class 6A state semi-finalists last fall, when Montgomery earned third team All-Broward County by The Miami Herald, catching 23 passes for 596 yards and nine touchdowns.
Montgomery told ESPNHS this week, "I'm looking to finish with over 800 yards receiving and double my TD's from a year ago this year. When my number is called I want to have an impact."
Last spring, the sure-handed wideout attended the Miami Nike SPARQ Combine and posted an 80.07 SPARQ Rating on the heels of a 4.29 shuttle time. In addition, he participated at the Miami Nike Football Training Camp and caught the eye of a few recruiting experts that cover the South Florida area.
He is hoping his hard work will pay off with his first offer before the season is over. Schools like Florida and Florida State are sending him mail. Currently, he is receiving the most interest from the University of Miami and plans to attend their game against Ohio State this weekend.
– Kynon Codrington
RB Aregeros Turner, Copley (Copley, Ohio)

Don't for one second overlook this 5-9, 170 pound, because despite his size, Turner is a hard-nosed junior running back. Last spring at the Ohio Nike Combine, Turner posted a 78.72 SPARQ Rating on the strength of a 4.19 shuttle time and 4.66 40-yard dash. As a sophomore he played on both sides of the ball but.
A year after rushing for just under 1,200 yards, Turner looks to be on the verge of becoming one of the best running backs in the Midwest as a junior. He's already on pace to surpass those numbers by rushing for 504 yards and four touchdowns on 54 carries through his first three games, helping the Indians to a 2-1 record.
College coaches have already taken notice with Tennessee and Illinois extending early offers with another handful of national programs showing a great deal of interest. Oregon is one the schools in the mix and has stood out to Turner for quite sometime.
"I really like the program with how my school runs the same offense, with my speed I feel I would be a great fit there", Turner told ESPNHS on Wednesday about his interest in the Ducks.
"I am going to be very busy in October checking out the following games – Tennessee vs. Alabama, LSU vs. Tennessee and one at Illinois. I definitely would love to get to a game in Oregon as well."
Other schools recruiting Turner include Alabama, Syracuse, West Virginia, Michigan and Michigan State.
- Michael White
Know of an underclassman prospect who should be featured in the Launching Pad? E-mail Kynon Codrington (Southeast), Nick Ekbatani (Linemen), Brian Stumpf (national) or Michael White (Midwest/Northeast) with your nominee.