High-SchoolFootball:

Max Browne
February, 2, 2012
2/02/12
10:07
AM ET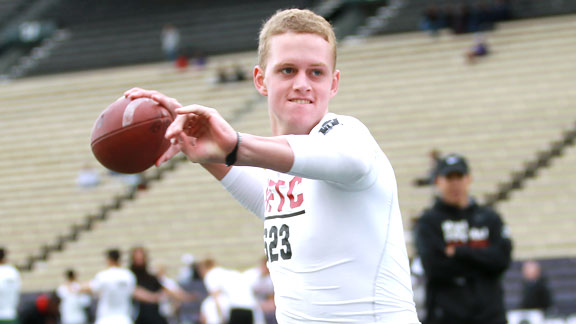 Tom Hauck for ESPN.comSkyline (Sammamish, Wash.) junior signal-caller Max Browne threw for 4,034 yards and 45 touchdowns last season while leading the Spartans to a Class 4A state crown.
Throughout this offseason, we'll spotlight Class of 2013 quarterbacks who have a shot at making the Elite 11 finals in July. This week we profile Skyline (Sammamish, Wash.) standout Max Browne.
Elite 11 Watch Archive
Skyline (Sammamish, Wash.) junior
Max Browne
prides himself on being a cerebral quarterback. As the conductor of the Spartans' no-huddle aerial attack, the junior's brain must act like a microprocessor, calling plays at the line, evaluating what scheme the defense is in and whether to audible — all at a feverish pace.
The
ESPNHS Underclass All-American
was masterful under center this past fall, completing better than 70 percent of his passes and tossing 43 TDs to lead the Spartans to the Class 4A crown. Browne's success and poise in that demanding role has led some scouts to compare him to Peyton Manning.
But Browne would be fine just reaching the level of his predecessor, Jake Heaps, an Elite 11 alum now at Kansas who captured multiple state crowns at Skyline.
"We're similar in our ability to command the offense," says Browne. "He started the championship streak at Skyline, and I'm kind of continuing it."
Browne took another step toward matching Heaps, wowing scouts with his downfield accuracy and ability to complete a variety of throws at last spring's Elite 11 Regional at Stanford. He is hopeful an invite to the finals will kick off his final season on the gridiron.
ESPNHS:
What was the environment like at last year's Elite 11 Regional at Stanford?
Browne:
At that event, you really see that there are a lot of good quarterbacks on the West Coast. Those guys had good accuracy and arm strength, so you have to bring your "A" game. And the coaches were top notch. There's a lot of good competition and everyone wants to be on the Elite 11 Finals show.
ESPNHS:
What did you learn at Regionals that helped you on the field last season?
Browne:
Just when I roll out to keep my shoulders level and to make sure I point my toes where the receiver is going to be. I got away with that stuff at times as a sophomore, but I won't be able to at the next level.
ESPNHS:
What would it mean to you to be selected to the Elite 11 Finals?
Browne:
It would be a huge honor to know I'm one of the best QBs in the nation. Ever since I was in middle school, I used to watch Elite 11 stuff, and there's so many NFL guys that have been there.
ESPNHS:
Washington all-state QB Jeff Lindquist competed in the finals last year. Did he offer you any advice on how to succeed there?
Browne:
He said to make sure you know your playbook. You should know it in and out. He also just told me to play my game. Make sure I do it my way.
ESPNHS:
What changes did you see in your game in 2011?
Browne:
I had better command of the offense and I didn't let my team get rattled. I was a better leader and my team rallied around me.
ESPNHS:
Skyline has a tradition of winning and a growing number of haters. Do opposing players talk trash to you?
Browne:
Oh, yeah. Kids know all about Skyline. We don't lose to a whole lot of teams, but if we do they let us know. This one kid posted on Facebook said, "Max, I'm coming for you." He got a couple licks on me in the game, but I still completed the throws.
ESPNHS:
It seems like every season either Skyline or Bellevue is ranked in the POWERADE FAB 50. Which team really runs Washington?
Browne:
Even though they beat us this year, Skyline runs football in Washington. They play in Class 3A and that's a lower division. We have a harder road to state each year. After we both won state titles this year, people joked we should've had a rematch. The way we played at the end of the year, we could've beaten anyone.
MAX BROWNE
School:
Skyline (Samammish, Wash.)
Position:
QB
Ht/Wt:
6-5/208
2011 Team Record:
11-3 (Won Class 4A state title)
2011 Stats
Passing yards:
4,034
Passing TDs:
45
INTs:
7
September, 7, 2011
9/07/11
3:01
AM ET
By
Brian Stumpf
| ESPN.com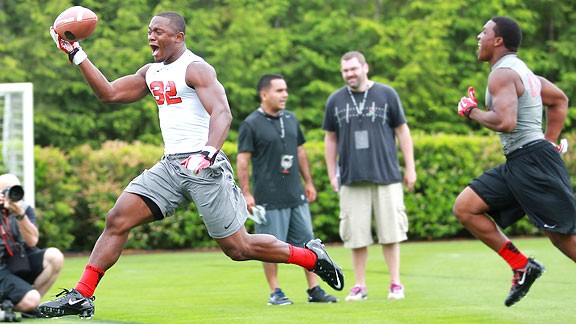 Tom Hauck/ESPNHSJohnathan Gray ran for 336 yards and five touchdowns this week
One of the biggest individual honors a high school football player can receive is Mr. Football USA, the title bestowed upon the nation's most outstanding player each fall by ESPNHS.
Below is a look at the top candidates in the chase for the 2011 Mr. Football USA. Every Tuesday during the regular season we'll update the totals of many leading contenders as well as examine some of the new names that are emerging as strong contenders.
THE FAVORITE
RB
Johnathan Gray
, Aledo (Aledo, Texas)
This week:
Ran 15 times for 336 yards and five touchdowns, while also catching two passes for 21 yards in Aledo's 50-7 rout of Weatherford (Weatherford, Texas).
Season totals:
42 carries for 556 yards and nine touchdowns rushing in two games; Aledo is 1-1
Stock – Up:
Gray continues to shred Texas high school defenses and is now just three touchdowns away from the state record for career TDs of 146, held by current Univ. of Texas RB Traylon Shead.
STRONG CASES
WR
Dorial Green-Beckham
, Hillcrest (Springfield, Mo.)
This week:
The nation's No. 1 ranked WR by ESPNU posted big numbers again, catching seven passes for 142 yards and two scores, but it wasn't enough as Hillcrest fell to Heritage (Rogers, Ark.), 37-20.
Season Totals:
25 catches for 426 yards and five touchdowns; team is 1-1
Stock – Slightly Down:
His freakish talent is undeniable but it needs to translate into a lot of wins for Hillcrest for him to stay in top contention. Otherwise he's just a big talent putting up big numbers, and there are a lot of those across the country in high school football where top players rarely face players across the line their equal.
ATH
Stefon Diggs
, Good Counsel (Olney, Md.)
This week:
Diggs battled back from cramps to catch the game-winning 25-yard TD pass in overtime as Good Counsel topped Manatee (Bradenton, Fla
.
) 24-17 in a battle of two FAB 50 ranked teams. He also scored on an 80-yard reception earlier in the contest.
Season totals:
Six receptions for 132 yards and two touchdowns.
Stock – Up:
Big players make big plays in big games, and Diggs lived up to that addage this weekend.
DE
Mario Edwards Jr.
, Denton Ryan (Denton, Texas)
This week:
Edwards, the top-ranked recruit nationwide by ESPNU, was dominant for a second straight week, racking up five tackles for loss and two sacks in a 48-24 victory against Newman Smith (Carrollton, Texas).
Season totals:
Four sacks and a forced fumble; team is 2-0 and No. 41 in the POWERADE FAB 50
Stock – Up:
Edwards had a multi-sack outing for the second time in two games – if he keeps this up and Ryan has a deep run into the playoffs, a 20-25 sack season isn't out of the question.
QB
Alec Morris
, Allen (Allen, Texas)
This week:
Morris accounted for six touchdowns in three quarters of work in Allen's 59-0 rout of Northwest (Justin, Texas). The Alabama-bound senior hit 18-of-32 passes for 320 yards and five touchdowns while also scoring on a one-yard rush.
Season totals:
35-of-60 for 570 yards and eight touchdowns with no interceptions, 51 yards and one touchdown rushing; team is 2-0 and No. 4 in the FAB 50.
Stock – Up:
Allen is the consensus top team in Texas at this point and Morris is the driving force of the Eagles' attack, having accounted for nine touchdowns in the first two games.