High-SchoolFootball:

Miami
December, 7, 2011
12/07/11
1:45
PM ET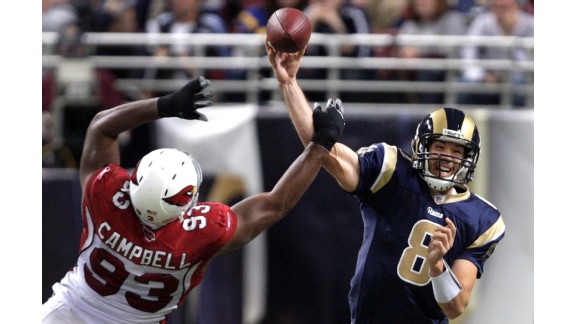 Tom Gannam/APArizona Cardinals defensive end Calais Campbell is on pace for his best season in the NFL.
There is something special about senior year in high school. It's a particularly bittersweet time, the pinnacle of the high school experience meets the final year enjoying the friendships and familiarities developed over years.
For high school football players, it's a similarly sentimental time, as it marks the final season spent under the Friday night lights. We spoke with several NFL players to discuss what makes this time in life so unique, and to share some of the lessons they'd like to impart to the Class of 2012. Our first installment featured Rams rookie defensive end Robert Quinn and the lessons he learned during a trying season. In our second edition we spoke with Cleveland Browns tight end Ben Watson. We recently profiled Philadelphia Eagles wide receiver Jason Avant and how he overcame a tough neighborhood and found his path to a long and rewarding football career, as well as safety George Wilson's interesting path to playing defense on the professional level.
In this week's installment we spoke with Arizona Cardinals defensive end Calais Campbell about his journey from Denver to the desert and how he was proactive in his own recruiting process.
Check back next Wednesday for the sixth and final installment of Senior Season.
Fourth-year defensive lineman
Calais Campbell
is on pace for his best season in the NFL with an eye on highs in tackles, passes defended, forced turnovers and sacks. But before starring on Saturdays at Miami and onto Sundays in Arizona, he was in the backyard of his parents' home in Colorado.
The 6-foot-8, 300-pound Campbell is a big man who comes from a big family, with seven siblings. He credits growing up with five brothers as the breeding ground for growing into a star athlete.
"The reason I was able to elevate my game was because of my brothers and the constant competition growing up," Campbell said. "From having a catch to playing hoops or just racing down the street we competed all the time. No one likes to lose at anything, but you never want to lose to your brothers."
It helps that his brothers were all close in age, with his oldest brother being just four years older and his two younger brothers just as close to his age. What might have helped even more is that four of his brothers competed in college football — his younger brother Jared also playing at Miami and even had a
stint in the Cardinals' camp this summer as an undrafted free agent.
As a star defensive end for South High School in Denver, Campbell set the state record in career sacks (57) and also led the state in rebounding and was fourth in scoring as a hoops star. Growing up outside of a traditional hotbed for recruiting, he found being proactive was the best approach.
"You didn't get a lot of attention or exposure playing in Denver and in Colorado," said Campbell. "It's not like playing in Florida, California or Texas where they'll find you if your good, so I had to send out DVDs and help to promote myself.
"One thing I did when I started getting letters is I responded personally to a lot of them that I had interest in," Campbell said. "I would email whoever the contact person was and ask them questions about the school, about the media and advertising programs there or what the school offered in terms of academics that stood out. I realized that I had to be an active part of the process and not receiving pitches to these different programs and school."
While he enjoyed playing in prep football games, like the annual battle versus Denver foe Thomas Jefferson, it wasn't until he made an unofficial visit to Miami that he realized how competitive the game could become.
"First off all, I'm a kid coming from Denver in the winter," Campbell said. "I had never seen the ocean or anything like Miami, so that was the first thing on my mind. But once I got to campus and then to the field, and this was just after they lost to Ohio State in the championship, I realized this was something different. The guys were all training for the NFL and a lot of NFL alums were there training too, just beasts. I wanted to be a part of this competitive culture with these amazing athletes; it felt like where I could take my game to a new level."
With an eye on becoming involved in movies and television one day, thanks in large part to his work in high school editing in his school's computer lab, Campbell has continued on his proactive ways and
interned at the website Funny or Die over the past summer
.
"In the end, I was able to get a strong degree from a good school and achieve my dream of playing in the NFL," said Campbell. "But I made sure I was prepared for a life outside of football, and one day I'll be able to take my talents to Hollywood."
September, 19, 2011
9/19/11
9:17
AM ET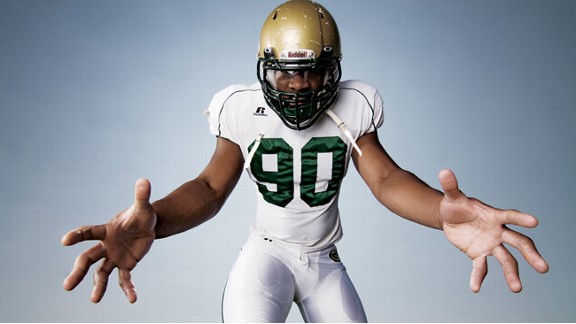 Ryan Gibson/ESPNHSGrayson (Ga.) junior Robert Nkemdiche might be the nation's top football player
Robert Nkemdiche certainly passes the eyeball test.
At 6-foot-5 and 270 pounds, he looks more like Julius Peppers than a high school student. The Grayson (Loganville, Ga.) defensive end plays like Peppers, too.
With his size, strength (he benches 340 pounds, squats 500 and power cleans 340) and speed (4.6 seconds in the 40-yard dash), Nkemdiche (pronounced kim-DEECH-ee) can do pretty much anything he wants against offensive linemen. Last year, he wreaked havoc in the trenches to the tune of 58 tackles, 23 tackles for loss and 18 sacks.
This season, he's faced a variety of game plans designed to prevent him from crushing the quarterback. Nevertheless, he's made a huge impact for Grayson, which is 4-0
and ranked No. 16
in the
POWERADE FAB 50 ESPNHS Team Rankings
.
Nkemdiche has also seen time at running back this season and ran for the game-winning touchdown in the Rams' season-opening win over Kell (Marietta, Ga.).
Oh, by the way, Nkemdiche is only a junior. And the superb skills he's shown at such a young age is why he's arguably the top player in the country, regardless of class.
Not surprisingly, a number of the nation's top college teams have taken notice. Nkemdiche is considering the likes of Mississippi (where his brother Denzel is a freshman defensive back), Alabama, Auburn, LSU, Miami, Florida, Florida State and Oregon, but he's yet to narrow down his extensive list of offers.
Right now, he's more focused on leading Grayson to a state title and is excited about the possibility of his mom, Beverly, watching one of his games this year. Beverly is a legislator in Nigeria and rarely has the opportunity to come home and watch her talented son play.
So what makes this man-child tick? It's time to Get Familiar with Robert Nkemdiche.