High-SchoolFootball:

Miami Norland
November, 8, 2011
11/08/11
5:30
PM ET
By
Doug Huff & Paul Muyskens
| ESPN.com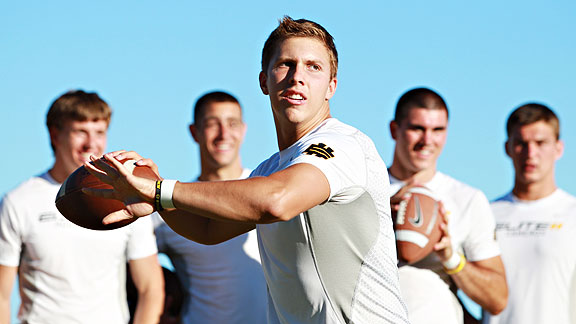 Tom Hauck for ESPN.comConnor Brewer has led Chaparral (Scottsdale, Ariz.) to 11 straight wins and is just one passing touchdown shy of setting a new career state record.
The FAB 50 team making the greatest improvement from last season to this current campaign has to be No. 42
Westfield
(Chantilly, Va.). The Bulldogs capped a 10-0 regular season last week with a 64-7 rout of Herndon (Herndon, Va.) and will face Robinson (Fairfax, Va.) on Friday in the first round of the AAA state playoffs.
At this time last year, the Wildcats ended a 6-5 record season with a first-round playoff loss to Chantilly (Chantilly, Va.) 7-0. It was Westfield's second loss to its rivals after bowing 17-14 in the regular season. This season, Westfield avenged those 2010 losses with a 40-14 romp of Chantilly.
In his first year as coach of the Bulldogs,
Kyle Simmons
helped his team avenge two other losses from last season en route to a perfect regular season record and a place in the FAB 50 national rankings. Westfield defeated Lake Braddock (Burke, Va.) 45-7 after losing 12-7 a year ago. And the Bulldogs blanked Robinson (Fairfax, Va.) 28-0 this season after a 14-0 setback last season. Robinson is this week's playoff opponent.
FAB 50 SPOTLIGHT PLAYER OF THE WEEK
Conner Brewer
, Chaparral (Scottsdale, Ariz.)
Sometime in the first half on Thursday night against Perry (Gilbert, Ariz.), this senior quarterback should break the state record for touchdown passes in a career. He tied the record with four TD passes last week in the Firebirds' 62-0 first-round rout of Gila Ridge (Yuma, Ariz.) in the playoffs.
With 94 career touchdown passes, he is currently tied with
Brian Chason
, who played eight-man football at Tucson Christian from 1982-85, and also with
Phillip Aholt
, who played at Cactus Shadow (Cave Creek, Ariz.) from 2003-06.
Leading the Firebirds to 11 straight wins since opening the season with a loss to FAB 50 No. 7
Bishop Gorman
(Las Vegas), Brewer has passed for 2,464 yards and 37 touchdowns to place himself as one of the leading contenders for state player of the year. Last season, Brewer passed for 37 TDs and as a sophomore he had 20 scoring passes.
With the team likely to make a deep playoff run towards another state championship, he has a chance to surpass the 100-TD career mark.
Ranked as the No. 3 quarterback and No. 34 overall in the the
ESPNU 150 player rankings
, Brewer will head to Texas next season after committing to the Longhorns in February.
HIGHEST RISING NEWCOMER OF THE WEEK
No. 45 Hilliard Davidson (Hilliard, Ohio)
It shouldn't be a surprise that the unbeaten Wildcats have joined the FAB 50 after finishing atop the Division 1 regular season state poll by The Associated Press. Last week, Davidson opened the playoffs with its sixth shutout of the season in a 22-0 blanking of Olentangy Orange (Lewis Center, Ohio). This week, the team tackles Upper Arlington (Columbus, Ohio) in the second-round of the playoffs.
The Wildcats' defense has been stingy all season and allowed only 28 points over the entire schedule. Senior linebacker
Jake Himmeger
anchors the defense for coach
Brian White's
team. On offense, senior running back
Alex Mickley
, who rushed for 1,491 yards in 14 games last season, continues to pave the way.
Davidson has been one of Ohio's top D-1 programs the last five years, with two state titles and three regional championships. Last season, the Wildcats went 14-1 while advancing to the state semi-finals.
LOOKING AHEAD: Team Movement in Florida Playoffs
Post-season state championship playoffs won't start in Florida until next week (Nov. 18-19), but four of the five FAB 50 Sunshine State teams will be competing in different classes from last season.
Only defending Class 6A state titlist
Miami Central
, currently No. 39 in the FAB 50, will compete in the same class as last season. The Rockets could face current FAB 50 No. 2
Armwood
(Seffner, Fla.) in the 6A finals since the Hawks moved to this level from Class 4A last season, where they had finished as state runner-up.
New to Class 7A is FAB 50 No. 25
Manatee
(Bradenton, Fla.), which moved up from Class 5A a year ago. In 7A, Manatee might run into defending FAB 50 national champion
St. Thomas Aquinas
(Fort Lauderdale, Fla.), which also was bumped up from Class 5A.
Two other FAB 50 teams competing in different classes are No. 10
Miramar
(Miramar, Fla.) and No. 18
Miami Norland
. Miramar will compete in the highest Class 8A after vying last season in 6A (which also was the highest class last season). Norland is reclassified 5A this season after being a 3A team in 2010.
October, 24, 2011
10/24/11
11:30
AM ET
By
Lem Satterfield
| ESPN.com
The huddle is a sacred place in football; one where the team and game are the only things that count. We're going inside the huddle by talking to football players on the POWERADE FAB 50 teams to find out their most valuable lessons learned -- on or off the field -- that contribute to their success.
Senior running back
Randy Johnson, Jr.
of Norland (Miami) talks about how he has turned the passing of his father into a source of inspiration and motivation, a process that has also transformed him into a proud team leader. The shifty and speedy 5-foot-9, 190-pounder has committed to become a 'Cane at Miami and stay local.
Randy Johnson Sr. had left a major impression on his son, Randy Jr., before he died of Leukemia nearly four years ago when the younger Johnson was an eighth-grader.
"He supported me in everything that I do. He used to come to all of my games and he would watch me in in all of my games," said Randy Jr., now 18. "He would take me to all of the University of Miami games, also."
Randy Jr. has carried his father's memory with him ever since, to the point of dedicating his career to him posthumously.
"Before I play, I always say a prayer to him before every game," said Randy Jr., who is nicknamed "Duke."
"I pretty much just say, 'I know that you're watching me,' and, 'protect me while I'm out there playing for you,' and, 'I'm doing everything for you.'"
What Johnson has done is guide last year's Vikings to a Class 3A state runner-up finish on 1,500 rushing yards for 20 touchdowns, and this year's team to an undefeated start. This past weekend, Johnson rolled on city rival Jackson (Miami) for 213 yards and four touchdowns for his No. 20
POWERADE FAB 50 team
.
"When something like that happens in your life, you just sort of live for them," said Randy Jr., of his father's death. "You live the way that you know that they would have wanted you to, pretty much."
For "Duke," that often means demonstrating by example the poise that it takes to emerge as a leader through adversity on a squad "with a slew of young running backs; a ninth grader and two 10th-graders."
"When they make mistakes, I try to encourage them. In our last game, the freshman fumbled, and he got down, and I had to encourage him to stay up, emotionally," said Johnson. "I never thought about yelling at him. You just pat him on the back and tell him, 'everything is going to be alright.'"
ROLE MODEL Cassandra Mitchell and Martha Williams, mother and grandmother
"My father's death was tough at the moment, but you have family; my mother, my grandmother, my sister and my brother. My family as a whole. They've been there through all of the struggles that I've gone through. They're the reason that I do my best."
October, 13, 2011
10/13/11
2:22
AM ET
By
Mark Tennis & Doug Huff
| ESPN.com
GAME OF THE WEEK
No. 28 St. Edward (Lakewood, Ohio) 6-1 at No. 42 St. Xavier (Cincinnati) 5-2, 2 p.m. Saturday
The only game this week matching two FAB 50 ranked teams certainly has poll implications.
The loser could drop out of next week's rankings. This is because a St. Edward defeat would be its second in a row after being dominated last week by FAB 50 No. 1 Don Bosco Prep (Ramsey, N.J.) 38-7. A St. Xavier setback would be its third of the season and no ranked teams have three losses.
This is the sixth straight year the two Ohio powers from opposite ends of the state have played. St. Edward ended a four-game losing skid to St. Xavier last season with a 20-3 victory while rolling to a 15-0 record and the school's first-ever Division 1 state title.
The visiting Eagles have been led by junior running back Dwayne Aaron, who runs behind a massive college-sized offensive line. The host Bombers will counter with senior running back Conor Hundley, a three-year standout, and a stingy defensive unit.
St. Xavier has dropped competitive games already this season to two unbeaten foes -- FAB 50 No. 5 Trinity (Louisville, Ky.) and No. 33 Moeller (Cincinnati).
After Saturday's showdown, both teams will face more stiff tests in their very next games. St. Edward will play unbeaten FAB 50 No. 33 Moeller (Cincinnati) while St. Xavier will take on once-beaten St. Ignatius (Cleveland). St. Ignatius and St. Edward then meet in a rivalry game the following week.
PLAYER TO WATCH
Randy "Duke" Johnson, Miami Norland (Miami)
The 5-foot-9, 185-pound senior running back has led the Vikings to a 6-0 record and No. 20 spot in the FAB 50.
Last weekend, he scored the game's only touchdowns in a 14-0 win over Coral Reef (Miami, Fla.) while rushing 23 times for 194 yards, his best effort of the season. Playing in four games, he's rushed only 56 times, but has 505 yards and six scores.
With numbers like that, all signs point to him having a strong finish to the season.
For his three-year career, Johnson has rushed for over 3,500 yards, including 1,540 yards and 24 touchdowns as a sophomore. Last season, he gained 1,482 yards and 17 scores.
This Friday, the University of Miami recruit will test the defense of Southridge (Miami, Fla.) in a road game.
UPSET ALERT
Lutheran (Orange, Calif.) 5-0 vs. No. 30 Servite (Anaheim, Calif.) 4-1, Friday at Cerritos College
Even though Lutheran is unbeaten and Servite has a loss, it would be an upset if Lutheran were to win. Servite's loss is to FAB 50 No. 7 Bishop Gorman of Las Vegas and the Friars still look like they are playing at a similar level to teams that won the CIF Southern Section Pac-5 Division title the last two seasons.
The visiting Lancers were only 5-5 last season, but returned a bulk of their lineup and started this season as if shot from a cannon. In their first game, they took on three-time Utah state champ Bingham (South Jordan, Utah) and won easily 42-7. Although the team had a struggle to get past La Habra 30-24, this also was a team that gave Servite some trouble before the Friars prevailed 24-16.
Senior quarterback Conner Sullivan leads the Orange Lutheran offense with nearly 1,000 yards passing. In last week's 33-13 victory against Redondo Union (Redondo Beach, Calif.), Sullivan completed 19 of 26 passes for 292 yards and four touchdowns.
Servite's top player is BYU-bound linebacker Butch Pauu. He was arguably the best player on the field when the Friars lost to Bishop Gorman. In addition to flying around the field on defense, Pauu also is effective on offense as a pass-catcher and blocker.
While it looks like Orange Lutheran has a chance for the upset, the Lancers lost 31-13 to the Friars last year and were beaten 45-26 the year before that.
Upset Alerts so far this season: 3-3 (with three in a row after an 0-3 start)
TEAM ON THE RISE?
Christian Brothers (St. Louis) 7-0
After allowing 49 points in the first game, an outing in which the Cadets still topped Fort Zumwalt West (O'Fallon, Mo.) 52-49, this team has tightened up the defense, continued to pile up the points and is looking like a major contender to be the top team in Missouri this season.
Coach Scott Pingel's team began to climb in the state and regional rankings after a 52-22 triumph in the third game over DeSmet Jesuit (St. Louis), which was higher ranked at the time. Since then, Christian Brothers has not let up. Last week's 41-7 win over Chaminade (St. Louis) followed similar wins against St. Louis University (34-7), Francis Howell (47-26) and Vianney (St. Louis) 47-15.
The key to the offense has been balance. Quarterback Dalton Demos enters this week's game against Marquette (Chesterfield, Mo.) with 1,683 yards passing and 15 touchdowns. Running back Antonio Brown, who is beginning to get a lot of interest from Big 12 colleges, also has rushed for 694 yards with 14 touchdowns. Jonathan Parker also has run the ball well with 559 yards on just 65 carries.
Last year's team went 10-2 with a playoff loss to Hazelwood Central (Florissant, Mo.) so this year's team should be eager to go a lot further.
August, 31, 2011
8/31/11
1:18
PM ET
By
Mark Tennis & Doug Huff
| ESPN.com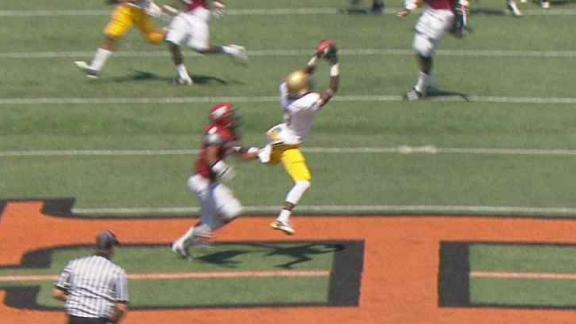 There doesn't seem to be a dual baseball and football star this season on the national level of
Bubba Starling
or
Archie Bradley
from last year. But watch out for
Sam Gillikin
of Hoover (Hoover, Ala.). His first outing as the starting quarterback for the Bucs in their 24-13 victory over South Panola (Batesville, Miss.) in a matchup of FAB 50 teams was sensational (video of the game above).
Facing an opponent that was No. 16 in the preseason FAB 50 and on a 28-game winning streak, Gillikin sparked Hoover by completing 18 of 30 passes for 181 yards and three touchdowns. He also rushed 13 times for 82 yards.
With Hoover leading 3-0 late in the second quarter, Gillikin led a 14-play, 97-yard drive that put his team up 10-0 at halftime. He had 37 yards rushing and 44 yards passing in that series alone.
With the win, Hoover moved up from No. 41 to No. 24 in this week's FAB 50. Gillikin also has been chosen as the
POWERADE FAB 50 Spotlight Player of the Week.
Gillikin had to miss a few preseason football practices because he was selected and played in the Under Armour All-America baseball game at Wrigley Field in Chicago. The 6-foot-2, 190-pound outfielder is the first Hoover baseball player ever chosen for the event.
As a junior, Gillikin played wide receiver in football and batted nearly .330 for the baseball team. He gave a glimpse of what he might do as the quarterback in football with 280 yards of passing and three touchdowns in just one half of Hoover's spring game. Gillikin has committed to play baseball at Auburn.
Here is the rest of this week's edition of
Inside the FAB 50:
POWERADE FAB 50 GEOGRAPHY LESSON
Based on the 50 teams that appear in this week's rankings, here's a look at where they stand in geographical terms
.
Northernmost school – No. 36 Bellevue (Bellevue, Wash.).
A school in the East would have to come from Maine to further north than the Wolverines.
Southernmost school – No. 35 Miami Norland (Miami, Fla.).
At the present time, there's only one Dade County team in the FAB 50. If there were two or more, this determination gets trickier.
Westernmost school – No. 36 Bellevue (Bellevue, Wash.).
This required some digging because No. 2 De La Salle (Concord, Calif.) is far west as well. Bellevue's longitude of 122.20 is slightly west of Concord's 122.03.
Easternmost school – No. 1 Don Bosco Prep (Ramsey, N.J.).
This was another easy one to figure out because no other teams from New Jersey and no teams from New York or from any New England states are currently ranked.
School closest to center of USA – No. 50 Rockhurst (Kansas City, Mo.).
The campus of Rockhurst is literally across the street from Kansas and is approximately 260 miles from the center point of the continental U.S. near Smith Center, Kan.
Schools closest together
–
No. 44 Colerain of Cincinnati
is just seven miles from
No. 25 St. Xavier of Cincinnati
and went into this week's rankings after a big win over Cocoa (Cocoa, Fla.).
Schools farthest apart – No. 36 Bellevue (Bellevue, Wash.)
and
No. 35 Miami Norland (Miami, Fla.)
are 3,295 miles from each other. On Sept. 23 on ESPN2, two schools that are 3,019 miles apart,
No. 2 De La Salle (Concord, Calif.) and No. 3 St. Thomas Aquinas (Fort Lauderdale, Fla
.), will hook up for a huge matchup
.
HIGHEST RISING NEWCOMER OF THE WEEK
No. 41 Mallard Creek (Charlotte, N.C.)
North Carolina's top-ranked team joined the FAB 50 this week at No. 41 after opening with two wins, including a debut 28-20 victory over preseason FAB 50 No. 8 Butler (Matthews, N.C.). The loss snapped a 31-game win streak for the two-time defending Class 4AA state champions. The Mavericks followed up the Butler win with a 52-21 rout last weekend of Sun Valley (Monroe, N.C.).
The new FAB 50 member will visit another Charlotte team, Berry Academy, this weekend before facing an upset-minded Mooresville (Mooresville, N.C.) on Sept. 16. Mooresville opened the season by ending the nation's longest active victory streak of 46 games with a 21-14 victory over West Rowan (Mt. Ulla, N.C.).
Mallard Creek entered the season with a major question mark -- who was going to be the quarterback to replace All-American and North Carolina recruit
Marquise Williams
.
That was answered when
Andrew Goodman
transferred from First Assembly School of Concord, N.C. After leading the Mavericks to their big win over Butler, Goodman passed for 284 yards and four touchdowns and rushed for a fifth score in the rout of Sun Valley.
WHERE HAVE ALL THE WIN STREAKS GONE?
It didn't take long for three of the nation's top five longest current football winning streaks to end in pre-September matchups. And FAB 50 teams were smack dab in the middle of it.
In North Carolina, the nation's longest current streak of 46 consecutive wins ended in the season opener on Aug. 19 for West Rowan (Mt. Ulla, N.C.). The Falcons bowed at Mooresville (Mooresville, N.C.) 21-14.
Last weekend, four other long win streaks ended and all were involving FAB 50 ranked teams.
Included was a 44-game streak by previous No. 46 Alcoa (Alcoa, Tenn.) and a 38-game streak held by previous No. 24 Cocoa (Cocoa, Fla.). Alcoa, which also has won seven straight state titles, lost to current FAB 50 No. 31 Maryville (Maryville, Tenn.) 26-19. Cocoa, meanwhile, fell to new No. 44 Colerain (Cincinnati) 17-7.
The other two schools to lose for the first time in a long time last week were previous No. 18 Aledo (Aledo, Texas) and previous No. 38 South Panola (Batesville, Miss). Aledo's win streak ended at 29 games while South Panola's was stopped at 28.
Entering this weekend, the longest active win streak in the nation belongs to FAB 50 No. 32 Phoebus (Hampton, Va.). The three-time defending state champions open the season Friday at Warwick (Newport News, Va.) with a 45-game win streak.
Second on the list with 41 straight wins is FAB 50 No. 28 Hamilton (Chandler, Ariz.), which opened the season last weekend with a 17-7 win over Mountain Pointe (Phoenix). Two other FAB 50 ranked teams with long win streaks are No. 1 Don Bosco Prep (Ramsey, N.J.) at 35 games and No. 23 Mullen (Denver, Colo.) at 31 games.