High-SchoolFootball:

Michigan Football Recruiting
May, 7, 2012
5/07/12
9:56
AM ET
With a name like Taco, it's hard not to get noticed. But
Taco Charlton
is also drawing attention for his play on the football field.
Charlton, whose real first name is Vidauntať and was given the nickname by his grandmother, is rated the nation's No. 9 defensive end by ESPN and the No. 115 overall recruit in the ESPN 150.
The 6-foot-6, 240-pound junior from Pickerington Central (Pickerington, Ohio) shined on the gridiron this past fall, helping the Tigers to a
Division I state runner-up finish
. And he showed off his athleticism as the starting center on the Pickerington Central basketball team that captured its first state title in March.
Charlton has impressed throughout the offseason, earning
All-Camp honors
at the Long Beach Nike Football Training Camp on April 1 and then shining this past Saturday at the Columbus NFTC, where he
snagged an invite to The Opening
.
Charlton also got the attention of his family, many of whom are Ohio State fans, by
committing to Michigan
in February.
So what's this defensive dynamo have in store for the rest of this year? Get Familiar with Taco Charlton.
ESPNHS:
Who gave you your nickname?
Charlton:
It came from my grandmother. It's different. Nobody forgets it.
ESPNHS:
What led a kid who grew up near Ohio State to pick Michigan?
Charlton:
I just love the coaches there. I believe they can get me to the next level. It's a great family atmosphere on the team, the fans there are crazy about their team and my parents love the academics. I always had Michigan as my leader. That's where I really wanted to play. My whole family is Ohio State fans. At first they didn't like it, but they're starting to come along. They have scarlet and grey around their houses. I'm going to try to get them to change that.
ESPHS:
How much does the loss in the state finals sting?
Charlton:
It's making us work even harder this year. We're trying to get back there and win it this time. I won a state title in basketball in March, and I believe we can do that in football this year. I have to be a coach on the field. I want my senior year to be successful.
ESPNHS:
What did it feel like to win a state title in basketball?
Charlton:
To win the first state title in school history was crazy. Our school deserved it. We had a huge pep rally. Our coach got the key to the city. It was great to see. I got to go up against (2012 Michigan signee)
Chris Wormley
in the finals. It was a good matchup. I'll tease him about it at Michigan.
ESPNHS:
Why do you continue to compete at camps with all you've proven and having already committed to Michigan?
Charlton:
I just love to compete and have fun. This is one of the few chances I can get to go against the best linemen in the country. And there's the whole teaching aspect.
TACO CHARLTON
School:
Pickerington Central (Pickerington, Ohio)
Class:
2013
Position:
Defensive end
HT:
6-6
WT:
240
College:
Michigan
FAVORITES
TV Show:
"The Game"
Movie:
"He Got Game"
Musical Artist:
Meek Mill
Athlete:
LeBron James
Team:
Michigan
School Subject:
Math
Food:
Chipotle burritos
April, 2, 2012
4/02/12
10:00
AM ET
By
Christopher Parish
| ESPN.com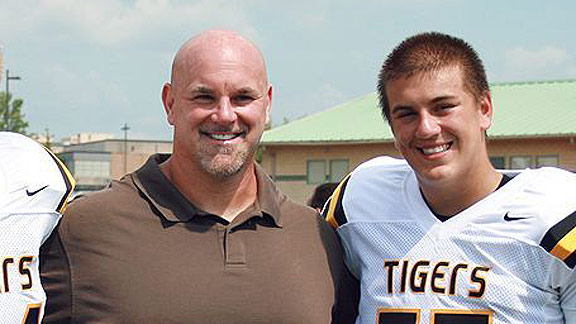 Kugler family North Allegheny (Wexford, Pa.) junior Patrick Kugler (right) has learned a lot about playing the line from his father, Sean (left), the offensive line coach for the Pittsburgh Steelers.
Few things are certain in high school football, but it's always safe to assume North Allegheny (Wexford, Pa.) is going to be in the state-title discussion.
Last season, the Tigers lost in the Class AAAA state semifinals by three points and finished No. 49 in the
POWERADE FAB 50
. And this fall, with many of their skill players returning, the Tigers will again be among the favorites to bring home the hardware.
One of the biggest reasons for the team's consistent success is an always-strong offensive line, and junior offensive lineman
Patrick Kugler
is as good as you'll find in the nation. The
ESPNU 150 Watch List
recruit and Michigan commit was named an
ESPNHS Underclass All-American
this past fall.
Kugler's father, Sean, is the offensive line coach for the Pittsburgh Steelers. And his brother, Robert, is currently in his first season at center at Purdue.
Clearly, it's a family that knows the O-line. And Patrick might be the best of the bunch.
"He's one of those guys who just loves to play," says North Allegheny head coach Art Walker. "He plays hard every snap, he's physical, he's aggressive, and he's a good locker room guy as well.
What makes this stellar junior one of the nation's top offensive linemen? It's time to
Get Familiar
with Patrick Kugler.
ESPNHS
: How's the offseason going? What are you up to so far?
Kugler
: It's been going really good. I've been doing some lifting, and this summer I'm hoping to play some AAU football. I'm staying busy.
ESPNHS
: Is there a specific goal behind your lifting? Are you trying to get bigger, just gain strength, or just kind of stay where you're at now?
Kugler
: I'm definitely always trying to get stronger, and right now I'm just trying to mold my body. I have a little bit of a gut, and it would be awesome to get rid of that right now and just mold my body into a college-type body instead of a big wide-body high school hooligan.
ESPNHS
: You play at a school — North Allegheny — that is always right in the state title discussion. What are your expectations for this upcoming season?
Kugler
: If we don't win a championship, it's an unsuccessful season. We've got a great team coming back this season — great quarterback, great running game, great receivers and a great defense. The only question is going to be who starts on that offensive line, and obviously I'll be there, and hopefully I can help give us a great shot at winning state.
ESPNHS
: What are some of the things you think you need to work on before you get to college?
Kugler
: Technically, I always want to improve on my pass blocking. I think we're going to pass a lot more this year because we have a good quarterback and good receivers, and so that's something I'm going to need to improve on. After that, it's just keeping my feet underneath me and not losing my balance.
ESPNHS
: Tell us about the process that went into your college decision.
Kugler
: Well, I committed to Michigan a month ago, and it's been nice having it over with and not having to talk to any other coaches.
ESPNHS
: What were your favorite and least favorite parts of the whole process?
Kugler
: My favorite part was just learning about all of the different schools, some prestigious programs. And my least favorite part was having to talk to all of these people who were trying to recruit me and continuously having to talk to people even if I knew I wasn't going to their school.
ESPNHS
: You're from a family that knows its offensive line, between your dad and your brother. What are those conversations around the dinner table like?
Kugler
: My dad doesn't really talk a lot of football with us. We're not criticized unless we ask for it, and then he'll give us his two cents. But he'll help us work out and improve. It's not forced.
ESPNHS
: Your brother just went through this whole recruiting process. How was he able to help you?
Kugler
: He's definitely really helped. He told me all sorts of schools to look at, and he told me what were some fun schools to go to and check out. He's happy I chose a Big Ten school.
ESPNHS
: You won't line up directly against him, but is Purdue-Michigan the new rivalry now?
Kugler
: Oh, definitely. We're looking forward to it.
Patrick Kugler
School:
North Allegheny (Wexford, Pa.)
Position:
OL
HT:
6-4
WT:
280
College:
Michigan
FAVORITES
TV Show:
"Family Guy"
Athlete:
Maurkice Pouncey
Sports Team:
Pittsburgh Steelers
Food:
Steak
Video Game:
"Assassin's Creed"
January, 20, 2012
1/20/12
11:39
AM ET
By
Brandon Parker
| ESPN.com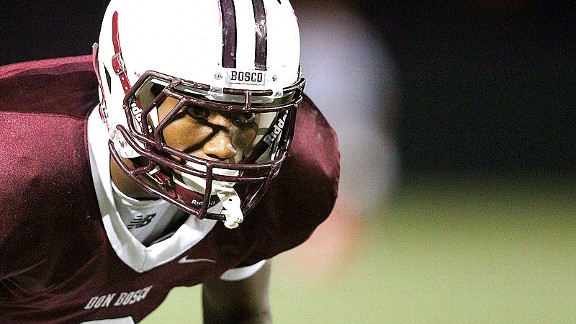 Danny Wild/US PresswireYuri Wright is rated as the No. 4 cornerback in the ESPNU 150, but after being expelled from FAB 50 No. 1 Don Bosco Prep (Ramsey, N.J.) for explicit tweets, his future could be up in the air.
In what could prove
a cautionary tale to top recruits
, Don Bosco Prep (Ramsey, N.J.) senior
Yuri Wright
was expelled Thursday for explicit comments he made on Twitter,
according to The Star-Ledger
. The tweets were racial in nature and sexually graphic, leading the school to take action against its star cornerback. Wright is ranked as the nation's No. 4 cornerback and No. 40 overall recruit by ESPNU.
Reports had swirled this week that Michigan had backed off recruiting Wright because of his tweets. Wright is also considering offers from Colorado, Notre Dame and Rutgers.
Click here
to read more about the story from ESPN.com.
Brandon Parker covers high school sports for ESPNHS magazine and ESPNHS.com. Follow him on Twitter
@brandoncparker
or email him at brandon.c.parker@espn.com.
January, 20, 2012
1/20/12
5:53
AM ET
By
Brandon Parker
| ESPN.com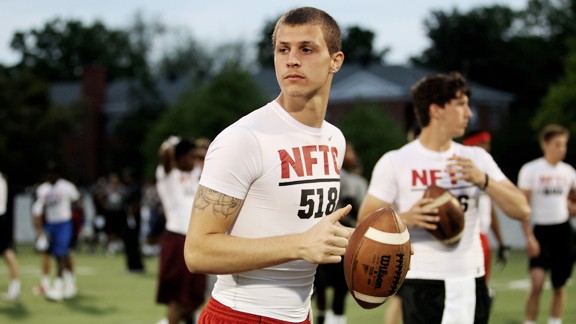 Tom Hauck/ESPNHSButler (Matthews, N.C.) junior quarterback Riley Ferguson shined at last year's Elite 11 regionals.
Throughout this offseason, we'll spotlight Class of 2013 quarterbacks who have a shot at making the Elite 11 finals in July. Last week we profiled future Wolverine Shane Morris. This week we profile Butler (Matthews, N.C.) standout Riley Ferguson.
While holding his own at the
Champion Gridiron Kings in Florida last summer
,
Riley Ferguson
made it clear where he hopes to be this July, saying "hopefully I will be at Elite 11 next year." The junior, who already has two 4AA state championships under his belt, made a strong case for an invitation this past season, throwing for 3,345 yards and 48 touchdowns. Ferguson took time to talk to us about the bad taste from his first playoff loss as well his strong desire to make the Elite 11 finals.
ESPNHS:
After winning the last two state titles, this past season began and ended with rare losses. What's your take on why things played out like they did?
Ferguson:
When we lost at the beginning of the season, I took it kind of hard because it was the first time I'd lost since being in high school. But everybody takes losses, so I thought we'd focus and come back stronger, and that's what we did. When we got to Page (Greensboro, N.C.) [in the 4AA quarterfinals], I think some of us were thinking it would be a cakewalk in the playoffs instead of having to work for it. And we ended up paying for it.
ESPNHS:
How much does last season's outcome motivate you for your senior season?
Ferguson:
It'll motivate me more than anything. Taking two losses in one season killed me. Last year was also the last time I will play with my brother Zach, so that hurt. But I'm just going to go hard and play for our team to get back on top.
ESPNHS:
Do you think there will be the same target on your back next season even though you guys aren't the defending champs?
Ferguson:
Of course we'll still have the target because of our program's history and all of the top prospects we have. But I don't like seeing it us as just a bunch of star players. I think of us as being a team and winning together. As long as we remember that and play together, we can overcome that target.
ESPNHS:
After you finish playing basketball, what are some things you will work on in the offseason?
Ferguson:
I need to get in the weight room and work on my strength. I also want to do a bunch of agility stuff. Pretty much, I'll be working on everything because you can always get better and there's always something to work on.
ESPNHS:
What was the experience like to compete at the Elite 11 regionals last summer?
Ferguson:
It helped a lot because it was invitation-only, so everybody there was a good quarterback and the best from their area. I talked to a lot of other quarterbacks and learned some good things from the experience. Going to the NFTC [Nike Football Training Camp] was a real challenge and helpful for me, too.
ESPNHS:
If you are invited to the national Elite 11 competition, what would you hope to gain from the experience?
Ferguson:
Oh man, it would be unbelievable to get invited there. It's an amazing opportunity to go to California and be in that atmosphere with great quarterbacks and coaches. I hear that NFL and college players are there, too, so I would be real excited to learn from them.
ESPNHS:
You recently received some new offers from school. How many offers do you have and who are your favorites?
Ferguson:
I've got offers from Clemson, LSU, Michigan, Virginia Tech, Louisville, Maryland and Notre Dame. At this point, I'm accepting all offers and it'll come down to whichever school feels the best. I haven't really narrowed the list down; I might do that sometime this summer. But whenever I feel like I've found the right school, which could be in the summer or fall or anytime, that's when I'll make my decision.
RILEY FERGUSON
School:
Butler (Matthews, N.C.)
Position:
QB
Class:
2013
2011 Team Record:
11-2 (Lost in Class 4AA quarterfinal)
2011 Stats
Completions-Attempts:
184-279 (.659)
Yards:
3,345
TD:
48
INT:
8
Brandon Parker covers high school sports for ESPNHS magazine and ESPNHS.com. Follow him on Twitter @brandoncparker or email him at brandon.c.parker@espn.com.
January, 12, 2012
1/12/12
9:49
AM ET
By
Christopher Parish
| ESPN.com
Throughout this offseason, we'll spotlight Class of 2013 quarterbacks who have a shot at making the Elite 11 finals in July. This week we profile De La Salle (Warren, Mich.) standout and Michigan commit Shane Morris.
Some of the nation's most impressive quarterbacks were at the same
Elite 11 regional camp
last May at Ohio State. It was a list that included
Chad Kelly
,
Gunner Kiel
and
Jameis Winston
. But one of the most impressive recruits in the competition was an underclassman. Warren De La Salle signal-caller
Shane Morris
stood out thanks to a unique combination of arm strength and a quick, accurate delivery. Having completed his junior season,
Morris
is looking forward to his opportunity to return to the event and vie for a spot in the finals. The standout QB talked to us about last year's event and his expectations for this year.
ESPNHS:
What was your impression of the Elite 11 camp you attended last year?
Morris:
It was an awesome event. Being at Ohio State and having some of the top quarterbacks from the Class of 2012, being around that competition, that was great. I loved that atmosphere and I had a great time just learning from other kids and coaches. We had outstanding coaches. The whole experience was great.
ESPNHS:
What are some of the things you learned?
Morris:
I was really taking in the stuff they were telling us about not forcing every throw. I don't have to throw it that hard. If I take a little off and really focus on the accuracy, I have a strong enough arm to get it there with great velocity. So I've been concentrating on that in the offseason, and I used it quite a bit this season. I feel like it helped me a lot.
ESPNHS:
How do you think your experience at the event will help you at this year's event?
Morris:
My QB coach had gone down to the event with me, and we both learned a lot of stuff from the warmups we were doing and the drills, how do do three-step and five-step drops correctly, and we went back and incorporated a lot of that stuff into our workouts. Hopefully I can take a lot of that knowledge this year and get myself into the Elite 11 final in California.
ESPNHS:
What are some of the things you've been working on this offseason?
Morris:
So far a lot of three-step and five-step drop work. I'm working on my stance, getting my hips turned around when I throw, stuff like that. I'm not leaving any little thing to chance. I'm even working on handing the ball off to the running back and taking the snap from under center. I'm not going to overlook any little thing. I'm never good enough in my opinion.
ESPNHS:
It seems like that's a pattern for you, that you're never satisfied. Is that what motivates you?
[+] Enlarge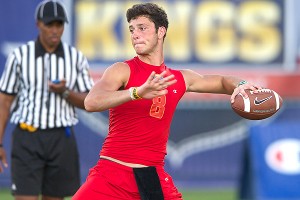 Steve Johnson/ESPNHSThe Michigan-bound Morris has a big arm and a big personality.
Morris:
Oh definitely. Last year at Elite 11, they told me I did really well. I was second behind Gunner Kiel. But with them telling me that, I walked out of there and I knew I had made some bad throws and I could have thrown a better spiral. My dad was telling me I did great, but I know I could have been better.
ESPNHS:
What were some of your thoughts as you watched Michigan in the Sugar Bowl?
Morris:
It was an awesome game. The way they played, it just really shows what the seniors went though for the past few years and what they overcame this year. Those seniors had a lot of pride.
ESPNHS:
Finally, what are some of the things you're most looking forward to about your senior season?
Morris:
Just being with my classmates, really. We went through a lot these past few years. And finally being able to play against kids my own age. I've always played against kids three or four years older than me. I think it's going to be kind of fun. All of the seniors with me who have been playing together since we were freshmen on varsity, we're finally going to play against kids who are 18 just like us. And our focus is going to be winning our school its first state championship. So that'll be a lot of fun.
SHANE MORRIS
School: De La Salle (Warren, Mich.)
Position: QB
Class: 2013
2011 Team Record: 9-3 (Lost in Division I regional final)
2011 Stats
Completions-Attempts:
121-235 (.515)
Yards:
1,684
TD:
19
INT:
7
Rushing Yards:
150
Rushing TDs:
6