High-SchoolFootball:

Missouri
November, 28, 2011
11/28/11
10:11
AM ET
By
Brandon Parker
| ESPN.com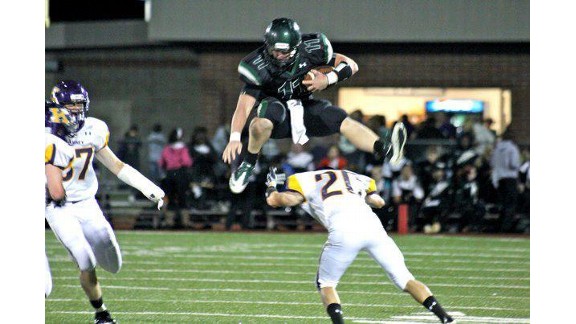 Courtesy of the Hosick family/ESPNHSStaley (Kansas City, Mo.) junior quarterback Trent Hosick led the Falcons to their first Class 5 championship this season.
As he's only a junior, it's safe to say
Trent Hosick
has plenty of good football ahead of him. But it could be hard for the Staley (Kansas City, Mo.) quarterback to top the past two weeks.
On Nov. 18,
Hosick
racked up 371 total yards and seven touchdowns to lead the Falcons to a 76-70
quadruple-overtime win
against defending champ Lee's Summit West (Lee's Summit, Mo.) in the Class 5 state semifinals. Then, this past Saturday, the dual-threat QB pushed Staley (14-0) to
its first state title
by scoring four touchdowns in a 35-21 win against Kirkwood (Kirkwood, Mo.).
Mind you, this was Hosick's first season as a starter after transferring to Staley from Ozark (Ozark, Mo.) and sitting out last season. And while the 6-foot-2, 221-pounder has yet to receive his first scholarship offer, the early interest shown by the likes of Stanford, Michigan State and Oklahoma State is bound to spike after his impressive junior campaign. Hosick finished the season with 2,403 yards and 31 touchdowns on the ground, and 1,422 yards and 10 TDs through the air.
But for as much as Hosick loves football and winning, both are simply steps toward his ultimate goal in life. To find out what that is as well as what drives one of the nation's top juniors, let's Get Familiar with Trent Hosick.
September, 1, 2011
9/01/11
7:41
PM ET
By
Mark Tennis & Doug Huff
| ESPN.com
One player of the week is chosen from each region of the country. No player will be chosen more than once during a season.
(After games of Aug. 25-27)

EAST REGION

David Sills, Red Lion Christian (Bear, Del.)
The freshman quarterback, who committed to USC as a seventh-grader, enjoyed a more than solid start to the season in guiding Red Lion Christian past defending Ohio Division V state champion Ursuline (Youngstown, Ohio) 54-18. Sills completed 17 of 21 passes against the host Fighting Irish for 221 yards and four scores. Red Lion Christian plays two more Ohio teams this season and also will meet teams from Virginia, Maryland, Florida and New Jersey. That could give the team and its quarterback more chances to impress.

SOUTHEAST REGION

Von Smith, West Oktibbeha (Maben, Miss.)
The junior quarterback recorded the third most prolific passing effort in state history with 532 yards in a 50-30 win over Montgomery County (Kilmichael, Miss.). Smith completed 20 of 23 passes with five going for touchdowns. The state mark is 562 yards. Smith's favorite receiver was senior wide receiver Dwight Quinn, who landed seven passes for 319 yards and four scores. Quinn's yardage total is second in state history, just nine away from the record. Smith passed for more than 2,900 yards and 29 touchdowns as a sophomore.

MIDWEST REGION

Eric VanSwol, NorthPointe Christian (Grand Rapids, Mich.)
In his first-ever varsity start, VanSwol played only one half in a 61-13 romp of Bridgman (Bridgman, Mich.), but set a state record with seven touchdown passes. In addition to breaking the record for most touchdown passes in a half, VanSwol also tied the state mark for scoring passes in a game held by several players, including Wes Leonard of Fennville last season. VanSwol also completed 19 of 21 aerials for 348 yards in his two quarters of play.


SOUTHWEST REGION

Dorial Green-Beckham, Hillcrest (Springfield, Mo.)
Well, we'll go ahead and get Green-Beckham chosen as a player of the week right off the bat. The freakishly-talented 6-foot-5, 220-pound wide receiver with sprinter's speed showed an ESPNU national TV audience why he's the No. 2 player in the ESPNU 150. He caught 18 passes for 284 yards and three touchdowns as Hillcrest defeat Seneca (Seneca, Mo.), 48-26. Green-Beckham achieved his career high for receptions in the game. Entering the season, Green-Beckham had career totals of 181 catches for 4,120 yards and 51 touchdowns.


WEST REGION
Chad Chalich, Coeur d'Alene (Coeur d'Alene, Idaho)
In his first outing of the season, Chalich, who led Couer d'Alene to last year's Class 5A state championship, completed 28 of 34 passes for 384 yards and three touchdowns in a 37-24 triumph over Rocky Mountain (Meridian, Idaho). The 6-foot-1, 185-pounder is not a national recruit like Eagle, Idaho's Tanner Mangum. But while Mangum was out for most of last year with an injury, Chalich passed for 2,844 yards and 32 touchdowns and also ran for 541 yards and six more scores. Chalich also averaged 14 points per game last year for Coeur d'Alene's basketball team.
August, 28, 2011
8/28/11
2:22
AM ET
Joplin, Mo. -- After a summer full of hype and national attention,
Dorial Green-Beckham
finally stepped on the football field on Saturday night.
And the Springfield (Mo.) Hillcrest receiver didn't disappoint. Green-Beckham was a dominating force as Hillcrest defeated Seneca (Mo.) 48-20 at Hughes Stadium. He finished with 18 receptions for 284 yards and three touchdowns as his Hornets cruised to a 1-0 record.
"It's just how the game worked out," Hillcrest coach
John Beckham
when asked if he planned to go to Green-Beckham 18 times in the game.
Beckham looked back to the approach of former Houston Oilers coach Bum Phillips who used to get questions about why he gave Earl Campbell the ball so much.
"(He) used to say, 'I figure I have a cannon so why not shoot it?'," Beckham said. "We have a cannon for one more year and we are going to shoot it from time to time. He was playing really well, he was getting open so we got him the ball."
Rated No. 3 overall in the
ESPNU 150
, Green-Beckham showed why he is generally considered the top receiver in the nation with his game-changing performance.
"I had some ups and downs but I came out and did the best I could do," Green-Beckham said. "I made big plays for the team and tried to play my part, do the best I could do for my teammates."
Productive but not perfect
Hillcrest quarterback
Matt Futrell
had a productive, but not perfect, game while leading his squad to a double-digit victory. The senior finished 28 of 47 pass attempts for 473 yards and five touchdowns but also threw three interceptions.
He was pleased with the win but knows he'll have to improve when Hillcrest travels to Arkansas to play Rogers (Ark.) Heritage on Sept. 1. "I had a pretty good night but I can definitely improve a lot," Futrell said. "I just have to improve next week, stay focused and get better."
Biggest play not made by DGB
Hillcrest sophomore
Juwan Johnson
made a huge play for the Hornets. With his team holding a 7-6 lead early in the second quarter, Johnson caught a slant pass then raced 72 yards down to the Seneca three-yard line.
Stuart Andress'
three-yard touchdown run gave Hillcrest a 14-6 lead and Seneca could not cut the lead under double digits for the rest of the game.
Overlooked Stars
With their offense putting up 48 points in the victory, the Hillcrest defense was the overlooked unit against Seneca. The Hornet defense allowed 218 total yards, including 84 rushing yards, and recovered two fumbles. They allowed 4.4 yards per play and held Seneca to 2.2 yards per rushing attempt.
"The defense did an outstanding job," Futrell said. "They were put in tough situations and got us the ball back."
Senior linebacker
Donovan Mathis
led the way for the Hornet defense with 10 tackles while senior linebacker
John Taylor
had seven tackles, including four sacks and one pass breakup.
Brandon Chatmon is a staff writer for SoonerNation.com