High-SchoolFootball:

New Jersey
March, 1, 2012
3/01/12
9:38
AM ET
By
Brandon Parker
| ESPN.com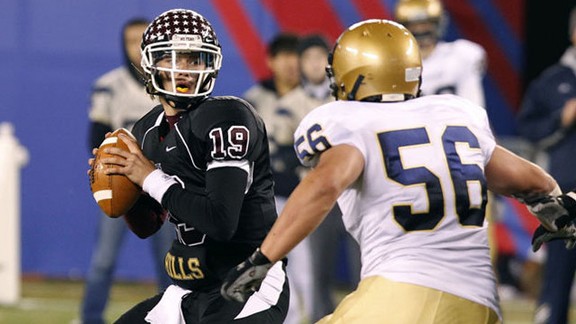 Courtesy of Wayne HillsWayne Hills (Wayne, N.J.) junior quarterback Kevin Olsen threw for 1,686 yards and 20 touchdowns last year in leading the Patriots to their second consecutive North 1, Group 3 championship.
Throughout this offseason, we'll spotlight Class of 2013 quarterbacks who have a shot at making the Elite 11 finals in July. This week we profile Wayne Hills (Wayne, N.J.) signal-caller Kevin Olsen.
Elite 11 Watch Archive
For someone like
Kevin Olsen
, it probably seems as if his future was lined up long before he uttered his first word. His dad is the long-time football coach at Wayne Hills (Wayne, N.J.), his brother
Greg
is a tight end for the Carolina Panthers, and his other brother Christian was a quarterback at Virginia.
But as Olsen's dad puts it, his youngest son doesn't just play quarterback; he is a quarterback.
"I like that he has the attitude and make-up of a quarterback," Chris Olsen said. "A lot of kids play quarterback or want to be a quarterback, but when you find a kid who can pass the ball -- not just throw it -- and have the little intangibles out there, that's special. And that's Kevin."
It certainly doesn't hurt that Kevin has had the privilege of training with the Chicago Bears during Greg's days with the team, all while gleaning tips from offensive guru Mike Martz and star quarterback
Jay Cutler
.
"One of the the biggest difference between Kevin and other players is that he's got the advantage of having his two older brothers play at high levels," Chris Olsen said, "so he's seen a lot, heard a lot and been to a lot of places. Those are all contributing factors to him progressing so well."
Olsen showed the fruits of these experiences last season. Despite directing a run-first offense, the junior and
ESPNU 150 Watch List
signal-caller completed nearly 61 percent of his passes for 1,686 yards and 20 touchdowns in leading the Patriots to their second straight North 1, Group 3 championship.
As Olsen prepares for his upcoming senior season, he took some time to talk about his past success, notable pedigree and what it takes to be an elite quarterback.
ESPNHS:
What was the key to your team winning its second straight title?
Olsen:
We work extremely hard at Wayne Hills. We're in the weight room everyday, we practice hard and there's no playing around. We're here to win and it's nice to see our hard work pay off.
ESPNHS:
Personally, how did the second championship compare to the first one?
Olsen:
The first time was great, but this year was definitely better for me personally. I thought I played a bigger role than when I was a sophomore. I helped carry the team a little more and was able to make a couple big throws when we needed it.
ESPNHS:
What are your strengths as a quarterback?
Olsen:
I'm good at the quick game. I've got down the three-step drop and can throw it deep. I've also gotten good on play-action passes where I can get the corners or safeties to jump. I can also play in the shotgun.
ESPNHS:
What are some things you are working on improving?
Olsen:
I want to improve my strength as a whole, which will help my arm strength. I also want to work on my footwork and just my overall understanding of the game.
ESPNHS:
What's it like having your dad as your high school coach?
Olsen:
I like it. Some kids may say they hate it, but I like it a lot. I feel like I have an edge compared to other guys because my dad can give me little hints at home that other guys might not get from their coach.
ESPNHS:
What's it like to have brothers who have played in college and the NFL?
Olsen:
It's awesome. Having the two of them go through Wayne Hills and be superstars and then play major college football makes me feel like it's something I can also achieve.
ESPNHS:
What type of advice have they given you about playing at the next level?
Olsen:
They say get to know the coaches, get to know the place. They said it's important to get a feel for the players and how they interact with each other. You want to make sure it's a place where you'll enjoy being for the next four years of your life.
ESPNHS:
What are some memorable experiences you've had being with your brothers in college or NFL environments?
Olsen:
I've been in a lot of college locker rooms and I've also been in the Bears and Panthers locker rooms, meeting some of the players. When Greg was in Chicago, I had a good relationship with Jay Cutler. We would text back and forth and he'd give me some tips like my brothers do.
ESPNHS:
What was your experience like at last year's Elite 11 regionals?
Olsen:
I went to the ones in Orlando and Penn State and they were both awesome. I really liked getting to know the guys and learning new things. Everybody has a way of teaching, so you take a little bit from the guys and put it into becoming the total package as a player.
ESPNHS:
What would it mean to you to be selected to the Elite 11?
Olsen:
It would be tremendous. I can tell from the TV show that it's hard. They give you a playbook and say you have to know it, and if you don't, it's going to show. That's a big challenge, but a good one to have.
ESPNHS:
How many offers have you gotten and where does your recruitment stand at this point?
Olsen:
I've gotten roughly 25 offers from schools like Stanford, Miami and Florida State. I've seen Miami and Florida State, but I feel like I need to see more schools before I can figure out which schools I like and want to put on my final list.
ESPNHS:
What else do you have planned for the offseason?
Olsen:
Just working hard on those things I mentioned, like footwork and arm strength and my body weight. I'll be throwing with my teammates, getting back into the flow so we can win as many games as possible. Hopefully, we can get another state championship and go out on a positive note.
School:
Wayne Hills (Wayne, N.J.)
Position:
QB
Class:
2013
2011 Team Record:
11-1 (won second straight North 1, Group 3 title)
2011 Stats
Completions-Attempts:
124-205 (.605)
Yards:
1,686
TD:
20
INT:
6
Brandon Parker covers high school sports for ESPNHS magazine and ESPNHS.com. Follow him on Twitter @brandoncparker or email him at brandon.c.parker@espn.com.
November, 22, 2011
11/22/11
10:06
AM ET
By
Brandon Parker
| ESPN.com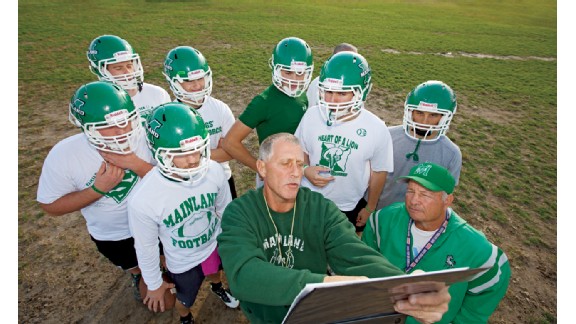 Steve Boyle/ESPNHSMainland Regional (Linwood, N.J.) football coach Bob Coffey gives his players instructions during an October practice. The Mustangs lost four of their teammates in a tragic preseason car accident.
This story originally appeared in the Holiday issue of ESPNHS magazine.
At a time when the Mainland Regional (Linwood, N.J.) community was grasping for a sense of normalcy, there was no escaping the fact that its world was off kilter.
A rare earthquake rattled the East Coast. Floodwaters engulfed the area as Hurricane Irene blew through town. But perhaps nothing sent that message more clearly than the four funerals of four teenage boys that took place in a surreal 10-day span.
On Aug. 20, as eight Mainland football players headed to a post-practice meal, the SUV they were riding in went out of control and flipped several times on the Garden State Parkway. Four players — Casey Brenner, Edgar Bozzi, Nicholas Conner and Dean Khoury — died in the crash.
"We had all of those things going on around us, but our players, coaches and school had four brothers to bury," Mainland coach Bob Coffey said. "It was one of the hardest moments of my entire life. I could live 10 lifetimes and probably never experience a tragedy like that."
In times like these, sports are often used as a refuge. But for a tight-knit community like Linwood, where Friday night football is king, it wasn't always so easy.
On game day, the players used black socks and helmets with decals to honor their fallen teammates. And even though competitive juices churned during the game, the Mustangs' opponents made a point to show their support. In the opener, Hammonton (Hammonton, N.J.) lined up to high-five the Mustangs as they ran onto the field. Meanwhile, each team in the Cape Atlantic League has worn commemorative decals on its helmets.
Initially, on-field success was hard to come by for the six-time state champion Mustangs, who started 0-2 before beating Ocean City (Ocean City, N.J.) on Sept. 23. And after holding a moment of silence before their first two games, the players found the pain too upsetting to continue the well-intentioned act. Still, the Mustangs pressed on and will close out their season Thursday in a Thanksgiving matchup against Egg Harbor Township (Egg Harbor Township, N.J.).
"It's a roller coaster of emotions," says Mainland athletic director Mike Gatley, whose first week on the job was the same week as the accident. "You remember some positives, but there's also some anger. Why did this happen to young guys in the prime of their life? But the community and players have really rallied together."
Before practice, when Coffey calls the roll, he still mentions the names "Bozzi," "Brenner," "Conner," and "Khoury," to which the players respond with a resounding "Here!" On Thursdays, the Mustangs' weekly pasta dinner is attended by the victims' parents, giving the players a welcome connection to their brothers while reassuring them that their parents' hearts remain strong.
Unfortunately, no sign of camaraderie is powerful enough to bring their teammates back. But with every tribute and display of resilience, the spiritual presence of their fallen friends pushes the community a bit closer to that often elusive feeling: normalcy.
"On Bozzi's birthday [Oct. 5], our players started something cool while we were running sprints. They said, 'Let's run these for Bozzi,'" Coffey recalls. "I thought it was great because they ran harder than they usually would; they ran with passion. It was a real good way to put a positive twist on a tragic event.
"Things like that show the character of these players and the incredible strength of our community."
Brandon Parker covers New Jersey for ESPNHS magazine and ESPNHIGHSCHOOL.com. Follow him on Twitter @brandoncparker or email him at brandon.c.parker@espn.com.