High-SchoolFootball:

Ohio State football recruiting
June, 18, 2012
6/18/12
8:38
AM ET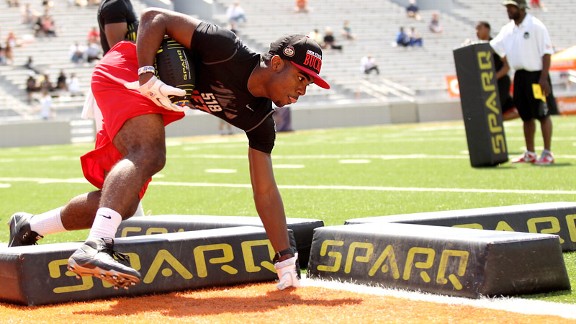 Tom Hauck/ESPNHSJohn Burroughs (St. Louis) running back and Ohio State commit Ezekiel Elliott earned one of five invitations to The Opening at the Champaign NFTC.
Ezekiel Elliott
was a relative unknown heading into 2012.
Last season, the 6-foot, 200-pound running back rushed for 1,802 yards and 34 touchdowns on 211 carries (8.5 yards per carry) and scored 42 total touchdowns while leading John Burroughs (St. Louis) to a Class 3 state runner-up finish.
Yet, Elliott was barely a blip on the national radar. A big reason why is that Elliott had never attended a national combine or camp, choosing instead to focus on his other passion during the offseason — track.
But it all started to change this spring when Elliott began to receive serious football interest from big-time college programs. And on April 1, he committed to Ohio State over Missouri, where his dad played football and his mom ran track, and Notre Dame.
The No. 255 recruit in the
ESPN 300
, Elliott followed his commitment by attending his first major football camp, the Nike Football Training Camp in Champaign, Ill. There, Elliott
was named running back MVP
and earned invitations to both The Opening and Champion Gridiron Kings.
So what's this Buckeyes commit got planned for the rest of the summer?
Get Familiar
with Ezekiel Elliott.
ESPNHS: Why did you never attend a football camp before this spring?
Elliott:
It's something I didn't think was very important. I could have went to some if I wasn't getting the looks I was getting. Also, I'm a track guy, so I'm competing at meets every weekend. I went to Champaign because of The Opening. I had seen it on TV and I was hearing about it from the other recruits. And then I heard from all the Ohio State guys who were going. It's a great chance to go out and compete. I'm not necessarily ranked among the top guys in the country. It's a great way to improve my ranking, compete and have fun.
ESPNHS: What did it feel like when you received The Opening invite?
Elliott:
It felt great. Last summer, I wasn't on anybody's radar. To think in a year's time that I'd be invited to The Opening and Gridiron Kings is incredible. It just shows that hard work pays off.
ESPNHS: You ended up missing most of your sophomore year with a broken collarbone. How tough was that to deal with?
Elliott:
I broke my collarbone during the fourth game of my sophomore year. I had eight touchdowns at that point. It was tough to have to watch. My guys did great and made it to the state championship. But it was tough not being able to be physically part of the games.
ESPNHS: Your team lost in the state final for the second straight year last fall. How much has that motivated you and your teammates this offseason?
Elliott:
It was very heartbreaking. It's something I still think about every day. Now we know what it takes to get there and not get what we want. We just have to work hard, stay humble and stay motivated.
ESPNHS: You're also a track star. Are you planning on running track at Ohio State and why do you love running so much?
Elliott:
Running track has been in the conversation. I'm going to try it my freshman year and see how it goes. I just love to compete. Track helps me stay in shape, and being a hurdler helps my flexibility and my hips. I just can't sit out a season. I also play basketball during the winter. I've been doing this since I was 7. I also run summer track and two-a-days start for football on Aug. 6. It just doesn't feel right for me not to be physically active.
ESPNHS: What led you to pick Ohio State on April Fool's Day?
Elliott:
Nobody thought I was serious. I narrowed it down to three schools — Ohio State, Mizzou and Notre Dame. I visited each school twice. After I came back from the second visit at Ohio State, I sat down with my parents. It was tough. We wanted to wait it out, but it became overwhelming. When we came back from Ohio State, we talked about it and I woke up (the next day) and committed to Ohio State. I called coach (Urban) Meyer and told him I wanted to be a Buckeye. It felt great.
ESPNHS: How much did your parents help you through the process?
Elliott:
I wouldn't be where I am without my mom. She drives me to every practice and every game. My dad has been there for me, too. My dad played football at Missouri and my mom ran track at Missouri, but they supported me in every decision I made. They both love Ohio State. They'll still be rooting me on. I credit everything I've accomplished to them. It's great to have two parents who support you. I'm grateful for everything they've done.
EZEKIEL ELLIOTT
School:
John Burroughs (St. Louis)
Class:
2013
Position:
Running back
HT:
6-0
WT:
200
College:
Ohio State
FAVORITES
TV Show:
"Criminal Minds"
Movie:
"Air Bud"
Musical Artist:
J. Cole
Athlete:
Lolo Jones
Pro Team:
Miami Heat
School Subject:
Physics
Food:
Fried chicken
May, 2, 2012
5/02/12
9:44
AM ET
By
Christopher Parish
| ESPN.com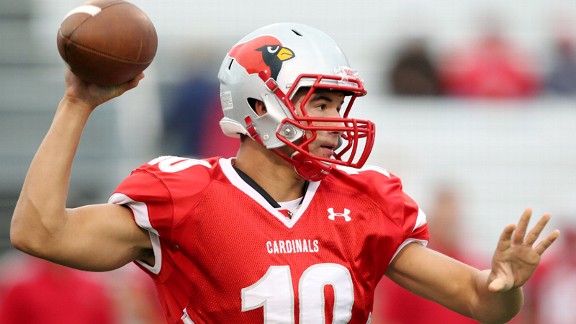 The Plain Dealer /LandovMentor (Ohio) junior quarterback Mitch Trubisky will look to show off his dual-threat skills at the Columbus Elite 11 on Friday.
Throughout this offseason, we've spotlighted Class of 2013 quarterbacks who have a shot at making the Elite 11 finals in July. This week, we profile Mentor (Ohio) junior Mitch Trubisky, who will compete in the Columbus Elite 11 regional in Ohio this Friday.
It's been a whirlwind junior season for Mentor (Ohio) quarterback
Mitch Trubisky
, and he's enjoying every minute of it.
The stellar signal-caller set multiple school records this season, won numerous accolades including Division I co-Player of the Year honors by The Associated Press, helped his team win 11 games and earn a berth in the regional finals, and to top it off, he's earned some pretty impressive scholarship offers, including one from reigning BCS national champion Alabama.
As if that wasn't enough, Trubisky is rated the nation's No. 7 dual-threat quarterback by ESPN. In Trubisky's mind, he's simply out there to make plays and doesn't care if that's with his arm or his feet.
And he certainly got the job done last season, throwing for 3,845 yards and 41 touchdowns and running for 611 yards and 12 more scores. On Friday, he'll put his stats – and his skill set – to the test against some of the area's most impressive quarterbacks at the Elite 11 regional competition in Columbus, Ohio.
But before he takes on the competition, get to know Mitch Trubisky.
ESPNHS: How's the offseason going? What have been some of your biggest goals this spring?
Trubisky:
It's going well. Lately I've been lifting with the team – we lift after school together – and the weather's been great, so I've been getting out and throwing passing patterns to my receivers. I run the offense and we run their routes. My arm is getting stronger and I'm doing some speed training on the side as well as putting on some pounds.
ESPNHS: It must be tough to get faster and put on weight at the same time, right?
Trubisky:
It's a slower process for sure. If you put on too much weight too quickly, you are too slow, so it's a gradual process. But those are always two things that will help out in the fall. You can never be too strong or too fast.
ESPNHS: Anything else you've been working on?
Trubisky:
I've been watching a lot of film from last season. One of the things I want to do is know what everyone else's jobs are and knowing what the defense is going to give us, so I can help my teammates be the best they can be as well as getting better myself.
ESPNHS: You're going to be at the Elite 11 regional this weekend. What are some of the things you're looking forward to about this competition?
Trubisky:
The Elite 11 competition is awesome. I'm surprised at how big it's become. If you're a big-name QB, you want to get into this competition. I'm excited to compete and give it my best, and hopefully things will work out. It should be really exciting.
ESPNHS: What are some things you really want to showcase at the event?
Trubisky:
I hope people can see my foot work and my arm strength and how accurate I am. I want to show people that I can throw the ball hard but be accurate with it as well.
ESPNHS: You're rated as a dual-threat quarterback. Do you consider yourself a dual-threat QB?
Trubisky:
Everyone asks me that. I guess you'd say dual threat, but I don't really have a preference. I do whatever I have to for my team to be successful. If that means pulling it down and getting some yards with my feet, I'll do whatever I can do.
ESPNHS: Is there one quarterback you model yourself after or that you like to watch?
Trubisky:
I like to watch Aaron Rodgers and try to mimic what he does. I think he knows the game really well, he's always a step ahead of the defense, and he's so accurate. He's got one of the quickest releases of any quarterback. It's fun to watch.
ESPNHS: Give us an update on your recruiting. How are you enjoying the process so far?
Trubisky:
It's going really well. I'm taking it slow. I don't know how far I am into the process, really. I don't know when I'll commit. A lot of schools are showing interest, and I'm excited to keep this thing going. When it's time to decide, I'll know it's right, and then I'll let everyone know. But I'm having fun with it and taking it slow. There's been a few schools who have talked to me just recently and others who have been talking to me for a long time. I think right now, Alabama, Tennessee, Michigan State and Ohio State are my favorites, but I'm definitely keeping it open, because I know other schools are still looking at me.
ESPNHS: Finally, tell us a little bit about this fall. What are you looking forward to most?
Trubisky:
My ultimate goal is to help us be the best team that we can be this year. I want to take my team to states and bring back a state championship and just be a great team player. The numbers don't really matter to me. If my team has success, I'm sure I'll have success. I'm just looking to have a lot of fun in my senior year.
Mitch Trubisky
School:
Mentor
Position:
QB
Class:
2013
2011 Team Record:
11-2 (lost in regional final)
2011 Stats
Passing Yards:
3,845
Passing TDs:
41
Rushing Yards:
611
Rushing TDs:
12
February, 27, 2012
2/27/12
9:34
AM ET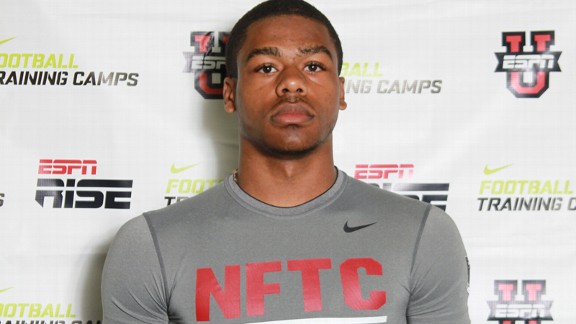 Tom Hauck/ESPNHSTrotwood-Madison (Trotwood, Ohio) junior cornerback and Ohio State commit Cam Burrows helped lead the Rams to their first state title this past fall.
When
Cam Burrows
began playing football in the second grade, his father started asking him where he wanted to go college.
Burrows' answer then was Ohio State, and it was the same every other time his father inquired.
And on Jan. 15, when Burrows was in Columbus, Ohio, on an unofficial visit, his answer was once again the Buckeyes. Only this time he was telling Urban Meyer.
Burrows, now a junior cornerback at Trotwood-Madison (Trotwood, Ohio), made the
commitment
public four days later at an assembly at his school with his mom and dad by his side.
Dressed in a black suit with a red shirt and red-and-gray striped tie, the
ESPNU 150 Watch List
member started thinking during his announcement about the time his family was driving through Columbus when Burrows was nine. His dad, knowing his son was a big Buckeyes fan, stopped in the parking lot of the Horseshoe to show him where Ohio State plays.
It's something Burrows says he'll never forget, especially since he'll be playing in that same building starting in the fall of 2013.
This past fall, Burrows earned All-Ohio first-team honors after tallying 46 tackles, 12 pass breakups and four interceptions and helping Trotwood-Madison win its first state title and finish the season No. 40 in the
POWERADE FAB 50
.
Burrows, who has a 3.5 GPA, said he plans on graduating early and enrolling at Ohio State in January. And with his commitment out of the way, he can now focus on leading the Rams to another state crown this fall.
Get Familiar with this future Buckeye.
ESPNHS:
When did you first realize you could play football at an elite level?
Burrows:
My freshman year I started out as a wide receiver, but I got hurt. When I came back, they had me on the scout team and I was burning the varsity defensive backs. One of the assistant coaches pulled me aside and said, "If you keep this up, you'll be playing on Sundays." That made me work harder and push through my workouts.
ESPNHS:
What's your favorite part of playing cornerback?
Burrows:
I just like the challenge of being on an island all alone. Whether it's zone or man or press, I like to get up in your face and be physical. I watch
Patrick Peterson
,
Tyrann Mathieu
,
Darrelle Revis
and
Morris Claiborne
. And
Will Allen
, who used to play at Ohio State and now plays for the Pittsburgh Steelers, is my mentor. He helped me with my recruiting process in terms of how to talk to coaches. It was a very big help.
ESPNHS:
What type of mentality do you have to have as a cornerback?
Burrows:
You have to have confidence and a short memory. Everyone is going to get beat. It's just a matter of how you handle it. In the state championship game, the wide receiver did a comeback. I swatted at it, but he still caught it for a touchdown. I was like, "Wow, how did he catch it?" When that happens, you can't keep going over it. It's over.
ESPNHS:
What was it like winning the first football state crown at Trotwood-Madison?
Burrows:
It was so great because my brother, Chris (who runs track at Arizona State), won a state title in track and wore his medal around the house. I told him that I'd be getting mine soon. It was great getting to bring something home. It meant a lot to the community. We had a pep rally and the gym was full.
ESPNHS:
How does this team stay hungry after winning state?
Burrows:
We know that everything isn't promised. We know everyone is gunning for us. We just have to play like we have a target on our backs. This year was good, but it would be great if we could do it again.
ESPNHS:
Why did you pick Ohio State and why so early?
Burrows:
I've always been an Ohio State fan growing up and it just topped it off when Urban Meyer got there. When I went on my unofficial visit and I was at the basketball game against Indiana, it just felt right. I want to win Big Ten championships and national championships. I feel like big things are going to come to Ohio State, and I want to be a part of it. I feel very relieved to be able to focus on school and not have to worry about where I'm going.
ESPNHS:
Why graduate early?
Burrows:
I have to take English 12 this summer and I'll graduate in December. It will give me an advantage of getting ahead of my schoolwork and maybe be able to play as a true freshman. I have my goal, and that's to make it to the NFL. I'm going to do whatever I can to achieve that goal.
ESPNHS:
Who do you credit the most for getting you to this point?
Burrows:
My parents and my brother. Just competing with my brother my entire life challenged me. My parents have always been there for me and pushed me to get good grades and to be successful. I don't think I could have gotten here without them. They're very excited I'm staying close to home.
CAM BURROWS
School:
Trotwood-Madison (Trotwood, Ohio)
Class:
2013
Position:
Wide receiver/cornerback
HT:
6-1
WT:
195
College:
Ohio State
FAVORITES
TV Show:
"SportsCenter"
Athlete:
Patrick Peterson
School Subject:
Math
Team:
Philadelphia Eagles
Food:
Chicken Parmesan