High-SchoolFootball:

Oklahoma football
October, 25, 2011
10/25/11
11:19
AM ET
By
Brian Stumpf
| ESPN.com
Talk about making an entrance. On Sunday, Dallas Cowboys rookie and third-string running back at the beginning of the season DeMarco Murray, ran for 253 yards against the St. Louis Rams, breaking Emmitt Smith's single game rushing record for a Dallas Cowboys running back of 237 yards (set at Philadelphia against the Eagles on October 31, 1993). The record total included a first-quarter 91-yard touchdown run that is second longest in Cowboys history, after a NFL-record 99-yard run by Tony Dorsett in January 1983. Sunday was Murray's first start as a pro after Felix Jones was injured the prior week versus the Patriots, but if his record-setting day is any indicator, it won't be his last start. Today we take a look back at Murray when he was in high school with an ESPNHS Alumnus of the Week feature.
DeMarco Murray attended Bishop Gorman in Las Vegas, a school that is now a national power currently sitting at No. 9 in the POWERADE FAB 50 rankings, but was just building as such with the help of Murray and others in the mid-2000s. Murray was a star from the beginning of his Gael career as a sophomore in 2003, when he rushed for 1,395 yards and 17 touchdowns to earn all-conference honors.
A year behind another top notch recruit at Gorman, LB Ryan Reynolds who went onto a solid career at Oklahoma, Murray was no secret after his breakout sophomore campaign, especially when he showed up at the 2004 Stanford Nike Camp and posted the ninth-fastest 40-yard dash time at 4.49 seconds out of over 500 participants. Current NFL wideouts Desean Jackson (4.43) and Brandon Gibson (4.46) were a few of the handful who bested Murray in the 40 that day, but his star was clearly on the ascent, as he landed early offers from the likes of Oklahoma, Florida, Nebraska and Wisconsin prior to the start of his junior season that fall.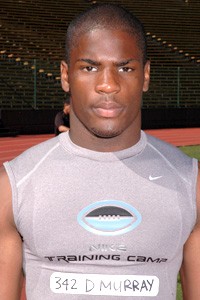 Tom Hauck/ESPNHSDeMarco Murray, who ran for a Cowboys' record 253 yards on Sunday, shown here at the 2005 Stanford Nike Camp, where he clocked a 4.52 40-yard dash.
Murray didn't disappoint as a junior, rushing for 1,271 yards and 12 touchdowns on just 138 carries in eight games while also catching 19 passes for 223 yards to earn ESPNHS Junior All-American honors. He returned again to the Stanford Nike Camp in May of 2005 to once again post one of the event's fastest 40s (4.52 on a slow track, eighth-best out of 500-plus competitors). The then 6-foot, 183 pounder also showed his terrific pass-catching ability to dominate in drills, a pre-cursor of what would come in his college career.
As a senior in the fall 2005, Murray rushed for 1,947 yards and 27 touchdowns and also caught 22 passes for 624 yards and 7 touchdowns, earning him ESPNHS All-American honors, all-state honors and the 2005 Sunset Region Offensive Player of the Year award. He even chipped in 64 tackles, three sacks and two interceptions on the defensive side of the ball to lead Gorman to a 9-3 record. Murray visited Florida, Oklahoma, USC and Penn State before selecting the Sooners during the 2006 U.S. Army All-American Bowl.
Considered one of the top running backs of his class alongside Chris Wells, C. J. Spiller and Michael Goodson, Murray was rated the nation's top RB and No. 6 overall in the ESPNU 150 for the Class of 2006 by ESPN, the nation's No. 2 all-purpose back and No. 35 overall player by Rivals.com and the nation's No. 8 RB and No. 37 player overall by Scout.com.
Brian Stumpf is the director of football events for ESPN HS. You can follow him on Twitter at @BrianStumpfESPN.
October, 11, 2011
10/11/11
4:39
PM ET
By
Mark Tennis & Doug Huff
| ESPN.com
Since the FAB 50 concept for national high school football rankings began in 1999, there has been an Oklahoma team listed every week in every season. That's more a testament to the dominance of the programs at Union (Tulsa, Okla.) and Jenks (Jenks, Okla.), but in this week's FAB 50 neither school is ranked and no other school from Oklahoma is mentioned, either.
Jenks dropped out of the FAB 50 due to a lopsided 41-19 loss to Union earlier this season. Then this week, the Redskins had to fall out after dropping a 41-38 contest to two-loss Owasso (Owasso, Okla.).
It's hard to determine if Oklahoma's absence in the high school national rankings is similar to Florida as a state being left completely out of this week's Associated Press top 25 for college football for the first time since Dec. 6, 1982. It might be close, however.
Even before Union and Jenks became dominant programs in the mid-1990s, Oklahoma has always seemed to have unbeaten highly-ranked teams. Midwest City had back-to-back top 10 nationally ranked teams in 1994 and 1995 while Eisenhower of Lawton was No. 3 in the nation in 1990.
Other significant states that currently have no teams in the FAB 50 are:
Arkansas – Look for Bentonville (6-0) to break in very soon, however.
Hawaii – Both traditional powers St. Louis of Honolulu and Kahuku have fallen off in recent years.
Mississippi – This state was home last year to South Panola of Batesville, which was No. 2 in the final FAB 50 rankings.
Missouri – The loss by Rockhurst (Kansas City) last week to Jefferson City caused the Hawklets to go out while not enough other teams lost for Jefferson City to go in.
New York – It's never been known for football and top teams from New York have tended not to fare well in games against teams from other states.
Wisconsin -- Both defending D-1 (Waukesha West) and D-2 (Waunakee) champions are in Midwest Region rankings and one could emerge later when the smoke clears.
Here is the rest of this week's edition of Inside the FAB 50:
SPOTLIGHT PLAYER OF THE WEEK
Landon Collins, Dutchtown (Geismar, La.)
The 6-foot, 205-pound senior was rated as Louisiana's top college prospect entering the season as a touted defensive safety.
This fall, however, Collins has emerged as an all-around player after leading the offensive unit in rushing and scoring while the Griffins won their first six games and have joined the FAB 50 this week at No. 47.
Last weekend, he rushed only 12 times but gained 156 yards and scored two touchdowns in a 48-14 win over St. Amant (St. Amant, La.). It also pushed the Griffins' record to 6-0.
This Friday, he will lead the state's top-ranked team against East Ascension (Gonzales, La.).
Meanwhile, Collins has listed five colleges for official recruiting visits -- Alabama, LSU, Florida, Tennessee and Texas. He plans to announce his choice in January.
HIGHEST RISING NEWCOMER OF THE WEEK
No. 16 Miramar (Miramar, Fla.)
The unbeaten Patriots earned a FAB 50 ranking spot the old-fashioned way last weekend by upending previous No. 2 ranked and defending FAB 50 champion St. Thomas Aquinas (Fort Lauderdale, Fla.) 27-20 in overtime.
That win vaulted Miramar from the Southeast Region bubble into the national list for the first time since 2009 when the Patriots capped a 14-1 record with a state title. That 2009 team also earned a victory over St. Thomas Aquinas.
The current group of Patriots, coached by former West Virginia University linebacker Damon Cogdell, is led by a stiff defensive unit that allowed only two touchdowns prior to last week's win. A balanced offensive attack led by quarterback Cameron Hudge, who has passed for 908 yards and nine scores, also has been a factor.
After the stunning upset over their backyard rival, Miramar hopes to continue the momentum with a home game Friday vs. Boyd Anderson (Lauderdale Lakes, Fla.).
LOOKING AHEAD: NEVER TOO SOON TO THINK ABOUT 2012
With numerous games shown on ESPN, ESPN2 and ESPNU each season, part of the process in selecting which teams to feature is to begin the previous season.
For example, we can already identify several squads loaded with top underclassmen this season that will be considered to have games aired nationally next season.
A final list won't come until later, depending on how these teams finish up in their various state playoffs, but here's a few on the radar:
Armwood (Seffner, Fla.) – One good thing about Florida-bound running back Matt Jones being out for the early games is that a number of younger players stepped up and performed well. Junior wide receiver/quarterback Alvin Bailey also is a major talent.
Butler (Matthews, N.C.) – Quarterback Riley Ferguson will be back for his senior season, along with several other talented players.
Trinity (Louisville, Ky.) – The Shamrocks are on pace to be in the top five of this year's final rankings and may be even better in 2012 with big-time receiver James Quick and quarterback Travis Wright among those expected to return.
Santa Margarita (Rancho SM, Calif.) – Coach Harry Welch loses highly touted tackle Max Tuerk, but just about everybody else will be back next season. This year's team starts this week No. 3 in California and No. 44 in the FAB 50.