High-SchoolFootball:

Oregon
January, 16, 2012
1/16/12
8:10
AM ET
By
David Auguste
| ESPN.com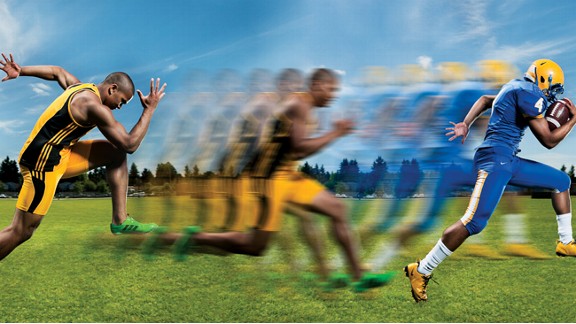 Quavondo /ESPNHSAloha (Ore.) junior running back and Oregon commit Thomas Tyner is also an elite sprinter.
Sometimes, things just don't go according to plan.
Take
Thomas Tyner's
junior season on the gridiron for instance. Coming off a huge 2010 season in which he helped produce the
school's first Class 6A title
, the Aloha (Ore.) running back set individual goals of 2,000 yards and 25 TDs and a repeat at state for his 2011 campaign.
His season started off with a bang as Tyner gashed Lincoln's defense to the tune of 198 yards and two scores in Week 1 then ripped Tualatin for 295 yards and a score a week later.
But then things began to go awry.
The Warriors lost their next two games and
Tyner
would miss significant time after suffering a concussion. He returned a few weeks later, but his comeback was short-lived as a fractured tibia ended his season.
The injuries derailed what could've been another monster year for Thomas, who tried to remain positive as his team limped to a 5-6 mark without him and were ousted from postseason play in the first round.
"It was very disappointing," said Tyner, who finished with nearly 1,200 yards and 13 total scores — well short of his season goals. "It hurt standing on the sidelines. Some of my best friends were seniors and not playing with them the entire season hurt."
There was a silver lining to the fall, however. Tyner alleviated a lot of stress from his upcoming season by
committing to the Ducks
. With that decision out of the way, Tyner has a new plan that's beginning to take shape.
The dual-sport star is switching his focus from an injury-riddled fall to repeating as the state's top sprinter during the track season and getting his body ready for the rigors of being a potential top 50 football recruit next fall.
"I love football and to be one of the top 50 players in the nation, you're really fortunate and blessed," says Tyner. "I don't think there have been a lot of top guys from here. It would be big for Oregon."
So make a plan to get familiar with this blur of a runner before he's putting Pac-12 cats on skates at Autzen Stadium.
ESPNHS:
How does your faith help you get through tough situations like this past season?
Tyner:
I go to church every Sunday and try to go to youth group on Wednesdays. My church buddies and family were all praying for me to heal. I also read my favorite scripture Philippians 4:13 a lot. I knew I just had to keep the strength and faith that the Lord would keep me strong though it all.
ESPNHS:
What can you take away from this past season?
Tyner:
It definitely served as a wake-up call. I think we got big heads after winning state and opening ranked No. 1. Going through the losses we went through, I think it will motivate everyone next year.
ESPNHS:
You're good friends with Lake Oswego RB Steven Long. He finished the fall with 38 TDs — think you can beat that?
Tyner:
He was amazing this year. [His season] gives me motivation for next year. I know he works hard, and I got to work as hard as him. But you're not going to get me to say I'm going to beat him. Haha.
ESPNHS:
I hear Oregon fans are pretty die-hard. Do you have any good stories?
Tyner:
Yeah. I was in my hotel elevator before heading to the Rose Bowl. This woman was on there wearing all Ducks gear. I asked if she was going to the game and she said, "Hell yeah." I told her I committed there recently and she said, "You're Thomas Tyner." I'm only a junior, and she was from Arizona, but she knew me. At the game, even little 5-year-olds were pointing at me.
ESPNHS:
What are you more excited about: Playing your first home game or getting to wear all of Oregon's different jerseys?
Tyner:
Home game! That Autzen feel is like none other. Playing in front of that crowd will be amazing. The excitement in the stands and energy in the stadium makes it special.
ESPNHS:
What about the jerseys, do you have a favorite?
Tyner:
The one from the BCS game against Auburn. Just the colors made it look hot. I don't know how many jerseys they have, probably 100, but I like them.
ESPNHS:
You're Oregon's fastest runner, but do you think you could beat (Oregon running back)
De'Anthony Thomas
in a race?
Tyner:
I don't know his best high school time, but I watched him play and he's fast. I won't say I'll beat him, but it would be a good race. Hopefully we'll make it on the relay squad together and qualify for nationals.
ESPNHS:
What's the deal with someone on Twitter saying you look like Trey Songz?
Tyner:
(Laughs) I didn't see that Tweet. But my ex-girlfriend said I look like him. He's my favorite artist. I model myself after him. He's a crazy dude, but a lot of ladies love and like him, so I have to agree with the comparisons. I don't even try to sing, though.
Thomas Tyner
School: Aloha (Beaverton, Ore.)
Class: 2013
Position: Running back
HT: 6-0
WT: 215
FAVORITES
TV Show:
"SpongeBob SquarePants"
Movie:
Any horror flick. I just saw "The Devil Inside"
Athlete:
Tyson Gay
Musical Artist:
Trey Songz and Chris Brown
Bible Verse:
Philippians 4:13
Actor:
The dude that plays Deebo (Tommy 'Tiny' Lister) from "Friday"
Former Duck:
Jonathan Stewart
Next Up:
Spring Track
September, 19, 2011
9/19/11
9:17
AM ET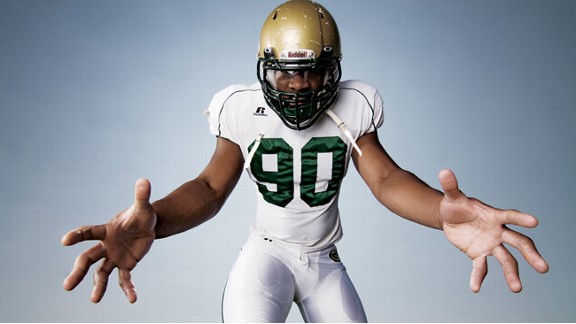 Ryan Gibson/ESPNHSGrayson (Ga.) junior Robert Nkemdiche might be the nation's top football player
Robert Nkemdiche certainly passes the eyeball test.
At 6-foot-5 and 270 pounds, he looks more like Julius Peppers than a high school student. The Grayson (Loganville, Ga.) defensive end plays like Peppers, too.
With his size, strength (he benches 340 pounds, squats 500 and power cleans 340) and speed (4.6 seconds in the 40-yard dash), Nkemdiche (pronounced kim-DEECH-ee) can do pretty much anything he wants against offensive linemen. Last year, he wreaked havoc in the trenches to the tune of 58 tackles, 23 tackles for loss and 18 sacks.
This season, he's faced a variety of game plans designed to prevent him from crushing the quarterback. Nevertheless, he's made a huge impact for Grayson, which is 4-0
and ranked No. 16
in the
POWERADE FAB 50 ESPNHS Team Rankings
.
Nkemdiche has also seen time at running back this season and ran for the game-winning touchdown in the Rams' season-opening win over Kell (Marietta, Ga.).
Oh, by the way, Nkemdiche is only a junior. And the superb skills he's shown at such a young age is why he's arguably the top player in the country, regardless of class.
Not surprisingly, a number of the nation's top college teams have taken notice. Nkemdiche is considering the likes of Mississippi (where his brother Denzel is a freshman defensive back), Alabama, Auburn, LSU, Miami, Florida, Florida State and Oregon, but he's yet to narrow down his extensive list of offers.
Right now, he's more focused on leading Grayson to a state title and is excited about the possibility of his mom, Beverly, watching one of his games this year. Beverly is a legislator in Nigeria and rarely has the opportunity to come home and watch her talented son play.
So what makes this man-child tick? It's time to Get Familiar with Robert Nkemdiche.