High-SchoolFootball:

Players of the Week
October, 27, 2011
10/27/11
10:11
AM ET
By
Mark Tennis & Doug Huff
| ESPN.com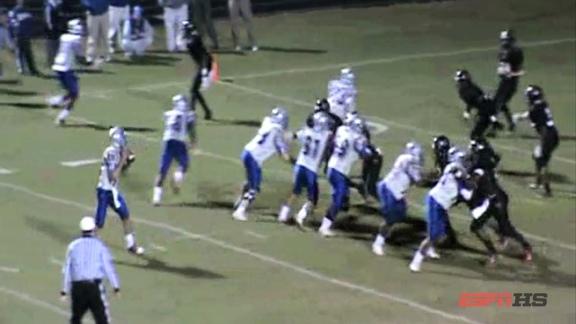 (After games of Oct. 20-Oct. 22)

One player is chosen from each region of the country. The only other criteria is that no player will be chosen more than once during a season.
EAST
Dane Brown, Franklin Regional (Murrysville, Pa.)
Promising junior running back who has had a breakout season so far rushed for 226 yards on 21 carries and scored three touchdowns to help his undefeated Franklin Regional (Murrysville, Pa.) team move into sole possession of first-place in the WPIAL Class AAA Keystone Conference. The junior enters this week's game against Greensburg Salem (Greensburg, Pa.) with 1,482 yards on the ground and 26 touchdowns with nearly 12 yards per carry on the season.
SOUTHEAST
Shuler Bentley, Byrnes (Duncan, S.C.)
The 6-foot-1, 180-pound sophomore quarterback had a first-half to remember in a 65-0 blowout rout of Hillcrest (Simpsonville, S.C.). He completed 21-of-31 passes for 288 yards and six touchdowns -- all with eight minutes left in the half -- as the Rebels led 42-0 at intermission. The six-TD effort was two short of the state record. After the opening game series came up empty, Bentley tossed for four touchdowns on nine plays, including three in a row, as the Rebels led 28-0 after a quarter. Shuler is the son of Rebels' offensive coordinator and athletic director Bobby Bentley, a former head coach who guided Byrnes to four straight state titles and numerous national rankings in the 2000s.
MIDWEST
Ian Woodworth, Marist (Chicago)
The 6-foot, 165-pound junior quarterback recorded his second straight eye-opening passing effort in a wild 56-51 victory over Joliet Catholic (Joliet, Ill.). He completed 35-of-45 passes for 557 yards and four touchdowns and rushed for a fifth score. A week earlier, in another shootout -- a 64-63 double-overtime win over Carmel (Mundelein, Ill.) -- he completed 33-of-51 aerials for 452 yards and eight TDs. His two-game totals entering this weekend are 1,009 passing yards and 12 scores. On the season, Woodworth also has passed for 2,598 yards and 28 touchdowns.
MIDLANDS
Jerame Littell, Stillwater (Stillwater, Okla.)
One week after Littell helped Stillwater to a big win against region-ranked Owasso (Owasso, Okla.), the 6-foot-4, 195-pound senior quarterback passed for seven touchdowns to lead the Pioneers past Enid (Enid, Okla.) 52-28. Littell, regarded as one of the top quarterbacks in the state, completed 15-of-25 passes for 288 yards. He also increased his season totals to 2,627 yards and 31 touchdowns. Littell has surpassed several Stillwater passing totals that were once set by Matt Holliday, currently playing in the World Series for the St. Louis Cardinals.
WEST
Jake LaCoste, West Albany (Albany, Ore.)
Just a sophomore, LaCoste put his name atop the all-time best single-game list for Oregon running backs by rushing for 508 yards on 39 carries and scoring five touchdowns as his team beat Silverton (Silverton, Ore.) 35-21. Despite missing the final 11 minutes of the game with a bruised knee and going against an opponent that like West Albany also was among the top 10 in the Class 5A state rankings, LaCoste broke the previous state record of 481 yards set in 1998 by Joel Williams of North Douglas (Drain, Ore.). LaCoste is following the path of older brother Anthony, who is now playing at Air Force. Anthony rushed for 6,419 yards and scored 87 touchdowns during his years at West Albany. Jake already has 1,589 yards and 17 scores this year so with two years to go it looks like older brother's records will be beaten by younger brother.
September, 1, 2011
9/01/11
7:41
PM ET
By
Mark Tennis & Doug Huff
| ESPN.com
One player of the week is chosen from each region of the country. No player will be chosen more than once during a season.
(After games of Aug. 25-27)

EAST REGION

David Sills, Red Lion Christian (Bear, Del.)
The freshman quarterback, who committed to USC as a seventh-grader, enjoyed a more than solid start to the season in guiding Red Lion Christian past defending Ohio Division V state champion Ursuline (Youngstown, Ohio) 54-18. Sills completed 17 of 21 passes against the host Fighting Irish for 221 yards and four scores. Red Lion Christian plays two more Ohio teams this season and also will meet teams from Virginia, Maryland, Florida and New Jersey. That could give the team and its quarterback more chances to impress.

SOUTHEAST REGION

Von Smith, West Oktibbeha (Maben, Miss.)
The junior quarterback recorded the third most prolific passing effort in state history with 532 yards in a 50-30 win over Montgomery County (Kilmichael, Miss.). Smith completed 20 of 23 passes with five going for touchdowns. The state mark is 562 yards. Smith's favorite receiver was senior wide receiver Dwight Quinn, who landed seven passes for 319 yards and four scores. Quinn's yardage total is second in state history, just nine away from the record. Smith passed for more than 2,900 yards and 29 touchdowns as a sophomore.

MIDWEST REGION

Eric VanSwol, NorthPointe Christian (Grand Rapids, Mich.)
In his first-ever varsity start, VanSwol played only one half in a 61-13 romp of Bridgman (Bridgman, Mich.), but set a state record with seven touchdown passes. In addition to breaking the record for most touchdown passes in a half, VanSwol also tied the state mark for scoring passes in a game held by several players, including Wes Leonard of Fennville last season. VanSwol also completed 19 of 21 aerials for 348 yards in his two quarters of play.


SOUTHWEST REGION

Dorial Green-Beckham, Hillcrest (Springfield, Mo.)
Well, we'll go ahead and get Green-Beckham chosen as a player of the week right off the bat. The freakishly-talented 6-foot-5, 220-pound wide receiver with sprinter's speed showed an ESPNU national TV audience why he's the No. 2 player in the ESPNU 150. He caught 18 passes for 284 yards and three touchdowns as Hillcrest defeat Seneca (Seneca, Mo.), 48-26. Green-Beckham achieved his career high for receptions in the game. Entering the season, Green-Beckham had career totals of 181 catches for 4,120 yards and 51 touchdowns.


WEST REGION
Chad Chalich, Coeur d'Alene (Coeur d'Alene, Idaho)
In his first outing of the season, Chalich, who led Couer d'Alene to last year's Class 5A state championship, completed 28 of 34 passes for 384 yards and three touchdowns in a 37-24 triumph over Rocky Mountain (Meridian, Idaho). The 6-foot-1, 185-pounder is not a national recruit like Eagle, Idaho's Tanner Mangum. But while Mangum was out for most of last year with an injury, Chalich passed for 2,844 yards and 32 touchdowns and also ran for 541 yards and six more scores. Chalich also averaged 14 points per game last year for Coeur d'Alene's basketball team.