High-SchoolFootball:

POWERADE FAB 50 Football Rankings
June, 13, 2012
6/13/12
9:57
AM ET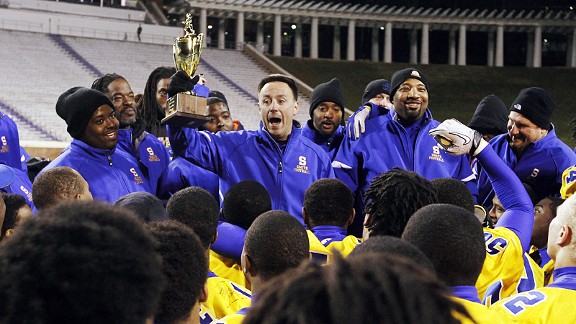 AP Photo/The Daily Progress, Sabrina SchaefferOscar Smith (Chesapeake, Va.) won the Group AAA Division 6 state title last season to finish No. 43 in the POWERADE FAB 50.
During the offseason, we'll check on one team per week that looks like a sure bet to be among the best in the nation this fall.
FAB 50 Offseason Primer archive
This week's team:
Oscar Smith (Chesapeake, Va.)
2011 Season:
14-1,
Group AAA Division 6 state champion
, No. 43 in the final
POWERADE FAB 50
.
Projected 2012 Preseason Ranking:
Top 50. The Tigers continue to produce touted skill players, and this season should be no different. At the head of the pack is
Zack Jones
, a wide receiver/defensive back who caught 49 passes for 993 yards and 16 scores as a junior. He has committed to Virginia, where his brother, Perry, is a team captain and running back. The Tigers have a chance to make a statement in August when they entertain South Carolina power Byrnes (Duncan, S.C.) in a showdown of defending state champions. Byrnes was ranked No. 30 last season in the FAB 50. Oscar Smith went unbeaten versus in-state competition in 2011 and reeled off 14 straight wins after losing to FAB 50 No. 21 Gilman (Baltimore). The Tigers have won eight straight district titles in the competitive Tidewater area and will be the team to beat again in 2012.
Team Strengths:
Besides Jones, the Tigers return the team's top tackler in pass-rushing defensive end
Kanyia Anderson
, who recorded 110 tackles, 22 sacks and forced six fumbles. Two touted underclass prospects include freshman running back DeShawn McClease and sophomore wide receiver Jaylen Bradshaw (5-11, 170). Both already are on the radar of college recruiters. Another running back gaining attention is junior
Marcus Smith
(5-8, 170). All three will need to step up to replace
J.C. Coleman
, who signed with Virginia Tech. The other main offensive concern is at quarterback with productive J.J. Williamson off to Hampton University. His backup,
Dashawn Blow
(5-8, 175), is primed for the job. Other players to watch include sophomore defensive lineman Drew Varner, sophomore linebacker Marquise Cook and freshman kicker Brad Davis.
Another Virginia team to watch:
Salem (Virginia Beach, Va.) gave Oscar Smith its biggest in-state scare last season before falling 35-34 in the Eastern Region Division 6 championship and finished 11-2 overall. The SunDevils return touted quarterback
Bucky Hodges
, a 6-foot-6, 225-pound junior who has committed to Virginia Tech. Hodges completed 64 percent of his passes last year for 2,142 yards and 26 touchdowns with only six interceptions. Leading the defense is top linebacker
Andrew Motu'apuaka
, who recorded 97 tackles and had three interceptions as a junior. When all is said and done in the Tidewater area, Salem could hold bragging rights over Oscar Smith and other contenders.
May, 30, 2012
5/30/12
9:58
AM ET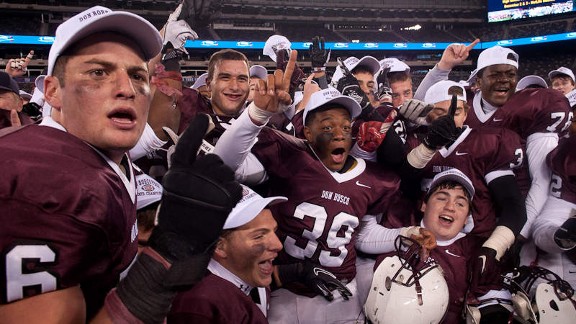 Jeff Skopin/ESPNNewYorkDon Bosco Prep (Ramsey, N.J.) won its sixth straight state title last season to finish No. 1 in the POWERADE FAB 50 for the second time in three years.
During the offseason, we'll check out one team per week that looks like a sure bet to be among the best in the nation this fall.
FAB 50 Offseason Primer archive
This week's team:
Don Bosco Prep (Ramsey, N.J.)
2011 Season:
11-0,
Non-Public Group IV state champion
, No. 1 in the final
POWERADE FAB 50
.
Projected 2012 Preseason Ranking:
Top 25. The Ironmen have an almost unmatched resume in recent seasons, winning six straight state titles, achieving three consecutive unbeaten seasons and earning two FAB 50 national crowns in the last three years. Don Bosco will take a 46-game win streak -- the second-longest active winning streak in the nation -- into the season. This year, the Ironmen will once again face a difficult schedule. Season-opening opponent Gilman (Baltimore) finished No. 21 in the FAB 50, while St. Thomas Aquinas (Fort Lauderdale, Fla.) was the 2010 FAB 50 champ and Alta (Sandy, Utah) is a strong program. Don Bosco could move up the FAB 50 ladder with early-season success against the non-Jersey foes, but it faces its biggest task in recent years. The Ironmen must replace several talented starters, including
ESPNHS All-American
and Rutgers recruit
Darius Hamilton
and sophomore running back/cornerback
Jabrill Peppers
, an
ESPNHS Underclass All-American
who transferred to Paramus Catholic (Paramus, N.J.). While coach Greg Toal's track record has to be respected in the preseason FAB 50 positioning, top 10 might just be too high in the early going.
Team Strengths:
The major strength of this fall's squad will be on defense, especially along the line, which returns standouts
Alquadin Muhammad
, who's the No. 145 recruit in the ESPN 150, and Razohnn Gross. Also expected back is junior linebacker Spencer Scannell and junior defensive backs Isaiah Hill and Justin Wimberly. The Ironmen won the FAB 50 crown with a first-year starter, Mike Yankovich, at quarterback. They'll have to do the same this year. Sophomore Eric Meile could be in line for the starting nod this fall. Sophomore running back Aaron Guzman could be another key offensive performer.
Another New Jersey team to watch:
Bergen Catholic (Oradell, N.J.) could be the team that ends of the domination of Don Bosco. Bergen Catholic's losing streak against the Ironmen is 10 games, but they did lead after three quarters in the first of last year's two losses. The Crusaders, however, have the returning personnel to get the job done. The veterans for coach Nunzio Campanile, a former Don Bosco coach, include quarterback
Jon Germano
, who passed for 2,359 yards and 31 scores for the 8-3 team; wide receiver
John Tsimis
, who caught 50 passes for 754 yards and 11 scores; top rusher James Dawson; and linebackers Parker Tobia and Dan Grasso.
May, 23, 2012
5/23/12
9:46
AM ET
By
Mark Tennis
| ESPN.com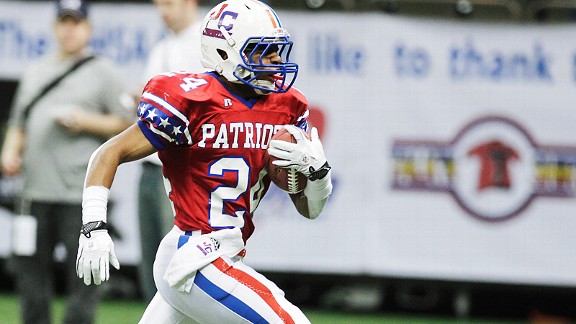 AP Photo/Bill HaberJohn Curtis (River Ridge, La.) sophomore running back Raekwon James helped lead the Patriots to their 24th state title this past fall.
During the offseason, we'll check out one team per week that looks like a sure bet to be among the best in the nation this fall.
FAB 50 Offseason Primer archive
This week's team:
John Curtis Christian (River Ridge, La.)
2011 Season:
14-0,
Class 2A state champion
, No. 28 in the final
POWERADE FAB 50
.
Projected 2012 Preseason Ranking:
Top 20. It was a historic season for the Patriots last fall, not so much for their 24th state title but when coach J.T. Curtis -- who has been leading the football program at the school named for his father since 1969 -- won his 500th game. Curtis became just the second coach in U.S. history to achieve that many wins and ended the season at 506-54-6. The only coach with more wins is 85-year-old John McKissick, who's still coaching at Summerville (S.C.). The numbers should continue to accumulate in 2012 and the national ranking could be much higher as well. Almost all of the top players from last year will be back. And if the Patriots get past probable FAB 50 preseason ranked Byrnes (Duncan, S.C.) at the Allstate Sugar Bowl Prep Classic in September, they could be pushing for the top 10 or higher.
Team Strengths:
Breakaway speed on offense and an outstanding linebacker-secondary corps on defense gives the Patriots much to build on. Offensively, junior running back
Sherman Badie
earned Class 2A all-state honors after rushing for 1,239 yards and 19 touchdowns on only 87 carries (14.2 yards per carry). Sophomore Raekwon James scored a pair of touchdowns in the 33-3 win over Winnfield (La.) in the state championship and ran for 761 yards and 11 scores on the season. And junior
Tevin Horton
rushed for 765 yards and 12 scores. Quarterback Abby Touzet is just a freshman, and although the Patriots are a team that doesn't throw much, he did gain valuable experience. Another plus on offense will be the return of lineman Anthony Taylor (6-7, 330), who is yet another of the team's major college prospects. Defensively, Class 2A Player of the Year
Duke Riley
will lead the returnees. The linebacker is perhaps John Curtis Christian's best overall player. Junior
Richard Allen
will lead the secondary.
Another Louisiana team to watch:
Karr (New Orleans) motored to an 11-4 season in 2011 and made it to the Class 4A state final, where it lost to Neville (Monroe, La.) 27-6. It was a Cinderella ride that should be followed up by a season of higher expectations since so many top players for the Cougars were underclassmen. Sophomore quarterback Devante Noil passed for 1,654 yards and 26 touchdowns and rushed for 772 yards and eight scores. Also returning will be tight end
Standish Dobard
, a Miami commit rated No. 131 in the
ESPN 150
, and
Noel Ellis
, who's
rated the nation's No. 17 cornerback by ESPN
. The defensive line for Karr should be tough as well due to the expected return of junior Titus Charles and standout sophomore
Gerald Willis
.
November, 21, 2011
11/21/11
9:46
AM ET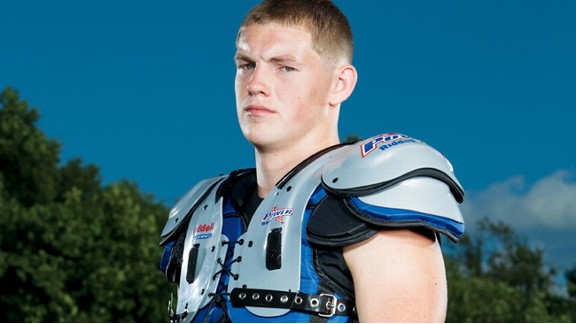 Steve Boyle/ESPNHSMike Strizak and POWERADE FAB 50 No. 1 Don Bosco Prep (Ramsey, N.J.) play on Thanksgiving Day.
Don Bosco Prep (Ramsey, N.J.) has held on to the No. 1 spot in the
POWERADE FAB 50 ESPNHS Team Rankings
all season long thanks in large part to its dominant defense, which has held opponents to just 78 points through nine games (9-0).
Spearheading that effort is senior defensive end
Mike Strizak
, a 6-foot-2, 230-pound Boston College commit. Strizak is projected to play inside linebacker at BC and is rated No. 39 nationally at the position by ESPNU.
This weekend Strizak returned his third fumble for a touchdown, setting a single-season team record, in a 42-3 win over Paramus Catholic (Paramus, N.J.) in the Non-Public Group IV state semifinals. The Ironmen will go for their sixth straight state title when they face Bergen Catholic on Dec. 2.
But before they do that, they'll battle rival St. Joseph Memorial (Montvale, N.J.) in their annual Thanksgiving Day matchup. While the game has no postseason impact, it does have POWERADE FAB 50 implications and there are bragging rights on the line. And St. Joseph Memorial (9-1) is certainly no pushover — the Green Knights will be playing for the Non-Public Group III state crown on Dec. 3.
So what's it like playing in such a high-pressure atmosphere on Thanksgiving Day? Get Familiar with Mike Strizak to find out.
November, 15, 2011
11/15/11
8:12
PM ET
By
Mark Tennis & Doug Huff
| ESPN.com
One of the most amazing running backs we've ever covered is
Maurice Jones-Drew
from De La Salle (Concord, Calif.), now popularly known as MJD as a star in the NFL.
While Pittsburgh Central Catholic (Pittsburgh), the No. 13 team in the POWERADE FAB 50, doesn't have MJD on the roster, the Vikings do have DJM, as in
Damion Jones-Moore.
Jones-Moore is actually built a bit like Jones-Drew, at 5-foot-7 and 180 pounds. The senior running back may have saved his best games for the end of his four-year career playing for coach Terry Totten.
Last weekend, in a 31-14 playoff win over Mount Lebanon (Pittsburgh), the University of Toledo recruit ran 31 times for a career-best 302 yards and three touchdowns. The outburst pushed his season total to 1,637 yards on 162 carries for a sparkling 10.1 per carry average. He also has scored 32 touchdowns and 192 points for the undefeated 11-win team. Thanks to his strong recent play he's been tabbed as the
POWERADE FAB 50 Spotlight Player of the Week.
Jones-Moore will seek to continue his offensive production on Friday in a Western Pennsylvania Interscholastic Athletic League (WPIAL) Class 4A semifinal game against 10-1 Upper St. Clair (Pa.).
FAB 50 FIRST FOR THIS WEEK'S RANKINGS
In the three years in which there has been a vote of five panelists to determine each week's rankings, there has been at least one tie and often times as many as five or six in a given week.
We admit that some ties are broken by the last voter each week changing a position on his ballot to break it. The usual way the ties are broken, however, is to simply list the school that is higher on more ballots than the other school.
This week, once all of the votes were compiled, no tie-breaking was required. All 50 teams fell into place exactly according to their point totals and we can't remember if that has ever happened before.
Part of the reason there are ties is that each voter seems to have a favorite team that he likes a lot more than the four other voters. This week, the favorites included Doug Huff with No. 45 Loyola Academy (Wilmette, Ill.) at No. 38 on his ballot, Jim McCormick and Kynon Codrington with No. 41 Buford (Buford, Ga.) at No. 38 on their ballots, Brian Stumpf with No. 43 Longview (Longview, Texas) at No. 30 on his ballot and Mark Tennis with No. 15 Gaffney (Gaffney, S.C.) at No. 13 on his ballot.
RISING NEWCOMER OF THE WEEK
No. 48 Union (Tulsa, Okla.)
When the Redskins lost their only game 41-38 on Oct. 7 against Owasso (Owasso, Okla.), they fell out of the FAB 50, which for the next week included no Oklahoma teams for the first time since the 50-team format began in 1999.
Coach Kirk Fridrich's team is back after two impressive outings – a 35-0 win over Stillwater (Stillwater, Okla.) and a 49-14 victory over Southmoore (Moore, Okla.) in the first round of the Class 6A state playoffs.
Union is going for its third straight state title and has already beaten two of the state's top teams. The Redskins beat Jenks (Jenks, Okla.) 41-19 in the annual Backyard Brawl and the next week topped Broken Arrow (Broken Arrow, Okla.) 21-14.
With quarterback
Hunter Atyia
returning (he was hurt in the loss to Owasso), Union looked to be in playoff mode in last week's game against Southmoore. The team plays Edmond North (Edmond, Okla.) in this week's quarterfinals. A year ago, the Redskins defeated Edmond North in the same round 58-17.
LOOKING AHEAD: THANKSGIVING WEEKEND
The upcoming Thanksgiving weekend could be a showcase for some FAB 50 teams.
Don Bosco Prep (Ramsey, N.J.), the No. 1 overall team, will visit rival St. Joseph Regional (Montvale, N.J.) in an annual Thanksgiving Day game on Thursday.
No other current FAB 50 ranked teams are scheduled for Thanksgiving Day games, which have been drastically reduced in recent years because of state playoffs.
However, three East Region ranked teams on the FAB 50 "bubble" are set for Thursday holiday games.
In Massachusetts, Everett plays Cambridge Rindge & Latin (Cambridge, Mass.). In Connecticut, Xavier visits city rival Middletown. While in New Jersey, Bergen Catholic (Oradell, N.J.) plays Paramus Catholic (Paramus, N.J.).
Elsewhere, state championships on Thanksgiving weekend in Indiana, Illinois, Michigan, Missouri and Arizona could all feature current FAB 50 ranked teams. The list includes No. 12 Hamilton (Chandler, Ariz.); No. 22 Carmel (Carmel, Ind.); No. 37 Chaparral (Scottsdale, Ariz.); No. 38 Christian Brothers (St. Louis); No. 45 Loyola Academy (Wilmette, Ill.) and No. 47 Detroit Catholic Central (Novi, Mich.).