High-SchoolFootball:

Randy "Duke" Johnson
December, 21, 2011
12/21/11
8:57
AM ET
This year's recipient of the Mr. Football USA award, the title bestowed upon the nation's most outstanding on-field player each fall by ESPNHS, reminds us a lot of last year's winner, probably because it's the same player. Tailback
Johnathan Gray
of Aledo (Texas) was the first junior to ever win the award in 2010 and is once again ESPNHS's selection as Mr. Football USA.
"I'm blessed with the family, coaches and teammates that have helped me get to where I am," said Gray. "I'd never be capable of doing this by myself, and I'd like to think that we won this together and that it's our honor together. It's a team game and in order to have success it requires a team effort."
Gray can now be considered the Archie Griffin of the award, becoming the first player to earn the distinction twice. Mr. Football USA dates back to 1970 and Gray is joined by four other Lone Star State running backs -- Earl Campbell (1973), Billy Sims (1974), Eric Dickerson (1978) and Cedric Benson (2000) -- to have been awarded the coveted honor.
His statistical success is undoubtedly the stuff of legend, but it has translated well into the win column as well. In Aledo's third straight state title win,
a 49-28 victory over Manvel (Texas)
, Gray
scored his 205th career touchdown
, becoming high school's
all-time career touchdown leader
, surpassing former Michigan star Mike Hart in the process. In last year's state title victory over La Marque (Texas), Gray scored eight times, setting a Texas state championship record.
In front of every great back are the linemen who sacrifice to create the lanes and holes, and Gray is grateful for what his crew has done for him over the years.
"My O-line guys tell me, 'If I'm gonna block for you, you might as well go ahead and score, man,'" said Gray. "I tell them, 'You go get that 'backer and I'll get in for you.' Those guys work really hard and a lot of my success and our team's success is thanks to them."
Adding to his already gaudy résumé entering this season, Gray amassed 65 rushing touchdowns for Aledo this year and finished second all-time in points scored for a career (1,232), just 14 points shy of Hart. He finished his career with a yardage total that resembles the tally of a storied NFL career, with 10,908 yards on the ground, placing him as the No. 3 rusher in high school football history. With five receiving scores this season, his total of 70 touchdowns left him just one shy of the national single-season record for all-purpose touchdowns, held by T.A. McLendon of Albemarle (N.C.), who scored 71 touchdowns in 2001. Gray extended his state career record of 100-yard rushing games to 51.
You get the idea. The numbers are incredible and indelible, all while winning three straight state titles in the competitive climate of Texas high school football.
"You are always going to look back at these days and wish you could play high school football again," said Gray. "Especially playing in Texas, where football is just amazing and so important to people. Winning three straight championships is just so hard to do, and on top of that to have this honor is just another great blessing."
2011 Mr. Football USA --
RB
Johnathan Gray
, Aledo (Texas)
Last week:
The nation's top-rated running back and
2010 ESPNHS Mr. Football USA
carried the ball 30 times for 241 yards and one memorable and record-setting touchdown in Aledo's championship victory.
Season totals:
346 carries for 3,905 rushing yards and 65 rushing touchdowns, 28 catches for 567 receiving yards and five receiving touchdowns; Aledo went 14-2 and ended up
No. 45 in the final POWERADE FAB 50
ballot of the season.
The Other Mr. Football USA Finalists
WR Dorial Green-Beckham, Hillcrest (Springfield, Mo.)
Season Totals:
119 catches for 2,233 yards and 24 touchdowns, one rushing touchdown; team finished 11-2.
Recap:
Green-Beckham established a
new national record for receiving yards
this season to cap an incredible prep career. Having
overcome serious off-field obstacles
makes his storied career and the record production that much more impressive. The chase for a commitment continues into the winter for the star wideout, who remains undecided for the next level.
RB Randy "Duke" Johnson, Miami Norland (Miami)
Last week:
Johnson, a Miami recruit, led FAB 50 No. 7 Norland to its first state title since 2002 with 266 total yards and five touchdowns in a
38-0 drubbing of Wakulla
(Crawfordville, Fla.)
in the Class 5A state championship game. The dynamic back compiled more than 700 rushing yards and scored 11 times in the past three playoff wins.
Season totals:
208 carries for 1,957 rushing yards and 29 touchdowns, 14 receptions for 232 receiving yards and three touchdowns, three kickoff returns and one punt return for scores; team finished 14-0.
Recap:
Johnson may not have the gaudy season totals like some others on this list, as he missed one game to suspension and one other to injury this fall, but there's no doubt he's the most explosive offensive player in Florida and carried Norland to its first state crown in nearly a decade. The proud "U" commit also
overcame significant off-field adversity
on the road to personal and team success and will keep ACC defenders busy for the next several years.
QB Maty Mauk, Kenton (Ohio)
Season Totals:
382 of 556 for 5,413 yards and 68 touchdowns with 16 interceptions, 241 carries for 1,768 rushing yards and 23 touchdowns; team finished 14-1.
Recap:
Mauk, a Missouri recruit, finished his astounding prep career with national career records in
passing yards (18,932), touchdown passes (219)
, completions (1,353), attempts (2,110) and total yards (22,681), all while passing his older brother Ben for several of these distinctions.
ATH Davonte' Neal, Chaparral (Scottsdale, Ariz.)
Season Totals:
100 carries for 1,317 rushing yards and 16 touchdowns, 62 receptions for 1,113 yards and 14 touchdowns, three kickoff returns for touchdowns and two punt return scores, recorded 31 tackles on defense; team finished 14-1 and is
No. 22 in the FAB 50
.
Recap:
A truly dynamic talent with considerable contributions all over the field, there's little Neal can't do on the gridiron. Like Green-Beckham, Neal remains a coveted recruit who has yet to commit to his college of choice.
QB Patrick Towles, Highlands (Fort Thomas, Ky.)
Season Complete
Season Totals:
181-of-279 for 3,820 yards, 42 touchdowns and one interception, with 589 rushing yards and 15 rushing touchdowns; team finished 15-0 and No. 34 in the FAB 50.
Recap:
The 6-foot-6 signal-caller led his team to a dominating season that saw them set state records with 849 points, 121 touchdowns and 7,516 total yards. Highlands won the Class 4A crown while outscoring five playoff victims 263-76. A Kentucky recruit, Towles was
named the Gatorade State Player of the Year.
RB Trey Williams, Dekaney (Houston)
Last week:
This year marked the first time the Wildcats ever made the state playoffs and Dekaney, fueled by Williams' 197 rushing yards and three touchdowns, upset FAB 50 No. 14 Steele (Cibolo, Texas) 34-14 in the Class 5A Division II state championship game.
Season totals:
The Texas A&M commit ran for 3,884 yards and 48 touchdowns on 427 carries, caught two touchdown passes and returned a kickoff for a score. Team finished 14-2 and No. 34 in the FAB 50.
Recap:
The state title run proved even more impressive given that Dekaney fielded its first varsity team in 2008. Williams put together one of the best seasons in the history of Texas high school football and would assuredly get more shine if not for the epic accomplishments of his in-state peer Gray.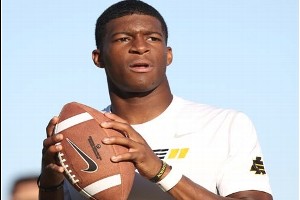 Tom Hauck/ESPNHSJameis Winston earned Elite 11 co-MVP honors this summer.
QB Jameis Winston, Hueytown (Ala.)
Season Totals:
163-of-234 for 2,424 yards and 28 touchdowns with two interceptions, 1,063 rushing yards and 15 rushing touchdowns, one touchdown reception; team finished 13-1.
Recap
: The
top QB in the nation
and Elite 11 co-MVP is a brilliant athlete with legitimate professional potential in baseball. The versatile and affable Winston will take his talents to Tallahassee and pursue both sports at Florida State.
ESPNHS Mr. Football USA
Players of the Year (All-Time List)
2011 – Johnathan Gray, Aledo (Texas) RB
2010 – Johnathan Gray, Aledo (Texas) RB (Jr.)
2009 – Dillon Baxter, Mission Bay (San Diego) QB-RB
2008 – Garrett Gilbert, Lake Travis (Austin, Texas) QB
2007 –
Jacory Harris
, Northwestern (Miami) QB
2006 – Darren Evans, Warren Central (Indianapolis) FB
2005 –
Matthew Stafford
, Highland Park (Dallas) QB
2004 –
Chase Daniel
, Carroll (Southlake, Texas) QB
2003 –
Jeff Byers
, Loveland (Loveland, Colo.) OL-DL
2002 – Chris Leak, Independence (Charlotte, N.C.) QB
2001 –
Vince Young
, Madison (Houston) QB
2000 –
Cedric Benson
, Robert E. Lee (Midland, Texas) RB
1999 –
D.J. Williams
, De La Salle (Concord, Calif.) RB-LB
1998 – J.R. House, Nitro (Nitro, W. Va.) QB
1997 – Ronald Curry, Hampton (Va.) QB-RB
1996 – Travis Henry, Frostproof (Fla.) RB
1995 – Tim Couch, Leslie County (Hyden, Ky.) QB
1994 –
Chris Redman
, Male (Louisville, Ky.) QB
1993 –
Peyton Manning
, Newman (New Orleans) QB
1992 – James Allen, Wynnewood (Okla.) RB
1991 – Steven Davis, Spartanburg (S.C.) RB
1990 – Derrick Brooks, Washington (Pensacola, Fla.) LB
1989 –
Robert Smith
, Euclid (Ohio) RB
1988 – Terry Kirby, Tabb (Va.) RB
1987 – Carl Pickens, Murphy (N.C.) WR
1986 – Emmitt Smith, Escambia (Pensacola, Fla.) RB
1985 – Jeff George, Warren Central (Indianapolis) QB
1984 – Andre Rison, Northwestern (Flint, Mich.) WR-DB
1983 –
Chris Spielman
, Washington (Massillon, Ohio) LB
1982 – Rod Woodson, Snider (Fort Wayne, Ind.) WR-DB
1981 –
Marcus Dupree
, Philadelphia (Miss.) RB
1980 – Bill Fralic, Penn Hills (Pittsburgh) OL
1979 – Herschel Walker, Johnson County (Wrightsville, Ga.) RB
1978 –
Eric Dickerson
, Sealy (Sealy) RB
1977 –
Marcus Allen
, Lincoln (San Diego) QB-RB
1976 – Freeman McNeil, Banning (Wilmington, Calif.) RB
1975 –
Charles White
, San Fernando (San Fernando, Calif.) RB
1974 –
Billy Sims
, Hooks (Hooks, Texas) RB
1973 –
Earl Campbel
l, John Tyler (Tyler, Texas) RB
1972 –
Tony Dorsett
, Hopewell (Aliquippa, Pa.) RB
1971 – Dave Logan, Wheat Ridge (Wheat Ridge, Colo.) WR
1970 – Pat Haden, Bishop Amat (La Puente, Calif.) QB
Brian Stumpf, Mark Tennis and Doug Huff of ESPNHS and Randy Jennings of ESPN Dallas contributed to this article.
December, 1, 2011
12/01/11
11:43
AM ET
By
Mark Tennis & Doug Huff
| ESPN.com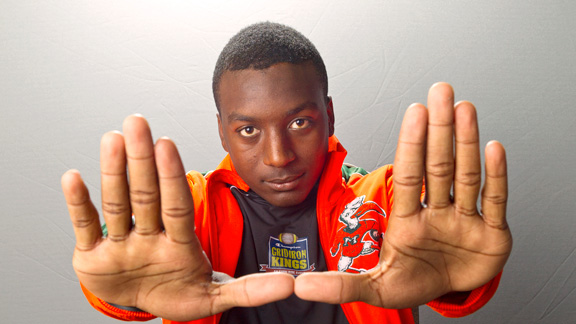 Courtesy Miller SafritFAB 50 No.12 Miami Norland (Fla.) and star tailback Randy "Duke" Johnson face No. 39 Glades Central (Fla.) in a Class 5A regional final on Friday.
GAME OF THE WEEK
No. 12 Miami Norland (Miami, Fla.) 11-0 at No. 39 Glades Central (Belle Glade, Fla.) 12-0, Friday at Effie C. Grear Field
This is a postseason matchup that many South Florida observers have been waiting for all season.
The Class 5A regional final showdown pits two unbeaten,
FAB 50-ranked
powers, both of which field top-flight individual talent. Both teams are hungry for state crowns after falling short in their respective 2010 title games.
Norland, which has been ranked in the FAB 50 since the preseason, is seeking the state title that eluded it last season when Jefferson (Tampa, Fla.) prevailed 44-34 in the Class 3A finale. The Vikings are led by 5-foot-9, 174-pound senior tailback
Randy (Duke) Johnson
. The University of Miami recruit has rushed 134 times for 1,352 yards and 19 scores this season.
Meanwhile, Glades Central, which was a 14-13 victim of unbeaten Cocoa (Fla.) in last season's Class 2A finals, has wreaked havoc on its 12 foes this year. The Raiders have outscored teams 515-74 with shutouts their last three games. Their offense includes senior wide receiver
Jamie Wilson
and 5-10, 170-pound junior running back
Will Likely
. Wilson has landed 50 passes for 867 yards and 20 scores, while Likely has rushed for 685 yards and 12 touchdowns and caught 31 passes for 556 yards and six scores.
The outcome of this game will have a big impact on next week's FAB 50 since the winner could go on to being an undefeated state champion.
PLAYER TO WATCH
Zack Blaylock, Walton (Marietta, Ga.)
While running back
Tyren Jones
has been the offensive catalyst for the 13-0 Raiders, who zoomed up to No. 28 in this week's FAB 50, Blaylock has been one of the team's top defenders and looks like a cinch to be an all-state pick.
In last week's 21-13 win over Dacula (Dacula, Ga.) in the Class 5A playoffs, Blaylock intercepted a pair of passes, upping his season total to 10. The 6-foot-1, 190-pound free safety also was in on seven tackles and broke the game open on offense in the fourth quarter by scoring on a 95-yard touchdown reception from quarterback Parker McLeod.
Blaylock is the son of former NBA point guard Mookie Blaylock and plays alongside his twin brother, Daron, in the Walton secondary. Both Blaylock brothers have committed to Kentucky.
If Walton can get past Cobb County rival Lassiter (Marietta, Ga.) in Friday's semifinals, that could set up a fantastic 14-0 vs. 14-0 state championship on Dec. 10 against FAB 50 No. 4 Grayson (Loganville, Ga.). Grayson plays Colquitt County (Moultrie, Ga.) in this weekend's other Class 5A semifinal.
UPSET ALERT
Prattville (Prattville, Ala.) 11-2 vs. No. 35 Hoover (Hoover, Ala.) 13-1, Friday in Tuscaloosa, Ala.
Two familiar foes and Alabama's top two preseason-ranked teams square off for the Class 6A state championship.
Entering the season, Prattville (11-2) was ranked No. 13 in the FAB 50, while Hoover (13-1) was No. 35. The Lions dropped their opening game to defending FAB 50 national champion St. Thomas Aquinas (Fort Lauderdale, Fla.) 34-31 and later was upset by Opelika (Opelika, Ala.) 16-14 to fall out of the national rankings.
Hoover, meanwhile, has suffered only a 17-9 loss to Birmingham-area rival Mountain Brook (Ala.) 17-9. While the Bucs have struggled somewhat in recent games, the Lions have dominated foes with wins of 45-12, 38-0, 56-14 and 52-13 sandwiched around a 13-3 playoff win to knock defending champion Daphne (Daphne, Ala.) out of contention. Hoover's last three playoff wins have been 32-22, 21-14 and 26-17. Last season, Hoover lost the title game to Daphne 7-6.
In 2009, Hoover, which has played in 11 title games the last 12 years, defeated Prattville 28-23 in the championship game. The two teams don't meet in the regular season but have split four title games since 2004. The two schools do compete regularly in junior varsity games and in seven-on-seven competitions, so they are familiar with each other.
With Prattville coming on strong since the two setbacks, don't be surprised if it's the Lions hoisting the title trophy this weekend.
Upset Alerts So Far This Season:
6-7
TEAM ON THE RISE?
St. Thomas Aquinas (Fort Lauderdale, Fla.)
Remember these guys? The FAB 50 national champs from last year and 2008 were riding high earlier this season after wins over Prattville (Prattville, Ala.) and current California No. 1 De La Salle (Concord, Calif.). Then came a loss to current FAB 50 No. 6 Miramar (Miramar, Fla.) followed by another one shortly afterward to Cooper City (Cooper City, Fla.).
But the banged-up Raiders (10-2), who have lost senior defensive end
Jelani Hamilton
and some other players to injury, may be on the way back. They played Cooper City again last week in the Class 7A state playoffs and avenged the earlier loss with a 27-10 triumph.
Fred Coppet
rushed for 140 yards on 23 carries and scored twice as St. Thomas Aquinas rallied from a 3-0 halftime deficit.
With one of the losses now avenged, the Raiders will be looking to move into next week's Class 7A state semifinals with a win Friday against Dwyer (Palm Beach Gardens, Fla.). They could play FAB 50 No. 16 Manatee (Bradenton, Fla.) in that game, and another win there would probably get them back up into the national rankings. Even with two losses on their record at the end of the season, the Raiders could still climb all the way back to near the top 10. After all, those two teams they beat earlier in the season could be state champions too.
October, 24, 2011
10/24/11
11:30
AM ET
By
Lem Satterfield
| ESPN.com
The huddle is a sacred place in football; one where the team and game are the only things that count. We're going inside the huddle by talking to football players on the POWERADE FAB 50 teams to find out their most valuable lessons learned -- on or off the field -- that contribute to their success.
Senior running back
Randy Johnson, Jr.
of Norland (Miami) talks about how he has turned the passing of his father into a source of inspiration and motivation, a process that has also transformed him into a proud team leader. The shifty and speedy 5-foot-9, 190-pounder has committed to become a 'Cane at Miami and stay local.
Randy Johnson Sr. had left a major impression on his son, Randy Jr., before he died of Leukemia nearly four years ago when the younger Johnson was an eighth-grader.
"He supported me in everything that I do. He used to come to all of my games and he would watch me in in all of my games," said Randy Jr., now 18. "He would take me to all of the University of Miami games, also."
Randy Jr. has carried his father's memory with him ever since, to the point of dedicating his career to him posthumously.
"Before I play, I always say a prayer to him before every game," said Randy Jr., who is nicknamed "Duke."
"I pretty much just say, 'I know that you're watching me,' and, 'protect me while I'm out there playing for you,' and, 'I'm doing everything for you.'"
What Johnson has done is guide last year's Vikings to a Class 3A state runner-up finish on 1,500 rushing yards for 20 touchdowns, and this year's team to an undefeated start. This past weekend, Johnson rolled on city rival Jackson (Miami) for 213 yards and four touchdowns for his No. 20
POWERADE FAB 50 team
.
"When something like that happens in your life, you just sort of live for them," said Randy Jr., of his father's death. "You live the way that you know that they would have wanted you to, pretty much."
For "Duke," that often means demonstrating by example the poise that it takes to emerge as a leader through adversity on a squad "with a slew of young running backs; a ninth grader and two 10th-graders."
"When they make mistakes, I try to encourage them. In our last game, the freshman fumbled, and he got down, and I had to encourage him to stay up, emotionally," said Johnson. "I never thought about yelling at him. You just pat him on the back and tell him, 'everything is going to be alright.'"
ROLE MODEL Cassandra Mitchell and Martha Williams, mother and grandmother
"My father's death was tough at the moment, but you have family; my mother, my grandmother, my sister and my brother. My family as a whole. They've been there through all of the struggles that I've gone through. They're the reason that I do my best."
October, 13, 2011
10/13/11
2:22
AM ET
By
Mark Tennis & Doug Huff
| ESPN.com
GAME OF THE WEEK
No. 28 St. Edward (Lakewood, Ohio) 6-1 at No. 42 St. Xavier (Cincinnati) 5-2, 2 p.m. Saturday
The only game this week matching two FAB 50 ranked teams certainly has poll implications.
The loser could drop out of next week's rankings. This is because a St. Edward defeat would be its second in a row after being dominated last week by FAB 50 No. 1 Don Bosco Prep (Ramsey, N.J.) 38-7. A St. Xavier setback would be its third of the season and no ranked teams have three losses.
This is the sixth straight year the two Ohio powers from opposite ends of the state have played. St. Edward ended a four-game losing skid to St. Xavier last season with a 20-3 victory while rolling to a 15-0 record and the school's first-ever Division 1 state title.
The visiting Eagles have been led by junior running back Dwayne Aaron, who runs behind a massive college-sized offensive line. The host Bombers will counter with senior running back Conor Hundley, a three-year standout, and a stingy defensive unit.
St. Xavier has dropped competitive games already this season to two unbeaten foes -- FAB 50 No. 5 Trinity (Louisville, Ky.) and No. 33 Moeller (Cincinnati).
After Saturday's showdown, both teams will face more stiff tests in their very next games. St. Edward will play unbeaten FAB 50 No. 33 Moeller (Cincinnati) while St. Xavier will take on once-beaten St. Ignatius (Cleveland). St. Ignatius and St. Edward then meet in a rivalry game the following week.
PLAYER TO WATCH
Randy "Duke" Johnson, Miami Norland (Miami)
The 5-foot-9, 185-pound senior running back has led the Vikings to a 6-0 record and No. 20 spot in the FAB 50.
Last weekend, he scored the game's only touchdowns in a 14-0 win over Coral Reef (Miami, Fla.) while rushing 23 times for 194 yards, his best effort of the season. Playing in four games, he's rushed only 56 times, but has 505 yards and six scores.
With numbers like that, all signs point to him having a strong finish to the season.
For his three-year career, Johnson has rushed for over 3,500 yards, including 1,540 yards and 24 touchdowns as a sophomore. Last season, he gained 1,482 yards and 17 scores.
This Friday, the University of Miami recruit will test the defense of Southridge (Miami, Fla.) in a road game.
UPSET ALERT
Lutheran (Orange, Calif.) 5-0 vs. No. 30 Servite (Anaheim, Calif.) 4-1, Friday at Cerritos College
Even though Lutheran is unbeaten and Servite has a loss, it would be an upset if Lutheran were to win. Servite's loss is to FAB 50 No. 7 Bishop Gorman of Las Vegas and the Friars still look like they are playing at a similar level to teams that won the CIF Southern Section Pac-5 Division title the last two seasons.
The visiting Lancers were only 5-5 last season, but returned a bulk of their lineup and started this season as if shot from a cannon. In their first game, they took on three-time Utah state champ Bingham (South Jordan, Utah) and won easily 42-7. Although the team had a struggle to get past La Habra 30-24, this also was a team that gave Servite some trouble before the Friars prevailed 24-16.
Senior quarterback Conner Sullivan leads the Orange Lutheran offense with nearly 1,000 yards passing. In last week's 33-13 victory against Redondo Union (Redondo Beach, Calif.), Sullivan completed 19 of 26 passes for 292 yards and four touchdowns.
Servite's top player is BYU-bound linebacker Butch Pauu. He was arguably the best player on the field when the Friars lost to Bishop Gorman. In addition to flying around the field on defense, Pauu also is effective on offense as a pass-catcher and blocker.
While it looks like Orange Lutheran has a chance for the upset, the Lancers lost 31-13 to the Friars last year and were beaten 45-26 the year before that.
Upset Alerts so far this season: 3-3 (with three in a row after an 0-3 start)
TEAM ON THE RISE?
Christian Brothers (St. Louis) 7-0
After allowing 49 points in the first game, an outing in which the Cadets still topped Fort Zumwalt West (O'Fallon, Mo.) 52-49, this team has tightened up the defense, continued to pile up the points and is looking like a major contender to be the top team in Missouri this season.
Coach Scott Pingel's team began to climb in the state and regional rankings after a 52-22 triumph in the third game over DeSmet Jesuit (St. Louis), which was higher ranked at the time. Since then, Christian Brothers has not let up. Last week's 41-7 win over Chaminade (St. Louis) followed similar wins against St. Louis University (34-7), Francis Howell (47-26) and Vianney (St. Louis) 47-15.
The key to the offense has been balance. Quarterback Dalton Demos enters this week's game against Marquette (Chesterfield, Mo.) with 1,683 yards passing and 15 touchdowns. Running back Antonio Brown, who is beginning to get a lot of interest from Big 12 colleges, also has rushed for 694 yards with 14 touchdowns. Jonathan Parker also has run the ball well with 559 yards on just 65 carries.
Last year's team went 10-2 with a playoff loss to Hazelwood Central (Florissant, Mo.) so this year's team should be eager to go a lot further.