High-SchoolFootball:

Robert Nkemdiche
April, 30, 2012
4/30/12
9:58
AM ET
By
Brandon Parker
| ESPN.com
Despite rushing for 1,300 yards and 17 touchdowns last season,
Alvin Kamara
understands if he's overlooked at times. In fact, the Norcross (Ga.) junior tailback says it's a given, considering the top two players in the ESPN 150 --
Robert Nkemdiche
and
Reuben Foster
-- also starred in Georgia last year. But that doesn't stop Kamara from believing he's the best.
That's why his goals entering the Atlanta NFTC on April 20 were simple --
win the MVP for his position and earn an invite to The Opening
. Kamara did just that, using his power and rushing skills to achieve both his goals and stand out among some of the region's best players.
BCS football programs are plenty familiar with Kamara, who once received
more than 100 recruiting letters in one day
from Alabama. And come this fall, the 5-foot-10, 190-pound rusher is confident that the entire nation will also get familiar with this emerging star.
ESPNHS:
What was clicking for you that allowed you to win the running back MVP at the Atlanta NFTC?
Kamara:
The way I prepared prior to the NFTC really helped. We do workouts every morning at Norcross -- the same type of stuff we did at the NFTC, like bag work and running cuts and drills, so it was almost like another workout and I was probably better prepared than most. Also, my confidence and the way I approach things helped. I feel like I'm the best. And that's in no type of cocky manner. I just go out to be the best in everything that I do and I think that's what separated me.
ESPNHS:
What was your favorite part and what was the hardest part of the camp?
Kamara:
My favorite part was the one-on-ones with the linebackers. That's what everybody was waiting for, being able to run plays and routes because either you were going to get the ball or get embarrassed. The hardest part was probably the blocking drills. You didn't really know what to expect at first. I wasn't really ready the first time and the guy went right past me. So I had to refocus and get serious after that so no one else would get by me.
ESPNHS:
How big is it in your development as a player to get an invite to The Opening?
Kamara:
It feels great. I mean, those are the top 150 prospects in the nation, so to get invited to be a part of that is great. And I feel like with my performance at the NFTC, I definitely earned it.
ESPNHS:
You're ranked number 79 in the ESPN 150 among a lot of other Georgia players. How do you feel about where you're ranked?
Kamara:
I kind of just busted onto the scene whereas guys like Reuben (Foster) and (Robert) Nkemdiche have been on the map, so I understand and I'm not mad about it. But I'm going to work hard so I can move on up toward the top with some of those guys.
ESPNHS:
Last year, you had a star receiver in
Jason Croom
who got a lot of attention from defenses. Now that's he graduated, all eyes will be on you. How do you plan on adjusting to the extra attention while still being effective?
Kamara:
I saw Jason deal with it last year with all the attention he had on him, and he handled it real well. That's what I plan to do -- just stay humble and lead my team the best way I can so we can win.
ESPNHS:
What is your biggest strength and what's something you want to improve upon?
Kamara:
I'll start with what I want to improve on -- my lateral movement. I'm more of a straight ahead, speed and power guy, so I need to work on the lateral part of my game. I'd say my strength is my vision and speed as a runner.
ESPNHS:
Your recruitment has received a lot of attention recently, from the 100 letters from Alabama to you saying that you, Foster and
Tray Matthews
plan on
going to the same college
. Where does your recruitment stand right now?
Kamara:
My recruitment is still wide open. I'm just enjoying the process, going through it and talking to the schools that are looking at me. I'm trying to learn everything I can learn about each school. As far as me, Reuben and Tray, that's something we want to do and we've flirted with the issue a little. I know they are committed to different schools right now, but if it comes down to us wanting to play together, it will happen. But we'll see.
ALVIN KAMARA
School:
Norcross (Ga.)
Class:
2013
Position:
Running back
HT:
5-10
WT:
190
FAVORITES
Movie:
"The Blind Side"
Car:
Black Dodge Challenger
Food:
Chicken
Athlete:
Tiger Woods ("I've seen some interviews and videos of him and the way he talks about being the best and saying nobody can beat him, I like that.")
Team:
Green Bay Packers
Subject:
Language Arts
Brandon Parker covers high school sports for ESPNHS magazine and ESPNHS.com. Follow him on Twitter @brandoncparker or email him at brandon.c.parker@espn.com.
April, 4, 2012
4/04/12
9:48
AM ET
By
Mark Tennis
| ESPN.com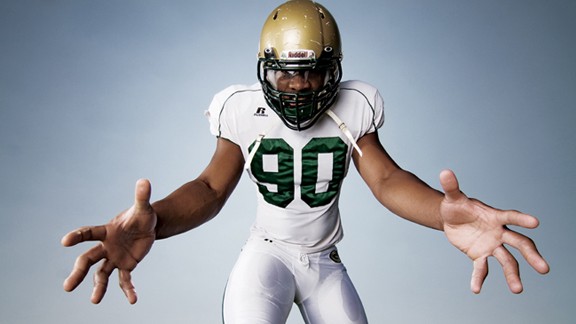 Ryan Gibson/ESPNHSGrayson (Loganville, Ga.) junior defensive lineman Robert Nkemdiche had 18 sacks this season and led the Rams to their first state title.
During the offseason, we'll check out one team per week that looks like a sure bet to be among the best in the nation for next fall.
This week's team:
Grayson (Loganville, Ga.)
2011 Season:
15-0, Class AAAAA
state champion
, No. 4 in final
POWERADE FAB 50
.
Projected 2012 Preseason Ranking:
Top 5. It's been 20 years since there's been a Georgia team at the top of a final national ranking and this squad could be the one to do it. Valdosta (Ga.), the winningest program in U.S. history, was the last school from the state to accomplish that feat in 1992. Grayson will not only be playing top teams from Gwinnett County (arguably the best county for football in the state), but it also has stepped up with its scheduling to include a matchup against Miami Central (Miami) on Aug. 31. Miami Central is expected to be one of the highest-ranked preseason teams in Florida.
Team Strengths:
Defense, defense and more defense. If there's a team in America with a better group coming back on that side of the ball than what coach Mickey Conn has at Grayson, it's a team that just got a bunch of five-star transfers. The best player on defense for the Rams is perhaps the country's best overall recruit, junior lineman
Robert Nkemdiche
. The
ESPNHS All-American
had 18 sacks for the second consecutive year and also scored 17 touchdowns on offense. He'll be joined up front by fellow junior and all-state selection Jack Banda. Another all-state selection, junior
Wayne Gallman
, is a standout at running back and linebacker. Junior defensive back
Kasey Gaines
was named Gwinnett County Defensive Player of the Year (Nkemdiche was the overall Player of the Year) by The Atlanta Journal-Constitution, while junior defensive back
David Kamara
is receiving interest from major programs.
Another intriguing defensive player is junior defensive back/punter Austin Meadows, who joined the team late last year after starring for USA Baseball's gold-medal winning 16U National Team at the IBAF World Youth Championships.
So just how good were the junior-oriented Rams on defense last year? They only gave up six first downs to previously unbeaten Walton (Marietta, Ga.) in last year's 24-0 win in the state championship and completely shut down Walton junior running back and Alabama commit
Tyren Jones
, who had scored 38 touchdowns coming in.
There could be some question marks on offense, especially under center since star quarterback
Nick Schuessler
signed with Mississippi State.
Another Georgia team to watch:
While Walton was shut down by Grayson in the Class AAAAA finals, Colquitt County (Moultrie, Ga.) was not in the semifinals. The Packers (11-3) had upset nationally ranked Camden County (Kingsland, Ga.) in the quarterfinals and lost just 35-31 in a shootout to Grayson. Coach Rush Probst's program is still looking to take a step up to the level that the program at Hoover (Ala.) had ascended to when he was there, but the squad will return five key defensive starters. Linebacker
John Gray
is the best of that bunch. On offense, quarterback
Cole Segraves
(6-4, 220) passed for 2,115 yards and 17 touchdowns as a junior and is one of the best in the state. Bobby Hill, who led the team in touchdown catches, also will be back along with three starters on the offensive line.
December, 23, 2011
12/23/11
10:24
AM ET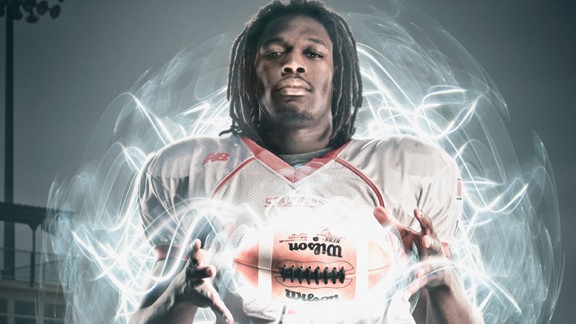 John Fedele/ESPNHSSouth Pointe (Rock Hill, S.C.) defensive end Jadeveon Clowney, now at South Carolina, was the most hyped football recruit in a decade.
From Jadeveon Clowney's recruitment to Johnathan Gray, Dorial Green-Beckham and Maty Mauk breaking national records, we look back at the stories that made this a compelling year of high school football.
The Hype of Jadeveon Clowney
Clowney
had a boatload of pressure placed upon him starting with his junior year of high school when people began calling him the best high school football recruit in a decade. Somehow the South Pointe (Rock Hill, S.C.) star defensive end backed it up, recording a ridiculous 162 tackles and 29.5 sacks as a senior. Every major college coach would have loved to get him to sign a letter of intent, so that's why it's fitting Clowney signed with South Carolina on Valentine's Day, which also happened to be his 18
th
birthday.
The Emergence of Robert Nkemdiche
After Clowney graduated, he passed the torch to
Nkemdiche
, an immensely talented junior defensive lineman at Grayson (Loganville, Ga.). The 6-foot-5, 270-pounder has the same freakish type of athleticism as Clowney and also the burden of living up to expectations. But like Clowney, he hasn't let it bother him. This year, Nkemdiche led
POWERADE FAB 50 No. 4
Grayson to its first state title and tallied 18 sacks despite facing double- and triple-teams every game.
Gridiron Records Shattered
It seemed as if no high school football record was safe this season.
Aledo (Texas) senior running back
Johnathan Gray
became the nation's
all-time leader
in career touchdowns (205), which he set in his final high school game, and finished second in career points (1,232).
Meanwhile, Hillcrest (Springfield, Mo.) senior wide receiver
Dorial Green-Beckham
broke
the career
receiving yards
(6,356) mark, and Kenton (Ohio) senior quarterback
Maty Mauk
capped his unbelievable career with
national career records
in passing yards (18,932), touchdown passes (219), completions (1,353), attempts (2,110) and total yards (22,681).
Mainland, Joplin & Tuscaloosa Overcome the Odds
In sports, the idea is to never back down from the opponent no matter how big or intimidating. Unfortunately for thousands in Tuscaloosa, Ala., Joplin, Mo., and Linwood, N.J., nobody told them their greatest opponents would come by way of natural disasters and tragedy. In April, a massive tornado tore through Tuscaloosa. A month later, another violent tornado demolished the town and school in
Joplin
. And in August, four
Mainland Regional
football players died in a car accident.
As the rebuilding continues in each town, sports, in particular football, have helped the communities unite as reminders that even these opponents can't destroy their wills.
The Rise of 7-on-7
AAU basketball, for good and for bad, has been a staple of the high school hoops scene for decades. Now high school football could have its own version of AAU in the form of
7-on-7 traveling teams
.
The rise of 7-on-7 teams has become a hot-button issue with the NCAA because of the fear of third-party influences who could jeopardize the college eligibility of players on those traveling teams. And this June, the SEC banned non-scholastic 7-on-7 events from being held on its schools' campuses.
Don Bosco Prep's Run to a National Title
The Ironmen began the year with a bull's-eye on their backs after being ranked No. 1 in the preseason
POWERADE FAB 50 ESPNHS Team Rankings
. But Bosco backed up the billing, running through a competitive schedule that included a road win over No. 12 Manatee (Bradenton, Fla.) to go wire-to-wire as the nation's top team.
It was the second time in three years the Ironmen have finished No. 1 in the FAB 50. Maybe it's time we started including New Jersey among the football power states.
Girls Make Impact on Gridiron
Girl athletes made headlines — and big plays —
all over the football field
this fall. Brianna Amat was dubbed the "kicking queen" and gained national attention for making the game-winning field goal for Pinckney (Mich.) on the same night she was named homecoming queen. Andrea Marsh, a senior cornerback at Panama (N.Y.), was named one of 12 finalists for the High School Football Rudy Award after leading her league in interceptions. Shawnee (Springfield, Ohio) kicker Carly Gregory became the first girl in Ohio state history to score in a state championship game when she made two extra points. And Lisa Spangler, a 5-foot-5 sophomore, was the starting middle linebacker for Fort Vancouver (Vancouver, Wash.).
"I never expected to have a girl be my middle linebacker," Fort Vancouver coach Eric Ollikainen said. "But my job is to get the best 11 on the field, and she's one of my best."
Natalie Randolph Leads Coolidge to Title Game in Only Her Second Year
Randolph made news last year when she became only the third woman in history to be named a varsity football coach when she took over at Coolidge (Washington, D.C.).
She proved her future in coaching was bright, having led her squad to the
DCIAA championship game
this season. And though Coolidge fell to Dunbar (Washington, D.C.) 33-21, the team knows it's in good hands with Randolph at the helm.
Refs Going too Much by the Book?
In August, refs penalized
Alex Schooley
of Louisville (Ohio) for excessive celebration after a touchdown when he pointed to the sky to honor his friend, who had died the week before the game in a car accident. Walsh Jesuit (Cuyahoga Falls, Ohio) was able to use the short field position it got from the penalty to drive down for the game-winning field goal.
Then in December, Cathedral (Boston) quarterback
Matt Owens
scored what appeared to be the game-winning score on a 56-yard touchdown run against Blue Hills (Canton, Mass.) in the Eastern Massachusetts Division 4A Super Bowl. But Owens raised his arm on the way to the end zone, leading refs to call him for unsportsmanlike conduct. The touchdown was negated, the ball was placed at the spot of the foul and Owens threw an interception on the very next play as Blue Hills went on to win the title.
Tanner Mangum and Neal Burcham Break Out
One was a quarterback from Idaho, and the other was a signal-caller from small-town Arkansas with one college offer. But Eagle (Idaho) senior
Tanner Mangum
and Greenbrier (Ark.) senior
Neal Burcham
proved this summer that you don't have to be from a football hotbed to be a star quarterback.
The pair earned co-MVP honors with the nation's No. 1 QB,
Jameis Winston
of Hueytown (Ala.), at Elite 11 and proceeded to have dominant senior campaigns. Mangum committed to BYU, while Mangum picked up more scholarship offers before committing to SMU.
December, 13, 2011
12/13/11
5:49
PM ET
By
Mark Tennis & Doug Huff
| ESPN.com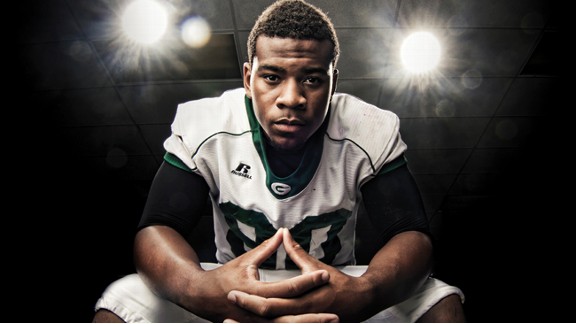 Ryan Gibson/ESPNHSGrayson (Ga.) junior Robert Nkemdiche might be the nation's top football player.
Preparation for the 2012 preseason rankings has already begun and one team that clearly has a shot to start No. 1 in the nation is current No. 4 Grayson (Loganville, Ga.).
Although the Rams will have to replace a starting quarterback, they have a great deal of talent coming back from this year's team, which captured its first Class AAAAA title last weekend with a 24-0 shutout of Walton (Marietta, Ga.).
While senior quarterback
Nick Schuessler
capably ran the offense for the 15-0 Rams, the team hung its hat on a young defensive unit that surrendered fewer than 40 rushing yards per game -- by far the best average allowance in the Class AAAAA state ranks.
This stingy defense limited a previously-unbeaten Walton team to 58 yards on the ground in the state title game win. Walton's offense was led by the state's top rusher,
Tyren Jones
, who had averaged 160 yards per game before meeting the stout Rams defense .
Returning next season for the Rams will be 6-foot-5, 270-pound defensive tackle
Robert Nkemdiche
, who is considered the nation's top junior recruit. The
class of the '13 class
is joined by several other proven talents and several members of a touted junior varsity squad. Others returning include defensive ends
Zach Barnes
and
Wayne Gallman
plus defensive backs
Ryan Carter, David Kamara, Austin Meadows
and
Kasey Gaines
.
While Grayson appears to be a solid top-tier FAB 50 team to start next season, other teams returning key talents include No. 2 Armwood (Seffner, Fla.); No. 3 Trinity (Louisville, Ky.); No. 7 Southlake Carroll (Southlake, Texas), No. 9 Bishop Gorman (Las Vegas); No. 10 Bellevue (Bellevue, Wash.); No. 11 De La Salle (Concord, Calif.); No. 12 Lake Travis (Austin, Texas); and No. 15 Manatee (Bradenton, Fla.).
While we still wait for four states complete their seasons this weekend, let the 2012 preseason hype begin.
FAB 50 SPOTLIGHT PLAYER OF THE WEEK
Tiapepe Vitale, De La Salle (Concord, Calif.)
Injuries early in the season propelled Vitale up the tailback depth chart for the FAB 50 No. 11 Spartans and he's become the team's top threat.
The 5-foot-10, 195-pound junior surged for six touchdowns in this past Saturday's 49-13 win against San Ramon Valley (Danville, Calif.) in the CIF North Coast Section Division I championship at the Oakland Coliseum. He also rushed 19 times for 181 yards.
The huge effort marked the fourth straight game in which Vitale has gone over 100 yards even though he has been on the sidelines in the second half due to the team's big leads. In his past two playoff outings he had 14 carries for 108 yards and three scores against Pittsburg (Pittsburg, Calif.) and 19 totes for 190 yards and two scores against Freedom (Oakley, Calif.).
Vitale and the rest of the Spartans, who won their 20th straight section title, will go for their third straight CIF Open Division state bowl crown on Saturday against FAB 50 No. 13 Westlake (Westlake Village, Calif.) at The Home Depot Center in Carson, Calif.
RISING NEWCOMER OF THE WEEK
No. 31 Tucker (Tucker, Ga.) 15-0
The Tigers moved into the FAB 50 after capturing their second Class AAAA state title in four years and the school's first-ever unbeaten team.
A potent offense -- No. 1 in AAAA state ranks -- averaged over 45 points per game through the first 13 wins but the defense carried Tucker to the final two playoff decisions over previously-unbeaten foes -- a 17-16 semifinal squeaker over Northside Warner Robins (Warner Robins, Ga.) and a 22-7 title win over Lovejoy (Lovejoy, Ga.).
The Tigers led Lovejoy 22-0 before allowing a late fourth quarter score. Tucker's defense also intercepted two passes and recorded a safety.
For the season on offense, the Tigers rushed for over 4,000 yards and outscored opponents 652-to-170.
Tucker coach Franklin Stephens became the first African-American to win two Georgia High School Association state titles. His alma mater, Burke County (Waynesboro, Ga.), also won its first Class AAA state title.
Southeast Region rules in preps much like SEC does in college
For the first time this season, the Southeast region proved to be so powerful in the FAB 50 that more than the top 20 teams appeared in
this week's rankings
.
In most weeks during the season, there were an average of 18 teams that were in the FAB 50 from Alabama, Arkansas, Florida, Georgia, Kentucky, Louisiana, Mississippi, North Carolina, South Carolina and Tennessee.
This week, all 20 region-ranked teams were in the FAB 50 along with Walton (Marietta, Ga.), which was No. 49 in the FAB 50 but was "on the bubble" for the Southeast Region.
Reasons for the Southeast region being so strong are similar why the Southeast Conference is so strong in college football. Every state in the region has a rabid fan base and there are a lot of talented players in every state that dedicate to the sport.
October, 27, 2011
10/27/11
3:14
AM ET
By
Mark Tennis & Doug Huff
| ESPN.com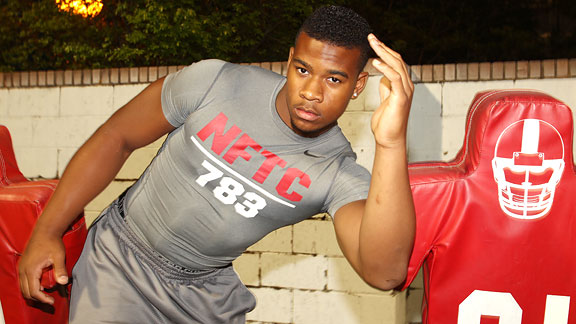 Tom Hauck for ESPN.comJunior DE Robert Nkemdiche of Grayson (Loganville, Ga.) has helped his stingy defense hold opponents to just 26 rushing yards per game.
GAME OF THE WEEK
No. 36 Plant (Tampa, Fla.) 7-0 at No. 2 Armwood (Seffner, Fla.) 8-0, 7:30 p.m., Friday
The visiting Panthers know all too well how hard it can be to score against Armwood's quick, hard-hitting defense. When the two teams played last year, the Hawks posted a 17-0 shutout and looked like they would roll to a Class 4A state title until they were upset in the final by Lincoln (Tallahassee, Fla.).
Armwood, which opened the season by winning a FAB 50 showdown 20-17 at Bishop Gorman (Las Vegas), went on a streak of four straight shutouts that ended with last week's 38-16 victory against Hillsborough (Tampa, Fla).
When we saw them play in Vegas, the scary aspect of their win was that it came without Florida-bound running back
Matt Jones
(who was out with an injury at the time) and that it marked the first start for junior quarterback
Darryl Richardson
. Since then, versatile junior
Alvin Bailey
, a highly-touted wide receiver prospect, has played a lot more snaps at quarterback and Jones has come back. In last week's win, Jones rushed for 205 yards and one touchdown.
Plant comes into the game with heavy hearts due to the death last weekend of popular teacher
Nancy Farnsworth
from a car accident. The team will wear helmet stickers honoring her memory.
So far this season, the Panthers have maintained their offensive prowess with senior quarterback
James Few
and junior running back
Wesley Bullock
. Few has completed 73 of 114 passes for 1,311 yards and 14 touchdowns while Bullock has rushed for 403 yards and four scores. Plant clinched its seventh straight district title last week with a 48-6 triumph over Alonso (Tampa, Fla.).
Armwood is looking to maintain its No. 2 ranking in the FAB 50 and could begin to push No. 1 Don Bosco Prep (Ramsey, N.J.) with an impressive win. A win by Plant could vault the Panthers all the way up into the top 15.
PLAYER TO WATCH
Robert Nkemdiche, Grayson (Loganville, Ga.)
The 6-foot-5, 270-pound junior defensive lineman isn't putting up the big numbers he did as an all-state selection his sophomore season. The big-time major college Class of 2013 prospect, however, is anchoring a stingy Rams' defense that held its first eight opponents to an average of 26 rushing yards per game.
Last season, Nkemdiche recorded an eye-opening 18 sacks and 23 tackles for losses. This year, he still leads the team in sacks but only has five. Still, the Rams have moved up the FAB 50 national ranking charts to No. 11 and Nkemdiche is a major reason for that.
"Opponents need two players to block Robert," coach
Mickey Conn
says, "and that allows other defenders to make plays. But he can explode at any time."
Friday would be a good time for that to happen since the Rams play host to region rival and defending Class AAAAA state champion Brookwood (Snellville, Ga.).
UPSET ALERT
Westfield (Chantilly, Va.) 8-0 at No. 46 Centreville (Clifton, Va.) 8-0, 7:30 p.m., Friday
Centreville may be in the FAB 50, but Westfield certainly isn't far behind. In the East Region Top 20, the Wildcats are No. 7 with the Bulldogs checking in at No. 18.
Centreville has scored at least 38 points in the last seven games to cement its status as one of the best teams in Virginia but also the Washington D.C. area. Senior quarterback
Mitch Ferrick
and junior running back
Marcel Smith
give the Wildcats a lot of balance on offense, while the defense features top college prospect
Ken Ekanem
(6-3, 230) at defensive end.
Westfield's winning scores have almost been as impressive as Centreville's with a defense that has two shutouts and three other games in which just one touchdown was allowed. The Bulldogs also have an effective rushing attack with senior
Kendell Anderson
. He had 247 yards and five touchdowns in last week's win against Oakton (Oakton, Va.) and is working on a streak of seven straight 100-yard games.
Upset Alerts so far this season: 3-5
TEAM ON THE RISE?
McGill-Toolen (Mobile, Ala.) 8-0
When the unbeaten Yellowjackets upset defending Class 6A state champion Daphne (Daphne, Ala.) last week and knocked the Trojans out of the FAB 50, it didn't surprise some state observers. That's because the first-year McGill-Toolen head coach is
Bart Sessions
, who served as defensive coordinator last season at Daphne. That gave the 38-year-old Sessions three straight state title rings after serving in the same position the previous two years for state titlist Prattville (Prattville, Ala.).
In his first season as a head coach at McGill-Toolen, Sessions has guided the balanced Yellowjackets to nine straight wins and a No. 20 spot in the Southeast Region rankings. This weekend, the 'Jackets will cap the regular season at area rival Murphy (Mobile, Ala.) before entering post-season play.
If Sessions continues his coaching magic and title game streak, it will be the farthest McGill-Toolen has advanced since the 2007 squad finished a 13-1 record with a loss in the semifinals to Prattville.
September, 19, 2011
9/19/11
9:17
AM ET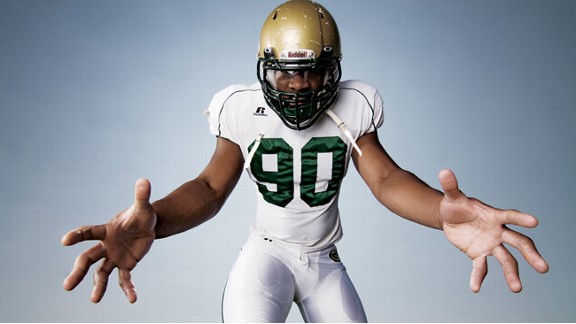 Ryan Gibson/ESPNHSGrayson (Ga.) junior Robert Nkemdiche might be the nation's top football player
Robert Nkemdiche certainly passes the eyeball test.
At 6-foot-5 and 270 pounds, he looks more like Julius Peppers than a high school student. The Grayson (Loganville, Ga.) defensive end plays like Peppers, too.
With his size, strength (he benches 340 pounds, squats 500 and power cleans 340) and speed (4.6 seconds in the 40-yard dash), Nkemdiche (pronounced kim-DEECH-ee) can do pretty much anything he wants against offensive linemen. Last year, he wreaked havoc in the trenches to the tune of 58 tackles, 23 tackles for loss and 18 sacks.
This season, he's faced a variety of game plans designed to prevent him from crushing the quarterback. Nevertheless, he's made a huge impact for Grayson, which is 4-0
and ranked No. 16
in the
POWERADE FAB 50 ESPNHS Team Rankings
.
Nkemdiche has also seen time at running back this season and ran for the game-winning touchdown in the Rams' season-opening win over Kell (Marietta, Ga.).
Oh, by the way, Nkemdiche is only a junior. And the superb skills he's shown at such a young age is why he's arguably the top player in the country, regardless of class.
Not surprisingly, a number of the nation's top college teams have taken notice. Nkemdiche is considering the likes of Mississippi (where his brother Denzel is a freshman defensive back), Alabama, Auburn, LSU, Miami, Florida, Florida State and Oregon, but he's yet to narrow down his extensive list of offers.
Right now, he's more focused on leading Grayson to a state title and is excited about the possibility of his mom, Beverly, watching one of his games this year. Beverly is a legislator in Nigeria and rarely has the opportunity to come home and watch her talented son play.
So what makes this man-child tick? It's time to Get Familiar with Robert Nkemdiche.