High-SchoolFootball:

Servite
April, 24, 2012
4/24/12
4:25
PM ET
By Walter Villa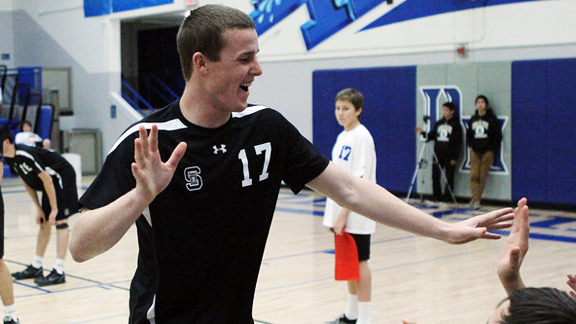 Courtesy of Dave RossSam Hunt, a star volleyball player at Servite (Anaheim, Calif.), will play football at Air Force next fall. "I've gotten more calls from colleges about Sam than any other player," Servite volleyball coach Matt Marrujo says.
This season is Sam Hunt's volleyball finale, and it is looking like it could be a great one.
The 6-foot-6, 205-pound senior middle blocker plays for Servite (Anaheim, Calif.), the No. 5 team in the
POWERADE FAB 50
national rankings.
But after the season ends, Hunt will focus on a different sport. After competing in volleyball, basketball and football for much of the past three years, Hunt will concentrate on football for Air Force, where he will also study engineering.
Hunt, 18, and Servite volleyball coach Matt Marrujo both used the words "mature decision" to describe Hunt's choice to attend Air Force.
"Right out of college, you get a guaranteed job in your field," Hunt said. "Rather than going to another college and wondering if I will have a job after I graduate, here I get a guarantee."
Added Marrujo: "It's a great opportunity. I would love to see him play college volleyball. But he has always been up-front with us. There are more scholarships in football."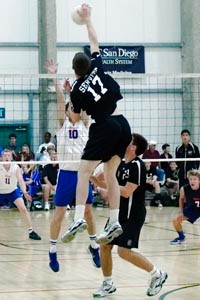 Ed Chan/ESPNHSThanks to his great leaping ability, Sam Hunt was used on special teams last fall to try to block field goals.
Marrujo said Hunt's leaping ability has improved due to volleyball, which has helped him in football, where he plays wide receiver. In fact, Hunt was also used last year to get up and try to block field goals.
Servite football coach Troy Thomas said part of Hunt's appeal for Air Force is that he can create mismatches because of his size and body control.
"He has huge growth potential," Thomas said. "Being in a Division I weight room, you will see him put on 25 pounds and becoming a tough cover and a tough guy to bring down."
Hunt played baseball as a freshman and didn't play competitive volleyball until a year later.
He earned all-league honors as a junior, and Marrujo said it's difficult to predict just how good he could have become had he played volleyball full-time.
"He jumped in with us right away," Marrujo said. "I've gotten more calls from colleges about Sam than any other player."
Hunt said he enjoys volleyball and dreams of winning a regional title (there is no state title in California), even though teams such as No. 1 Loyola (Los Angeles, Calif.) and No. 4 Mira Costa (Manhattan Beach, Calif.) could stand in the Friars' way.
It was his brother, Ben Hunt, who convinced him to try volleyball. Ben, a 6-4 sophomore, is an outside hitter for Grand Canyon University in Phoenix.
Ben said his brother could have been recruited by the likes of Stanford and USC had he devoted himself to volleyball.
"It (stinks) for volleyball to lose a great athlete like Sam," Ben said. "But seeing him play football, he is great at that, too. Sam can pick up any sport and in a week look like a natural."
Sam Hunt, who has a 4.0 GPA, said he doesn't really have a favorite sport. He just loves to compete and enjoys whatever sport he's playing at the time.
But it is fair to say that volleyball has helped him become a better wide receiver.
"In volleyball, you have to be quick with your footwork, moving side to side," he said. "As a receiver, I need to be able to move laterally or vertically and go get the ball, really attack."
Hunt ran a 4.85 in the 40-yard dash before last season, but he feels he got a lot faster as the season progressed.
And that's what makes him such an intriguing prospect.
By his own admission, Hunt felt "rookie-ish" at the start of every season, always transitioning over from a different sport.
He felt he made a lot of "dumb mistakes" early in the 2011 football season before he started running better routes and making difficult catches look easy.
Air Force coaches have told Hunt that if he gains a bit more weight, he will be moved to tight end. Hunt would prefer to stay at receiver, where he can jump over cornerbacks and grab touchdown passes.
Hunt knows there aren't a lot of catches to go around in Air Force's run-dominated option attack but says he is "fine with that."
He's also fine with the rigors of basic training. His grandfather was in the Navy and worked on submarines, disabling bombs. Two of his cousins were also in the Navy and traveled all over the world.
Those family members -- as well as other people he's met -- have said that basic training is much harder mentally than it is physically.
"My recruiter didn't sugarcoat it. He said it was going to (stink) my first two years," Hunt said. "But I'm willing to go through the discipline and toughness.
"It seems hard. The (drill sergeant) will yell at you. But people get through it every year."
Hunt will owe the Air Force a five-year commitment after graduation. At that time, he will give the Air Force three options of where he would like to be stationed.
After that, Hunt is free to either re-enlist or leave the military.
But all those tough decisions are years away. For now, Hunt wants to enjoy his senior season of volleyball and would love to go out on top.
"Sam has the perfect build for volleyball and is very quick to the pin," Marrujo said. "He reads the game very well for a guy who hasn't played a lot. Because of football, he is a very strong and physical player at the net and hits the ball hard.
"I think there is no question he could have been a Division I volleyball player."
October, 3, 2011
10/03/11
11:43
AM ET
By
Lem Satterfield
| ESPN.com
The huddle is a sacred place in football; one where the team and game are the only things that count. We're going inside the huddle by talking to football players on the POWERADE FAB 50 teams to find out their most valuable lessons learned -- on or off the field -- that contribute to their success.

Middle linebacker and tight end Butch "The Butcher" Pau'u of Servite High (Anaheim, Calif.) talks about choosing the right program not only for collegiate football but also for life preparation. Pau'u is a student with a 3.7 grade point average and has aspirations of a future in medicine. The 6-foot, 220-pounder committed to BYU in June over scholarship offers from Nebraska, Iowa State, Washington, Oregon State and Colorado -- largely because of his religious faith as a Mormon.

Playing solely on defense last season, Pau'u made over 100 tackles, registered five sacks, three interceptions and recovered two fumbles to lead the Friars to a 14-1 record and a state runner-up finish in California's the large schools division.

Pau'u, whose Friars just lost their first game in a close battle to Las Vegas powerhouse Bishop Gorman, listed education, environment, the coach, family's opinion and your decision among the five things for recruits should look for in selecting the right college.

"The first thing should be crucial is the education and how well-rounded the school is for academics because not many people are going to make it to the NFL," said Pau'u. "So after your college career, you could be done with football. So you want to be able to move on in life after football."

Second, said Pau'u, would be the campus environment, including "friends among teammates who will keep you on the right track, tell you the truth and help you to stay out of trouble."

The coach is third, said Pau'u, who will play for Bronco Mendenhall, followed by your family's influence.

"You want a coach who will tell you the truth when you're doing wrong, and who won't just baby you and will be in your ear, letting you know that you have to grow up or back down. You want to mature and to be able to handle life like a man," said Pau'u.

"Your family is next, because in most cases, they've helped you to get to that level, and they're the ones you thank. They're the ones who will be there by your side when all is said and done."

Finally, the recruit's own feelings, which, for Pau'u, boiled down to his faith.

"For me, I'm a Mormon, so it came down to being given the opportunity to serve my mission and still have a scholarship in hand, being able to play football," said Pau'u. "That was a big part of choosing BYU for me."

ROLE MODELs: Yepi and Tupou Pau'u, father and mother. "I've played football since I was seven, for 10 years now. My dad was my coach on and off the field, and he played linebacker at San Jose State. With chores, he taught me how to be a leader not a follower on and off the field and how to be a man. My mom is the most humble person on the face of the earth. She helps us with homework and reminds us to have God first, family second, education and football after that."
September, 29, 2011
9/29/11
11:13
AM ET
By
Mark Tennis & Doug Huff
| ESPN.com
GAME OF THE WEEK
No. 13 Servite (Anaheim, Calif.) 4-0 at No. 10 Bishop Gorman (Las Vegas) 5-1, 10 p.m. ET, Friday (ESPNU)
The Gaels were hoping for a breakthrough win earlier in the season when they hosted No. 4 Armwood (Seffner, Fla.), but missed a late-second field goal and fell 20-17. They already have a quality win against one out-of-state foe, Chaparral (Scottsdale, Ariz.), which is playing before them Friday on ESPN2 against Notre Dame Prep (Scottsdale, Ariz.).
Bishop Gorman has yet to record a significant win against a California team in its history and is certainly getting a significant opponent in the Friars, who have won the CIF Southern Section Pac-Five Division title the last two years. Servite ascended to No. 1 in the state rankings this week due to previous No. 1 De La Salle (Concord, Calif.) losing 30-6 in its game with FAB 50 No. 2 St. Thomas Aquinas (Fort Lauderdale, Fla.).
Since Bishop Gorman has dominated all of its Nevada opposition so far this year and won't play any more out-of-state teams this season, it's a bigger game for the Gaels than what it means for Servite. While head coach Troy Thomas' club wants to show well on national television, the reality is that a brutal Trinity League schedule starts the very next weekend. In that league, the Friars will be meeting such foes as FAB 50 No. 49 Santa Margarita (Rancho Santa Margarita, Calif.) plus unbeaten Lutheran (Orange, Calif.), not to mention archrival Mater Dei (Santa Ana, Calif.).
The Gaels feature a balanced offense with playmakers
Jarrett Solomon
at quarterback and
Shaquille Powell
at running back. Solomon has passed for 909 yards and 15 touchdowns with no interceptions while Powell has rushed for 886 yards and 15 scores. Both players have rarely seen any time in the second half of their games since playing Armwood.
The Friars have a versatile player on offense in senior
Cody Pittman
. Like Solomon, Pittman has yet to throw an interception this season and has passed for 616 yards and 15 scores. Another player to watch is linebacker and receiver
Butch Pauu
, who has committed to BYU.
PLAYER TO WATCH
Barkley Hill,
Cedar Falls (Cedar Falls, Iowa)
The 6-foot, 190-pound senior running back has helped lead Iowa's top-ranked team to the No. 46 ranking in the FAB 50.
In five wins this season, the Iowa State recruit has rushed for 1,135 yards, a 9.0-yard per carry norm, and has scored 21 touchdowns. Those totals lead all Class 6A players in the state in both categories.
Hill started the season with a school record six-touchdown effort vs. Hempstead (Dubuque, Iowa). In last week's game, Hill ripped off 213 yards with two more scores in a 27-7 triumph against Xavier (Cedar Rapids, Iowa). His fast start also has pushed his career totals to 4,774 rushing yards and 70 touchdowns. He has chance to pad those totals in four remaining regular season games plus postseason play.
On Friday, Cedar Falls takes on Wahlert (Dubuque, Iowa).