High-SchoolFootball:

Shaquille Powell
September, 29, 2011
9/29/11
11:13
AM ET
By
Mark Tennis & Doug Huff
| ESPN.com
GAME OF THE WEEK
No. 13 Servite (Anaheim, Calif.) 4-0 at No. 10 Bishop Gorman (Las Vegas) 5-1, 10 p.m. ET, Friday (ESPNU)
The Gaels were hoping for a breakthrough win earlier in the season when they hosted No. 4 Armwood (Seffner, Fla.), but missed a late-second field goal and fell 20-17. They already have a quality win against one out-of-state foe, Chaparral (Scottsdale, Ariz.), which is playing before them Friday on ESPN2 against Notre Dame Prep (Scottsdale, Ariz.).
Bishop Gorman has yet to record a significant win against a California team in its history and is certainly getting a significant opponent in the Friars, who have won the CIF Southern Section Pac-Five Division title the last two years. Servite ascended to No. 1 in the state rankings this week due to previous No. 1 De La Salle (Concord, Calif.) losing 30-6 in its game with FAB 50 No. 2 St. Thomas Aquinas (Fort Lauderdale, Fla.).
Since Bishop Gorman has dominated all of its Nevada opposition so far this year and won't play any more out-of-state teams this season, it's a bigger game for the Gaels than what it means for Servite. While head coach Troy Thomas' club wants to show well on national television, the reality is that a brutal Trinity League schedule starts the very next weekend. In that league, the Friars will be meeting such foes as FAB 50 No. 49 Santa Margarita (Rancho Santa Margarita, Calif.) plus unbeaten Lutheran (Orange, Calif.), not to mention archrival Mater Dei (Santa Ana, Calif.).
The Gaels feature a balanced offense with playmakers
Jarrett Solomon
at quarterback and
Shaquille Powell
at running back. Solomon has passed for 909 yards and 15 touchdowns with no interceptions while Powell has rushed for 886 yards and 15 scores. Both players have rarely seen any time in the second half of their games since playing Armwood.
The Friars have a versatile player on offense in senior
Cody Pittman
. Like Solomon, Pittman has yet to throw an interception this season and has passed for 616 yards and 15 scores. Another player to watch is linebacker and receiver
Butch Pauu
, who has committed to BYU.
PLAYER TO WATCH
Barkley Hill,
Cedar Falls (Cedar Falls, Iowa)
The 6-foot, 190-pound senior running back has helped lead Iowa's top-ranked team to the No. 46 ranking in the FAB 50.
In five wins this season, the Iowa State recruit has rushed for 1,135 yards, a 9.0-yard per carry norm, and has scored 21 touchdowns. Those totals lead all Class 6A players in the state in both categories.
Hill started the season with a school record six-touchdown effort vs. Hempstead (Dubuque, Iowa). In last week's game, Hill ripped off 213 yards with two more scores in a 27-7 triumph against Xavier (Cedar Rapids, Iowa). His fast start also has pushed his career totals to 4,774 rushing yards and 70 touchdowns. He has chance to pad those totals in four remaining regular season games plus postseason play.
On Friday, Cedar Falls takes on Wahlert (Dubuque, Iowa).
September, 5, 2011
9/05/11
8:00
AM ET
By
Lem Satterfield
| ESPN.com
The huddle is a sacred place in football; one where the team and game are the only things that count. We're going inside the huddle by talking to football players on the POWERADE FAB 50 teams to find out their most valuable lessons learned -- on or off the field -- that contribute to their success.
In this inaugural addition of the series we talk to
Shaquille Powell
of Bishop Gorman (Las Vegas, Nev.) about dealing with a tough loss as a team leader and about the person in his life that motivates him the most. Powell is a versatile talent that contributes on both sides of the ball at halfback and safety and is ranked as the
45th running back talent in the country by ESPNU
. He is a 3.2 student who is considering Duke, Vanderbilt, Illinois, San Diego State, Fresno State, UNLV, Utah, Texas and Florida State.
How do you cope with a loss?
Down, 20-3, heading into the fourth quarter of a recent game opposite Armwood (Seffner, Fla.), Powell's Bishop Gorman mounted a furious comeback.
"We fought our way back, gave everything we had," said Powell. "We got within 20-17 and were driving at their 30-yard line."
But with 10 seconds to play, the game-tying field goal try went awry, forcing Bishop Gorman to absorb its first loss on its home field in three years.
"That was the most painful experience ever. Probably 90 percent of my teammates were crying," said Powell. "We gave everything we had, an we still did not get the outcome that we wanted. It was the most painful thing and the worst feeling ever."
After the game, Powell and other team captains huddled the players for a speech.
"We said, 'You know, we've got to flush this, because there's nothing that you can do,'" said Powell. "You've got to have a short-term memory and just say it's the past. It's not reality anymore, and you have to look to the future and focus on the next game."
Powell said that shedding the overwhelming feeling of being "a loser" can be among the most difficult things, "but, really, that's similar to what you have to do in life situations," he said.
"As a leader, you've got to come back and tell your teammates, 'I'm not going to fail you guys again,'" said Powell. "You've got to continue to have faith in yourself, and you also have to demonstrate with your actions that you have faith in your team."
ROLE MODEL: His mother, Scarlett Forwood
"That definitely has to be my mom. Single mother, domestic violence, living in a homeless shelter when I was a kid, getting out of debt. She's overcome so many obstacles. When I look at her, I'm like, 'Wow, she's a really strong woman.' When I go through tough situations, I ask myself, 'what would she do?' She's made it her goal to make my life better. That's where I get my heart and will to complete difficult tasks."
August, 21, 2011
8/21/11
1:57
AM ET
By
Brian Stumpf
| ESPN.com
Why this was big:
The showcase game of the Barry Sollenberger Classic pitted the defending 4A state champs from Nevada, Bishop Gorman, versus the defending 5A-II champs from Arizona, Chaparral. Both finished last year in the FAB 50 and entered this season highly-ranked, with the winner figuring to have the inside track to stay inside the top 10 and possibly creep towards the top five nationally by the end of the year in the POWERADE FAB 50. Gorman's 42-22 win is the program's first major triumph over a top team from another state.
What went down:
After a back-and-forth, close first half in which Chaparral put together two long scoring drives and capitalized on some Bishop Gorman mistakes to take a 14-7 lead at the break, Bishop Gorman took complete control. Head coach Tony Sanchez's team came out in the second half and ran
Shaquille Powell
behind a huge
Ronnie Stanley
-led line and Chaparral had no answer for the physicality of the Bishop Gorman attack. On the flipside, the Bishop Gorman defense shutdown the high-flying Chaparral attack, holding Texas-bound QB
Connor Brewer
to an 11-for-26 for 197 yard passing performance and keeping the wraps on the dynamic
Davonte Neal
until a meaningless 82-yard touchdown catch with less than three minutes remaining.
Turning point:
With 8:44 remaining in the third quarter and Chaparral still leading 14-7, the Firebirds jumped offsides as Bishop Gorman lined up to go for it on a 4
th
-and-2 from its own 47-yard line. Two plays later, Powell scored from 45 yards out and then Bishop Gorman recovered an ensuing onside kick and the rout was on.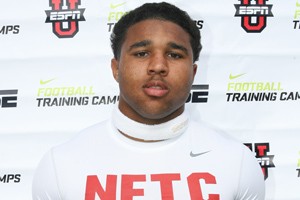 Tom Hauck/ESPNHSBishop Gorman RB Shaquille Powell
Made a name for himself - Bishop Gorman senior running back Shaquille Powell:
The 5-9, 200 pounder wasn't a no-name coming in. After all, he rushed for 1,292 yards and 17 touchdowns last year and holds offers from ASU, Illinois, Vanderbilt, Fresno State, San Diego State and UNLV. But after a virtuoso performance in which he carried 30 times for 297 yards and five touchdowns while also catching three passes for 32 yards and a sixth score and even intercepting a pass on defense, Powell stamped himself as an early entrant into the ESPNHS Mr. Football USA race.
What it means in the FAB 50:
Bishop Gorman has bigger games left on the schedule, including a matchup versus FAB 50 No. 9 Armwood (Seffner, Fla.) next weekend as part of the ESPN High School Kickoff Weekend (Friday, 9 p.m. Eastern, ESPN2), but the Gaels showed they should be able to hold their own against any team from around the nation. While there won't be any adjustments to the FAB 50 until after Gorman battles Armwood, consider the winner top five worthy and as long as the outcome is not one-sided, the loser will still likely be in the top 20. For Chaparral, the Firebirds will now attempt to re-group and shoot for a third consecutive Arizona state title. This game was their lone chance to state a case for a season-long spot in the top half of the FAB 50, and they could even possibly drop out of the rankings entirely depending upon how they show next week and how some other fringe teams perform next weekend when many other states kickoff the season. They can play better certainly, but clearly lacked the size on both sides of the line to compete for 48 minutes with a program as powerful as Bishop Gorman.