High-SchoolFootball:

Shuler Bentley
March, 14, 2012
3/14/12
9:29
AM ET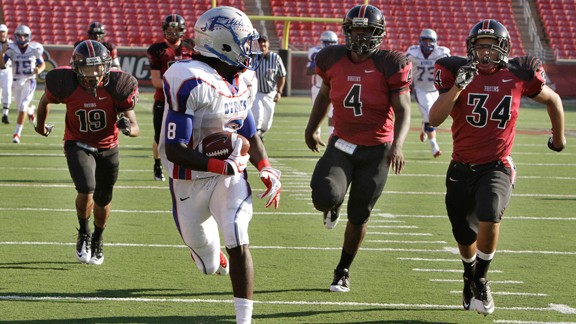 Garry Jones/APJunior receiver Akia Booker caught 80 passes for 1,284 yards and 21 touchdowns this past fall to help lead Byrnes (Duncan, S.C.) to its 11th state title.
During the offseason, we'll check out one team per week that looks like a sure bet to be among the best in the nation for next fall.
FAB 50 Offseason Primer Archive
This week's team:
Byrnes (Duncan, S.C.)
2011
Season
: 13-2,
Class 4A, Division I state champion
, No. 30 in final
POWERADE FAB 50
.
Projected
2012
Preseason
Ranking
: Top 25. In South Carolina, the road to a large-class state championship runs through the town of Duncan. The Rebels, who have won 11 titles, will be seeking a third straight crown and ninth in the last 11 years. Entering last season, the concern was the quarterback spot for the pass-minded, high-octane offense. But sophomore Shuler Bentley, son of former Byrnes coach and current district athletic director/Byrnes offensive coordinator Bobby Bentley, took charge and that spot looks secure the next two seasons. Byrnes avenged its regular-season loss versus Gaffney with a 31-24 win in the state final. Twelve starters from that squad were underclassmen.
Team
Strengths
: Six starters on each side of the ball return to the lineup for Byrnes. The offense is anchored by the all-star passing combination of Bentley to junior wide receiver
Akia Booker
. In his first varsity season, Bentley passed for 3,495 yards and 47 touchdowns with only seven interceptions, Booker, who's also a dangerous kick returner, caught 80 passes for 1,284 yards and 21 touchdowns last season. The offensive line will return three starters in junior Nathan Taylor and sophomores Ben Clark and Sydney Martin. The secondary is the strength of the defense with four starters expected back in juniors D.J. Henderson, Keke Ashmore, Brandon Bailey and Shane Samuels. Juniors Alex Garrett and Melvin Armstrong anchor the linebacking corps.
Another
South Carolina
team
to
watch
: Goose Creek (Goose Creek, S.C.) was one of the better teams that just missed getting a spot in the final POWERADE FAB 50. The Gators capped a school-best 14-1 record with the
Class 4A, Division II championship
and were a
Southeast Region bubble team
. Goose Creek, which went 13-1 in 2010, suffered only a 52-51, double-overtime loss to University (Fort Lauderdale, Fla.).
The Gators bring back sophomore running back
Caleb Kinlaw
, who rushed for 1,497 yards this past fall; junior receiver Tramel Terry, who caught 44 passes for 833 yards and six touchdowns and ran for 847 yards and 10 touchdowns; and junior defensive end
Gerald Turner
, who has offers from the likes of South Carolina and Clemson.
October, 27, 2011
10/27/11
10:11
AM ET
By
Mark Tennis & Doug Huff
| ESPN.com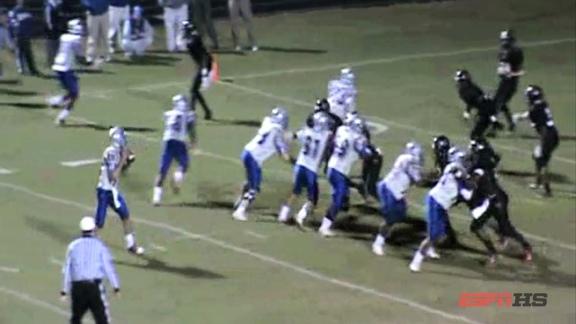 (After games of Oct. 20-Oct. 22)

One player is chosen from each region of the country. The only other criteria is that no player will be chosen more than once during a season.
EAST
Dane Brown, Franklin Regional (Murrysville, Pa.)
Promising junior running back who has had a breakout season so far rushed for 226 yards on 21 carries and scored three touchdowns to help his undefeated Franklin Regional (Murrysville, Pa.) team move into sole possession of first-place in the WPIAL Class AAA Keystone Conference. The junior enters this week's game against Greensburg Salem (Greensburg, Pa.) with 1,482 yards on the ground and 26 touchdowns with nearly 12 yards per carry on the season.
SOUTHEAST
Shuler Bentley, Byrnes (Duncan, S.C.)
The 6-foot-1, 180-pound sophomore quarterback had a first-half to remember in a 65-0 blowout rout of Hillcrest (Simpsonville, S.C.). He completed 21-of-31 passes for 288 yards and six touchdowns -- all with eight minutes left in the half -- as the Rebels led 42-0 at intermission. The six-TD effort was two short of the state record. After the opening game series came up empty, Bentley tossed for four touchdowns on nine plays, including three in a row, as the Rebels led 28-0 after a quarter. Shuler is the son of Rebels' offensive coordinator and athletic director Bobby Bentley, a former head coach who guided Byrnes to four straight state titles and numerous national rankings in the 2000s.
MIDWEST
Ian Woodworth, Marist (Chicago)
The 6-foot, 165-pound junior quarterback recorded his second straight eye-opening passing effort in a wild 56-51 victory over Joliet Catholic (Joliet, Ill.). He completed 35-of-45 passes for 557 yards and four touchdowns and rushed for a fifth score. A week earlier, in another shootout -- a 64-63 double-overtime win over Carmel (Mundelein, Ill.) -- he completed 33-of-51 aerials for 452 yards and eight TDs. His two-game totals entering this weekend are 1,009 passing yards and 12 scores. On the season, Woodworth also has passed for 2,598 yards and 28 touchdowns.
MIDLANDS
Jerame Littell, Stillwater (Stillwater, Okla.)
One week after Littell helped Stillwater to a big win against region-ranked Owasso (Owasso, Okla.), the 6-foot-4, 195-pound senior quarterback passed for seven touchdowns to lead the Pioneers past Enid (Enid, Okla.) 52-28. Littell, regarded as one of the top quarterbacks in the state, completed 15-of-25 passes for 288 yards. He also increased his season totals to 2,627 yards and 31 touchdowns. Littell has surpassed several Stillwater passing totals that were once set by Matt Holliday, currently playing in the World Series for the St. Louis Cardinals.
WEST
Jake LaCoste, West Albany (Albany, Ore.)
Just a sophomore, LaCoste put his name atop the all-time best single-game list for Oregon running backs by rushing for 508 yards on 39 carries and scoring five touchdowns as his team beat Silverton (Silverton, Ore.) 35-21. Despite missing the final 11 minutes of the game with a bruised knee and going against an opponent that like West Albany also was among the top 10 in the Class 5A state rankings, LaCoste broke the previous state record of 481 yards set in 1998 by Joel Williams of North Douglas (Drain, Ore.). LaCoste is following the path of older brother Anthony, who is now playing at Air Force. Anthony rushed for 6,419 yards and scored 87 touchdowns during his years at West Albany. Jake already has 1,589 yards and 17 scores this year so with two years to go it looks like older brother's records will be beaten by younger brother.