High-SchoolFootball:

Southlake Carroll
April, 5, 2012
4/05/12
10:03
AM ET
By
Brandon Parker
| ESPN.com
Throughout this offseason, we've spotlighted Class of 2013 quarterbacks who have a shot at making the Elite 11 finals in July. This week, we profile a player who's already earned that honor in Skyline (Dallas) junior DeVante Kincade.
In
DeVante Kincade
's mind, he was about four months overdue for his chance to throw passes at Cowboys Stadium.
Last December, the Dallas Skyline junior quarterback stood one win away from playing for the Class 5A, Division I state title under the bright lights of "Jerry's World." But the Raiders' undefeated season unraveled in the final two minutes during a 28-24 semifinal loss to eventual champ Southlake Carroll (Southlake, Texas).
"It was real tough, watching them score and then recover the onside kick and score again," recalled Kincade, who threw for 3,720 yards and 37 touchdowns last season. "We had 40 seconds after that to try and win the game, but we couldn't get the lead back. That loss gave me more fire and flames to work way harder and add on to our intensity."
So when Kincade finally did get to throw in Cowboys Stadium at last month's Dallas Elite 11 Regional Quarterback Camp, he was more than ready to shine. Using strong footwork and impressive accuracy, Kincade
earned MVP honors
and the first of 24 spots at the Elite 11 finals in Redondo Beach, Calif., in July.
Kincade took some time out to talk about his Elite 11 selection, recruitment and how RGIII is biting his style.
ESPNHS:
What was the experience like at the Dallas Elite 11 regional?
Kincade:
I had a really great time. There were a lot of great juniors there, so I knew I had to set the tone and get it done. We did things like throwing on the run and rolling out for the throw with things swinging in our face. It was really fun and challenging.
ESPNHS:
What do you think stood out to the counselors that led them to name you the MVP?
Kincade:
I felt like I did well in the footwork drills and being accurate. It almost felt like I was back at Skyline; I felt comfortable. I was just trying to be a leader and play to the best of my ability. I really wasn't expecting to win MVP, but God blessed me so that I did.
ESPNHS:
What do you think the Elite 11 finals will be like?
Kincade:
Oh, it's going to be
way
more intense. Trent Dilfer is a different guy. He's actually kind of like one of our coaches at Skyline, our offensive coordinator. He has a real passion for the game and I like that. I saw some of it on TV last year and they coach you really hard, which is good.
ESPNHS:
What are your strengths as a quarterback?
Kincade:
I think I have real good accuracy. I can also get out of the pocket and make throws on the run. I can play out of the shotgun and make hard throws as well.
ESPNHS:
What are some things you are working to improve upon?
Kincade:
I want to buy more time in the pocket instead of just rolling out so much. I think it'll help to make more throws in the pocket and only run if I really have to.
ESPNHS:
Speaking of which, I'm sure you know a lot of critics have their thoughts about your size and what you need to adjust in your game. How do you respond to them?

Kincade:
Once I came into Elite 11, I came in confident. I know I'm not as highly recruited as a lot of the other guys, so I had to be confident in myself. I know I'm better than them. That's not to sound cocky, but it's just a confidence I have in myself and my ability.
ESPNHS:
The weekend wasn't all good news for you. Your top receiver in junior
Ra' Shaad Samples fractured his left foot
and is expected to be out three to four months. How concerned are you about his injury?
Kincade:
I was shocked when I heard it. I couldn't believe it. We have great chemistry, where he knows where I'm going to throw it and I know where he will be. He knows when I'm having a bad game and I know when he's having a bad day, too. I'm sure he will come back strong, though.
ESPNHS:
Which schools are recruiting you right now and where are you at in the process?

Kincade:
I've got offers from Kansas State, Colorado, Notre Dame, Mississippi State, Illinois and Oregon State. I don't have any favorites at this point. I think after spring football is over, I'll break it down some to a list of favorites.
ESPNHS:
I noticed you wear a glove on your left hand. Is that something you do for style or grip?

Kincade:
I've always been doing that since middle school. It does help me grip the ball better, and I feel like a different person when I put the glove on (
laughs
). A lot of people think I got it from Robert Griffin, but I was wearing it way before him.
School:
Skyline (Dallas)
Position:
QB
Class:
2013
2011 Team Record:
14-1 (lost in Class 5A, Division I semifinals)
2011 Stats
Completions-Attempts:
186-263 (.707)
Passing yards:
3,720
TD:
37
INT:
8
Rushing yards:
857
TD:
17
Brandon Parker covers high school sports for ESPNHS magazine and ESPNHS.com. Follow him on Twitter @brandoncparker or email him at brandon.c.parker@espn.com.
November, 10, 2011
11/10/11
2:42
AM ET
By
Mark Tennis & Doug Huff
| ESPN.com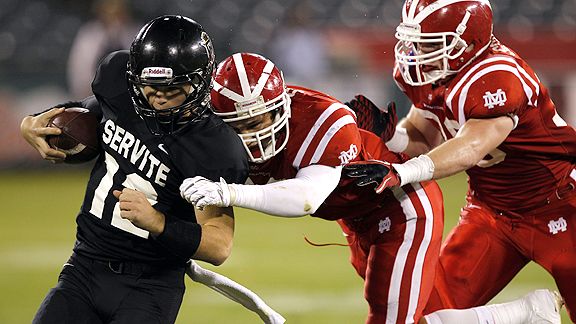 Alex Gallardo/Special to ESPNLA.comServite (Anaheim, Calif.) faces a big test versus Santa Margarita (Rancho Santa Margarita, Calif.) this weekend.
GAME OF THE WEEK

Santa Margarita (Rancho Santa Margarita, Calif.) 8-1 vs. No. 22 Servite (Anaheim, Calif.) 8-1 at Cerritos College, 7:30 p.m., Friday
Since there are no games this weekend between FAB 50 teams, this matchup comes the closest because Santa Margarita was No. 44 before the Eagles suffered their only loss 21-14 to Mater Dei of Santa Ana.
Servite beat Mater Dei 35-28 last weekend and enters the game needing to beat Santa Margarita to complete a third straight perfect run through the Trinity League, which is one of the toughest leagues, if not the toughest, in California. If the Eagles win, they would force a tie at the top and would take the league's No. 1 seed into the CIF Southern Section Pac-5 Division playoffs by virtue of a head-to-head win.
The Friars, who suffered their only loss 31-28 to FAB 50 No. 7 Bishop Gorman (Las Vegas), have been as good as advertised on offense behind quarterback
Cody Pittman
. It seems like a different running back in every game takes the lead role, but Pittman has been consistent throughout. On defense, Servite's clear leader is BYU-bound
Butch Pauu
. The linebacker flies sideline-to-sideline making plays and also has been a standout pass-catcher and blocker on offense.
Santa Margarita has shown it is vulnerable to an opponent with speed, but the Eagles' dominance up front could be the difference against Servite and in the CIFSS playoffs. The offensive line is led by 6-foot-5, 275-pound
Max Tuerk
(committed to USC) and 6-4, 320-pound junior
Riley Sorenson
. In last week's win against St. John Bosco, junior quarterback
Johnny Stanton
also had a big game. He passed for 153 yards and rushed for 173 yards and two touchdowns.
PLAYER TO WATCH
Ken Hill, Southlake Carroll (Southlake, Texas)
The 6-2, 210-pound junior quarterback has led the Dragons to a 10-0 regular-season mark and a No. 46 spot in this week's FAB 50 rankings. Last weekend, the son of former Texas Rangers pitcher Ken Hill passed for 309 yards and four scores and rushed for 161 yards and two touchdowns in a 42-29 win over Denton Guyer (Denton, Texas). That boosts his season totals to 1,996 passing yards and 19 TDs plus 756 rushing yards and 12 scores.
Hill, who passed for 1,752 yards as a sophomore, opened his junior season with a 402-yard passing effort in a 38-31 win over Copperas Cove (Copperas Cove, Texas). This weekend, Carroll opens the Class 5A state playoffs against Plano East (Plano, Texas). Even though Plano East is just 6-4, it's not going to be easy for the Dragons, who may need another huge game from Hill to advance. Plano East won its game last week 52-28 against Lewisville (Lewisville, Texas) and lost one of its games by just 41-38 to FAB 50 No. 3 Allen (Allen, Texas). The Eagles had to score in the game's final minute to win, too.
UPSET ALERT
Lowndes (Valdosta, Ga.) 7-3 vs. No. 49 Stephenson (Stone Mountain, Ga.) 9-1, Saturday at Haliford Stadium
This could be the best opening-round game in the Georgia Class AAAAA state playoffs.
Looking at comparative scores, Stephenson should bounce back from its hard-to-believe 50-49 loss to M.L. King (Lithonia, Ga.) last week, but recent playoff history has not been kind to the Jaguars. One year ago, they lost their final regular-season game and then were eliminated in their first playoff game by current FAB 50 ranked Hillgrove (Powder Springs, Ga.). Two years ago, Stephenson went out in the second round while in 2007 and 2008 they were gone by the second round, as well.
Lowndes has had stronger teams in the past, but it's still Lowndes, a traditional power that can spring a surprise at any time. Two of the losses by this year's team have come by close scores against strong teams McEachern (Powder Springs, Ga.) and Valdosta (Valdosta, Ga.) and the team enters this week's game after wins of 36-16 against Coffee County (Douglas, Ga.) and 21-0 over Tift County (Tifton, Ga.).
The Jaguars will be looking to spring University of Florida-commit
Mike Davis
to frequent long runs. Davis is among the state leaders this season with 1,793 yards rushing. Lowndes will try to keep pace with running back
Mike Moore
and quarterback
Lance Jarriel
leading the way.
Upset alerts so far this season: 5-5
TEAM ON THE RISE?
Rockford (Rockford, Mich.)
The Rams have been one of Michigan's top Division 1 programs for several years, but may have gotten lost in the rankings mix by opening the season with a 28-7 setback to Lowell (Lowell, Mich.). Since then, Rockford has won 10 straight games while scoring more than 40 points in seven wins.
Last weekend, the Rams won a second-round playoff game 42-14 over Grand Ledge (Grand Ledge, Mich.). The Rams led 35-0 at halftime against a team that hadn't allowed more than two TDs to any foe this season. This week, the third-round opponent is Grand Blanc (Grand Blanc, Mich.).
The tradition-laden program with more than 700 all-time wins has won three state titles since 2004 with the last in 2008 when the Rams went 13-1. Two 11-win seasons followed with Rockford seeking to match that win total this weekend.
Coach
Ralph Munger
's team is led by 6-6, 285-pound offensive lineman
Ben Braden
, a Michigan recruit, and quarterback
Matt LaPrairie
.