High-SchoolFootball:

Trent Hosick
June, 6, 2012
6/06/12
10:21
AM ET
By
Mark Tennis
| ESPN.com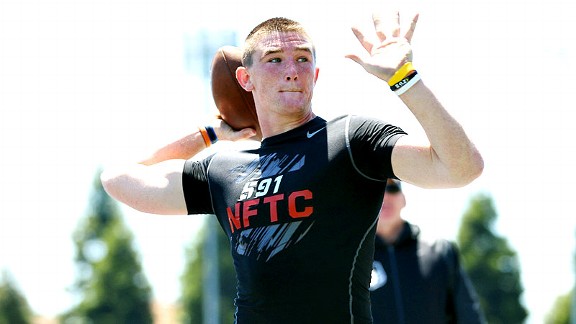 Tom Hauck/ESPNHSJunior quarterback and Missouri commit Trent Hosick guided Staley (Kansas City, Mo.) to its first state title this past fall.
During the offseason, we'll check out one team per week that looks like a sure bet to be among the best in the nation this fall.
FAB 50 Offseason Primer archive
This week's team:
Staley (Kansas City, Mo.)
2011
Season
: 14-0,
Class 5 state champion
, No. 12 in final
Midlands Region rankings
.
Projected
2012
Preseason
Ranking
: Top 50. While the Falcons didn't win the highest division in Missouri's Show-Me Bowl last December, they made a strong case that they were the state's top overall squad. Not only were they unbeaten, but they posted a win against Blue Springs (Mo.) early in the season and Blue Springs was a team that also notched a win early in the season against Class 6 state champion Blue Springs (Mo.) South (Blue Springs, Mo.). This year's Staley team once again will feature the talents of
Trent Hosick
(6-2, 220), one of the top-ranked quarterbacks in the nation. A Missouri commit,
Hosick
rushed for 2,403 yards and 31 touchdowns as a junior and passed for 1,422 yards and 10 scores.
Team Strengths
: Hosick's return automatically makes the Falcons a choice to be one of Missouri's best teams for this fall. He has committed to Missouri after getting offers from most schools from the Big 12 and Big Ten. For the team to repeat and be higher in the rankings, however, a replacement will need to step up for graduated standout
Morgan Steward
. He rushed for 2,226 yards and scored 36 times in his senior season. A good bet to become that feature back is Tre Childs, who averaged nearly eight yards per carry as a backup. Another plus will be the return of all-state offensive lineman Austin White. The defense also could be in rebuilding mode and will need some younger players, including sophomore linebacker Parker Mertz, who played varsity as a freshman, to become team leaders.
Another Missouri team to watch:
Webb City (Mo.) begins 2012 as a two-time defending Class 4 state champion and with on a 30-game winning streak. It's hard to tell how the Cardinals would fare against bigger schools, but early in the season they are going up against Har-Ber (Springdale, Ark.), a solid Class 7A program from Arkansas. This year's team at Webb City also is loaded with returning standouts, led by running back Phoenix Johnson, who rushed for 1,920 yards and scored 33 touchdowns last fall. Three others who earned Class 4A all-state honors as juniors are defensive lineman Jose Speer, kicker Alex Easley, linebacker Nate Brown and tight end Kohl Slaughter.
May, 24, 2012
5/24/12
10:07
AM ET
By
Brandon Parker
| ESPN.com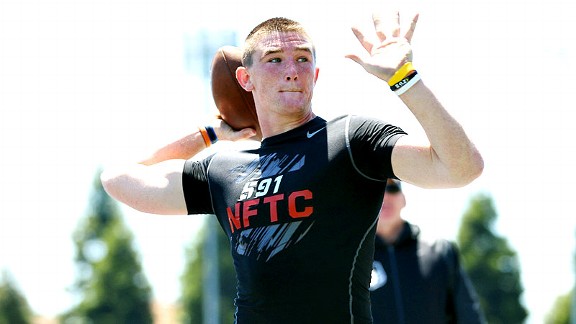 Tom Hauck/ESPNHSStaley (Kansas City, Mo.) quarterback Trent Hosick makes a throw at the Oakland NFTC on May 20. The junior will compete at the Elite 11 regional in Las Vegas on June 16.
Throughout this offseason, we've spotlighted Class of 2013 quarterbacks who have a shot at making the Elite 11 finals in July. This week, we profile Staley (Kansas City, Mo.) junior Trent Hosick, who will compete in the Las Vegas Elite 11 regional on June 16.
Since transferring from Ozark (Mo.) after his freshman year,
Trent Hosick
has adjusted nicely at Staley (Kansas City, Mo.). After sitting out a year, he excelled in his first season under center this past year, maintained a high GPA and even made waves on YouTube by creating a video on
how to "Heisman"
with teammate
Morgan Steward
. But there is one thing the junior quarterback has not grown accustomed to since becoming a Falcon — losing.
In the fall, Hosick totaled 2,403 yards and 31 touchdowns on the ground while throwing for 1,422 yards and 10 touchdowns to lead Staley to a 14-0 record and the Class 5 championship, a first for the football program. Then in the winter, the 225-pound Hosick went 29-0 en route to the Class 3 heavyweight wrestling title, besting competitors who were sometimes 70 pounds bigger than him.
With his past success driving his thirst for more, Hosick will join some of the nation's top gunslingers for the final Elite 11 regional on June 16 in Las Vegas. Rated the
nation's No. 23 pocket passer by ESPN
, Hosick took time out to talk about his victorious junior campaign, commitment to Missouri and intense competitive drive.
ESPNHS:
After going undefeated and winning a state title in football, what was it like doing the same thing in wrestling?
Hosick:
I've been wrestling for 13 years and since I'm graduating early next year, I won't be around to wrestle as a senior, so what's not to love about what happened? It was a great conclusion to my wrestling career and made me even more competitive. It's definitely made me a better football player, too. It's taught me discipline and helped take my training to another level because no one works harder than wrestlers. That's the hardest type of training there is. I think what gives me an edge is the way I train, so there's no doubt that wrestling has helped me out in football, too.
ESPNHS:
How hard was it wrestling guys who were sometimes 70 pounds bigger than you?
Hosick:
I tried to put weight on during the season, but it's hard when you're wrestling because you have four-hour practices almost every day. I ended up wrestling state at 218 and most of the year I was weighing 212.
ESPNHS:
After leading a run-first offense last season, what are you looking to show at the Elite 11 regional next month?
Hosick:
At this point, I'm already committed to Missouri, so I'm not into impressing recruiters. Number one, I love competition, so winning is very important to me. What I hope to show at the camp is that I am one of the best throwing quarterbacks in the country. I have confidence in that. Our offense doesn't always showcase that, and that's fine because we won a state title, which is most important. But whatever doubts people had about me throwing, I plan on changing them and making them say "Wow, this kid is a great thrower."
ESPNHS:
What would it mean to get an invitation to the Elite 11?
Hosick:
I'd of course be really excited to be a part of the Elite 11, but at the same time I feel like I belong. There will be a lot of phenomenal players out there and I feel confident that I can throw with the best guys in the country. I'd be honored if the coaches thought that as well and invited me to the competition.
ESPNHS:
What made you commit to Missouri as a junior?
Hosick:
The number one thing to me in looking for a school was finding a place where the coaching staff, particularly the coach I would spend the most time around, were people I could consider a friend and who were winners. That's the type of relationship I have with [Staley] coach [Fred] Bouchard now. I don't want it to be a serious business relationship. I really love [Missouri assistant] coach [David] Yost and that's the biggest thing I found at Missouri, guys I can go to work with and consider family. The other thing was I wanted to go to a place where they were good but not quite national champions like Alabama or LSU. I wanted to be at a school that was just on the cusp of becoming the best team in the country and I want to be that piece that helps put them over the top. Plus, the guys they are bringing in and the move to the SEC make it even better. If I had waited eight more months, I still would've made the same decision to go to Missouri.
ESPNHS:
One of those guys coming in next season is Dorial Green-Beckham. What would it be like to potentially be throwing to a player like him?
Hosick:
It's very exciting. Dorial is an extremely rare high school football player and is going to be a great college player. At the same time, he will be a teammate and I hope he's willing to go to work because we have work to do as a team. I think we can do something special together. I know Dorial a little bit and I'm also very excited to play with Morgan Steward again, who is one of my best friends.
ESPNHS:
What have you been working on in anticipation for your senior year and the next level?
Hosick:
I watch my own video and critique myself and there are a few things I'm changing about my game. I'm working on my timing and trying to grow in making my reads quicker. I want to look off safeties better and be able to zip the ball in there. I'm also working on my "two throw," which is when you throw over the linebacker and in front of the safeties. My pocket presence is another thing, where I don't feel like I have to rush too soon. I can make plays with my feet if I need to, but the area I need to grow in most is taking a step up in the pocket and throwing with confidence even if there's a guy coming for me.
ESPNHS:
With all the winning you've done, how much more pressure does that create for you to succeed as a senior?
Hosick:
It does raise the bar and we have a very high standard for our team this coming year. I was a little worried at first about coming out again after such a wonderful season and having that same passion. But it didn't take long for it to come back and for me to start getting excited again. And we're going to do it again. Our first game is against Lee's Summit West and I'm confident we can push our team as hard as we can and win the championship again.
ESPNHS:
At this point, do you even remember what it's like to lose in sports?
Hosick:
I remember it enough not to want to do it again [laughs]. I don't like losing. It's the same thing that pushes me in academics, too. If I get a B, there's an A to be had in the class and if I got a B, then I know someone did better than me. I don't know why the Lord made me this way, but I just don't like losing in anything. And I won't do anything unless I know I will win at it. A lot of my friends like to challenge me in HORSE because they know I'm a cruddy shooter. So even though I like shooting hoops, I won't do it sometimes because I don't like losing. It sounds crazy, I know. But that's just the way I am.
Trent Hosick
School:
Staley (Kansas City, Mo.)
Position:
QB
Class:
2013
2011 Team Record:
14-0 (Class 5 state champ; No. 1 in
Missouri POWERADE state rankings
)
2011 Stats
Passing Yards:
2,403
TDs:
31
Rushing Yards:
1,422
TDs:
10
Brandon Parker covers high school sports for ESPNHS. Follow him on Twitter @brandoncparker or email him at brandon.c.parker@espn.com.
November, 28, 2011
11/28/11
10:11
AM ET
By
Brandon Parker
| ESPN.com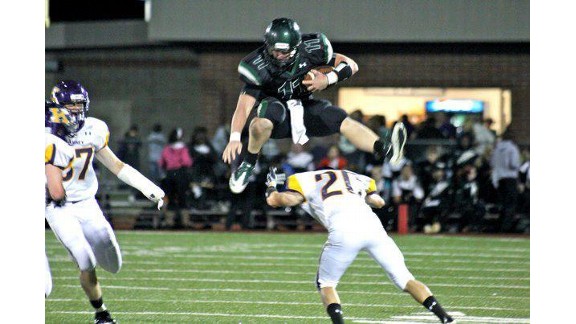 Courtesy of the Hosick family/ESPNHSStaley (Kansas City, Mo.) junior quarterback Trent Hosick led the Falcons to their first Class 5 championship this season.
As he's only a junior, it's safe to say
Trent Hosick
has plenty of good football ahead of him. But it could be hard for the Staley (Kansas City, Mo.) quarterback to top the past two weeks.
On Nov. 18,
Hosick
racked up 371 total yards and seven touchdowns to lead the Falcons to a 76-70
quadruple-overtime win
against defending champ Lee's Summit West (Lee's Summit, Mo.) in the Class 5 state semifinals. Then, this past Saturday, the dual-threat QB pushed Staley (14-0) to
its first state title
by scoring four touchdowns in a 35-21 win against Kirkwood (Kirkwood, Mo.).
Mind you, this was Hosick's first season as a starter after transferring to Staley from Ozark (Ozark, Mo.) and sitting out last season. And while the 6-foot-2, 221-pounder has yet to receive his first scholarship offer, the early interest shown by the likes of Stanford, Michigan State and Oklahoma State is bound to spike after his impressive junior campaign. Hosick finished the season with 2,403 yards and 31 touchdowns on the ground, and 1,422 yards and 10 TDs through the air.
But for as much as Hosick loves football and winning, both are simply steps toward his ultimate goal in life. To find out what that is as well as what drives one of the nation's top juniors, let's Get Familiar with Trent Hosick.
November, 22, 2011
11/22/11
9:31
AM ET
By
Mark Tennis & Doug Huff
| ESPN.com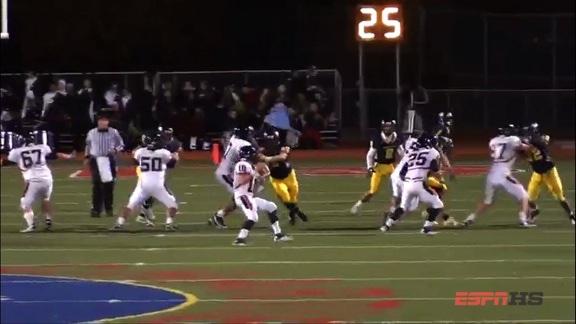 (After games of Nov. 17-19)
One player is chosen from each region of the country. The only other criteria is that no player will be chosen more than once during a season.
EAST
Pete Coughlin, Upper St. Clair (Upper St. Clair, Pa.)
In a game that featured as many as eight Division I commits between the two rosters, Upper St. Clair upset POWERADE FAB 50 No. 13 and previously unbeaten Central Catholic (Pittsburgh) 28-14 thanks to an unlikely star performance among so many proven stars on the field. With starting quarterback Dakota Conwell out of the crucial WPIAL AAAA playoff battle due to injury, first-time starter Coughlin, a junior, finished with 209 yards rushing on 21 carries, including an epic 73-yard dash that turned the momentum of the game. He also threw a clutch 25-yard touchdown pass that sealed the pivotal win and put his team into a rematch of last year's AAAA final with North Allegheny (Wexford, Pa) next Saturday. Reports suggest that Coughlin was so nervous during the tense game that he got sick early in the first half, but it didn't show on the field.
SOUTHEAST
Rayshawn Jenkins, Admiral Farragut (St. Petersburg, Fla.)
This 6-foot-1, 190-pound senior was used at tailback for the first time this season and responded with 356 yards and three touchdowns on 14 carries as the 10-1 Bluejackets handed Evangelical Christian (Fort Myers, Fla.) its first loss with a 48-24 victory in the Class 2A state playoffs. He scored on runs of 76, 50 and 80 yards. Jenkins, who has committed to the University of Miami and participated in Champion Gridiron Kings last summer, normally plays wide receiver and defensive back. But this isn't the first time that Jenkins has dominated Evangelical Christian in the postseason as a running back — he ran for 249 yards in a playoff win last year.
MIDWEST
Leo Musso, Waunakee (Waunakee, Wis.)
This 5-foot-11, 195-pound senior workhorse running back led the Warriors to their third straight Division 2 state title and their 36th straight win in a 45-0 rout of Waterford (Waterford, Wis.). Musso rushed 27 times for 181 yards and four touchdowns to break the previous D-2 state title game record and he tied the all-division state final standard. Musso scored on runs of 28, 41, 4 and 27 yards. He already has been selected first team All-Class, All-State by the Wisconsin Football Coaches Association. Prior to this season, Musso showcased his considerable athleticism by earning the top SPARQ rating (120.27) at the Nike SPARQ Combine in Chicago last March.
MIDLANDS
Trent Hosick, Staley (Kansas City, Mo.)
In probably the wildest game in the nation this week and one of the wildest in Missouri state playoff history, Hosick paced the unbeaten Falcons to a 76-70 win in four overtimes over Lee's Summit West (Lee's Summit, Mo.) in the Class 5 state semifinals. The 6-foot-2, 220-pound junior, who could be the top junior quarterback prospect in the state, rushed 40 times for 261 yards and scored six touchdowns. He also completed 6-of-10 passes for 110 yards and one score. For the season, Hosick has rushed for 1,963 yards and 27 touchdowns and has passed for 1,331 yards and 10 TDs. With the win, Hosick's team advanced to this weekend's Show-Me Bowl for the Class 5 championship against Kirkwood (Kirkwood, Mo.) at the Edward Jones Dome in St. Louis.
WEST
Chase Hansen, Lone Peak (Highland, Utah)
Playing on the same Rice-Eccles Stadium turf in which he'll play in college for the University of Utah, this 6-foot-4, 210-pound senior quarterback concluded a fantastic season by leading the Knights past Fremont (Plain City, Utah) 41-21 in the Class 5A state championship game. Hansen passed for 242 yards and three touchdowns and also rushed for 233 yards plus two more scores. Hansen also pushed his final season totals to 3,066 yards and 35 touchdowns through the air. As a runner, he ended with 1,404 yards and scored 16 times. With the win, Lone Peak won its first state title, completed a 14-0 season and gave the team a chance to finish in the final POWERADE FAB 50 national rankings.