High-SchoolGeorgia:

Robert Nkemdiche
April, 30, 2012
4/30/12
9:58
AM ET
By
Brandon Parker
| ESPN.com
Despite rushing for 1,300 yards and 17 touchdowns last season,
Alvin Kamara
understands if he's overlooked at times. In fact, the Norcross (Ga.) junior tailback says it's a given, considering the top two players in the ESPN 150 --
Robert Nkemdiche
and
Reuben Foster
-- also starred in Georgia last year. But that doesn't stop Kamara from believing he's the best.
That's why his goals entering the Atlanta NFTC on April 20 were simple --
win the MVP for his position and earn an invite to The Opening
. Kamara did just that, using his power and rushing skills to achieve both his goals and stand out among some of the region's best players.
BCS football programs are plenty familiar with Kamara, who once received
more than 100 recruiting letters in one day
from Alabama. And come this fall, the 5-foot-10, 190-pound rusher is confident that the entire nation will also get familiar with this emerging star.
ESPNHS:
What was clicking for you that allowed you to win the running back MVP at the Atlanta NFTC?
Kamara:
The way I prepared prior to the NFTC really helped. We do workouts every morning at Norcross -- the same type of stuff we did at the NFTC, like bag work and running cuts and drills, so it was almost like another workout and I was probably better prepared than most. Also, my confidence and the way I approach things helped. I feel like I'm the best. And that's in no type of cocky manner. I just go out to be the best in everything that I do and I think that's what separated me.
ESPNHS:
What was your favorite part and what was the hardest part of the camp?
Kamara:
My favorite part was the one-on-ones with the linebackers. That's what everybody was waiting for, being able to run plays and routes because either you were going to get the ball or get embarrassed. The hardest part was probably the blocking drills. You didn't really know what to expect at first. I wasn't really ready the first time and the guy went right past me. So I had to refocus and get serious after that so no one else would get by me.
ESPNHS:
How big is it in your development as a player to get an invite to The Opening?
Kamara:
It feels great. I mean, those are the top 150 prospects in the nation, so to get invited to be a part of that is great. And I feel like with my performance at the NFTC, I definitely earned it.
ESPNHS:
You're ranked number 79 in the ESPN 150 among a lot of other Georgia players. How do you feel about where you're ranked?
Kamara:
I kind of just busted onto the scene whereas guys like Reuben (Foster) and (Robert) Nkemdiche have been on the map, so I understand and I'm not mad about it. But I'm going to work hard so I can move on up toward the top with some of those guys.
ESPNHS:
Last year, you had a star receiver in
Jason Croom
who got a lot of attention from defenses. Now that's he graduated, all eyes will be on you. How do you plan on adjusting to the extra attention while still being effective?
Kamara:
I saw Jason deal with it last year with all the attention he had on him, and he handled it real well. That's what I plan to do -- just stay humble and lead my team the best way I can so we can win.
ESPNHS:
What is your biggest strength and what's something you want to improve upon?
Kamara:
I'll start with what I want to improve on -- my lateral movement. I'm more of a straight ahead, speed and power guy, so I need to work on the lateral part of my game. I'd say my strength is my vision and speed as a runner.
ESPNHS:
Your recruitment has received a lot of attention recently, from the 100 letters from Alabama to you saying that you, Foster and
Tray Matthews
plan on
going to the same college
. Where does your recruitment stand right now?
Kamara:
My recruitment is still wide open. I'm just enjoying the process, going through it and talking to the schools that are looking at me. I'm trying to learn everything I can learn about each school. As far as me, Reuben and Tray, that's something we want to do and we've flirted with the issue a little. I know they are committed to different schools right now, but if it comes down to us wanting to play together, it will happen. But we'll see.
ALVIN KAMARA
School:
Norcross (Ga.)
Class:
2013
Position:
Running back
HT:
5-10
WT:
190
FAVORITES
Movie:
"The Blind Side"
Car:
Black Dodge Challenger
Food:
Chicken
Athlete:
Tiger Woods ("I've seen some interviews and videos of him and the way he talks about being the best and saying nobody can beat him, I like that.")
Team:
Green Bay Packers
Subject:
Language Arts
Brandon Parker covers high school sports for ESPNHS magazine and ESPNHS.com. Follow him on Twitter @brandoncparker or email him at brandon.c.parker@espn.com.
April, 4, 2012
4/04/12
9:49
AM ET
By
Mark Tennis
| ESPN.com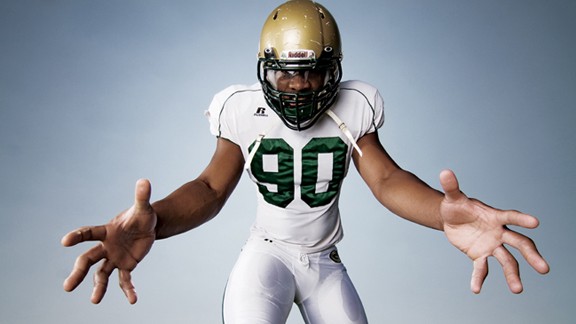 Ryan Gibson/ESPNHSGrayson (Loganville, Ga.) junior defensive lineman Robert Nkemdiche had 18 sacks this season and led the Rams to their first state title.
During the offseason, we'll check out one team per week that looks like a sure bet to be among the best in the nation for next fall.
This week's team:
Grayson (Loganville, Ga.)
2011 Season:
15-0, Class AAAAA
state champion
, No. 4 in final
POWERADE FAB 50
.
Projected 2012 Preseason Ranking:
Top 5. It's been 20 years since there's been a Georgia team at the top of a final national ranking and this squad could be the one to do it. Valdosta (Ga.), the winningest program in U.S. history, was the last school from the state to accomplish that feat in 1992. Grayson will not only be playing top teams from Gwinnett County (arguably the best county for football in the state), but it also has stepped up with its scheduling to include a matchup against Miami Central (Miami) on Aug. 31. Miami Central is expected to be one of the highest-ranked preseason teams in Florida.
Team Strengths:
Defense, defense and more defense. If there's a team in America with a better group coming back on that side of the ball than what coach Mickey Conn has at Grayson, it's a team that just got a bunch of five-star transfers. The best player on defense for the Rams is perhaps the country's best overall recruit, junior lineman
Robert Nkemdiche
. The
ESPNHS All-American
had 18 sacks for the second consecutive year and also scored 17 touchdowns on offense. He'll be joined up front by fellow junior and all-state selection Jack Banda. Another all-state selection, junior
Wayne Gallman
, is a standout at running back and linebacker. Junior defensive back
Kasey Gaines
was named Gwinnett County Defensive Player of the Year (Nkemdiche was the overall Player of the Year) by The Atlanta Journal-Constitution, while junior defensive back
David Kamara
is receiving interest from major programs.
Another intriguing defensive player is junior defensive back/punter Austin Meadows, who joined the team late last year after starring for USA Baseball's gold-medal winning 16U National Team at the IBAF World Youth Championships.
So just how good were the junior-oriented Rams on defense last year? They only gave up six first downs to previously unbeaten Walton (Marietta, Ga.) in last year's 24-0 win in the state championship and completely shut down Walton junior running back and Alabama commit
Tyren Jones
, who had scored 38 touchdowns coming in.
There could be some question marks on offense, especially under center since star quarterback
Nick Schuessler
signed with Mississippi State.
Another Georgia team to watch:
While Walton was shut down by Grayson in the Class AAAAA finals, Colquitt County (Moultrie, Ga.) was not in the semifinals. The Packers (11-3) had upset nationally ranked Camden County (Kingsland, Ga.) in the quarterfinals and lost just 35-31 in a shootout to Grayson. Coach Rush Probst's program is still looking to take a step up to the level that the program at Hoover (Ala.) had ascended to when he was there, but the squad will return five key defensive starters. Linebacker
John Gray
is the best of that bunch. On offense, quarterback
Cole Segraves
(6-4, 220) passed for 2,115 yards and 17 touchdowns as a junior and is one of the best in the state. Bobby Hill, who led the team in touchdown catches, also will be back along with three starters on the offensive line.
September, 22, 2011
9/22/11
3:36
PM ET
By
David Auguste
| ESPN.com
It's time for the All-State Stock Watch, as we look at
All-State
football players who saw their potential value rise or fall over the past week. A player could have performed well in a game, received a big-time scholarship offer, broken his leg or just had an off game.
UP — Marteze Waller, Putnam County, RB

We didn't put Waller on our All-State first team, but he's certainly producing like one of the best 11 players in Georgia through the first month of the season. The senior has torched opposing defenses to the tune of 837 yards and 11 touchdowns to propel the Eagles to a 3-1 mark.
DOWN — Robert Nkemdiche, Grayson, DL

It's odd to say Nkemdiche's stock is dropping when Grayson is No. 1 in the
state
and ranked No. 16 in the
POWERADE FAB 50
, but his team's relative ease in dispatching opponents has the junior All-American candidate hanging out on the sideline while the second string players get some burn. Grayson's games haven't been close as the Rams have outscored their opponents, 133-28.
UP — Darius English, McEachern, DL

The Indians have skyrocketed to No. 36 in the POWERADE FAB 50 (No. 4 locally) on the strength of their suffocating defense, which has allowed 44 points in four games. English has been McEachern's most consistent defender, and is coming off a two-sack, one-blocked punt effort in a shutout of Campbell. English has accrued nine sacks and has scored a defensive TD for undefeated McEachern.
August, 22, 2011
8/22/11
6:26
PM ET
By
David Auguste
| ESPN.com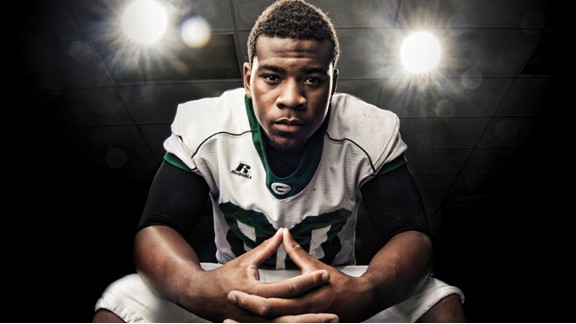 Ryan Gibson/ESPNHSRobert Nkemdiche is often called a man-child and has the attention of several BCS programs.
Junior Robert Nkemdiche is arguably the nation's most coveted football recruit, but he wants to make sure people notice his Grayson teammates as well. The 6-foot-5, 270-pound DE/RB has grinded his way to elite status individually (he has offers from Miami, Florida, FSU and Oregon, among others), and along the way he has elevated Grayson (No. 26 in the
POWERADE FAB 50
) to national prominence.
Last year, he posted 23 tackles for loss and 18 sacks during a 10-win campaign. Nkemdiche scored the lone touchdown in Grayson's 7-0 season-opening win over Kell on Friday night.
ESPNHS senior writer Jon Mahoney caught up with the player often referred to as a "man-child" to see what drives him and what he has in store for the 2011 season. Read all about it
here
.