High-SchoolGirl:

Girls Lifestyle
March, 26, 2012
3/26/12
9:34
AM ET
By
Angelica Richie
| ESPN.com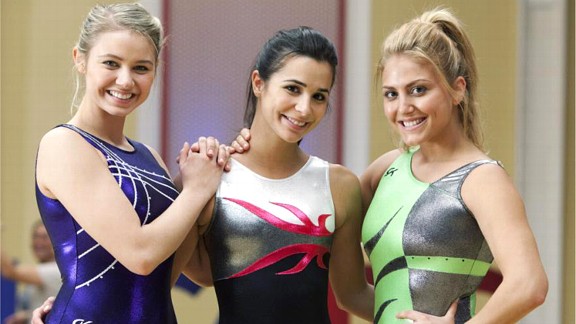 Courtesy of Carly SchenckerJosie Loren (center) plays Kaylie Cruz on the ABC Family series "Make It or Break It."
Josie Loren stands on the winner's podium at the Gymnastics World Championships. Music blares, bouquets are handed out, and medals are awarded. All eyes are on her and her teammates. It's a moment elite gymnasts dream of.
But it's not real.
It's another day on the set of the ABC Family series "Make It or Break It," a fictional drama that follows a group of elite gymnasts with Olympic dreams. The spring premiere is Monday night at 9 (EST).
Loren, who went to high school at New World School of the Arts in Miami, stars as Kaylie Cruz, a teen who has seen a lot of triumph and a lot of struggles in the past two seasons.
Negotiating the space between actress and athlete is a constant challenge for the 25-year-old Loren. While on set, moments like the awards ceremony make the experience feel very real.
"I remember being so overwhelmed," she said of shooting the scene. "I did feel like a world-class athlete."
Loren's high school years were focused on the arts, but there were years of gymnastics and cheerleading when she was younger. While the high-flying acrobatics for the show are done by doubles, much of the choreography falls to the actresses. Always a strong tumbler, Loren uses her experience to pull off the role.
"The most they'll let me do is the roundoff," she said. "But we do the choreography."
And a lot more.
"Scenes where it's us working out in the gym," she said, "that's us working out."
Those days get real in the physical sense. Loren recalls shooting a running scene that took the first five hours of the morning. She spent the rest of the day icing her shins between takes.
Serious training is a must. In addition to attending boot-camp style training balanced with yoga, Loren trains with the cast.
Developing lower-body strength is especially crucial for the speed she needs to convince the audience she's about to launch her body on tumbling passes and vault approaches.
"It helps us run faster and have more endurance," she said. "We have to do multiple takes when we're shooting."
Her most hated but most effective exercise? Burpees. To do them, you squat to the floor, jump your feet behind you and into a full push-up, jump your feet back to your hands, and do a full vertical jump with as much height as possible.
She doesn't exactly love the cardio portion of her workout, either.
"I do it because it's good for me," she says, "but I hate suicides."
After experiencing elite gymnastics culture, Loren marvels at the depth of passion the real-life athletes have. Two of the most memorable people she has worked with are 2008 Olympic all-around gold medalist Nastia Liukin and coach Bela Karolyi.
"We have incredible gymnasts on the show all the time, and I have the utmost respect for these girls," Loren said. "Talking to them, I've realized that they've sacrificed their whole lives, and they do it for the love of it."
To connect to the areas of Kaylie's life that differ from her own, Loren created a journal.
"I gave her a past and moments that I could recreate in my mind and live in my mind," she said. "Then when I talked about something, I had those memories to pull from."
One area of the show that received significant attention last season was Kaylie's struggle with anorexia. Grateful to have never dealt with an eating disorder herself, Loren still relates to the root of Kaylie's struggle.
"She became a huge perfectionist, wanting to be the best," she said. "For her it's a gold medal; for me it may have been an 'A.' "
Like the characters on the show, Loren experiences constant pressure to maintain a certain look and athletic standard. She's learned that it's about how you respond to that pressure that really matters.
"There are times in my life when I haven't been happy," she said. "Sometimes it's not even physical, it's something else. The key is identifying why you're unhappy and doing whatever you can to fix it in a healthy way."
"It's not about being the skinniest; it's about your well-being."
When all eyes are on you, whether you're an athlete or an actor, there are way more important things than your exterior, she said.
"Well-being is how I feel in my skin, not about how other people are looking at me and what they see … it's what I feel like."
Remembering that allows for the confidence it takes to grab gold or air in primetime.
January, 13, 2012
1/13/12
2:59
PM ET
While many of us will spend the Martin Luther King Jr. weekend practicing for games, playing in tournaments or rooting for our favorite teams on TV, it's also the time to remember King's legacy and reflect on the work that still needs to be done.
Click to find out what King means to tennis legend
Billie Jean King
, former WNBA star
Lisa Leslie
and current WNBA superstar
Maya Moore
.
For more tributes to Dr. King, click here.
January, 9, 2012
1/09/12
4:54
PM ET
Before he led the Broncos to a stunning win over the Steelers in the playoffs and before he set records on Twitter, several high school volleyball players were already suffering from Tim Tebow Mania.
"He's an amazing player, and he is humble at the same time," said Jordan Burgess, the Gatorade Florida Player of the Year. "And it's really fun to watch people like that."
Read the full story from Walter Villa here.
December, 27, 2011
12/27/11
3:23
PM ET
Who knew they were destined for greatness?
Jordyn Wieber, Tamika Catchings, Christina McHale and other star athletes dip into their photo albums and share shots from Christmases past.
Click here to see the gallery on espnW.
December, 19, 2011
12/19/11
11:50
AM ET
By
Jessica Mehalic
| ESPN.com
This story originally appeared in the winter issue of ESPNHS Girl magazine.
Click here to subscribe.
'Tis the season for hot cocoa, cute puffers — and lackluster hair and scaly skin. We heart winter … but not the beauty dilemmas that come with it.
Here's how to overcome common cold-weather woes (made worse by all those outdoor practices) and stay stunning in the chilly months ahead.
Winter Woe No. 1 :
"My hair is dry and lifeless. Washing it twice a day — before school and after practice — isn't helping."
Solution:
"Shampooing twice a day is far too often!" says Robert Gioria, owner of NYC's chic Robert G Salon and the man responsible for maintaining Sarah Jessica Parker's magnificent mane. "Washing hair too frequently strips it of natural oils that keep it hydrated." Shampoo three times a week, max. In between, simply rinse your hair with water and follow up with a hydrating conditioner. Try
Aveda Shampure Shampoo & Conditioner
($21 for the set) or
Pantene Pro-V NatureFusion Moisture Balance Shampoo & Conditioner
($6.99 each). Alternatively, you can use a dry shampoo — such as
Ojon Full Detox Rub-Out Dry Cleansing Spray
($13) — to eliminate odor and grease. If your strands are drier than the Sahara, Gioria recommends a hair masque or deep conditioning treatment once a week. We like
John Frieda Frizz-Ease Rehydrate Intensive Deep Conditioner
($5.37).
Winter Woe No. 2: "Eww, my skin is flaking everywhere."
Solution:
"Dry skin is caused by a lack of moisture in the air as well as low temps," says Dr. David Colbert, a NYC dermatologist. Playing sports can worsen the problem because sweat causes the skin to lose moisture. Keep showers short and use a mild cleanser containing glycerin, such as
Dove VisibleCare Softening Crème Body Wash
($5), which hydrates the skin. Dry off completely and apply a lightly or non-scented moisturizer like
Lubriderm Intense Skin Repair Calming Relief Lotion
($8) or
Trilipiderm All-Body Natural Moisturizing Créme
($24.95). Get rid of any lingering flakiness with a gentle exfoliant like
Neutrogena Deep Clean Gentle Scrub
($6). "Use it a few times per week, but never daily," warns Dr. Colbert. "Over-exfoliating can dry out your skin by breaking through the protective layer that traps water." Treat super-dry patches with a petrolatum-containing ointment like
Aquaphor
($5.99).
Winter Woe No. 3 :
"My lips are always chapped, especially when I train outside."
Solution:
Licking your lips won't help. Instead lightly swipe
Vaseline Petroleum Jelly
on your kisser ($3.39). If you're exercising outdoors, a lip balm with sunscreen is essential, says Dr. Colbert. Pucker up with
Aloe Gator Cherry Lip Balm
with 30 SPF, a fave among surfers and swimmers because it's waterproof for eight hours ($3). Avoid lipsticks and glosses, which aren't as moisturizing and can plug pores, leading to breakouts.
December, 5, 2011
12/05/11
12:28
PM ET
By
Vicky McGarry
| ESPN.com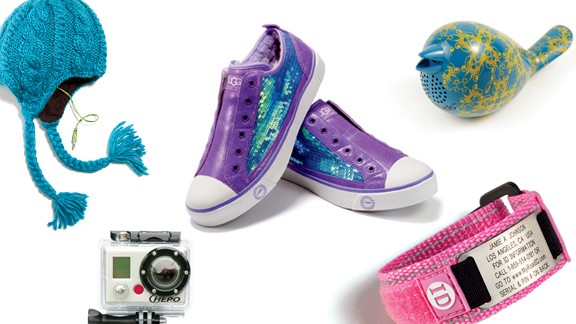 David LawrenceThe Bula Aran Earphone Peruvian hat, some Ugg Laela Sparkles sneakers, a Fauvette Speaker, the GoPro Hero 960 Helmet Video Camera and the Wrist ID Sport Bracelet are just five our 30 ideas for your holiday wish list.
No need to write Santa this year. We've already created a dream holiday wish list for you and your teammates.
1. Holdy Locks:
Keep your unwieldy strands in place with the Moving Comfort Lucky Headband. Wear the reversible, stay-dry stretchy band wide or scrunched up. ($14,
movingcomfort.com
)
2. Keep Under Hat:
Never miss a beat, phone call or winter workout in the part wool, part acrylic Bula Aran Earphone Peruvian hat. This funky cold-weather essential features removable speakers hidden in the earflaps. ($36.99,
breckenridgehatcompany.com
)
3. Rockin' Robin!
This sweet little birdie, aka the Fauvette Speaker, will blast pregame music from your iPhone, laptop and other devices. ($34.99, available in multiple colors,
chicbuds.com
)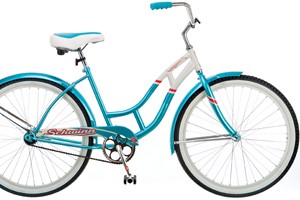 David LawrenceSchwinn Legacy bicycle
4. Cool Convertible:
Adapt to unpredictable weather conditions with the wind- and water-resistant Sugoi Versa jacket. Magnetic sleeves come off in a flash to turn this breathable jacket into a versatile vest. ($120,
sugoi.com
)
5. Ready to Roll:
Why walk when you can ride, especially on the Schwinn Legacy bicycle? This steel-framed cruiser (right) features comfy wide handlebars and a soft saddle to keep you cozy mile after mile. ($129.99,
target.com
)
6. Think You Can Dance?
Prove it. Right in your living room. Challenge Mom, siblings and teammates to a dance-off with Zumba Fitness 2 for Wii, the latest version of the hit dance workout game, which now has a calorie tracker. ($39.99,
zumbafitnessgame.com
)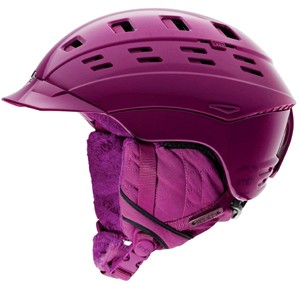 David LawrenceSmith Women's Variant Brim Helmet
7. Put a Lid on it:
Protect your noggin on the slopes with the well-ventilated, easily adjustable Smith Women's Variant Brim Helmet (right), which comes with soft ear pads, a goggle lock and a shielding brim. ($160,
backcountry.com
)
8. Rally the Troops:
Before a game, play your fave go-team- go music in the locker room on the Chicboom Keychain Speaker Ball. This small boom box works with iPods, iPhones, MP3 players and laptops. It lasts up to four hours with each charge. ($29.99,
chicbuds.com
)
9. Touch and Go:
Lather Muscle Ease will become your best friend after a tough practice. This quick-acting gel uses all-natural menthol, camphor and capsaicin to heat, cool and soothe sore muscles. ($16,
qvc.com
)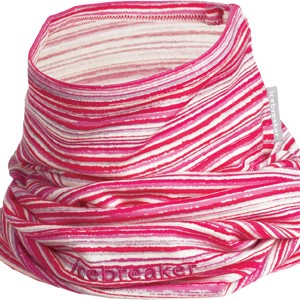 David LawrenceIcebreaker Flexi-Chute neckwarmer
10. Learn from a Master:
Take notes while reading two-time Olympic softball player Jennie Finch's new book, "Throw Like a Girl." It's not just for softballers, but any gal who loves sports. ($14.95,
triumphbooks.com
)
11. Knitty & Nice:
Cuddle up in an Icebreaker Flexi-Chute neckwarmer (right) made of a soft, stretchy merino wool. This sporty scarf will keep your neck, chin, even nose warm during outdoor workouts. ($30,
icebreaker.com
)
12. Carry ID:
Here's one more bracelet to add to the stockpile on your arm — it could save your life. The nylon Wrist ID Sport Bracelet lists your name and contact info in the event that you can't speak for yourself. ($20,
roadid.com
)
13. Purple Reign:
Go for the bold with these Ugg Laela Sparkles sneakers, lined with soft shearling (heaven for tired tootsies) and covered in show-stopping sequins. ($110,
uggaustralia.com
)
14. The Ultimate Play Book:
Die-hard fans — and athletes looking to elevate their game — will love "The Sports Book." This ballplayer's bible contains the rules and game-winning strategies for more than 200 sports. ($19.95,
us.dk.com
)
15. Spread the Word:
Motivate yourself, a teammate or someone you love with this empowering "Realize How Good You Really Are" sign from Primitives by Kathy. ($16.10,
primitivesbykathy. com
)
16. Cuff Love:
Celebrate the 40th anniversary of Title IX (the law that banned gender discrimination in schools) with the Women's Sports Foundation's Title IX bracelet. Proceeds benefit the WSF's mission to promote active living for girls and women. ($115,
mauidivers.com)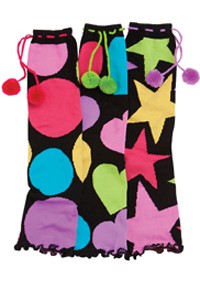 David LawrenceLittle Miss-Matched leg warmers
17.
Color Coordination:
Grab a pack of three Little Miss-Matched arm or leg warmers (right), then strut your stuff on the track or field. Choose from stripes, dots, hearts, stars and peace signs. ($17 and $13, respectively,
littlemissmatched.com
)
18. Cold Comfort:
What's better than a cute puffer jacket? A cute puffer for your head, like this super-lightweight Outdoor Research Transcendent Beanie. It'll keep everything between your ears warm and cozy. ($40,
outdoorresearch.com
)
19. Bring on the Blizzard:
Staying inside this winter takes new meaning with this Mini Foosball Table. This cute tabletop game will keep you — and family or friends — entertained indoors on the coldest nights. ($36,
fredflare.com
)
20. YouTube Yourself:
Record your sickest sports moves on the GoPro Hero 960 Helmet Video Camera. Wear or mount this waterproof video cam on your helmet, bike handlebars, surfboard or elsewhere, then share your best action clips with everyone. ($170,
gopro.com
)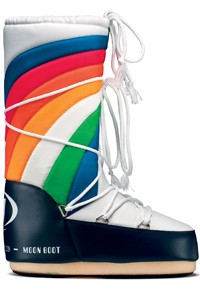 David LawrenceTecnica Rainbow Moon Boots
21. Boot Up:
Turn every step into a statement with these retro-inspired Tecnica Rainbow Moon Boots (right). Slip 'em on after indoor practice to take the snowy trek from the gym to Mom's car. ($150,
tecnicausa.com
)
22. Game Night:
Continue the competition in your basement with Desktop Ping Pong. Turn any smooth surface into a table-tennis court with this compact set. ($14,
fredflare.com
)
23. Tennis, Anyone?
The überchic Ame and Lulu Tennis Backpack makes it easier — and prettier — to hit the court. The carry-all bag features multiple pockets (inside and out) and holds two rackets. ($80,
ameandlulu.com
)
24. Down with Dumbbells:
Try these adorable NordicTrack Soft Weight Balls instead. These portable vinyl balls challenge your hand muscles, improving your grip while sculpting your body. ($24.99 for two threepounders,
nordictrack.com
)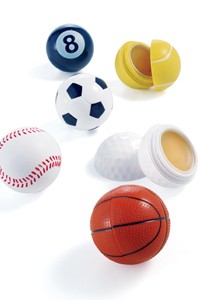 David LawrenceBallamania Lip Balm
25. Sealed with a Kiss:
Pucker up for the vanilla-flavored Ballamania Lip Balm with SPF 20. Stash these sport-inspired lip salves (right) in your gym bag, so you can remember to slather on some protective, moisturizing stuff before practice and games. ($4 each,
ballmania.com
)
26. Hue Got This:
Transport your important files in style with these candy-colored Victorinox Unhackable USB drives that match your iPod, your team uniform, even your nail polish. (from $39.99,
swissarmy.com
)
27. Magic Bottle:
Ditch the heavy, hard-shelled water bottle for the Platypus Softbottle. The lightweight, re-usable, BPA–free plastic container conforms to any holder, pocket or hand and rolls up when empty. (Starting at $7.95,
cascadedesigns.com
)
28. Read Her Mind:
Curl up on the couch with Nadia Comaneci's newest book, "Letters to a Young Gymnast." The five-time Olympic gold medalist shares her deepest, most-personal thoughts about what it takes to become a world-class athlete. ($14.99,
amazon.com
)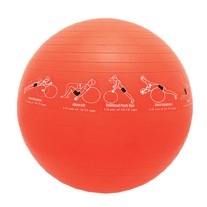 David LawrenceTrainerBall
29. Be on the Ball:
Do more for your core this season with the 12 ab exercises outlined on this big, bouncy, bright-colored TrainerBall (right). ($30,
trainerbrands.com
)
30. Sports Savant:
Make every day count with the 365 SportsFacts 2012 Calendar. You'll become a walking Wikipedia of knowledge and will impress your teammates and coaches. ($13,
amazon.com
)
November, 24, 2011
11/24/11
8:10
AM ET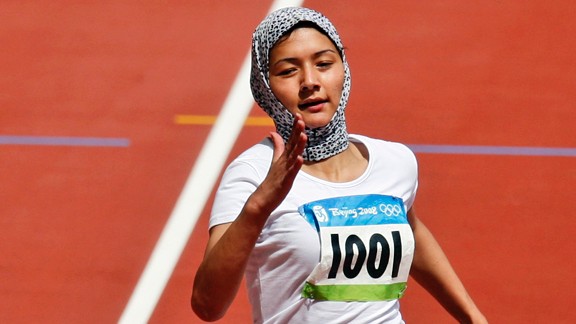 Kevin Frayer/APRobina Jalali's dreams carried her all the way to becoming a two-time Olympic sprinter. Now she's determined to break down barriers for other young girls in Afghanistan. "I'm willing to sacrifice my life if it needs to be," she says.
Robina Jalali's dreams were much like the dreams of many other young girls. She wanted to go to school and learn. She wanted to be outside running around and playing sports with friends.
But Jalali grew up in the Taliban-controlled Afghanistan, where girls were considered second-class citizens at best.
"They were threatening females that if you do any type of sport activity they will cut your nose off," Jalali, now 25, recalled earlier this month through an interpreter. "They wouldn't let any of us come out and issued warnings, 'If you do any kind of sport activity we're going to kill you.' So we struggled, but I stood up against all that."
Thankfully, her liberal-minded parents supported her dreams, and Jalali managed to rise above the oppression to follow her passion for athletics all the way to becoming a two-time Olympic sprinter.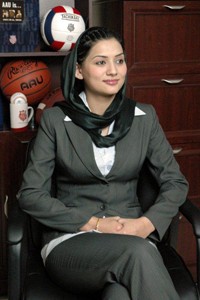 Courtesy of Kristina Haumschild/AAURobina Jalali has turned her focus to politics, but says she'll compete in the London Olympics if necessary because she believes it's important for an Afghan woman to represent her country.
These days, Jalali is a role model for young Afghan girls. She's determined to keep breaking down barriers for her "sisters," whether they want to pursue formerly prohibited sports or other previously denied interests. She was the lone woman in a "Coming to America" trip for an eight-member Afghanistan National Olympic Committee delegation that visited the United States earlier this month.
"The Taliban were playing with the heads of people -- they were killing people -- but now people are going back to doing sports activities," she said. "Right now, it's a different type of situation, and I'm here for my [Afghan] brothers and sisters. I'm willing to sacrifice my life if it needs to be."
The trip, funded by the public diplomacy department of the U.S. Embassy in Kabul, was designed as a look-see into how sports can -- and should -- be an essential, healthy and cultural part of society. It was the first step in further educating post-Taliban Afghan sports officials on the most effective ways to bring sports to their country.
Rear Adm. Hal Pittman, deputy chief of staff communication for the NATO International Security Assistance Force based in Afghanistan, was heavily involved in the planning of the Olympic Committee's trip and accompanied the delegation to the United States. He believes the development of a youth sports culture in Afghanistan is key to the continued growth of the undeveloped nation.
"Why is the military involved with promoting Afghan sports?" he asked. "It's real simple. We're focused on sustainable, community-based youth sports as one of the visions of the future that provides an alternative to crime, drugs and youth-driven insurgency."
The launching point for the fact-finding journey was the Amateur Athletic Union in Orlando, Fla., which was instrumental in facilitating the trip. The committee visited more than a dozen U.S. sports-oriented sites, including the U.S. Olympic Training Center in Colorado Springs, Colo., the University of Central Florida's athletic facilities, the largest YMCA in Central Florida, the multifaceted IMG Academies in Bradenton, Fla., and Miami-Dade County Recreation Department facilities.
"I very much like being here in America to be able to represent the youth of Afghanistan," Jalali said at the AAU headquarters in Orlando. "We need to improve the situation so Afghan females can be self-sufficient. I don't think there's any sport Afghan women can't do."
After repressing the Afghan people from 1996 to the end of 2001, the Taliban was toppled when Jalali was 15. The doors started to crack open to offer girls more opportunities, and Jalali didn't delay. In 2004, she became one of the first two women to represent Afghanistan at the Olympics. Wearing green track pants and a T-shirt, Jalali (then known as Robina Muqimyar) competed in the 100 meters and came in seventh of eight in her heat with a time of 14.14 seconds at the Athens Games.
For Jalali, winning wasn't tied to medaling -- it was in being allowed to be a female representing Afghanistan on an international stage.
Friba Razayee, who had fled to Pakistan during the Taliban regime and pursued martial arts and boxing while there, was the other Afghan woman to compete in Athens. When she returned to Afghanistan in 2002, she began training in judo for the 2004 Olympics. She succumbed after 45 seconds to first-round opponent Cecilia Blanco of Spain.
"The girls and women of Afghanistan are starting to have a choice now," Jalali said. "I was [one of the] first females to come out of this crowd to participate in the Olympic event and to show to the world and to the rest of Afghanistan what the female can do if they are given the opportunity."
In Beijing in 2008, Jalali placed last among eight sprinters in her first-round heat with a time of 14.80. She wasn't planning to compete in Beijing, but when runner Mehboba Ahdyar defected, seeking asylum in Norway, Jalali joined the Afghanistan team to ensure a female presence.
Wherever Jalali goes she goes with the knowledge that she's setting an example for Afghan women to believe they can do whatever they set their hearts on doing. Being a part of the delegation that came to the U.S. -- others on hand included Lt. Gen. Muhammad Zahir Aghbar, the president of the Afghan National Olympic Committee, and Taimoor Eshaqzai, Afghanistan's deputy minister of youth affairs -- serves to emphasize her chosen role to lead.
The Afghan Olympic Committee is pushing hard for the elevation of sports, believing it's an ideal way to bridge the gap between people, which is crucial to peace and security in the country.
"The youth of Afghanistan is not just doing sports for fun; they're also doing it for other purposes," Aghbar said through an interpreter. "And one of the purposes is the unification of Afghanistan, because 30 years of war separated the nation so badly. Now we're trying to bring back that unity."
It is clear that attention is being paid to raising the profile of girls and women in the country. Eshaqzai, in particular, is known throughout Afghanistan for his interest in promoting sports and equality for females. The battle for civil rights for the female gender has made headway since the Taliban was overthrown, but all agree there's a long way to go.
"Girls and women of Afghanistan have other social problems," Eshaqzai said, speaking fluent English. "Unfortunately, it's not always easy. You know, in the Islamic religion the girls can go to school, go outside, can walk around and do sports but, unfortunately, in the culture of Afghanistan it was not possible. But we are working in this area for the future of Afghanistan, and I am 100 percent sure with the support of the United States of America and the international global community it will bring a lot of change, especially in the situation of girls and sports."
Afghan girls are becoming increasingly involved in sports from soccer to cricket, although they remain vigilant to Muslim custom by playing in track suits and head coverings. They also train and compete in a co-ed atmosphere in the martial arts -- taekwondo and judo are particularly popular. But as Eshaqzai admits, certain things are still not possible for girls, such as swimming in traditional bathing suit attire.
In an effort to heighten the role of women in Afghanistan, Jalali recently turned her attention to politics. She ran for Parliament in 2010 -- the seat she ran for was meant to be open, but then the disqualified person who occupied that seat was re-qualified, a situation that has provoked ongoing controversy.
"I was able to run for the Parliament to fight for the young males and females," said Jalali, wearing an elegant wool business suit, a black scarf loosely draped around her head, and matching snakeskin shoes and purse. "That is a big achievement."
But despite her change of focus, she isn't ruling out competing in the 2012 London Games.
"Right now, I am representing the female of Afghanistan because someone has to do it," she said. "I'm hoping that I will go to the London Olympics, but I promised the people of Afghanistan if for some reason I cannot do it, I will send another 'sister' and try to train her as much as I can. The important thing is for the figure of an Afghan female to be there."
The recent "Coming to America" trip was just the initial step in a long-term commitment to develop sports for all youngsters in Afghanistan. Up next is a "Coming to Afghanistan" trip, where American partners, such as the AAU, will journey to the country early next year. The goal of that trip will be to assist in raising the level of professionalism in youth sports via development and implementation of programs.
"I am deeply interested in developing sports activities, especially for girls, because all girls of Afghanistan love sport," Eshaqzai said. "All the youth of Afghanistan -- the boys and the girls -- can play a very strong role for the bringing of peace and security, and the integration of Afghanistan and sports is a good place to begin."
And as Pittman points out, the courage and dedication of Jalali will certainly assist Afghan officials in their goals to continue to align Afghanistan's female population with the rest of the world's 21st-century women.
"She certainly is a trailblazer," Pittman said of Jalali. "She's very aggressive and she's really setting the pace for what women should be doing in Afghanistan."
October, 28, 2011
10/28/11
1:03
PM ET
By
Angelica Richie
| ESPN.com
Even if you're officially too cool to go trick-or-treating on Halloween, you're bound to find yourself in the middle of an onslaught of sweet and festive treats this weekend. Between class parties, bake sales and seasonal specials, getting a taste for autumn is easy. Making choices that support your athletic goals can be hard.
Becci Twombley
, a dietician for UCLA Athletics, and
Mary Ellen Bingham
, a sports nutritionist at North Carolina, explain what happens when you splurge on sweets, and how to keep them from damaging your athletic performance.
First things first: When it comes to sugary seasonal snacks, small bites are better than handfuls.
"Your body can only process so many calories at one time," Twombley says. "If you overindulge, you've created a traffic jam for your body to metabolize."
So when you get to practice, your body may not be able to keep up.
"If you're working on a specific skill," Twombley says, "your muscle memory is not going to be as solid as it would be if you had been well-fueled."
But that's not the scary part
"Unless you're trying to balance your weight, it's not so much about what you are eating, it's what you're not eating," Twombley says. "By the time you get to your practice, unless you've eaten your 'always' foods also, you're going to be out of energy."
Bingham says those staples are key, even on holidays.
"Establish a healthy base of fruits, vegetables, whole grains, lean proteins and low-fat dairy or dairy alternatives," she says. "And then you can allow for treats such as desserts or candy."
For Halloween in particular, it's easy to have an "it's just one day" mentality, but it's important to consider what you need to do tomorrow, which will definitely be affected.
"Everybody has a calorie budget that they need to stay within," Twombley says. "On those days, 80 percent of things you eat need to be functional if you're trying to be an athlete, but 20 percent can be whatever you want. For typical days, 90/10 is a better goal, but the key is to consider your training."
Remember when making choices, not all candies are created equal.
Some treats:
Red Vines, chocolate-covered almonds and raisins, York Peppermint Patties, lollipops, tootsie pops and baked chips
Some tricks:
Starburst and Skittles, Butterfingers and Snickers
"Look at what's underneath it." Twombley says of choosing your chocolates. "Anything that has nugget or caramel is going to have a lot more saturated fats than something that doesn't."
Bingham's secret is in the portions.
"For chocolate candy or gummies, opt for the small 'snack size' portion instead of the full-sized candy," she says.
For favorites like apple cider, Twombley says there's room.
"It can be functional as long as those carbs are figured into your total diet," she says.
And Bingham goes so far as to recommend a pumpkin latte or one of its coffee cousins. With one warning.
"Treat yourself to these fall drinks once in a while," Bingham says. "But opt for size small, low-fat milk.
"And skip the whipped cream."
October, 27, 2011
10/27/11
5:28
PM ET
By
Diana Kelly
| ESPN.com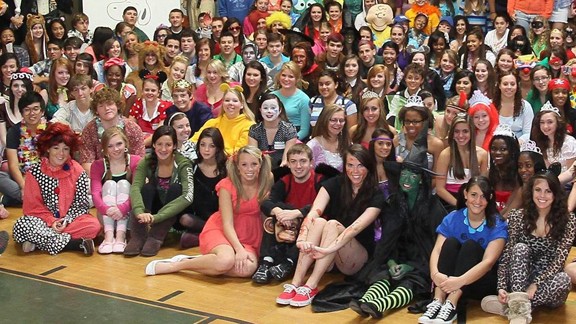 Courtesy of Gonzalezfotographics/ESPNHSStudents at Holy Cross (Waterbury, Conn.) helped local kids enjoy a safe holiday by hosting "Halloween Happening" last weekend at their high school.
Imagine gathering your teammates, dressing up for Halloween and making this spooky holiday special — and safe — for kids in your neighborhood.
That's exactly what Adriana Morrone, a volleyball and softball player at Holy Cross (Waterbury, Conn.), and her classmates did last weekend when they hosted "Halloween Happening."
"My teammates, coaches and I have a special bond on and off the court," Morrone says. "Doing this event together only strengthens that bond by spending more time together."
According to Martie Giammatteo, director of student activities at Holy Cross, about 400 students participate in the event, which has been going on for 10 years.
Teams or clubs take over one of the school's designated "Trick or Treat" rooms, decorate it, and dress up in a costume that fits the designated theme.
Originally funded by a grant from the Paul Newman Foundation, the school and students have been raising money for this event themselves for the past few years.
"We do this event as a 'thank you' to the community for housing us in the neighborhood," Giammatteo says. "Our students understand the necessity of serving others in the community."
The elementary school children are led down a trick-or-treating path through all of the decorated classrooms, then wind up in the "pumpkin patch" (aka the school gym). They'll meet Charlie Brown and friends by The Great Pumpkin, listen to a DJ, have snacks provided by the high school's moms' club and do arts and crafts that they can take home with their bags of treats.
After all of the elementary school students leave for the day, the high school students clean up, then have a hot dog dinner dance party of their own with the DJ.
The good times carry over to the court, Morrone says.
"A team needs a sense of unity," the senior says. "If you spend time with one another, you understand another person's intentions and you start acting as one as a team, then that is displayed on the court when we play."
How to Make it Happen At Your School
The student activities committee begins their work the first week of school to determine a date, discuss ideas and decide on a theme — this year at Holy Cross it was "Under the Big Top."
Giammatteo stresses that having a great committee is an important component of making this event happen.
"Each committee knows their goal and they work towards that," she says.
A letter goes out to the two local elementary schools requesting that each child bring in one bag of candy to be distributed at the event. Once the child hands in their bag of candy, they get an admission ticket for the Saturday afternoon event, usually held the week before Halloween.
Other candy comes in from the high school students who have a class competition to see who brings in the most weight in candy. The winning class gets a prize like a free rootbeer float at lunch. More donations come in from the faculty and the teams and clubs who are participating in the event.
Or, Just Steal This Idea!
It's surely too late to pull off the big event this year, but how about jumping on this idea? Holy Cross High School takes the leftover candy at the end of the event over to a local nursing home so the senior citizens can then give it out to neighborhood kids on Halloween night. Ask your teammates to each bring a bag of candy to your next practice and drop it off at your local senior center.
October, 21, 2011
10/21/11
3:15
PM ET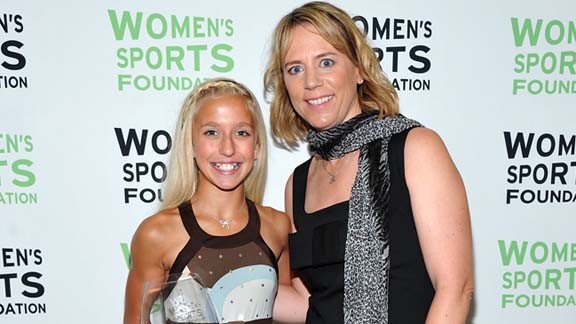 @ Getty Images/Mike CoppolaWinter Vinecki, 12, was honored with the ANNIKA Inspiration Award at the Women's Sports Foundation's Annual Salute to Women in Sports Awards Gala in New York City.
Sometimes it takes a kid to find a special way of turning a personal tragedy into an inspirational message.
That's certainly the way it is when it comes to Winter Vinecki. The 12-year-old athlete extraordinaire – a champion triathlete as well as a competitive Nordic skier and ski jumper – has raised more than $300,000 to heighten prostate cancer awareness from her sports endeavors.
Vinecki followed her mom, Dr. Dawn Estelle, and her uncle into triathlons when she was just 5. Her philanthropy started when at age 8 she ran a 10K race and was given the option to race for a cause. She ran that race for childhood obesity and raised $1,100.
At 9, Vinecki planned to start her non-profit organization – Team Winter – in order to continue raising money for childhood obesity. But then a more personal cause hit home. Her father, Michael, was diagnosed with an aggressive form of prostate cancer on his 40th birthday. In 2009, 10 months after his diagnosis, Michael Vinecki died of the disease.
Instead of just mourning, Vinecki turned her passion for triathlons and running into a way of honoring her father's memory.
It also is a way Vinecki keeps her dad close to her heart.
"Him passing away just gives me more drive," Vinecki said by phone. "Every time I race I just think of him, and that's what keeps me going."
Vinecki was recognized earlier this week for her amazing charitable work. Legendary golfer Annika Sorenstam presented Vinecki with the ANNIKA Inspiration Award at the Women's Sports Foundation's Annual Salute to Women in Sports Awards Gala in New York City. The award is designed to honor "one individual young woman who has been inspired by one or more people in her life and who now excels in her sport, has demonstrated leadership qualities, takes time to give back to her community or sport, and serves as an inspiration to others."
Vinecki might just be a kid, but her poise and maturity challenged the room of athletes in her acceptance speech. Afterwards, famous athletes such as tennis player Venus Williams sought her out for a chat – Vinecki tweeted during the gala that she couldn't believe how tall the 6-foot-1 Williams is.
So what did Vinecki tell the celebrity-filled room?
"I always encourage people to race for a cause," Vinecki said. "There's a lot of great athletes out there, but they're just racing for themselves. … If everyone raced for a cause, the world would be a much better place. I told them I race for my dad, so who do you race for?"
According to her mom, Vinecki captivated the famous with her heartfelt appeal.
"People were astounded by her poise and ability to talk about her dad," said Estelle, a gynecologist-obstetrician. "People are amazed when they listen to her speak and realize they're listening to a 12-year-old speak."
She certainly enchanted Sorenstam, who was delighted with this year's award recipient.
"Winter is a very sweet girl," Sorenstam wrote in an email. "She's full of energy and ambition. … She was a popular award winner."
Vinecki is one of four children – older brother, Yukon, 14, is in charge of the Team Winter website, and her two younger brothers also compete in triathlons. This year, the eighth-grader started home schooling via the Stanford University program, allowing her the flexibility to do her schoolwork, her three-hours-a-day training in swimming, biking and running, and still allow time for her to be a regular kid and spend afternoons with friends.
"We'll walk around and sometimes go to a smoothie place," Vinecki said.
But while Vinecki makes time to just be your average pre-teen, there's nothing average about her at all. She plans to be a professional triathlete, to compete in the Ironman World Championships in Hawaii, and to one day maybe take part in both the Summer and Winter Olympics.
But first, Vinecki, who gives her first-place trophies away to families touched by prostate cancer so that they know someone cares, has a new project. She plans on running a marathon on all seven continents, setting up fundraising events at all but Antarctica "because no one is there." The plan is to start this coming spring and run all seven in a two-year period.
The original plan was to start in Antarctica, but plans have changed.
"We're probably going to start in Africa now," said Vinecki, the 2011 Ironkids (Triathlon) National Champion. "We were going to do Antarctica first, but then we can't find a travel company that will take a 12-year-old there. There's no problem with racing, but there's a problem with me getting there."
Vinecki says there's one thing she can always count on no matter where she's racing.
"I know my dad's with me every day," she said. "I can feel him in races. I know he's watching by the finish, watching for me."
October, 18, 2011
10/18/11
8:31
AM ET
By
Harold Gutmann
| ESPN.com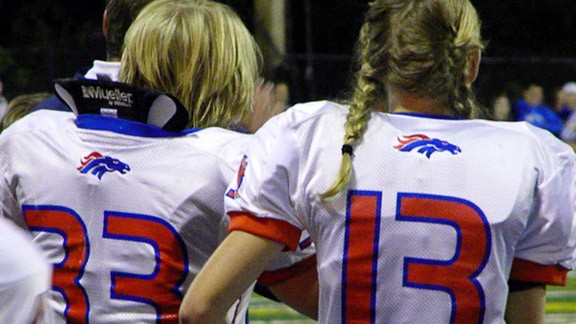 Courtesy of the Coyne familyKristina Coyne, a junior kicker at Chartiers Valley (Bridgeville, Pa.), says she was persuaded to try out for football by her boyfriend, Joe Ragni, a two-way starter for the Colts.
Lisa Spangler was 7 years old when she found out how much fun it can be to tackle someone.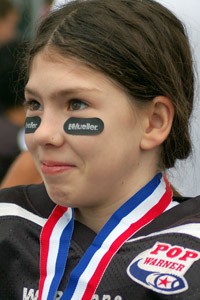 Courtesy of the Spangler familyLisa Spangler, the starting middle linebacker for Fort Vancouver (Vancouver, Wash.), knew she wanted to play tackle football since she was 7.
She was playing flag football and accidentally knocked down an opposing player while reaching for the flag. During the car ride home, she told her dad that from then on she wanted to play tackle football.
"I told her, 'Soccer is what girls play,' " Larry Spangler said. "And she said, 'No, I want to play football.'
"My wife didn't really like it, but she didn't like my son playing football, either. Lisa's not real big, but she has a real toughness about her."
Now a 5-foot-5 sophomore, Spangler is the starting middle linebacker for Fort Vancouver (Vancouver, Wash.).
"She gets to the football as fast as she can, and she loves contact," Fort Vancouver coach Eric Ollikainen said. "I never expected to have a girl be my middle linebacker, but my job is to get the best 11 on the field, and she's one of my best."
Spangler is one of a growing number of girls who have decided to tackle high school football. According to the National Federation of State High School Associations, 1,561 girls played football last season. That constitutes a 17.5 percent increase from just four years ago, when 1,328 girls participated. Numbers aren't yet available for this season.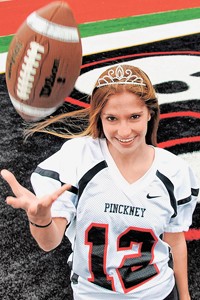 Alan Ward/APBrianna Amat made a game-winning field goal on the same night she was elected homecoming queen at Pinckney (Mich.).
Most girls who play high school football are kickers like Brianna Amat, who was nicknamed the "Kicking Queen" and received national attention earlier this month after she made a game-winning field goal on the same night she was elected homecoming queen at Pinckney (Mich.).
But some girls are truly breaking barriers. Take Monique Howard, a 6-foot, 190-pound starting right tackle for Pershing (Detroit). Howard, who is also a power forward/center for the girls' basketball team, is a rarity because she plays a position that requires so much muscle and strength. She recently received the
ESPNHS RISE ABOVE Student Athlete Award
.
Like Howard, Andrea Marsh is excelling at a position previously unheard of for girls. In fact, Marsh, a senior cornerback at Panama (N.Y.), has become such an integral part of her team's defense that she was named one of four captains at the start of the year. She entered October leading her league with four interceptions.
Marsh, who also plays basketball and softball, was always fast — she runs the 40-yard dash in 4.85 seconds and was a running back as a freshman — but now she's also one of the strongest members of the secondary after she spent nearly every day for the past four years in the weight room.
"She sticks her nose in there as well as any kid," Panama coach Chris Payne said. "A lot of the coaches think it's amazing she does what she does. The community's really behind her."
Likewise for Kristina Coyne.
The junior kicker at Chartiers Valley (Bridgeville, Pa.), who also plays soccer, was persuaded to try out for football by her boyfriend, Joe Ragni, a two-way starter for Chartiers Valley.
Though kicking in football required using a different part of her foot than in soccer, Coyne found herself making 40-yard field goals when she first tried it. Now she plays soccer games on Mondays and Wednesdays, goes from football to soccer practices on Tuesdays and Thursdays, and plays football on Fridays.
"My teammates are all supportive," Coyne said. "Even when I miss they're like, 'It's OK.' I get high-fives from people [in school] I don't even know. It's a good environment."
Her classmates even made T-shirts with the phrase "Girls Can't What?" and the image of a female football player on the front, and Coyne's name and number on the back.
"It's really surprising how smoothly she fits right in with the team," coach Chris Saluga said. "I don't think anyone here even considers it strange."
How could they?
In a sign of how prevalent female football players are becoming, Coyne and Chartiers Valley were scrimmaging another Pittsburgh-area school when Aliquippa (Pa.) freshman Queenisa Gilbert caught a pass on a slant route. Aliquippa players started celebrating wildly on the sidelines, and Chartiers Valley had no idea why.
"I told Chris, 'A girl just caught that pass,' " Aliquippa coach Michael Zmijanac said. "If you saw her in her uniform, you wouldn't know it was a girl."
Zmijanac said Gilbert has been treated the same as everyone else on the team — with one exception. Aliquippa goes to summer camp before every season, and Zmijanac wasn't able to set up separate accommodations for Gilbert in time.
But Zmijanac promised her that if she sticks with the team, he'd figure out a way to include her at summer camp next year.
"How do you tell them no if they're physically capable of doing it?" Zmijanac said.
That's the same question Larry Spangler faced when Lisa told him she wanted to play defense and hit people.
"I'm not very good at catching or kicking," said Lisa Spangler, who also does jujitsu and is thinking of becoming a professional MMA fighter. "I'm only good at hitting things. That's about what I can do.
"My friends told me if I was a cheerleader I'd probably go beat someone with my pom-poms."
Her dad figures that cheerleaders suffer more injuries than football players anyway. His one rule is that if he ever hears Lisa cry on the field, he will pull her out.
"It's been close," Lisa said, "but I never have."
October, 17, 2011
10/17/11
8:37
AM ET
By
Diana Kelly
| ESPN.com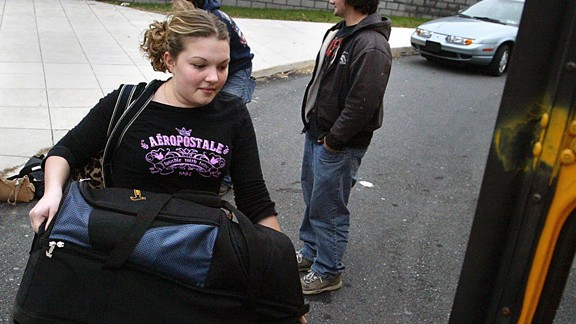 Chris Knight/APLugging your bag to away games can tire you out before the opening whistle. Check out these six multi-tasking beauty products to help you save space, not to mention muscles.
We know you're a tough athlete who isn't afraid to get a little dirty — but that doesn't mean you don't want to look your best after the game.
You've already got a ton of stuff to stash in your gym bag, so toting your entire makeup bag and shower caddy just isn't realistic.
To help you look gorgeous in minutes while lightening your load, we talked to a women's magazine beauty editor, Katie Becker, and co-editor at
iheartdaily.com
, Melissa Walker, for some of their favorite multitasking beauty products to stow in your gym bag.
Read on to learn what fun beauty products can make your life easier.
1.
NP Set Duo Pens Eyeliner/Cream Blush
This double-ended beauty product is a bargain that will define your eyes and give your cheeks a healthy flush — if that post-win glow has already faded. The eyeliner/blush duo contains black liner and coral cream blush that's easy to apply. You might even want to pick up the mascara/concealer version for another winning combination. We love that they're small enough to fit in your purse if you want to touch-up throughout the day. ($13,
Available at Target and Target.com
)
2. Tarte's LipSurgence Lip Tint
This natural lip tint provides a dose of shimmery gloss and major moisturizing power in seven rich colors. Among other natural beauty ingredients, this power pencil contains peppermint oil to help cool and soothe irritated skin. This product also works perfectly as blush. Just rub a little on your cheeks and blend.
Voila! ($24; Learn more about where to buy on tartecosmetics.com)
3. Psssssst! Instant Dry Shampoo
Don't have time to wash your hair? Spray on this dry shampoo to freshen up sweaty locks and soak up hair oil. This dry aerosol shampoo won a Best of Beauty award in
Allure
magazine in 2009. To apply, hold the can a good six inches from your head and spray it at the roots. You can brush the powder through right away, or, for extra body, blast hair with heat while lifting roots with a round brush, according to
Allure.com
. It may zap some of your hair's shine, but for sprucing up a sweaty head in a jiffy, we think it's a solid product to keep on hand.
($6.99 for 5.3 oz; Available at drugstore.com)
4. mark Touch & Glow Shimmer Cream Cubes All Over Face Palette
The shimmery shades of pink, peach, gold, copper and brown in this all-over face palette work together to give you a beautiful glow. Use it as a blush, bronzer, or combine the colors for a pretty blended look. The cream-to-powder formula means color goes on smoothly and evenly and resists fading. You can use each of the nine colors individually for eye shadow as well — just dab some on your fingertips and have fun with it. ($15;
Available at meetmark.com
)
5. Philosophy's Perfumed Shampoo, Bath, and Shower Gel
Consider this fair warning that you'll be making your teammates jealous when they get a whiff of you post-shower after using any of the Philosophy scented shower gels. What could be better for a postgame '
Ahhhh
,' then lathering up your hair and body with products called, "I Love Candy Corn," "Caramel Apple," "Autumn Air," and even "Coconut Frosting?" We suggest using this as your shampoo and shower gel after the game and treating yourself to a luxurious bubble bath at home when you have more time.
($16 for 16 oz; Available at Philosophy.comand Sephora stores)
6. Marc Jacobs' Daisy Solid Perfume
This double-duty product also makes a fun piece of jewelry. After a game or shower, dab on the sweet floral scent and use it to accessorize your post-play outfit.
($40; Available at Sephora stores and Sephora.com)
October, 11, 2011
10/11/11
9:01
AM ET
By
Aimee Crawford
| ESPN.com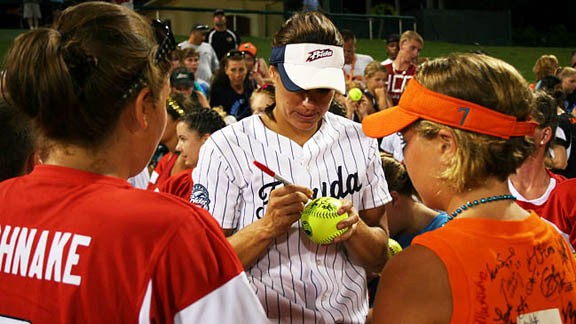 Courtesy of USSSA Pride Marketing/ESPNHSJessica Mendoza says she encourages girls to spend their time trying to stand out rather than trying to fit in.
In honor of Hispanic Heritage Month, ESPNHS chatted with Olympic softball gold medalist and former Women's Sports Foundation president Jessica Mendoza, who is a second-generation Mexican-American, about the unique challenges Hispanic female athletes face — and where girls from any background can find resources in their communities to help them play a sport, learn new skills on and off the playing field, and stand out.
ESPNHS
: What challenges do Hispanic female teens face when it comes to playing sports?
Jessica Mendoza
: When I speak to groups in predominantly Hispanic areas I find that there are still a lot of traditional cultural roles for females — a lot of pressure for young girls to be around the family, help with siblings, help with meals, be kind of the rock of the household rather than doing extracurricular activities like sports. But it's definitely changing, and I'm an example of that. My dad was extremely supportive of me playing sports and going to college. My main goal when I talk to groups is to educate families on the physical and mental health benefits that playing sports provide young girls. It's not just about going out there and having fun. That's a part of playing sports, but a big chunk of it is all the other things that sports give you to help you become a much more whole, better person.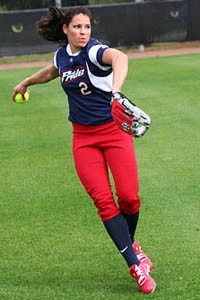 Courtesy of USSSA Pride MarketingJessica Mendoza won an Olympic gold medal in 2004.
ESPNHS:
Do you find that girls and their parents are receptive to your message once they see you as an example?
JM:
Usually if they're at an event, then they've already thought about it and they're open to the idea of playing sports. I wish I could go to every house individually [to speak with girls]. It's the kids who don't come to events where I'm at because their parents don't get it, who are being told to stay home ... I'm trying to give confidence to these girls. I'm not telling them they should just go play sports and not listen to their families, but that they should try to figure out ways to do both. I still think you can play that role within the family, play sports and be stronger for it because you'll be that much happier.
ESPNHS:
Who did you look up to when you were in high school?
JM:
My dad, Gil. He was a first-generation Mexican-American and grew up in the Watts section of Los Angeles. He struggled with being bilingual and trying to acclimate into a very different culture than the one he was raised in. Some of his brothers and sisters got involved with gangs and dropped out of school, but he started playing sports and that kept him in school. He got good grades, earned a scholarship to play football at Fresno State and ended up going on to get his masters degree. When I saw his path and what he was able to do, it inspired me to really try to reach people who had a similar background.
ESPNHS:
Are there resources that girls who are interested in playing sports but who don't necessarily have a support system already in place can look to in their communities to find a place to play, or to get coaching or equipment?
JM:
Unfortunately, there still aren't a lot of programs out there dedicated to girls. I feel like so many girls are too intimidated to walk into their local Boys & Girls Club or YMCA — places that have equipment and offer a lot of opportunities to be active for little-to-no-money but are usually more boy-focused.
At the Women's Sports Foundation we have a program called "GoGirlGo!" that's geared toward getting girls active, including one [branch] in San Antonio that offers a free, afterschool program. I've worked with a lot of Hispanic girls there. The program makes being active fun for them, and they don't necessarily have to be an "athlete" to enjoy it. The program includes soccer and basketball, but it also offers stuff like salsa dancing. These girls are sweating and having fun and it's still culturally similar to everything that they know — but they don't feel like they have to be coordinated or be able to shoot a basketball to participate or to be healthy. The rest of the program is dedicated to them writing in journals and talking about things like body image, drinking, smoking and sex pressure, and to developing important life skills that don't get talked about at home.
Another girl-focused program is the one run by my [USSSA Pride] teammate Natasha Watley in Los Angeles. The Natasha Watley Foundation is affiliated with RBI [Reviving Baseball in Inner Cities], but it's just for girls and helps get them active by playing softball. Her foundation sponsored by the city of LA and other donors and it provides free equipment and sponsors travel teams that play all over the country.
ESPNHS:
When you talk to groups of girls, what is the one takeaway or piece of advice you want them to remember?
JM:
My message is to worry less about trying to fit in and to concentrate more on standing out. Embrace the fact that you are different, that your differences are what's going to make you great and your true friends are the ones who are going to love you for those differences.
When you think about success — whether it be in softball, getting into college or becoming an "American Idol" singer —whatever your goals and aspirations are, you're going to have to stand out at some point if you want to succeed. So the more time you spend trying to fit in, the less likely it is you're going to attain your goal of standing out.
If you're telling me that you want to be great at something, and you want to be different, that you DO want to stand out, then it starts now. It just takes you saying yes to what you believe in and knowing that your true friends are going to be there for you and support you on your path to greatness.