High-SchoolGirl:

Swimming
March, 1, 2012
3/01/12
9:17
AM ET
By
Sam DeHority
| ESPN.com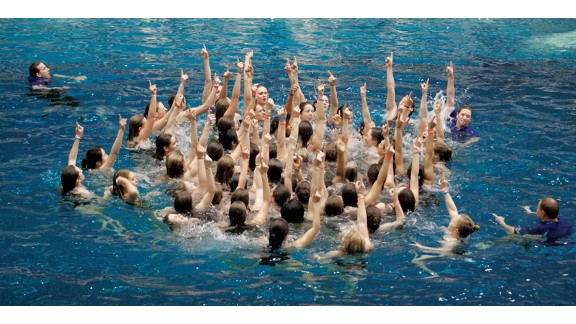 Courtesy of Jeanne KelschThe Carmel (Ind.) girls swim team has won 26 IHSSA state championships in a row.
It's commonly accepted that the most difficult feat in sports, professional or otherwise, is defending a championship. The mark against which the pros measure themselves is the Boston Celtics' eight consecutive NBA titles from 1959 to 1966. Sounds difficult, right?
The Carmel (Ind.) High girls' swim team has won 26 IHSAA state championships in a row
(1986 to 2012), and earned their first overall national championship last year. It's the fourth-longest high school winning streak in the country, and the longest active one.
But just what does it take to keep the titles coming? According to the Lady Greyhounds, it's practicing hard and supporting their teammates. "We do this thing once a week called 'winners circle,' where we each stand up and recognize a teammate for doing something good, like staying after practice [to do a few extra laps]," said co-captain and senior Taylor Kelsch. "That really contributes to our success and our confidence." The girls also have a team breakfast every Friday and stick to long-standing rituals some might call superstitious. "We have to drink a certain Gatorade, we always use Wish-Bone salad dressing for our salad and we always have spaghetti. It's been going on for 26 years," said Kelsch.
Another motivator: Not wanting the streak to end! "Knowing that there was a time when all [the Lady Greyhounds] wanted to do was win a state championship, knowing that they worked so hard to finally get it started, and now we're keeping it going—that drives me to train harder," Taylor said. "When I'm training harder it makes my teammates train harder." And boy, do they train both at school and at their local club, where head coach Chris Plumb has been calling the shots from poolside since 2006. "The coaching staff deserves huge credit," said co-captain and senior Margaret Ramsey. "They invest all their time in developing workouts and training. We practice year-round, six days a week."
"Bottom line, the girls want to continue to live up to the tradition that's in front of them, and they know it can be done," said Plumb, who was recently inducted into the Indiana Swimming and Diving Hall of Fame. "When you watch people do it, you say, 'I can do it, too.' Success just breeds success."
February, 8, 2012
2/08/12
6:05
PM ET