High-SchoolGirl:

Volleyball
July, 10, 2012
7/10/12
9:49
AM ET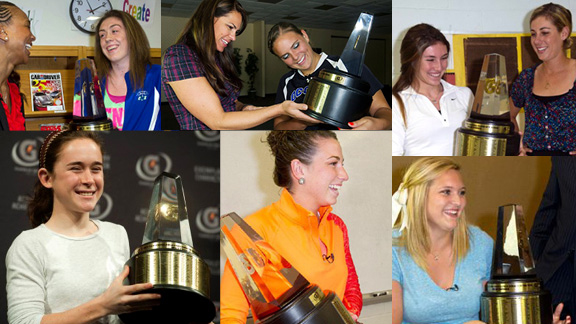 Susan Goldman/Gatorade
Six outstanding girls are finalists for the 10th annual Gatorade Female High School Athlete of the Year Award. The winner will be announced on Tuesday in Los Angeles (
ESPN3
, 9:40 p.m. EDT) and will be recognized at the ESPYS the following evening.
Each of the contenders has already been honored as National Player of the Year in her respective sport.
Here are the finalists:
Volleyball:
Jordan Burgess
, Berkeley Prep (Tampa, Fla.)
Cross country:
Molly Seidel
, University Lake School (Hartland, Wis.)
Basketball:
Breanna Stewart
, Cicero-North Syracuse (Syracuse, N.Y.)
Soccer:
Morgan Andrews
, Milford (N.H.)
Softball:
Geri Ann Glasco
, Oconee County (Watkinsville, Ga.)
Track & Field:
Shelbi Vaughan
, Legacy (Mansfield, Texas)
Read the full story
here
.
June, 28, 2012
6/28/12
10:03
AM ET
OVA 17 Asics of Orlando, Fla., and Fusion 16 Black of Chicago won the final two championships at the 2012 ESPNHS Girls Showcase at ESPN Wide World of Sports in Lake Buena Vista, Fla.
In the 17U Open final of the AAU Junior Girls National Volleyball Championships, OVA defeated the Milwaukee Sting 17 Gold 2-0. Click
here
to watch a replay.
In the 16U Open final, the Fusion defeated the Milwaukee Sting 16 Gold 2-1. Click
here
to watch a replay.
More than 1,700 volleyball teams competed at the eight-day event.
June, 27, 2012
6/27/12
10:25
AM ET
The ESPNHS Girls Showcase at ESPN Wide World of Sports concludes Wednesday night with champions being crowned on the volleyball courts.
On Tuesday, Shandong of China claimed the 18u open championship with a 2-1 win over Asics Munciana (click
here
to watch a replay), and Mizuno Northern Lights beat GVA 2-1 to claim the 15u open title (click
here
to watch a replay).
Earlier Tuesday, Shandong defeated the Nebraska Juniors 2-0 in a semifinal. Watch a replay of that match
here
.
Click
here
to watch the 17u final Wednesday at 5 p.m.
Click
here
to watch the 16u final Wednesday at 7:30 p.m.
January, 9, 2012
1/09/12
4:54
PM ET
Before he led the Broncos to a stunning win over the Steelers in the playoffs and before he set records on Twitter, several high school volleyball players were already suffering from Tim Tebow Mania.
"He's an amazing player, and he is humble at the same time," said Jordan Burgess, the Gatorade Florida Player of the Year. "And it's really fun to watch people like that."
Read the full story from Walter Villa here.
December, 2, 2011
12/02/11
1:05
PM ET
By
Ryan Canner-O'Mealy
| ESPN.com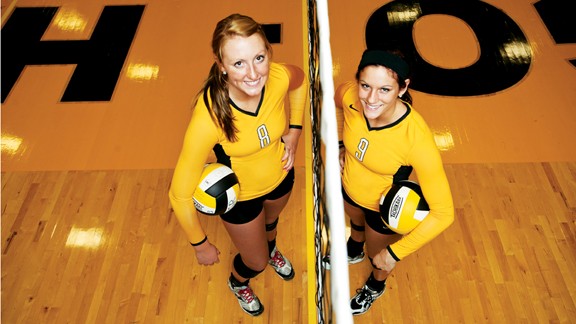 Dan Brouillette/ESPNHSMorgan Kuhrt and Kinsey Caldwell led Waverly-Shell Rock to the Class 3A state title as seniors.
This story originally appeared in the winter issue of ESPNHS Girl magazine.
Click here to subscribe
.
Dynamic Duos photo gallery
Few positions in sports require athletes to be in harmony like setter and outside hitter.
Using a combination of precision and power, they need to be on the same page to have any kind of success. So it's no surprise that Morgan Kuhrt and Kinsey Caldwell have thrived together. Longtime teammates on the court, close friends off of it, the Iowans have combined to form an unbeatable volleyball team.
In fact, it seems the only thing they can't agree on is when they started playing together. (Morgan says fifth grade; Kinsey says fourth.) Either way, they've been setting and spiking together nearly half of their lives. As a result, the Waverly-Shell Rock (Waverly, Iowa) senior co-captains have developed their own unspoken language on the court.
"Sometimes when I go up to hit, I don't even have to call for the ball," says Morgan, an Iowa State-bound outside hitter. "She just knows where I am."
Adds Kinsey, a UNLV-bound setter: "I'm confident that every time I set her, she'll be able to put the ball down. It's awesome that the two of us work so well together."
As sophomores, they helped lead the Go-Hawks to a Class 3A state title. Even though they were young, they were the driving forces behind the triumph. Kinsey had the state-title-clinching kill, while Morgan finished with a team-high 26 kills. Both made the six-player All-Tournament team.
Last year, Waverly-Shell Rock lost in the state semifinals, but it wasn't for lack of effort. Morgan was a first team All-State pick, and Kinsey made the second team.
The duo capped its final season together by winning another Class 3A state title. Morgan, who had 31 kills in the final, was named the All-Tournament team captain, and Kinsey, who had 51 assists, joined her longtime teammate on the All-Tournament team.
After playing side by side for so many years, they say it's hard to believe this was their last season together.
"It's weird to think that really soon she's not going to be my teammate," Morgan says. "She's always been on my team."
Given Morgan's power above the net, Kinsey is happy about that.
"I would be a little scared if I was on the other side," she says with a laugh.
As they get ready for the next chapter in their careers, they do so knowing they wouldn't have reached this point by themselves.
"I couldn't even imagine what it would have been like playing without her," Morgan says. "She's such an amazing player and has helped me get even better. I'm really glad I got the chance to play with her."
October, 31, 2011
10/31/11
4:25
PM ET
These volleyball teams are giving a whole new meaning to going bump in the night.
Some have rich traditions, others have rowdy fans, still others have legendary players. But whatever the reason, these gyms have a way of turning into Houses of Horror for visiting teams.
In honor of Halloween, check out our list of the
13 scariest places to play high school volleyball.
October, 21, 2011
10/21/11
6:41
PM ET
While Good Counsel (Olney, Md.) continued to dig its heels into the No. 1 spot in the
POWERADE FAB 50 girls' soccer rankings
, a battle is brewing right behind the Falcons.
On Saturday, No. 2 Carmel (Carmel, Ind.) takes on No. 6 Reitz Memorial (Evansville, Ind.), and something's got to give. Both teams are undefeated so far this season.
In the
volleyball FAB 50 rankings
, the top 10 teams remained in perfect marching order for the second week in a row. Xavier (Phoenix, Ariz.) slid into the No. 11 spot, up from No. 16, and Mater Dei (Santa Ana, Calif.) broke into the rankings at No. 34 after winning the Asics Cal Challenge.
In cross country, Simi Valley (Calif.) moved into the
FAB 50
top 10, while Carroll (Southlake, Texas) jumped up from No. 22 to No. 15.
October, 14, 2011
10/14/11
7:13
PM ET
There's yet another team enjoying the view from the top in the
POWERADE FAB 50
girls' soccer national rankings.
This time, the honor goes to Good Counsel (Olney, Md.). The Falcons, who started the season at No. 10, have made a steady weekly climb up the rankings and now find themselves alone at the top.
With some big games over the next few weeks, time will tell if the Falcons can get comfortable in the lofty spot.
There was very little movement in the
FAB 50 volleyball rankings
. In fact, not a single team in the top 15 moved an inch.
Xavier College Prep (Phoenix) made one of the biggest moves, hopping from No. 20 up to No. 26.
October, 7, 2011
10/07/11
7:42
PM ET
Papillion La-Vista South (Papillion, Neb.) refused to budge from the No. 1 spot in the
FAB 50 girls volleyball rankings
this week despite a mighty push from No. 4 St. James (Lenexa, Kan.).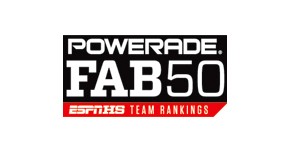 The Titans, who were crowned national champions a year ago and have a 64-game winning streak, rallied from a set and 10-1 down to win in five. St. James didn't move an inch, either, and remained at No. 4.
Another big riser was Assumption (Louisville, Ky.), which moved up from No. 5 to No. 3 after winning the Asics Challenge in Chicago.
In
girls soccer
, Council Rock (Newtown, Pa.) leaped 30 spots, all the way to No. 6, after a win over Strath Haven (Wallingford, Pa.). They could move even higher if they can pull off an upset vs. No. 1 Pennington (Pennington, N.J.) on Friday.
In
girls cross country
, Summit (Bend, Ore.) crashes the top 10 party, moving from No. 15 to No. 7 after winning the Harrier Classic.
September, 30, 2011
9/30/11
3:28
PM ET
Congratulations to the Pennington School (Pennington, N.J.) girls soccer team. The Red Raiders became the first team to hold the No. 1 spot for back-to-back weeks in the girls soccer
POWERADE FAB 50 national rankings
during the 2011 regular season. Cheers, too, to Indiana. With four undefeated teams in the FAB 50, it is quickly becoming one of the top fall-playing states in the nation.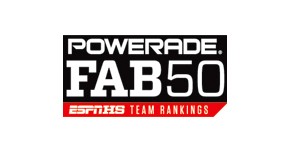 In volleyball, Papillion-La Vista South (Papillion, Neb.) has had a firm grip on the No. 1 spot in the
FAB 50 rankings
since last season. But the Titans are in for a tough game on Wednesday when they travel to Kansas to take on No. 4 St. James (Lenexa, Kansas). And while the top 10 remained mainly unchanged this week, expect big movement next week after nine FAB 50 teams, including two in the top five, sort things out this weekend at the
Asics Challenge
in Chicago.
Likewise in
girls cross country
, there was only minor movement behind powerhouse No. 1. Fayetteville-Manlius (Manlius, N.Y.). No. 11 Glacier Peak (Snohomish, Wash.) and No. 18 Mountain Vista (Highlands Ranch, Colo.) took big leaps and find themselves among the nation's elite.
September, 23, 2011
9/23/11
10:44
AM ET
The
girls soccer
scene is anything but settled this season. For the fourth time in four weeks, there is a new No. 1 in the POWERADE FAB 50 national rankings. Powerhouse Pennington School (Pennington, N.J.) moves from No. 3 into the top spot after ties tripped up the two teams in front of it. Kudos to No. 8 Central Catholic (Lawrence, Mass.), which went from unranked a week ago all the way to No. 8 this week after taking down previous No. 6 Danvers (Danvers, Mass.).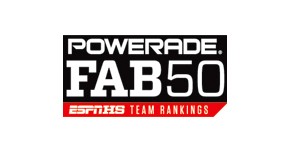 In
volleyball
, the top three teams remained in order, but Assumption (Louisville, Ky.) made its move back into the top five after winning the Durango Classic in Las Vegas, Nev. No. 3 Berkeley Prep (Tampa, Fla.) will be tested this weekend at its own tournament, which features several top contenders. Many of the nation's top teams hit Chicago next weekend for the Asics Challenge.
In
cross country
, Carmel (Carmel, Ind.) moves into the No. 3 spot behind mainstays Fayetteville-Manlius (Manlius, N.Y.) and La Costa Canyon (Carlsbad, Calif.). The highest-ranked newcomer is South Eugene (Eugene, Ore.) at No. 33.
September, 17, 2011
9/17/11
10:07
AM ET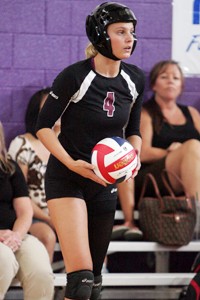 Josh Holmberg/ESPNHSKatie George says she sometimes feels pain when she goes on a serving run.
One of the biggest high school girls volleyball tournaments of the season, the Durango Classic, is going on this weekend in Las Vegas, Nev.
One of the players at the tournament, Katie George of Assumption (Louisville, Ky.), is our Saturday spotlight.
After getting her tonsils removed (by choice) over the summer, George developed blood clots. Her doctor told her she would have to sit out her senior season.
So George took matters into her own hands, doing research and finding a way she could be protected and get back on the court. Thus the helmet, pads and compression hose.
"With the helmet, the pads and the hose, it looks like I'm pretending to be Allen Iverson. … I look ridiculous," George said. "But I don't care."
Read the full story from Walter Villa here
.
September, 15, 2011
9/15/11
12:35
PM ET
The Week 2
POWERADE FAB 50 national volleyball rankings
were released today, but don't bother memorizing them.
They're bound to look drastically different a week from now.
One of the biggest tournaments of the volleyball season, the
Durango Classic
, takes place in Las Vegas, Nev., this weekend, and 11 of the teams in the most recent rankings will be going for the title in the desert. Several top contenders will be there as well.
Assumption (Louisville, Ky.), which dropped to No. 13 this week after holding the No. 5 spot earlier this season, is among the teams hoping to claim the Durango crown.
No. 41
Kamehameha
(Honolulu, Hawaii), meanwhile, is counting on big support from a wave of fans hitting Vegas this weekend for a college football game between Hawaii and UNLV.
"This will tell us where we're at on a national level," Kamehameha coach Chris Blake says. "And it's a great springboard for the rest of our season."