40 greatest female athletes: Cheryl Miller
June, 6, 2012
6/06/12
2:49
PM ET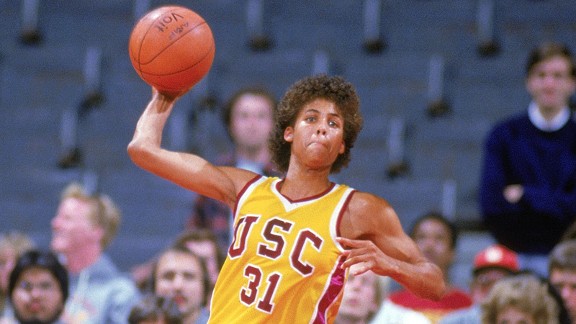 Rick Stewart/Getty Images"Cheryl came to college as sound as any player I've ever coached," former USC coach Linda Sharp says. "I first saw her play in seventh grade, and I knew she was going to be great."
ESPN is marking the 40th anniversary of Title IX by unveiling the top 40 female athletes of the past 40 years.
As a senior at Riverside Poly (Riverside, Calif.)
Cheryl Miller
scored 105 points in a single game.
In college at USC, the 6-foot-2 forward won NCAA titles in her freshman and sophomore seasons and earned the tournament's Most Outstanding Player award both times.
At the 1984 Summer Olympics in Los Angeles, the No. 13 woman in ESPN's countdown was a big reason the U.S. won gold.
Today, Miller is enshrined in the Naismith Hall of Fame and the Women's Basketball Hall of Fame.
"I know her story," says Maya Moore, who won two NCAA titles at UConn before becoming the WNBA's reigning Rookie of the Year. "She was super-athletic. People marveled at her. She's got credibility -- a legend of the game."
Read the full story from espnW here.
Earlier in this series:

No. 40: Diver
Fu Mingxia
No. 39: Jockey
Julie Krone
No. 38: Gymnast
Mary Lou Retton
No. 37: Hockey player
Cammi Granato
No. 36: Soccer player
Kristine Lilly
No. 35: Basketball player
Diana Taurasi
No 34: Volleyball player
Flo Hyman
No. 33: Soccer player
Abby Wambach
No. 32: Swimmer
Mary T. Meagher
No. 31: Marathoner
Joan Benoit
No. 30: Sprinter
Gail Devers
No. 29: Basketball player
Nancy Lieberman
No. 28: Marathoner
Grete Waitz
No. 27: Soccer player
Michelle Akers
No. 26: Basketball player
Chamique Holdsclaw
No. 25: Swimmer
Dara Torres
No. 24: Golfer
Nancy Lopez
No. 23: Swimmer
Tracy Caulkins
No. 22: Soccer player
Marta Vieira da Silva
No. 21: Tennis player
Venus Williams
No. 20: Figure skater
Michelle Kwan
No. 19: Skier
Lindsey Vonn
No. 18: Softball player
Lisa Fernandez
No. 17: Basketball player
Ann Meyers Drysdale
No. 16: Basketball player
Sheryl Swoopes
No. 15: Swimmer
Janet Evans
No. 14: Figure skater
Katarina Witt