40 greatest female athletes: Serena Williams
June, 11, 2012
6/11/12
12:31
PM ET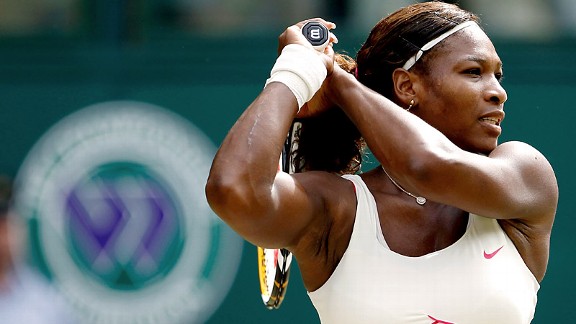 Matthew Stockman/Getty ImagesSerena Williams has won more than $36 million in career prize money -- a record in women's sports -- plus tens of millions in off-court earnings.
ESPN is marking the 40th anniversary of Title IX by unveiling the top 40 female athletes of the past 40 years.
Serena Williams
won her first Grand Slam singles title when she was just 17, at the 1999 U.S. Open.
In 2002-03, Williams won four in a row -- the Serena Slam -- becoming just the fifth woman to hold all major titles at once.
And despite injuries, surgeries and setbacks, Williams, the No. 10 woman in ESPN's countdown, has won a total of 13 majors and has remained the most feared women's player on the planet for more than a decade.
"I think she'll be known for her intensity," says Pam Shriver, a former top-10 player and now an ESPN analyst. "When she is at her most dominant, she might be the most intimidating player ever."
Read the full story from espnW here.
Earlier in this series:

No. 40: Diver
Fu Mingxia
No. 39: Jockey
Julie Krone
No. 38: Gymnast
Mary Lou Retton
No. 37: Hockey player
Cammi Granato
No. 36: Soccer player
Kristine Lilly
No. 35: Basketball player
Diana Taurasi
No 34: Volleyball player
Flo Hyman
No. 33: Soccer player
Abby Wambach
No. 32: Swimmer
Mary T. Meagher
No. 31: Marathoner
Joan Benoit
No. 30: Sprinter
Gail Devers
No. 29: Basketball player
Nancy Lieberman
No. 28: Marathoner
Grete Waitz
No. 27: Soccer player
Michelle Akers
No. 26: Basketball player
Chamique Holdsclaw
No. 25: Swimmer
Dara Torres
No. 24: Golfer
Nancy Lopez
No. 23: Swimmer
Tracy Caulkins
No. 22: Soccer player
Marta Vieira da Silva
No. 21: Tennis player
Venus Williams
No. 20: Figure skater
Michelle Kwan
No. 19: Skier
Lindsey Vonn
No. 18: Softball player
Lisa Fernandez
No. 17: Basketball player
Ann Meyers Drysdale
No. 16: Basketball player
Sheryl Swoopes
No. 15: Swimmer
Janet Evans
No. 14: Figure skater
Katarina Witt
No. 13: Basketball player
Cheryl Miller
No. 12: Sprinter
Florence Griffith-Joyner
No. 11: Tennis player
Billie Jean King