40 greatest female athletes: Nadia Comaneci
June, 13, 2012
6/13/12
10:23
AM ET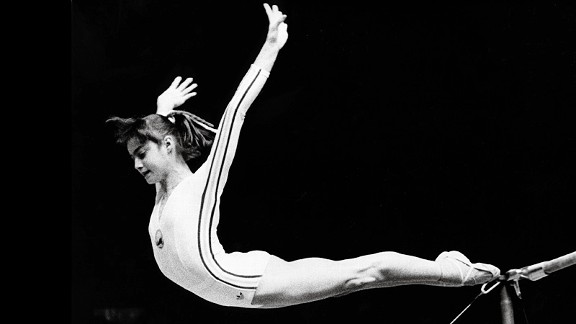 AP Photo"Nadia had the most important impact on gymnastics," Bela Karolyi says. "She brought millions of children to the sport and made it the most-watched television event at the Olympics."
ESPN is marking the 40th anniversary of Title IX by unveiling the top 40 female athletes of the past 40 years.
At the 1976 Olympics, 14-year-old
Nadia Comaneci
became synonymous with perfection.
On July 19 at the Montreal Games, the Romanian gymnast earned the first perfect 10 in Olympic history for her uneven bars routine.
But she was far from finished. The No. 8 woman in ESPN's countdown notched six more 10s in Montreal on her way to three gold medals, in the all-around, beam and uneven bars.
"She had an amazing capability to perform under pressure," her coach Bela Karolyi says. "As the competition got tough, she got even tougher.
Read the complete story from espnW here.
Earlier in this series:

No. 40: Diver
Fu Mingxia
No. 39: Jockey
Julie Krone
No. 38: Gymnast
Mary Lou Retton
No. 37: Hockey player
Cammi Granato
No. 36: Soccer player
Kristine Lilly
No. 35: Basketball player
Diana Taurasi
No 34: Volleyball player
Flo Hyman
No. 33: Soccer player
Abby Wambach
No. 32: Swimmer
Mary T. Meagher
No. 31: Marathoner
Joan Benoit
No. 30: Sprinter
Gail Devers
No. 29: Basketball player
Nancy Lieberman
No. 28: Marathoner
Grete Waitz
No. 27: Soccer player
Michelle Akers
No. 26: Basketball player
Chamique Holdsclaw
No. 25: Swimmer
Dara Torres
No. 24: Golfer
Nancy Lopez
No. 23: Swimmer
Tracy Caulkins
No. 22: Soccer player
Marta Vieira da Silva
No. 21: Tennis player
Venus Williams
No. 20: Figure skater
Michelle Kwan
No. 19: Skier
Lindsey Vonn
No. 18: Softball player
Lisa Fernandez
No. 17: Basketball player
Ann Meyers Drysdale
No. 16: Basketball player
Sheryl Swoopes
No. 15: Swimmer
Janet Evans
No. 14: Figure skater
Katarina Witt
No. 13: Basketball player
Cheryl Miller
No. 12: Sprinter
Florence Griffith-Joyner
No. 11: Tennis player
Billie Jean King
No. 10: Tennis player
Serena Williams
No. 9: Tennis player
Steffi Graf