40 greatest female athletes: Lisa Leslie
June, 18, 2012
6/18/12
11:30
AM ET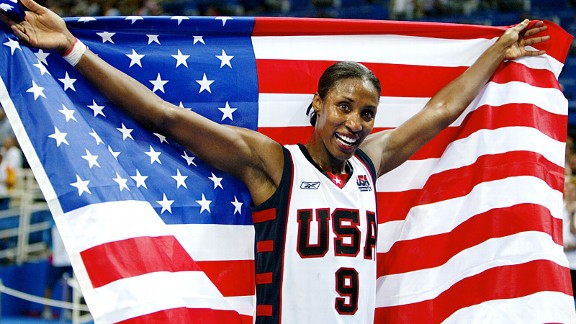 Lucy Nicholson/Reuters"I always felt like the biggest honor was to represent our country," Lisa Leslie says. "The desire to not lose was so strong, almost stronger than the desire to win, if that makes sense."
ESPN is marking the 40th anniversary of Title IX by unveiling the top 40 female athletes of the past 40 years.
As a senior at Morningside (Inglewood, Calif.),
Lisa Leslie
once scored 101 points. In the first half. The other team never even bothered to come out for the second half.
After high school, the No. 5 woman in ESPN's countdown became a three-time All-American at USC, a four-time Olympic gold medalist and a three-time WNBA MVP.
"Once I realized you get a trophy if you win, I thought, this is awesome! I got so many, I could fill my house with them," she says. "But the rewards are having the opportunity to be a role model, to travel the world. It was an honor to play this sport."
Read the full story from espnW here.
Earlier in this series:

No. 40: Diver
Fu Mingxia
No. 39: Jockey
Julie Krone
No. 38: Gymnast
Mary Lou Retton
No. 37: Hockey player
Cammi Granato
No. 36: Soccer player
Kristine Lilly
No. 35: Basketball player
Diana Taurasi
No 34: Volleyball player
Flo Hyman
No. 33: Soccer player
Abby Wambach
No. 32: Swimmer
Mary T. Meagher
No. 31: Marathoner
Joan Benoit
No. 30: Sprinter
Gail Devers
No. 29: Basketball player
Nancy Lieberman
No. 28: Marathoner
Grete Waitz
No. 27: Soccer player
Michelle Akers
No. 26: Basketball player
Chamique Holdsclaw
No. 25: Swimmer
Dara Torres
No. 24: Golfer
Nancy Lopez
No. 23: Swimmer
Tracy Caulkins
No. 22: Soccer player
Marta Vieira da Silva
No. 21: Tennis player
Venus Williams
No. 20: Figure skater
Michelle Kwan
No. 19: Skier
Lindsey Vonn
No. 18: Softball player
Lisa Fernandez
No. 17: Basketball player
Ann Meyers Drysdale
No. 16: Basketball player
Sheryl Swoopes
No. 15: Swimmer
Janet Evans
No. 14: Figure skater
Katarina Witt
No. 13: Basketball player
Cheryl Miller
No. 12: Sprinter
Florence Griffith-Joyner
No. 11: Tennis player
Billie Jean King
No. 10: Tennis player
Serena Williams
No. 9: Tennis player
Steffi Graf
No. 8: Gymnast
Nadia Comaneci
No. 7: Tennis player
Chris Evert
No. 6: Speedskater
Bonnie Blair