40 greatest female athletes: Mia Hamm
June, 22, 2012
6/22/12
9:35
AM ET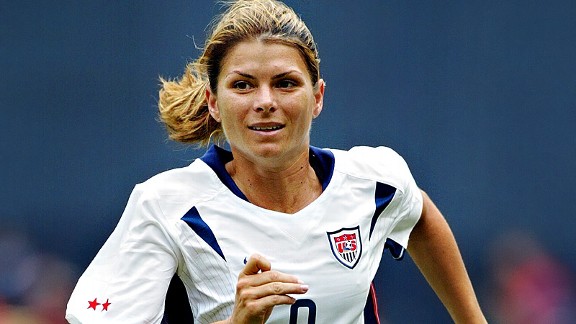 Ben Radford/Getty ImagesMia Hamm possessed astonishing acceleration and made fearless runs at defenders. She also had the smarts and skills to create.
ESPN is marking the 40th anniversary of Title IX by unveiling the top 40 female athletes of the past 40 years.
Mia Hamm
was just 15 years old when she became the youngest woman ever to don the jersey of the U.S. senior squad.
She wore that jersey for 18 years and scored 158 international goals, more than any player ever, and tallied 144 career assists, the most ever by an American player.
The No. 1 player in ESPN's countdown, Hamm appeared in the first four Women's World Cups, winning two of them -- including the mythic 1999 tourney on home soil. She also won gold in the 1996 and 2004 Summer Olympics.
"My motivation is not about personal gains," she once said. "I want to do as much as I can to get the sport out there."
She retired a winner, a legend and a symbol of what women's sports can be.
Read the full story from espnW here.
Earlier in this series:

No. 40: Diver
Fu Mingxia
No. 39: Jockey
Julie Krone
No. 38: Gymnast
Mary Lou Retton
No. 37: Hockey player
Cammi Granato
No. 36: Soccer player
Kristine Lilly
No. 35: Basketball player
Diana Taurasi
No 34: Volleyball player
Flo Hyman
No. 33: Soccer player
Abby Wambach
No. 32: Swimmer
Mary T. Meagher
No. 31: Marathoner
Joan Benoit
No. 30: Sprinter
Gail Devers
No. 29: Basketball player
Nancy Lieberman
No. 28: Marathoner
Grete Waitz
No. 27: Soccer player
Michelle Akers
No. 26: Basketball player
Chamique Holdsclaw
No. 25: Swimmer
Dara Torres
No. 24: Golfer
Nancy Lopez
No. 23: Swimmer
Tracy Caulkins
No. 22: Soccer player
Marta Vieira da Silva
No. 21: Tennis player
Venus Williams
No. 20: Figure skater
Michelle Kwan
No. 19: Skier
Lindsey Vonn
No. 18: Softball player
Lisa Fernandez
No. 17: Basketball player
Ann Meyers Drysdale
No. 16: Basketball player
Sheryl Swoopes
No. 15: Swimmer
Janet Evans
No. 14: Figure skater
Katarina Witt
No. 13: Basketball player
Cheryl Miller
No. 12: Sprinter
Florence Griffith-Joyner
No. 11: Tennis player
Billie Jean King
No. 10: Tennis player
Serena Williams
No. 9: Tennis player
Steffi Graf
No. 8: Gymnast
Nadia Comaneci
No. 7: Tennis player
Chris Evert
No. 6: Speedskater
Bonnie Blair
No. 5: Basketball player
Lisa Leslie
No. 4: Golfer
Annika Sorenstam
No. 3: Track star
Jackie Joyner-Kersee
No. 2: Tennis player
Martina Navratilova