Spooky volleyball venues
October, 31, 2011
10/31/11
4:25
PM ET
These volleyball teams are giving a whole new meaning to going bump in the night.
Some have rich traditions, others have rowdy fans, still others have legendary players. But whatever the reason, these gyms have a way of turning into Houses of Horror for visiting teams.
In honor of Halloween, check out our list of the
13 scariest places to play high school volleyball.
Editor, espnW.com
TITLE IX

ESPNHS examines issues surrounding Title IX and its impact on the lives of young athletes.
ESPNHS GIRLS SHOWCASE

The ESPNHS Girls Showcase features 15,000 athletes competing in basketball, softball, martial arts, gymnastics and volleyball.
ESPNHS GIRL MAGAZINE
Select stories from the May/June issue of ESPNHS Girl magazine:

OLYMPIC HOPEFULS

ESPNHS profiles teens who are competing at the London Olympic Games.
18 Under 18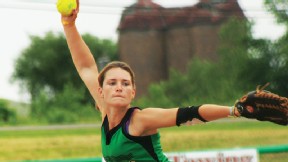 SOFTBALL RANKINGS

Rank
School (City, State)
Rec
1
Norco Senior
Norco, CA
31-2
2
Porter Ridge
Indian Trail, NC
33-1
3
Red Mountain
Mesa, AZ
35-3
4
James Logan
Union City, CA
24-1
5
Amador Valley
Pleasanton, CA
26-1
See the full softball rankings »
SPRING GIRLS' SOCCER RANKINGS

Rank
School (City, State)
Rec
1
William A. Hough
Cornelius, NC
26-0-1
2
Bishop Kelley
Tulsa, OK
17-0
3
Naperville North
Naperville, IL
24-1-2
4
Olathe East
Olathe, KS
21-0
5
Green Hope
Morrisville, NC
25-1
See the full spring girls' soccer rankings »
GIRLS' BASKETBALL RANKINGS

Rank
School (City, State)
Rec
1
Saint Marys
Phoenix, AZ
30-0
2
McEachern
Powder Springs, GA
33-0
3
Whitney Young
Chicago, IL
34-0
4
Bolingbrook
Bolingbrook, IL
26-2
5
Riverdale
Murfreesboro, TN
34-3
See the full girls' basketball rankings »
GIRLS' LACROSSE RANKINGS

Rank
School (City, State)
Rec
1
McDonogh School
Owings Mills, MD
18-0
2
Moorestown
Moorestown, NJ
26-0
3
Maryvale Prep
Brooklandville, MD
13-4
4
Bryn Mawr
Baltimore, MD
16-2
5
Saint Anthony's
South Huntington, NY
15-1
See the full girls' lacrosse rankings »
GIRLS' VOLLEYBALL RANKINGS

Rank
School (City, State)
Rec
1
LaVista South
Papillion, NE
41-0
2
Lake Travis
Austin, TX
50-0
3
Assumption
Louisville, KY
43-1
4
St. James Academy
Lenexa, KS
47-1
5
Berkeley Prep School
Tampa, FL
30-2
See the full girls' volleyball rankings »
BLOG ARCHIVE:
CATEGORIES: