High-SchoolGirl:

Al Joyner
June, 20, 2012
6/20/12
3:30
PM ET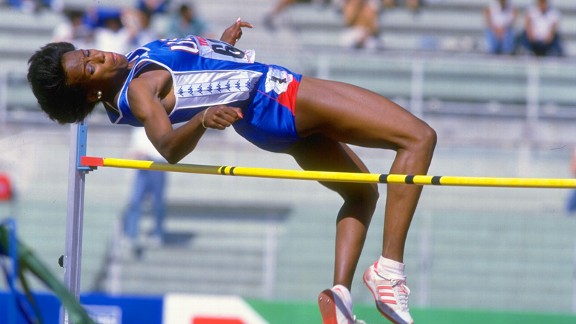 Tony Duffy/Getty ImagesJackie Joyner-Kersee showed the country a new kind of greatness: the all-around kind.
ESPN is marking the 40th anniversary of Title IX by unveiling the top 40 female athletes of the past 40 years.
As a kid,
Jackie Joyner-Kersee
was fast. And she could jump. In high school at Lincoln (East St. Louis, Ill.), she was a state champion in both basketball and track.
And from there, the No. 3 woman in ESPN's countdown became a legend.
By the time she retired, Joyner-Kersee was a three-time Olympic gold medalist, having won the heptathlon and long jump in 1988 and the heptathlon again in 1992. She also took silver in the inaugural heptathlon in 1984 and bronze in the long jump in 1992 and 1996. She repeatedly set world records in the heptathlon. In fact, Joyner-Kersee holds the top six scores in heptathlon history.
"She didn't have any competition except herself," says her brother, Al Joyner, who won Olympic gold in the triple jump at the L.A. Games in 1984. "She kept setting records, making it look easy."
Read the full story from espnW here.
Earlier in this series:

No. 40: Diver
Fu Mingxia
No. 39: Jockey
Julie Krone
No. 38: Gymnast
Mary Lou Retton
No. 37: Hockey player
Cammi Granato
No. 36: Soccer player
Kristine Lilly
No. 35: Basketball player
Diana Taurasi
No 34: Volleyball player
Flo Hyman
No. 33: Soccer player
Abby Wambach
No. 32: Swimmer
Mary T. Meagher
No. 31: Marathoner
Joan Benoit
No. 30: Sprinter
Gail Devers
No. 29: Basketball player
Nancy Lieberman
No. 28: Marathoner
Grete Waitz
No. 27: Soccer player
Michelle Akers
No. 26: Basketball player
Chamique Holdsclaw
No. 25: Swimmer
Dara Torres
No. 24: Golfer
Nancy Lopez
No. 23: Swimmer
Tracy Caulkins
No. 22: Soccer player
Marta Vieira da Silva
No. 21: Tennis player
Venus Williams
No. 20: Figure skater
Michelle Kwan
No. 19: Skier
Lindsey Vonn
No. 18: Softball player
Lisa Fernandez
No. 17: Basketball player
Ann Meyers Drysdale
No. 16: Basketball player
Sheryl Swoopes
No. 15: Swimmer
Janet Evans
No. 14: Figure skater
Katarina Witt
No. 13: Basketball player
Cheryl Miller
No. 12: Sprinter
Florence Griffith-Joyner
No. 11: Tennis player
Billie Jean King
No. 10: Tennis player
Serena Williams
No. 9: Tennis player
Steffi Graf
No. 8: Gymnast
Nadia Comaneci
No. 7: Tennis player
Chris Evert
No. 6: Speedskater
Bonnie Blair
No. 5: Basketball player
Lisa Leslie
No. 4: Golfer
Annika Sorenstam
June, 7, 2012
6/07/12
12:26
PM ET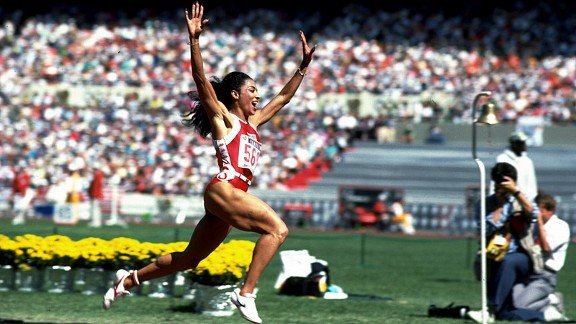 Getty ImagesFlo-Jo entered the Seoul Olympics as the transcendent star who raced wearing four-inch, painted fingernails and fashionable track outfits that she designed herself.
ESPN is marking the 40th anniversary of Title IX by unveiling the top 40 female athletes of the past 40 years.
Florence Griffith-Joyner
was stylish, graceful and faster than any woman in history.
In the summer of 1988, the No. 12 woman in ESPN's countdown set a pair of world records -- first in the 100 meters (10.49 seconds), then in the 200 meters (21.34) -- that many people believe will never be broken. She won three Olympic gold medals at the Seoul Games, in the 100, 200 and 4x100 relay; she also took silver in the 4x400 relay.
"One of the reasons she became so dominant was because of her passion," her former husband Al Joyner says. "She applied herself in everything she did. And it wasn't just running. It was motherhood; it was how deeply she loved. She was second to none in everything she tried."
But Griffith-Joyner, who took up running as a sport when she was only 7 years old, died of epilepsy when she was only 38.
Read the full story from espnW here.
Earlier in this series:

No. 40: Diver
Fu Mingxia
No. 39: Jockey
Julie Krone
No. 38: Gymnast
Mary Lou Retton
No. 37: Hockey player
Cammi Granato
No. 36: Soccer player
Kristine Lilly
No. 35: Basketball player
Diana Taurasi
No 34: Volleyball player
Flo Hyman
No. 33: Soccer player
Abby Wambach
No. 32: Swimmer
Mary T. Meagher
No. 31: Marathoner
Joan Benoit
No. 30: Sprinter
Gail Devers
No. 29: Basketball player
Nancy Lieberman
No. 28: Marathoner
Grete Waitz
No. 27: Soccer player
Michelle Akers
No. 26: Basketball player
Chamique Holdsclaw
No. 25: Swimmer
Dara Torres
No. 24: Golfer
Nancy Lopez
No. 23: Swimmer
Tracy Caulkins
No. 22: Soccer player
Marta Vieira da Silva
No. 21: Tennis player
Venus Williams
No. 20: Figure skater
Michelle Kwan
No. 19: Skier
Lindsey Vonn
No. 18: Softball player
Lisa Fernandez
No. 17: Basketball player
Ann Meyers Drysdale
No. 16: Basketball player
Sheryl Swoopes
No. 15: Swimmer
Janet Evans
No. 14: Figure skater
Katarina Witt
No. 13: Basketball player
Cheryl Miller