High-SchoolGirl:

Annika Sorenstam
June, 19, 2012
6/19/12
6:28
PM ET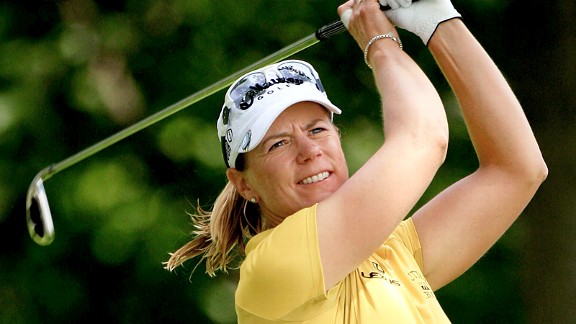 Travis Lindquist/Getty ImagesAnnika Sorenstam was the LPGA Tour's player of the year a record eight times.
ESPN is marking the 40th anniversary of Title IX by unveiling the top 40 female athletes of the past 40 years.
Are you painfully shy? So was
Annika Sorenstam
. The woman who won 72 titles on the LPGA Tour once dreaded winning junior tournaments because of the speeches that were required afterward.
But the No. 4 woman in ESPN's countdown gamely withstood the media glare as a global television audience watched every hole she played in 2003 at the PGA's Colonial, a tournament she entered because she wanted to test herself against the best in the game.
"She was the dominant player in her sport," says fellow golfer Laura Davies. "She had to change. It was that or really be miserable. I think by the end of her career, she actually enjoyed the spotlight."
Read the full story from espnW here.
Earlier in this series:

No. 40: Diver
Fu Mingxia
No. 39: Jockey
Julie Krone
No. 38: Gymnast
Mary Lou Retton
No. 37: Hockey player
Cammi Granato
No. 36: Soccer player
Kristine Lilly
No. 35: Basketball player
Diana Taurasi
No 34: Volleyball player
Flo Hyman
No. 33: Soccer player
Abby Wambach
No. 32: Swimmer
Mary T. Meagher
No. 31: Marathoner
Joan Benoit
No. 30: Sprinter
Gail Devers
No. 29: Basketball player
Nancy Lieberman
No. 28: Marathoner
Grete Waitz
No. 27: Soccer player
Michelle Akers
No. 26: Basketball player
Chamique Holdsclaw
No. 25: Swimmer
Dara Torres
No. 24: Golfer
Nancy Lopez
No. 23: Swimmer
Tracy Caulkins
No. 22: Soccer player
Marta Vieira da Silva
No. 21: Tennis player
Venus Williams
No. 20: Figure skater
Michelle Kwan
No. 19: Skier
Lindsey Vonn
No. 18: Softball player
Lisa Fernandez
No. 17: Basketball player
Ann Meyers Drysdale
No. 16: Basketball player
Sheryl Swoopes
No. 15: Swimmer
Janet Evans
No. 14: Figure skater
Katarina Witt
No. 13: Basketball player
Cheryl Miller
No. 12: Sprinter
Florence Griffith-Joyner
No. 11: Tennis player
Billie Jean King
No. 10: Tennis player
Serena Williams
No. 9: Tennis player
Steffi Graf
No. 8: Gymnast
Nadia Comaneci
No. 7: Tennis player
Chris Evert
No. 6: Speedskater
Bonnie Blair
No. 5: Basketball player
Lisa Leslie
October, 21, 2011
10/21/11
3:15
PM ET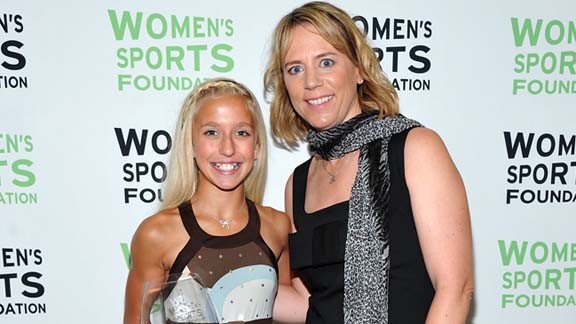 @ Getty Images/Mike CoppolaWinter Vinecki, 12, was honored with the ANNIKA Inspiration Award at the Women's Sports Foundation's Annual Salute to Women in Sports Awards Gala in New York City.
Sometimes it takes a kid to find a special way of turning a personal tragedy into an inspirational message.
That's certainly the way it is when it comes to Winter Vinecki. The 12-year-old athlete extraordinaire – a champion triathlete as well as a competitive Nordic skier and ski jumper – has raised more than $300,000 to heighten prostate cancer awareness from her sports endeavors.
Vinecki followed her mom, Dr. Dawn Estelle, and her uncle into triathlons when she was just 5. Her philanthropy started when at age 8 she ran a 10K race and was given the option to race for a cause. She ran that race for childhood obesity and raised $1,100.
At 9, Vinecki planned to start her non-profit organization – Team Winter – in order to continue raising money for childhood obesity. But then a more personal cause hit home. Her father, Michael, was diagnosed with an aggressive form of prostate cancer on his 40th birthday. In 2009, 10 months after his diagnosis, Michael Vinecki died of the disease.
Instead of just mourning, Vinecki turned her passion for triathlons and running into a way of honoring her father's memory.
It also is a way Vinecki keeps her dad close to her heart.
"Him passing away just gives me more drive," Vinecki said by phone. "Every time I race I just think of him, and that's what keeps me going."
Vinecki was recognized earlier this week for her amazing charitable work. Legendary golfer Annika Sorenstam presented Vinecki with the ANNIKA Inspiration Award at the Women's Sports Foundation's Annual Salute to Women in Sports Awards Gala in New York City. The award is designed to honor "one individual young woman who has been inspired by one or more people in her life and who now excels in her sport, has demonstrated leadership qualities, takes time to give back to her community or sport, and serves as an inspiration to others."
Vinecki might just be a kid, but her poise and maturity challenged the room of athletes in her acceptance speech. Afterwards, famous athletes such as tennis player Venus Williams sought her out for a chat – Vinecki tweeted during the gala that she couldn't believe how tall the 6-foot-1 Williams is.
So what did Vinecki tell the celebrity-filled room?
"I always encourage people to race for a cause," Vinecki said. "There's a lot of great athletes out there, but they're just racing for themselves. … If everyone raced for a cause, the world would be a much better place. I told them I race for my dad, so who do you race for?"
According to her mom, Vinecki captivated the famous with her heartfelt appeal.
"People were astounded by her poise and ability to talk about her dad," said Estelle, a gynecologist-obstetrician. "People are amazed when they listen to her speak and realize they're listening to a 12-year-old speak."
She certainly enchanted Sorenstam, who was delighted with this year's award recipient.
"Winter is a very sweet girl," Sorenstam wrote in an email. "She's full of energy and ambition. … She was a popular award winner."
Vinecki is one of four children – older brother, Yukon, 14, is in charge of the Team Winter website, and her two younger brothers also compete in triathlons. This year, the eighth-grader started home schooling via the Stanford University program, allowing her the flexibility to do her schoolwork, her three-hours-a-day training in swimming, biking and running, and still allow time for her to be a regular kid and spend afternoons with friends.
"We'll walk around and sometimes go to a smoothie place," Vinecki said.
But while Vinecki makes time to just be your average pre-teen, there's nothing average about her at all. She plans to be a professional triathlete, to compete in the Ironman World Championships in Hawaii, and to one day maybe take part in both the Summer and Winter Olympics.
But first, Vinecki, who gives her first-place trophies away to families touched by prostate cancer so that they know someone cares, has a new project. She plans on running a marathon on all seven continents, setting up fundraising events at all but Antarctica "because no one is there." The plan is to start this coming spring and run all seven in a two-year period.
The original plan was to start in Antarctica, but plans have changed.
"We're probably going to start in Africa now," said Vinecki, the 2011 Ironkids (Triathlon) National Champion. "We were going to do Antarctica first, but then we can't find a travel company that will take a 12-year-old there. There's no problem with racing, but there's a problem with me getting there."
Vinecki says there's one thing she can always count on no matter where she's racing.
"I know my dad's with me every day," she said. "I can feel him in races. I know he's watching by the finish, watching for me."